At 68 years old, there is no denying that Goldie Hawn looks amazing. She has always looked youthful over the years thanks to her vivacious personality and, of course, her long hair helps too. Goldie is the perfect example of why women should keep their long hair into their fifties, sixties, seventies and beyond if they want to. As long as the color and condition is kept up, then there is no reason why long hair can't look great on older women.
Here is a collection of Goldie's best longer hairstyles for older women. Use her tips and tricks to keep you looking fabulous in your fifties and beyond.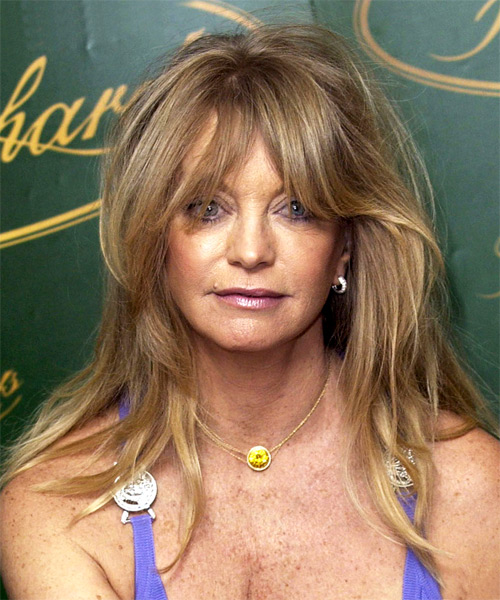 In this look from a few years ago, Goldie uses a long fringe and a heavily layered haircut to contour her face shape and hide problem areas. This haircut is a great way to hide fine lines on the forehead and eye area while still looking modern and youthful. To get this haircut, ask your stylist for a heavy eye-skimming fringe with some layers throughout that arc down toward your cheekbones to blend in with the rest of the haircut. To style, use some mousse at the roots and blow dry your hair with a large round brush. To get Goldie's teased look, use a comb to backcomb the roots and add some extra volume on the crown. This hairstyle will need some hairspray to keep it in place.
As for the color, Goldie keeps it real (looking) with a dark blonde base and honey blonde highlights. This is a great tip for older women who often go for a monotone color all over, which tends to look unnatural. Keep some dimension in for best results.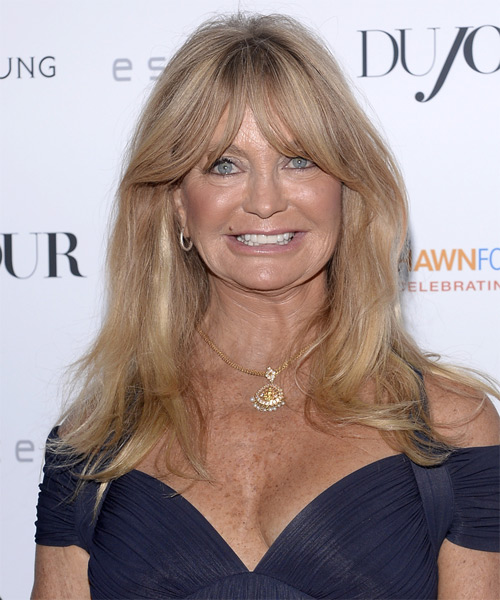 Here, Goldie goes for a smoother, more refined look. This is a good option for older women who want something classic looking, but still like a bit of length in their hair so they wear it up on occasion. This haircut has less layering than the previous one, with Goldie's trademark Bardot Bang as the centre of attention. This hairstyle would look fabulous worn super straight or with a bit of wave, as seen here. The color is a soft beige blonde with subtle highlights throughout, which is a great option for women who want a light yet natural looking shade of blonde.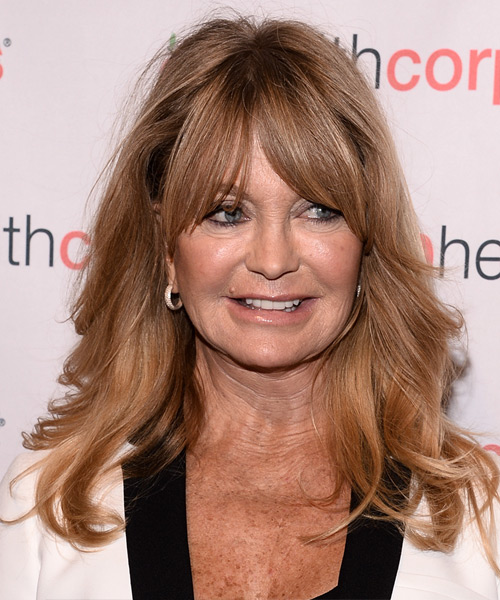 In Goldie's most recent style, she is looking chic in a soft layered 'do that sits just past the shoulders. This is one of Goldie's shorter hairstyles and the length looks fabulous on her. Her bangs are still in the style of Bridgette Bardot, but have more structure than her previous looks to create a nice frame for her eyes without overpowering them. The rest of her hair has long layers added throughout and are curled outwards for a pretty finish. Goldie's color is also improved here, with a warm golden blonde base and sun-kissed highlights throughout. This dark blonde hair color will work well for women who want to warm up their complexions and add some shine factor to their locks.
Goldie Hawn is working her sexy, shiny hair well into her seventies and looks fabulous doing it. To copy her look, add some Bardot bangs, layers and keep the color sun-kissed for best results.