While the hairdo didn't really scream 'punk' it did give off an exotic look that only a certain type of woman can pull off with ease. It's not a forgiving cut by any means, as everything from the hair color to the angles is harsh. So, just who can pull off the Cleopatra cut with panache? Read on to find out.
Madonna's rating for being able to pull off this hairstyle is 3/10. Firstly, because the color is too harsh against her fair skin tone, not to mention that ladies her age should be softening their colors up and not vice versa. This blocky black hair color is a bold statement and Madonna's strong features just don't harmonize well with it. When it comes to the cut, the angles are too harsh to look good with Madonna's strong cheekbones, nose and jawline. A better option for her would be a tapered cut with razored edges that graze the collarbone, rather than a blunt shoulder-skimming bob. The straight fringe that is a signature part of the Cleo bob is another fail for Madonna. Her square face shape is better suited to long side-swept bangs rather than a short Betty Page-inspired fringe. This was obviously just part of her 'costume' for the night, but let's hope she sticks with her long blonde waves from now on!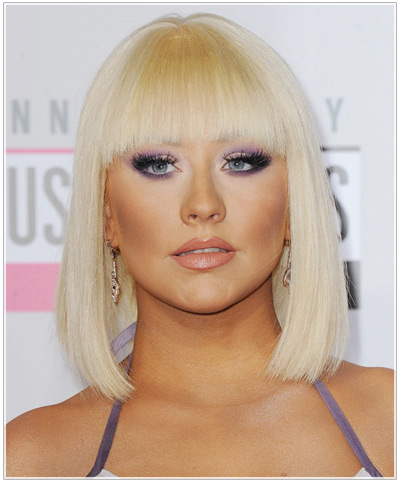 On the flipside, Christina Aguilera is one lady who can pull this look off effortlessly. Christina has an oval face shape, which is the perfect shape for this haircut. The fringe has been left slightly longer to skim her eyes, creating a seductive peek-a-boo effect and balancing out her proportions nicely—this is a good trick for ladies who want to wear this hairstyle and have a larger forehead—keep the fringe long! She is wearing this cut in her signature buttery yellow blonde, but had she opted for the classic jet-black color associated with this style, she still could have pulled it off. Her extremely tanned skin and blue eyes would have created an exotic image or Ms. Aguilera, but the blonde looks just as good!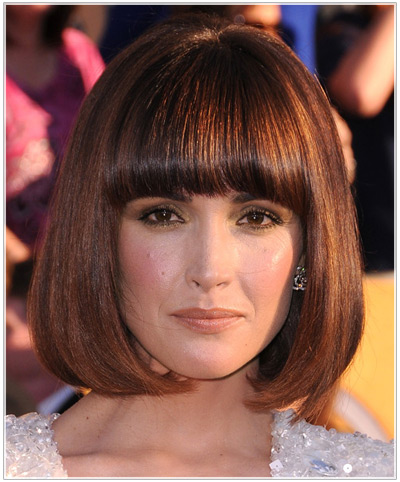 Rose Byrne has also had a go at the Cleopatra cut, with mixed results. While her face is suited to a blunt bob style, her hair texture is just not making it work. The sleek Cleopatra bob looks best on fine to medium hair that has a straight hair texture. Rose's hair is thick with natural wave in it, making it much harder to coax into shape. Not only that, but to get the full Cleo effect, the bangs should extend out to the temples to open up the eye area. In Rose's case the bangs awkwardly hover at mid-eyebrow level and don't extend enough horizontally. Her face shape is also on the narrow side to pull this look off, which can easily overpower dainty features or narrow face shapes (both of which Rose has). Overall, this looks more mushroom cut than exotic Egyptian queen!
If you want to try this look, make sure you check the following boxes to rock the Cleopatra cut:

Your face shape is oval, heart or circular.


Your hair texture is fine to medium and straightens easily.


You don't have a strong, angular jawline or narrow face shape.