It's essential that you have a collection of humid-fighting hairdos up your sleeve if you live in a hot, humid climate and have hair that tends to frizz out. These can also come in handy for jet-setting ladies who love to travel and look fabulous on holiday no matter how hot and sticky it is outside! Check out these weatherproof 'dos that will look great in high humidity.
 
The Side Braid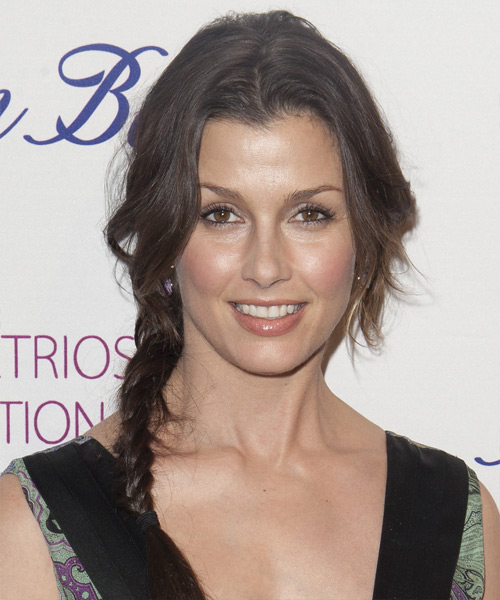 Bridget Moynahan's easy side braid will hide any frizz on days that are moist. She has left some hair layers free around her face shape, but pull these back into your 'do if you have very frizzy hair.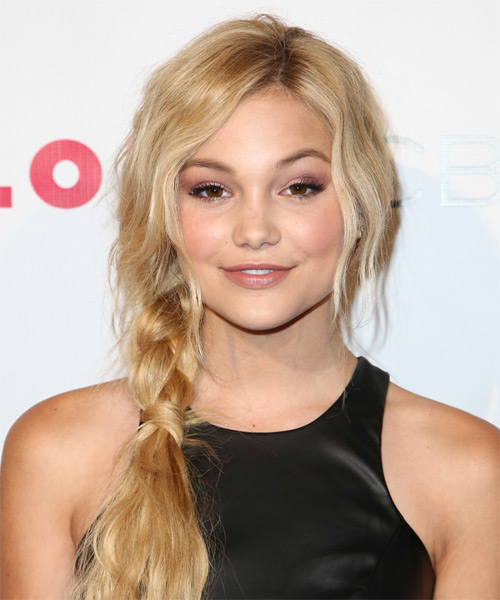 Stefanie Scott has naturally wavy hair that is prone to frizz in humid climates. Here, she tames her long beachy waves into a side-swept braid that looks gorgeous and keeps her hair under control. There are some layers around the face that are left out to create a gorgeous frame. Try covering your hair band at the end of the braid with a thin section of hair like Stefanie has done here.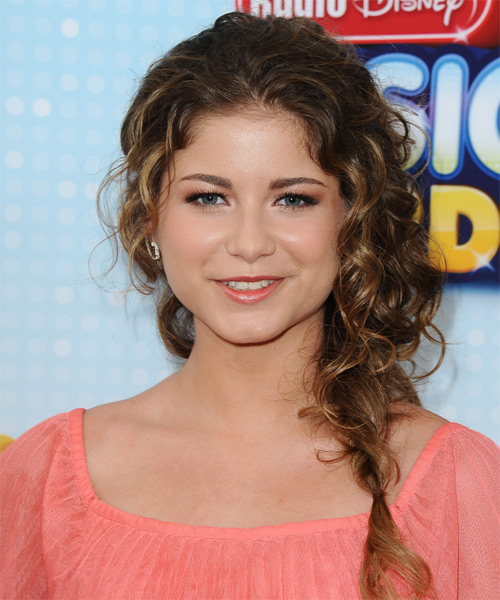 Sofia Reyes uses a low side braid to control her curly locks in this look that is ideal for hot and/or humid weather. Ladies with curly hair will enjoy this hairstyle that not only looks stylish but keeps curly hair in check without being completely pulled back.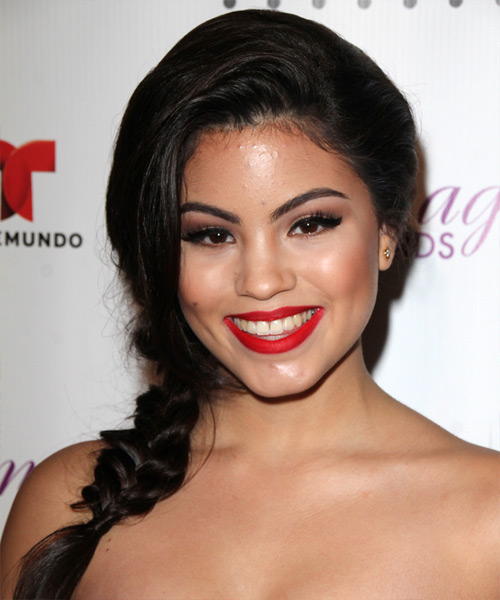 Paola Andino shows off a glam look here with her side braid but don't write this look off for casual occasions! This hairstyle is a great way to combat hot and humid weather for thick, wavy, coarse and/or curly hair. Paola has smoothed down the top while the ends have been gathered into this sweet side braid, making it ideal for both day and night looks. Dress it up or down with your clothing and makeup!
 
 
The Not-So-Classic Ponytail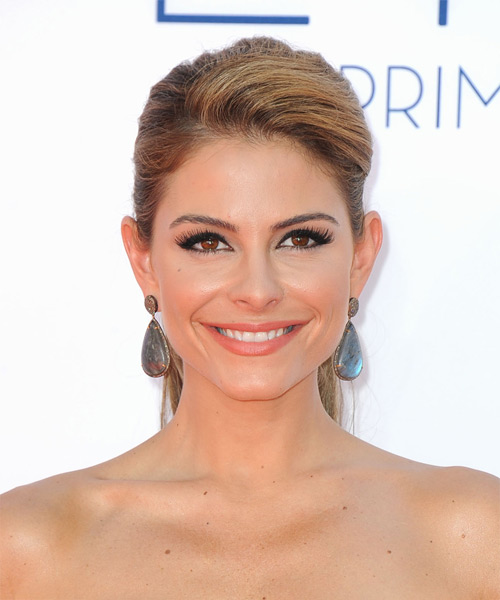 Maria Menounos has the right idea with this simple ponytail. To add some style in the front, Maria has created a side hair part that is styled off the face and to the side.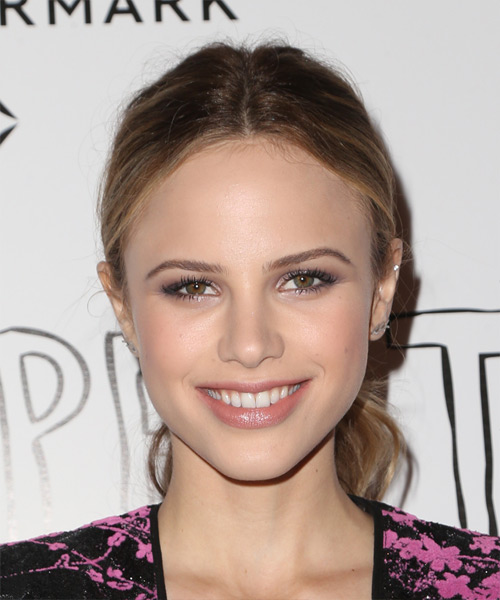 Halston Sage goes for a center-parted, slicked back low ponytail that would be ideal for a frizzy hair day. Working some styling wax or gel spray through the hair first will help to slick it down and keep frizz under control. The natural wave or curl in the hair adds volume at the back for a stunning finish.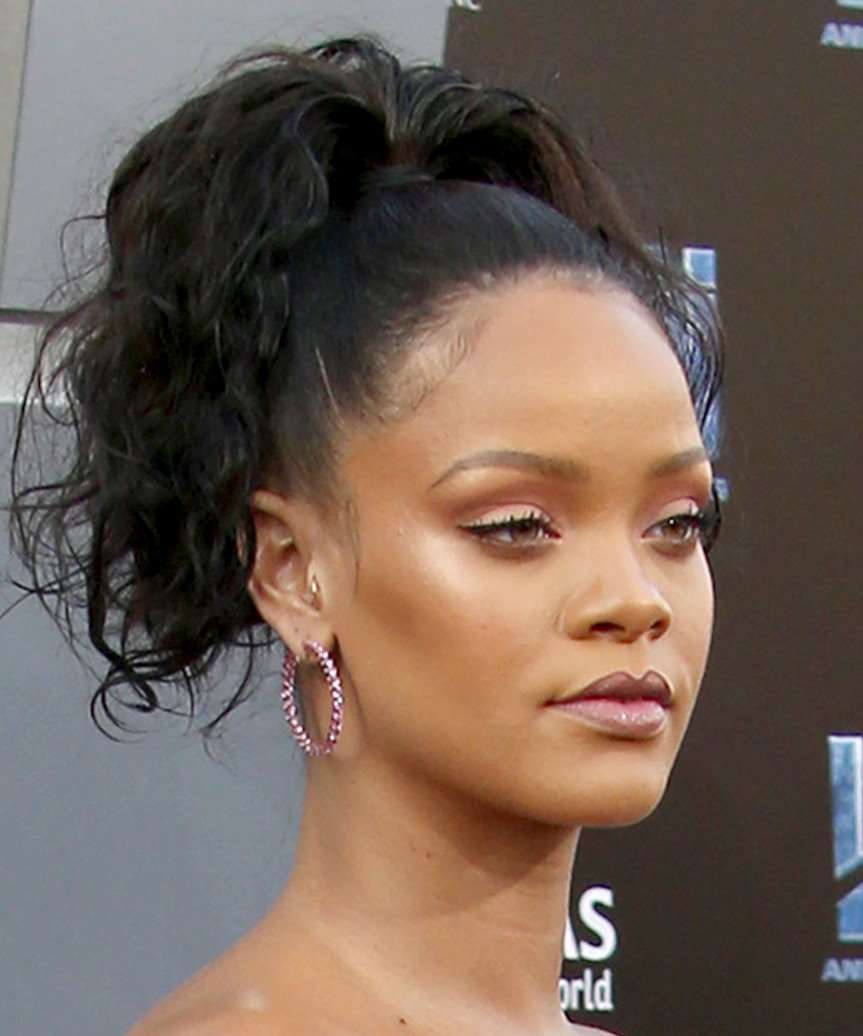 Rihanna knows how to get her locks off her face in a stylish way when it's hot and humid outside. This high ponytail is ideal for her long, curly tresses in frizz-enhancing climates. The hair is slicked back with gel into a high ponytail, while the lengths and ends fall down to frame her face. The hair's texture is allowed to do its thing here and with this look, the curlier the better.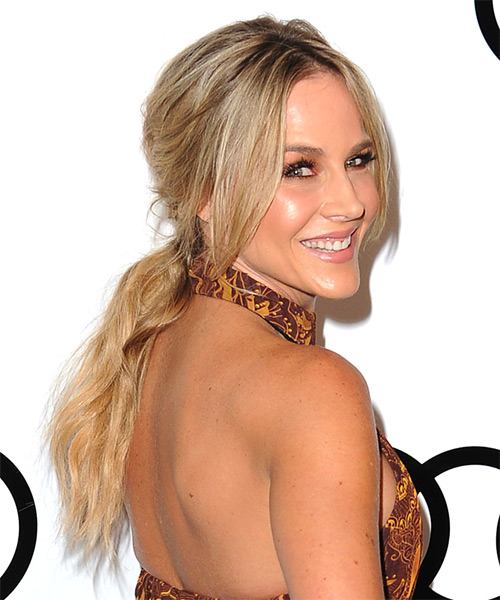 Julie Benz ties her long locks into a low ponytail that shows off her hair's naturally wavy texture and is ideal for hot or humid climates. This 'do is easy to re-create by simply letting the hair's natural texture do its thing, then tying it back into a low ponytail while leaving some face framing layers out around the face. As Julie demonstrates here, this hairstyle can work for both day and night.
 
 
The Top Knot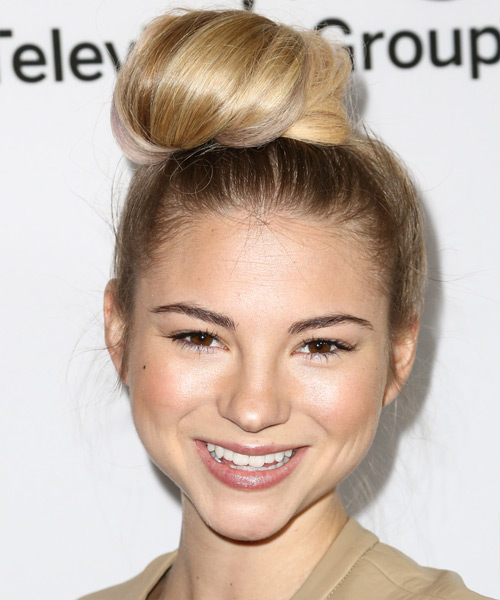 For ladies who prefer all of their hair off their face and neck in humid weather, a top knot is the ideal solution. Scrape your hair back into a high bun and enjoy frizz-free hair in wet weather.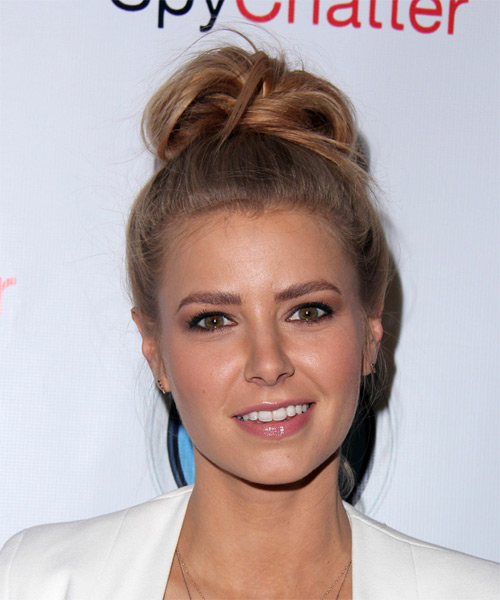 Ariana Madix's hairstyle works on the beach or in the boardroom, so you may want to try this one out next time you're faced with wet weather but need to look good, pronto! Top knots are easy to recreate- simply tie the hair into a high ponytail and twist into a large bun. In Ariana's case, she has created a loop with her ponytail and then wrapped a section of hair around it to secure it in place for a slightly different look and feel.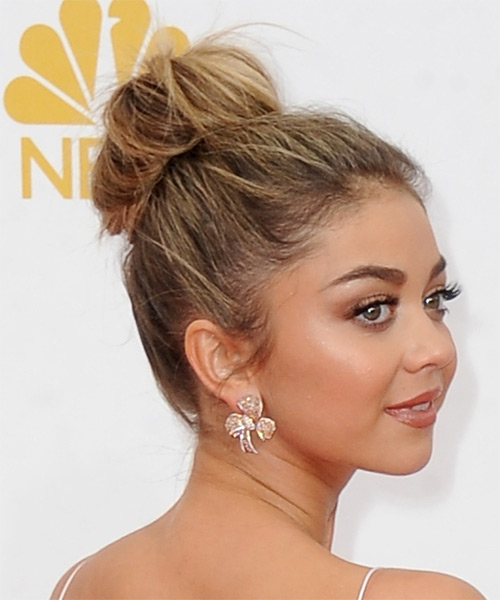 Sarah Hyland looks glam here in an elegant topknot. If you need an evening look but are faced with humid weather, this may be the ideal way to style your tresses. The high bun gives a classy look while using the hair's natural volume and texture to create height throughout the crown. Sarah's topknot is left slightly loose with a few strands of hair poking out around the face for a gorgeous finish.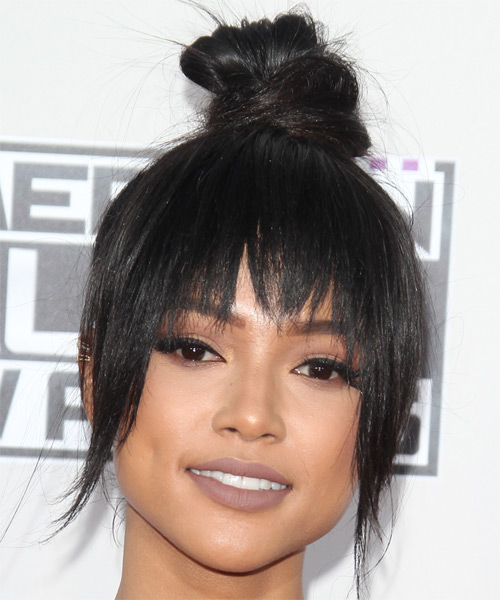 Have bangs? No problem! The topknot looks just as good with a fringe. Check out Karrueche Tran's messy topknot here that is paired up with a long fringe and layers around the face. This hairstyle is great for her square face shape and it actually works with a bit of frizz because it adds to the messy, bedhead look and feel. This is a topknot for ladies who like a bit of edge to their look--even in humid weather!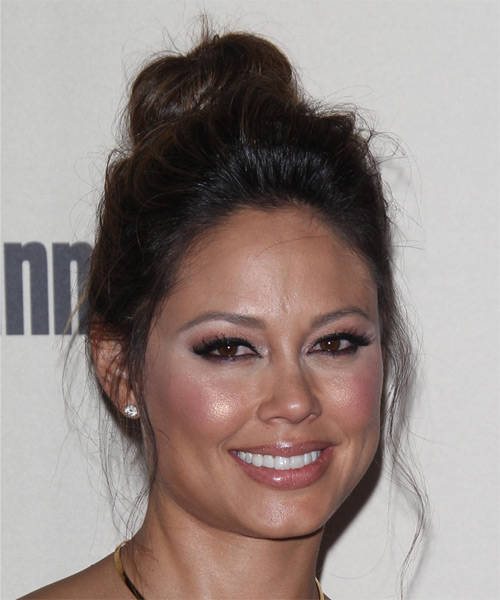 Vanessa Lachey knows how to work with her hair type in hot weather and opts for a loose topknot when she is in frizz-inducing weather. This hairstyle is not only classy and elegant but it is also versatile. This bun looks just as good with a bikini as it does with an evening gown! To create this 'do at home, use the natural volume and texture in your wavy or curly locks to pull the hair up to the top, leaving it loose to create a voluminous bubble at the crown. Then pin your hair into an elegant and soft bun. To finish, leave soft tendrils out around the face like Vanessa has done here.


As you can see, frizz doesn't have to be your enemy in humid weather. There are so many ways to have a good hair day, even if the weather is hot, sticky or wet! If you need even more ideas and style inspiration for humidity-friendly hairdos, check these videos out: