If you love nothing more than adding a great plait or braid to your hair then check out these inspiring hairstyle ideas! Plaits aren't just for school girls anymore, and adding a plait to your hairdo can help you to create a range of hairstyles that will suit any occasion, as these ideas show.
Braided Top Knot and Plaited Bun Updos
One way to create an outstanding updo is to add braids or plaits.

This exquisite top knot from Alicia Keys uses thick braids through the length of her hair to achieve a top knot look with a difference.

Those looking for something more traditional can take a page out of Christina Milian's styling book and use thin plaits to create a stunning finish around the edges of a ballerina bun. Both looks will give you an upstyle with a difference, and are perfect for a party or formal occasion.
Ponytails with Plaits
More than just an every day hairstyle, ponytails can be styled to achieve a very pretty look when a simple plait is added through the lengths. The thickness of the plait is up to you.

You might like a thick plait running straight from your mid-lengths, à la Jenna Jameson.

You can secure your hair at the base of your head with a hair elastic and then plait the length to create a more structured hairstyle, as shown on Kate Hudson.
Decorative Braids and Plaits
Another way to make great use of braids and plaits is to use them to decorate your favorite type of hairstyle.

If your everyday look consists of pulling your hair back into a half up half down hairstyle or a ponytail because they are quick and simple styles then consider taking a few extra minutes of hair styling time to add some plaits. That way it looks like some effort had been put into you hairdo, but you haven't had to spend a lot of extra time on your hair. Braids added through the front sections of a half up half down hairstyle turn it from ordinary to extraordinary, as shown on Amanda Bynes.

While some plaits added to the sides of Jennie Garth's backcombed mid-length 'do certainly gives her look a great finish.
Side Styled Plait
Another Hairstyle idea for plaits and braids is to take your look and side style it. Whether it's on a seasoned hair chameleon, such as Paris Hilton, or others like Heather Morris from Glee and teen-sensation Selena Gomez, this simple hairstyle is soft, feminine and also a versatile way to style your hair for any occasion!

Side-styling your hair puts your locks front and centre and looks great like this plait worn by Brittany Snow.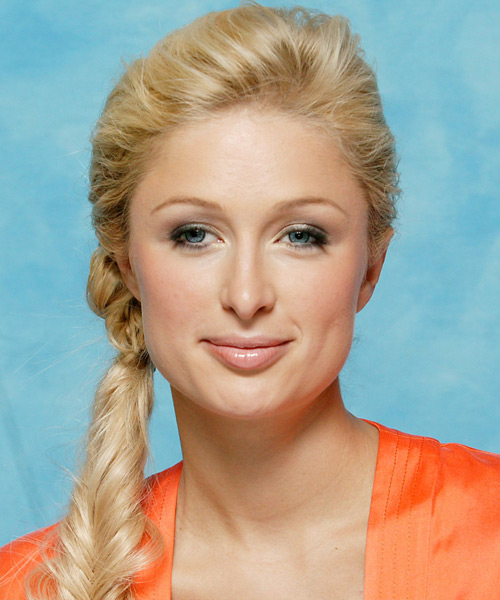 The Working Week Side Ponytail Plait: Plaits are not just for school girls anymore! This grown-up version of the side ponytail plait from Paris Hilton is the perfect fit for the office. All you need is a little height through your top section, a stylized knot to secure your plait in place and some fancy fish plaiting through your lengths to take your look from the school yard to the boardroom.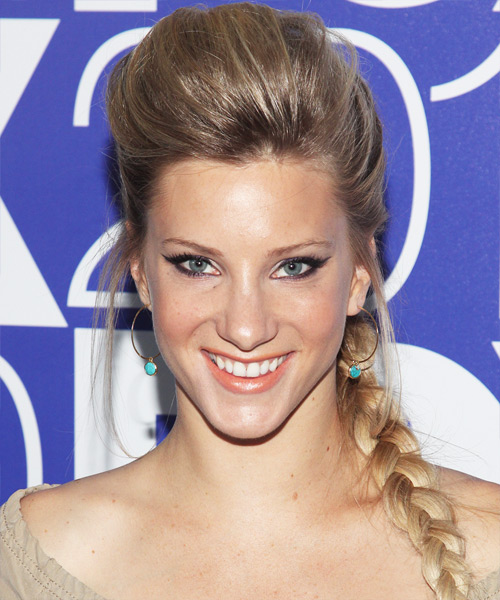 The Party Time Side Ponytail Plait: For a night-time plaited look, this side ponytail from Heather Morris ticks all the right boxes. The teased quiff on top, the soft strands around the face, and the tight plait through the lengths is enough to funk up any outfit and give you a sassy style that'll last the night!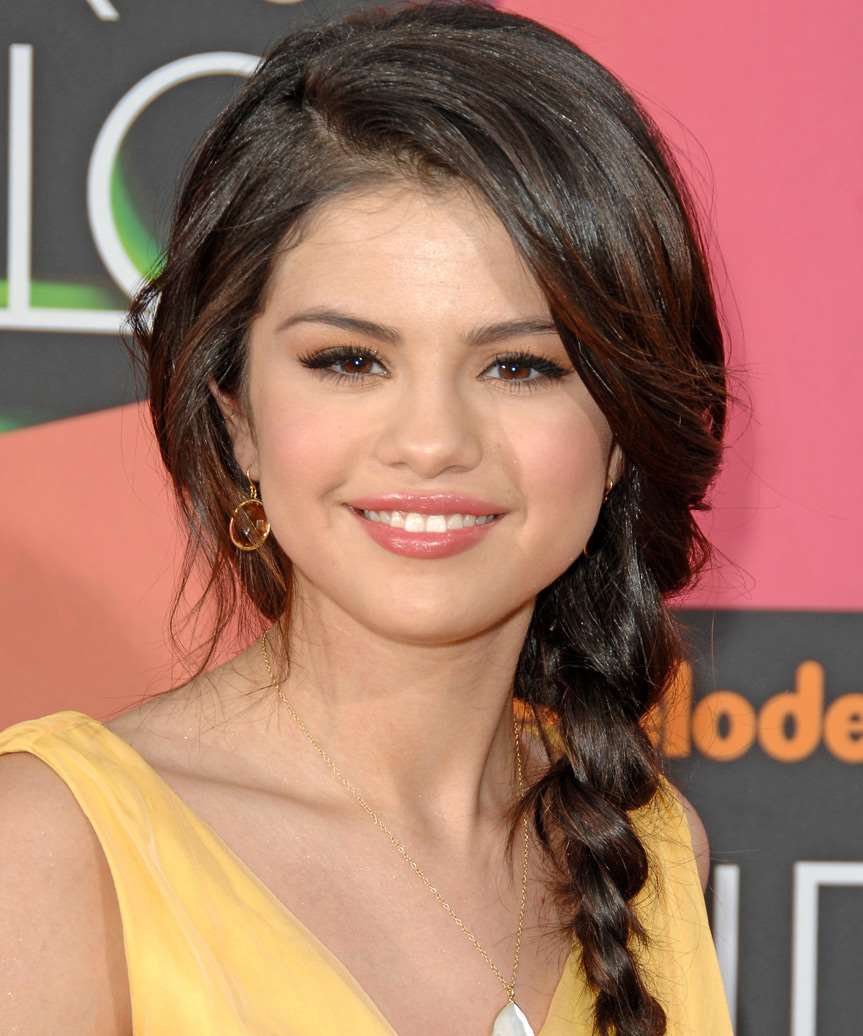 The Weekend Side Ponytail Plait: Even your downtime can benefit from a side ponytail plait! Just add a deep side part like Selena Gomez, pull your hair loosely together, swing all your length to the side and then plait and secure your hair for an effortless style that's big on the wow factor.
Side Styled Fishtail Braid

...or a fishtail braid like Jessica Szohr. Remember to keep the rest of your hair loose and playful to re-create the relaxed results of these fabulous hairstyles.
Professional Plait for Work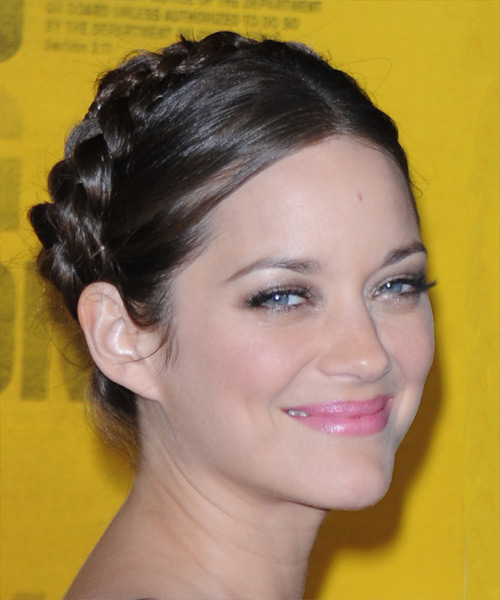 If you think that plaits don't have a place in the office then think again. Using plaits in your hairstyles can create a professional, polished style that will not only look great, but can also keep your hair off your face with a tidy and sophisticated finish. Try something similar to this look and plait your hair length up and around your head like a headband.
Fun Plait for a Party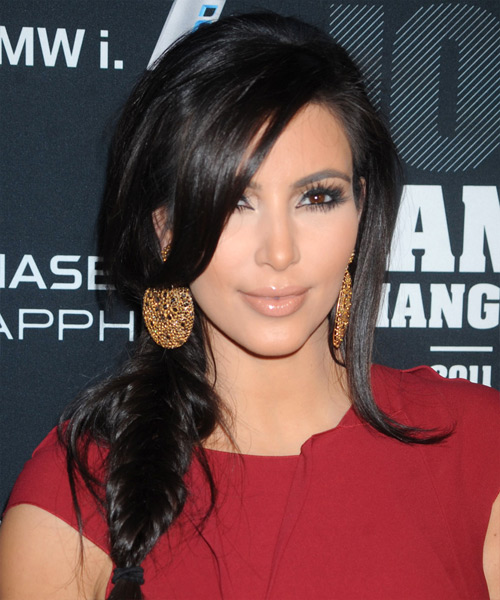 While you want to look great for a party, you also don't want to look too overdone. This is where a casual yet chic fishtail plait can come in handy. By scooping all of your hair to one side and side styling it into a loose fishtail plait, you can create a hairdo that will give you a flirty and fun look but is still fancy enough to suit any type of party.
Formal Plait for a Wedding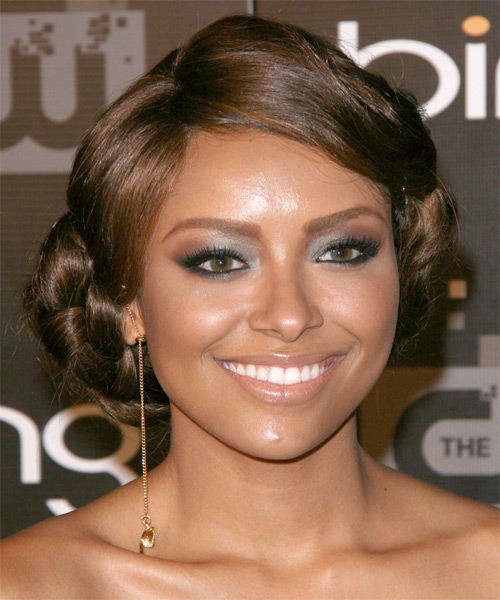 Plaits can also work well for weddings or any formal event. By incorporating plaits into a bun or stylish updo, you can add some pretty texture to your hair. Team your plaits with ribbons or flowers for a romantic touch, or some really great earrings or hair pins.

To see how you'd look with any of the great hairstyles pictured in this article, click on the above images to try the virtual hairstyles with your own photo!