Most women think that you can only have one face shape, but that isn't true! Twilight actress and screenwriter Nikki Reed is the perfect example of an oval-square face shape. While her face does have elements of a classic oval - narrower at the forehead and chin, wider at the cheekbones - she also has a square chin and angular jawline, which isn't typical of oval face shapes. If you also have this blend of oval-square elements in your face, read on to find out how you can style your hair to best suit your shape.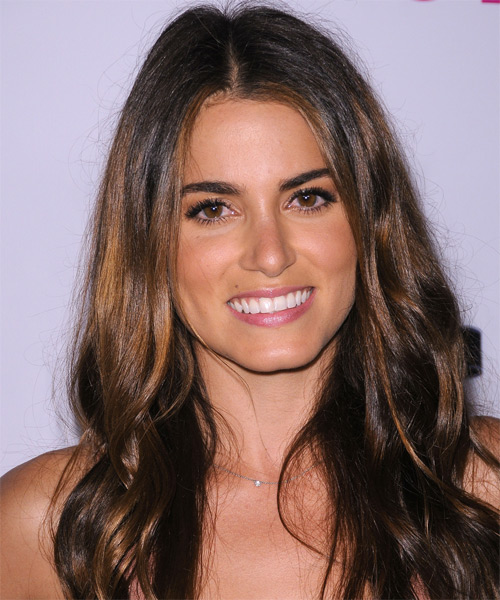 Nikki usually wears her hair long and wavy, putting emphasis on her hair's natural lustre and sheen. This length is great for women with oval-square face shapes as it softens up the jawline angles and is long enough to be pulled off the face - which suits both oval and square shapes very nicely. Colour-wise, Nikki sticks to her natural dark brown colour and often has golden brown highlights added throughout the lengths and ends. This gives her a natural sun-kissed glow, rather that the tell-tale "streaks" associated with traditional highlighting.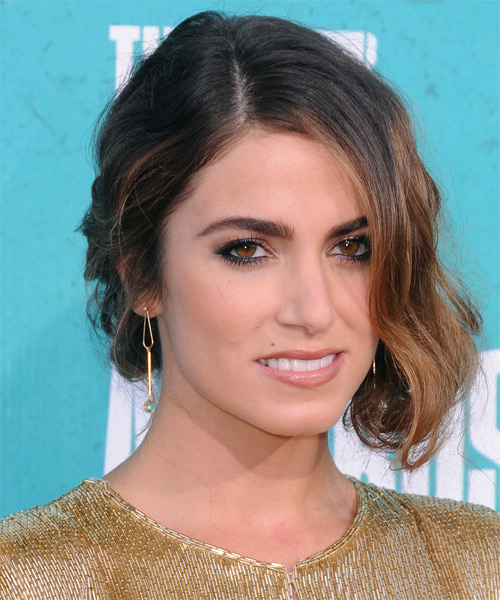 Here, Nikki sweeps her hair into a low roll to create a glamorous evening hairstyle. The deep side part and soft waves work great to balance out her square angles and soften up her face. Leaving some longer pieces out in the front creates an elegant look and goes well with her oval features as well. If you have the same face shape and want to recreate this look, simply add waves or curls to your hair with rollers or a curling wand. Create a deep side part and, using sections of hair starting from the back, roll the hair back loosely and pin into place. If you have shorter layers around the face, let them hang out. If you have long grown out bangs like Nikki, pin them behind the ear, making sure they are loose to about chin length.
Another hairstyle that Nikki and other square-ovals can work well is the classic bob. You don't want to go too short with this or else the square aspects of your face will give you a boxy look. Instead, go for a longer version of the bob that ends just at, or past, the shoulders. Nikki is wearing a center part here, but an off-center or side part is best for those with a square chin or wide jawline. This hairstyle would look fabulous when styled super straight and sleek, but beachy waves, as seen here, are a great way to add softness and body to this cut.
As you can see, the oval-square face shape can pull off many hairstyles from short to long. Of course, these 'dos look so great on Nikki because her hair is so thick and shiny! While you can't do much about the amount of hair you were born with, you can keep it in tip-top condition by using the right products. Nikki is a fan of Aveda Damage Remedy conditioner and Espa Pink Hair and Scalp Mud, so you may want to treat yourself to one of these and give your hair some TLC!