An oblong face shape is characterized by long and narrow proportions with a straight cheek line and pointy chin. Because oblongs are bottom-heavy, styles that pull the eye upwards are most flattering, whereas very blunt, long hair is a definite no-no.
TV beauty Jennie Garth isn't one to rest on her laurels when it comes to her hair. Although she keeps it short for the most part, Jennie mixes up her style by changing up the hair color, the parting, trying different bangs and so on. For ladies with the same oblong face shape, Jennie provides loads of ideas for a new hairdo. Check these out: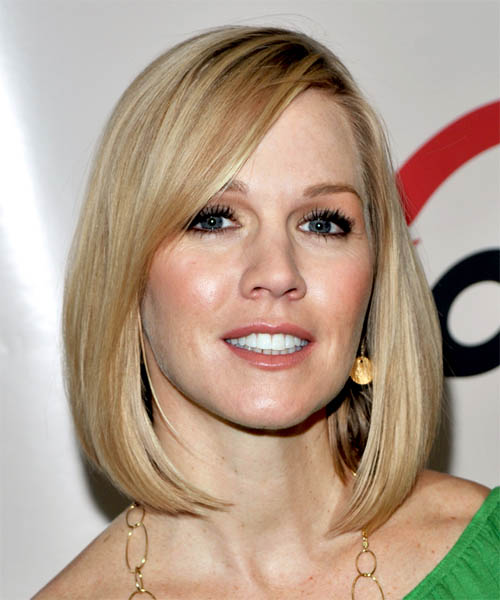 Jennie's classic bob and side-swept bangs look fantastic look fantastic with her oblong face shape. This style can be worn straight or with some funky waves added in.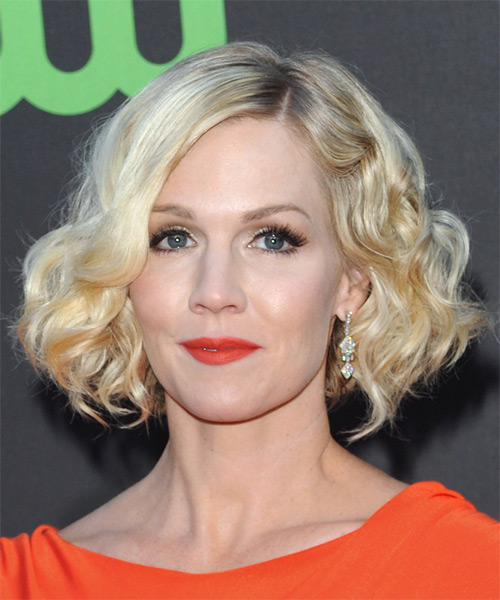 Here, Jennie's lightened up the color to an old Hollywood blonde, and styled it to match. A deep side part and curly waves paired with chic orange lipstick makes this an ultra-modern take on a classic look.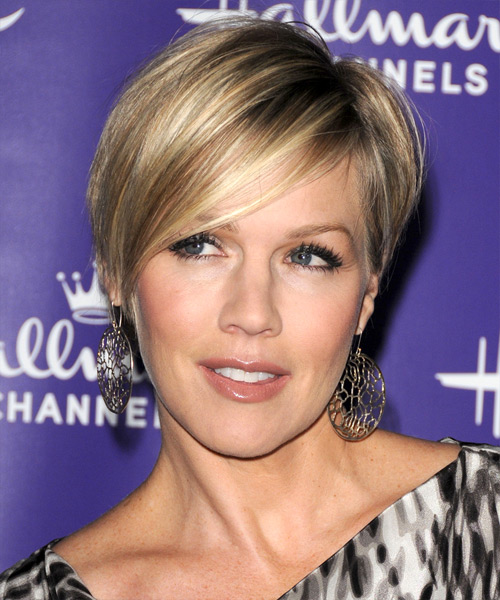 If you're looking to go short, check out Jennie's 'do here. This gorgeous style looks fabulous on oblong shaped-faces as it balances out the vertical appearance with side-swept bangs. The tapered sides and back shows off the jawline and neck beautifully.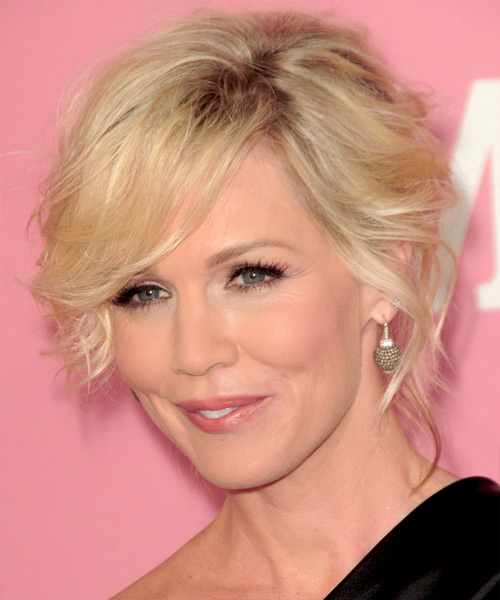 Jennie's most recent look is a bit longer, but she has kept the long bangs and added waves for a stellar look. This hairstyle balances her oblong face shape perfectly and brings out those cheekbones.
Alanis Morissette became a huge music sensation in the Nineties with her rock chick music, attitude and looks. At the same time of the Britney Spears pop tart explosion, Alanis stuck out because she had an edgy style of music and fashion, complete with a wild mane of curly hair. These days Alanis is doing her thing as a mom, but her quirky beauty still keeps her in the limelight. And if things on the music front are now a bit quiet for her, in the meantime she serves up some hairstyle ideas for those with the same oblong face shape as her.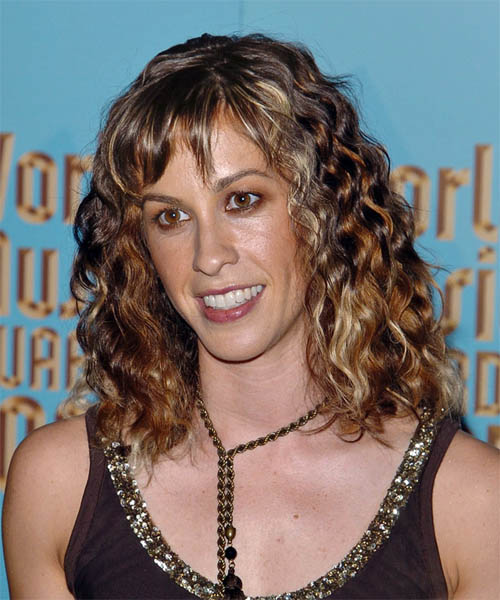 Oblong face shapes usually have close-set eyes, longer noses and high foreheads. Here, Alanis shows them how to do bangs properly with a jagged, layered fringe that covers the forehead but doesn't box the face in. Her curls add width to her face—a bonus for oblong shapes.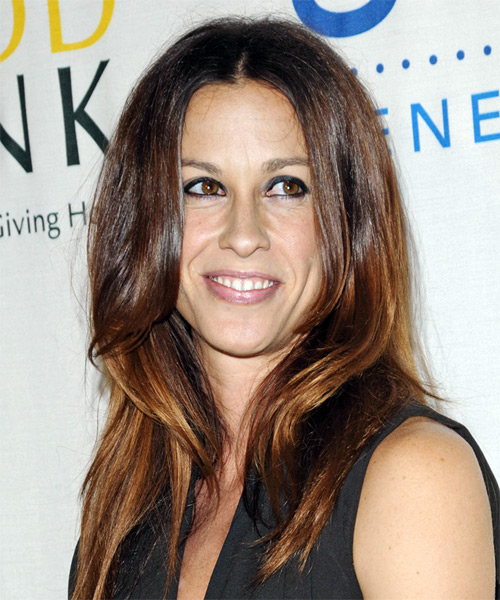 Alanis looks stunning here with sleek hair that has a bit of wave in the ends. The long layers around the chin balance her face out, and the highlighted ends add dimension. Alanis rocks a centre hair part here, but take note—most oblong shapes do better with a side hair part. To add width to her face, Alanis amps up the volume by backcombing the roots and underlayers…and probably using a lot of hair mousse in the process!

See more Alanis Morissette looks and try the hairstyles on with your own photo.
A very famous oblong, Hilary Swank, shows us how to wear different styles with this particular face shape.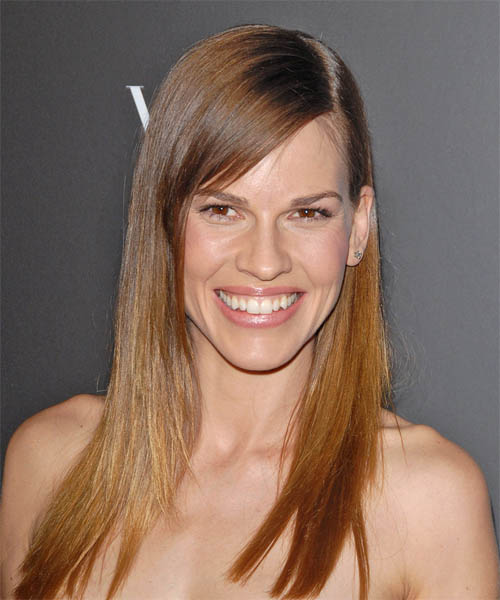 This longer style works on oblong faces because there is lots of layering and movement throughout the lengths and ends. Hilary's side-swept fringe creates nice coverage over the forehead and the razored ends of her hair soften up the jaw line—something that is essential for oblongs.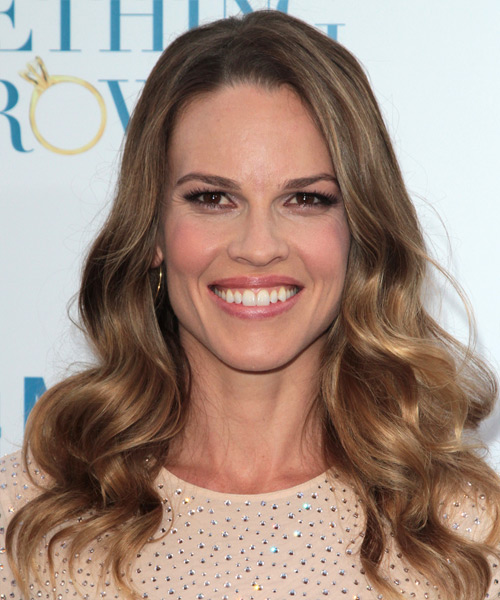 Here, Swank's soft beige highlights and feminine waves soften up her features. The hair volume in the roots adds height—another essential tip for oblong faces that will balance out the strong jaw line.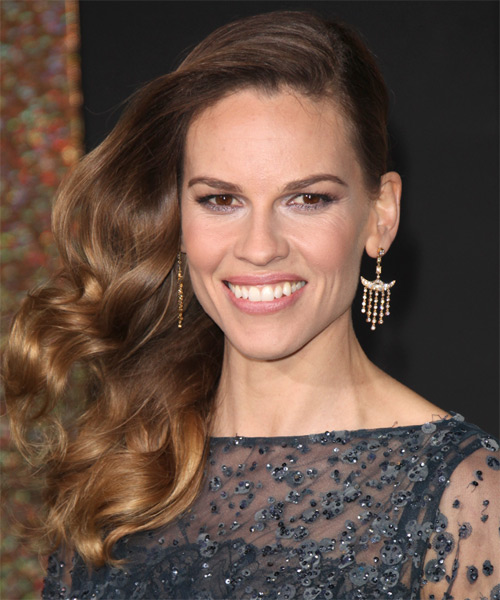 In this photo, Hilary is wearing beautiful waves that have been styled to the side. Oblongs look good in side-swept styles so if you are still rocking a centre hair part, do a Swank and switch to a deep side hair part that has lots of volume and will show off that fabulous bone structure of yours!
See more Hilary Swank hair looks and try the hairstyles on with your own photo using our Virtual Hairstyler.
Which one is your favorite?
To see how you'd look with any of the great hairstyles pictured in this blog, click on the above images to try the virtual hairstyles with your own photo!