If you have a long or oblong face shape, you join many Hollywood beauties such as Sarah Jessica Parker, Liv Tyler and Kelly Rowland to name a few. Just like any other face shape, oblongs have certain issues that they need to deal with when it comes to their hair. Oblong faces are more long than they are wide, and typically have a narrow appearance to them. Since this shape is predominantly long, adding width and minimizing anything that can pull the face down should be avoided, and you'll know that it can present some challenges when it comes to finding the right hairstyle. As an oblong, you'll want to reduce any excess length in your face and add some bulk and body to add width. You may also have to contend with a high forehead and prominent chin, which are common features with this face shape.
In general, you will want to avoid severe centre parts, stick straight long hairstyles that can create further length, and styles that bring attention to your forehead. A fringe is an oblong's best friend!
But before we get into all of the technical aspects, let's first define what makes an oblong face shape. The main characteristics are:
More length that width, with the width being more or less uniform from top to bottom
A high forehead
A squarish or broad jawline
If these things apply to you then welcome to the oblong club! Now, check out these hairstyles for some new ideas.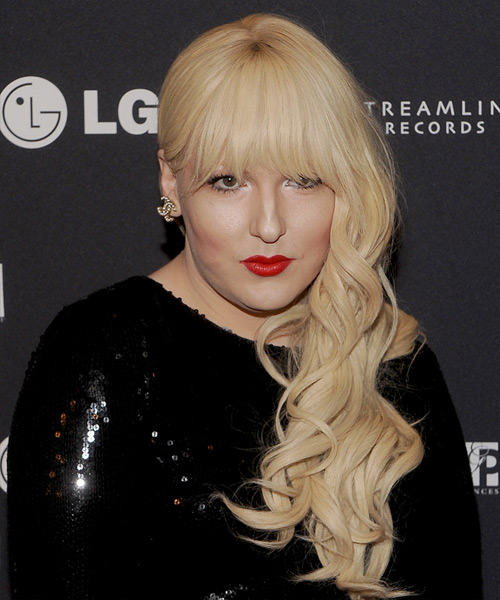 Darian Darling has an oblong face and she sure knows how to work it with this hairstyle! Darian's cascading curls and eye-skimming fringe work well together to make the most of her face shape and give her a style boost as well. Having a long eye-skimming fringe works wonders to counteract any excess length in an oblong face, regardless of the length of the rest of the hair. Darian's ringlets also look fabulous and add some width to her face. Super straight long hair will only add length to the face so this would be one style to avoid- keep it curly a la Darian.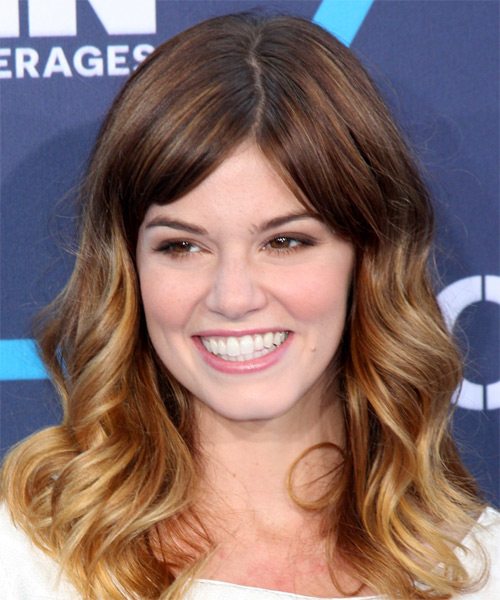 Rachel Melvin is making the most of her oblong face shape here with a cute parted fringe and shoulder length waves. This hairstyle really minimizes any excess length in the face with the length, texture and colour. Rachel's bangs are perfect for women who want to minimize a high forehead but don't want a full-on fringe, and her waves add width to her face. The ombre colour technique is another way for women with oblong faces to look stunning - not only does the brown to golden blonde colour here look great on Rachel, but it also camouflages a long face.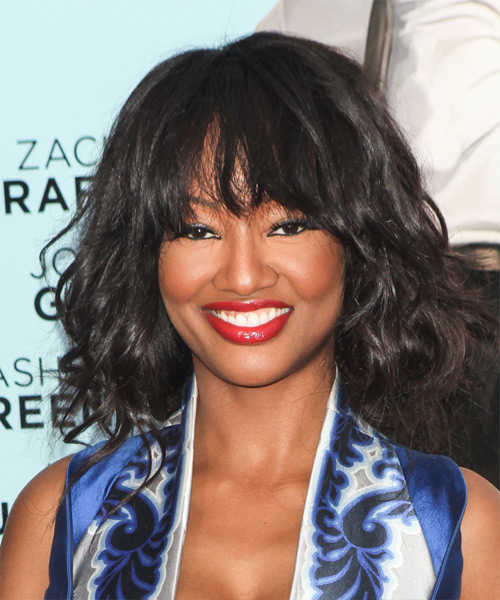 Nichole Galicia looks stunning in this wavy bob that works well with her oblong face shape, and will with yours too! Nichole utilizes a wavy hair texture to add volume and bounce all over, and minimize any length in the face. Her fringe skims the eyes, which is an ideal fringe for oblong face shapes, and arcs down to blend flawlessly with the rest of her 'do. Her blunt bob has loose waves throughout to give her balance throughout her face, but it also looks tres cool as well!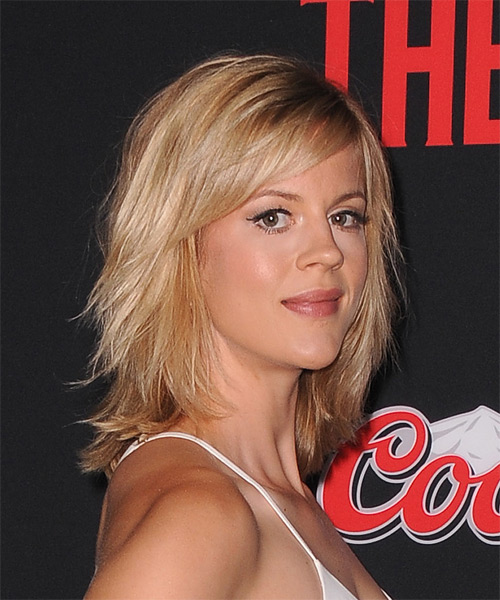 Georgia King is wearing another ideal hairstyle for an oblong face. The shoulder length is perfect and the shaggy but soft layers throughout really break up any excess length in her face. Her side swept fringe is another great feature of this 'do and really enhances the rest of her haircut. If you have naturally straight and/or fine hair, this may be the style for you!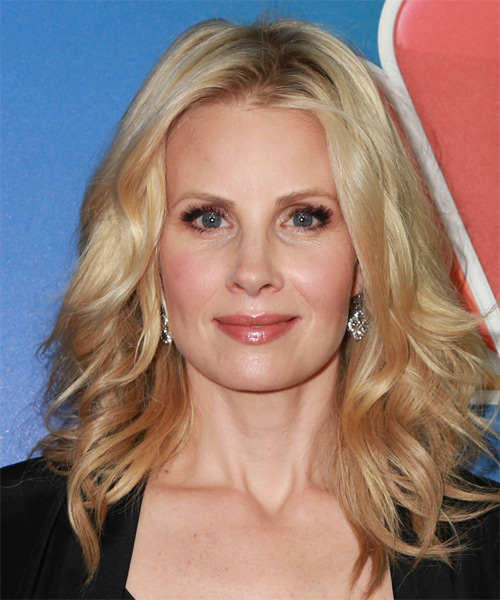 Monica Potter has the right ideas going for her oblong face with this layered medium length style. Having excessively long hair is a no-no for this face shape, but a collarbone skimming length strikes the perfect balance. Monica's layers that have been waved add some nice body around the face, and the outward direction of the curls add to that, so use this technique if you are an oblong and want to add waves or curls to your hair. This 'do could be improved with a side part and a grown out fringe that sweeps across the forehead.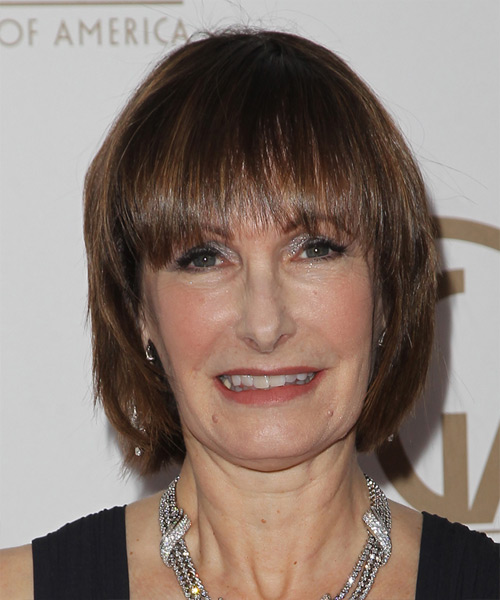 If you have an oblong face but prefer shorter hair, then this is the way to do it. Gale Anne Hurd has a bob that ends just past her jawline with a wispy fringe. Her cut has been layered all around the front and sides to create a sculpted effect that reduces any excess length in her oblong face and covers a high forehead. The hair has been blow dried in a rounded fashion to create more width in the face while creating a frame around her cheek and eye area. Give this one a try if you want to go short!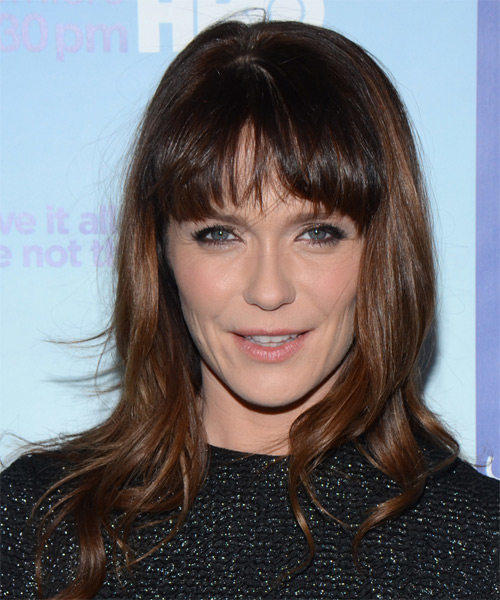 Kate Aselton is wearing a stunning cut for oblongs here, with an arched fringe and softly curled layers. Oblongs look great with soft curls or waves in their mid-lengths and ends, which look even better with a thick fringe. Kate's fringe does a great job of framing her face nicely without being too harsh looking, thanks to the choppy ends and fine layers throughout. If you are an oblong, go for a similar fringe for best results. To get Kate's soft curls, use a curling iron on medium to low heat on the ends.
And finally we have Niecy Nash, who makes the most of her Oblong face shape with ringlet curls and a deeply parted side swept fringe. Niecy has a graduated long bob that is shorter in the back, which flatters oblong face shapes. The front has been layered for a nicely tapered look and when curled, provides ample body and bounce. Nicey has the right idea with her fringe too - oblongs look great with a flat fringe that sweeps across the forehead.
As you can see, oblong face shapes have a lot of options to work with when it comes to their hairstyles. These were just a few ideas but if you want more style inspiration, check out the Hairstyles for Oblong Face Shapes page.