TheHairStyler.com's latest hairstyles are an essential way for you to stay up to date with the best new hairstyles the very minute we add them to our database. Right here you'll find the latest hairstyles styled by the best hair salons around the world.
Each week we'll present you with five of our favorite latest hairstyles. You'll see some really trendy hairstyles, some hairstyles causing a bit of a stir, some classic hairstyles, and of course some cute hairstyles that just look great.

 
Casual Long Curly Hairstyle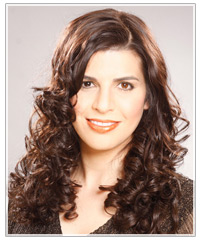 This beautiful curly hairstyle is perfect for those with a natural curl! Layers have been cut around the back and sides to balance out the volume and fullness through the mid-lengths and the ends and to give this style such a great looking finish. This particular hairdo is most suited to oval face shapes, but you can find out more about curly hairstyles for other face shapes by reading this great article, Curly Hair Styles for Your Face Shape.

 
Formal Short Curly Hairstyle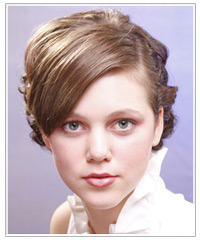 This dainty hairstyle makes the most of both a straight hair elasticity and a curly hair elasticity by combining them into this formal look. Plenty of movement has been added through the back for shape and softness while the top has been slicked down to add contrast. This is a great short hairstyle for diamond face shapes.

 
Alternative Medium Straight Hairstyle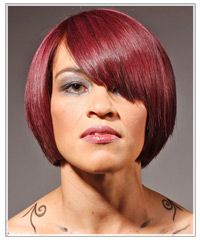 Hair coloring fun for medium length hair doesn't get any better than this attention grabbing red hair color! Medium length layers were cut into the back and sides of this bob hairstyle to modify the classic shape yet still keep the solid length for a blunt finish. For a stylish touch, jagged cut bangs were added to frame the face.

 
Formal Short Straight Hairstyle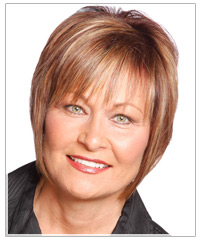 This stylish short straight hairstyle has been tapered into the back of the head and long layers have been cut through the front for contrast. This makes this hairstyle best suited for those with long faces, such as triangular face shapes and oblong face shapes. To complete the overall look, wispy bangs were added and styled with a blow-dryer and a medium sized radial brush.

 
Casual Long Curly Hairstyle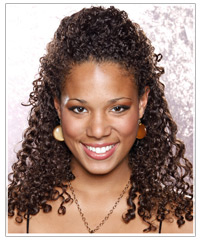 This long casual hairstyle is perfect for making the most of naturally curly hair. Subtle layers were cut around the edges of this look to balance out the body and fullness and to lighten the ends. For a low-fuss finish, the hair was styled into an easy half up, half down updo. For more tips about curly hair, see our hairstyles article, Curly Hair Styling Tips.

 
Click on each image to try the hairstyle on your photo or our model and don't forget to check back next week for more of the latest hairstyles!