Paddle Hair Brush
Using a paddle brush makes your cuticles lie flat, and this is great for smoothing and detangling hair and boosting its shine and sleekness. Paddle brushes are perfect for all different hair types and textures (from baby-fine to thick long hairstyles), and a good one can last for years.
A paddle brush is usually quite large, flat and wide, and typically made of plastic, timber or ceramic. The head of the paddle is commonly oval or rectangular, and its bristles might be pure boar (which tend to be softer), nylon, ball-tipped nylon, or a mix of boar and nylon. The bristles usually sit on an air cushion, which means they contour your head and provide a stimulating scalp massage while distributing the oil evenly from your roots.
Ion bristles are a great innovation in paddle brushes. An ion is basically an electric charge, and these bristles generate ions from the energy created by your brushing motion and its reaction with the natural crystal in the brush's resin. Ions are said to reduce static and help close the hair cuticle.
Military Hair Brush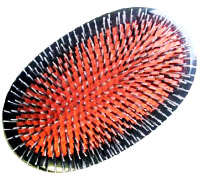 Military hair brushes typically have no handle and are held in the palm of the hand. They're mostly a guy's hairbrush and are the kind of thing used for slicked-back conservative hairstyles. You can probably imagine a guy standing there, cigarette in mouth, with one hand running the brush through his hair and the other patting his hair smooth- very Humphrey Bogart.
Like most hair brushes, military brushes come in a basic range of sizes and materials. Depending on how much you want to spend, bristles are either natural boar or nylon, and you can also pick up extra soft military hair brushes (with more bristles placed closer together). These brushes can come with the bristles set on an air cushion for greater scalp stimulation- making them similar to paddle brushes.
Military hair brushes are perfect if you're old school and you like that slicked-back look without the separating lines that a comb can leave. For super smooth grooming, and if you're in a bit of a rush, try 2 military brushes- one in each hand!
Radial/Round Hair Brush (Timber, Ceramic and with Vents)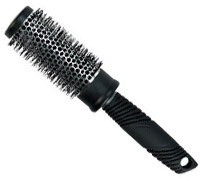 A radial hairbrush has bristles around the entire head of the brush; in other words the bristles make the brush look round like a roller. If your hair's quite thick, you've got a good blow-dryer, and you want some delicious big curls, then a radial brush is essential.
There are various kinds of radial brushes. They come in different sizes and the larger the brush the bigger the curl you can achieve when blow-drying. Radial hairbrushes are also either timber or ceramic with natural or nylon bristles, or a mix of both. Ceramic brushes are said to hold the heat from the blow-dryer, and these can help mold the hair, protect it from damage caused by heat, as well as reduce static.
Vent holes in the barrel are an effective way of allowing the heat from the blow-dryer to circulate at the roots of the hair and create more volume. Brushes with vent holes are sometimes referred to more generally as vent brushes.
Radial hairbrushes are great for creating curls, but the correct blow-drying technique is probably even more important. Wrap your damp hair around the brush, roll towards the base and dry with heat, then (and this is the essential step) give your hair a blast of cool air to make the curl set.
Half-Radial Hair Brush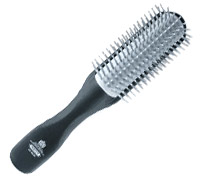 A half-radial hair brush is the tool for you if you like wearing your hair flicked up or flicked under; for example, if you've got a bob and you'd like the ends of your hair curved under.
A half-radial hair brush looks like a radial brush that's been cut down the center- in other words it's half a radial brush (curved bristles on one side and flat on the back). The two basic types are timber or plastic, with either natural or nylon bristles. Plastic half-radial hair brushes sometimes have bristles sitting on an air cushion (similar to paddle brushes), and these are great for massaging your scalp.
The best thing about half-radial hair brushes is that they're perfect for someone with thick hair looking for a nice wave without too much volume. For maximum volume you need a radial hair brush.
Hair Brush Tips
Make sure that you have the correct hairbrush for the style that you are trying to achieve and for your hair type and texture. A baby-soft bristle is great for fine hair and coarse bristles are perfect for thicker hair. Ask your stylist for more advice.
Wash your hairbrushes regularly in warm water with a little shampoo and allow the bristles to dry naturally.
You don't need to buy the most expensive hairbrush- just make sure the bristles are soft enough (natural bristles are usually softer though, and more expensive).
Use a hairbrush with bristles long enough to reach your scalp. This way they will release your hair's natural oils.
Use a comb instead of a brush to detangle wet hair (some people even say don't comb it when it's too wet because your hair is weaker when it's wet).
Regardless of the quality of your hairbrush, you always need to use heat protection products on your hair before blow-drying.
Don't brush thick, frizzy hair- use a pick comb instead.
Now that you know which hair brush to use, get the right hairstyle with TheHairStyler.com's virtual hairstyler. Finding the right hairstyle is easy at THS, and so is finding the right hair accessories like hair brushes.