Contrary to popular belief, having a full face doesn't always mean having a round face. Fuller faces can be any size or shape, but the defining feature is that there is less bone definition and a softer overall look. If you have a full face, count your blessings! Your face will age better than most and retain a youthful plumpness in the cheeks well into old age.
Faces come in all shapes and sizes and for many women, this means having a fuller face. This isn't an actual face shape per say - full faces can be oval, round, square heart shaped or diamond shaped - but rather, it's when more weight is carried in the face than usual.
Sometimes this appears as super cute chipmunk cheeks, a fuller neck and jaw area, or it can simply be all over fullness in the face. If this applies to you and you are looking for a hairstyle solution, have no fear because we are bringing you the greatest 'dos for fuller faces straight from the red carpet. These hairstyles will give you some ideas for your next salon visit and will make the most of your fuller face shape.
Oblong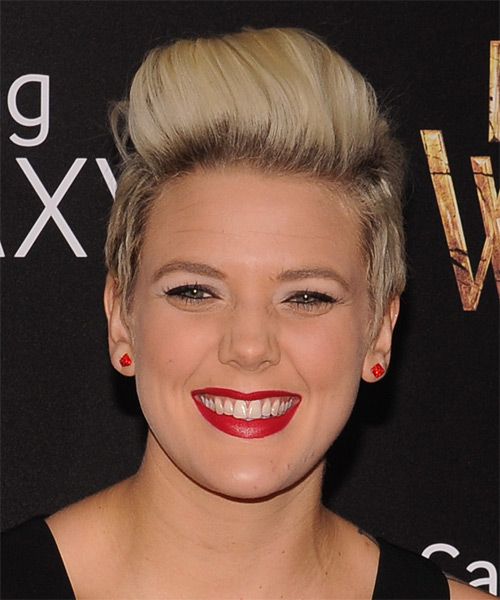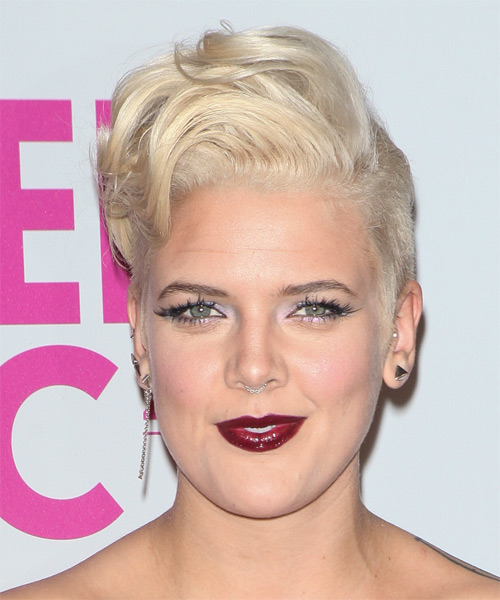 Betty Who has an oblong shaped fuller face. She makes the most of it by wearing an edgy hairstyle with plenty of volume on top - this is a great tip to use if you have a similar face shape. By keeping short sides and a voluminous crown, Betty balances out any excess fullness in her face while looking chic and trendy. To create this 'do at home, you'll need to use a good root lifter, then simply blow-dry the hair up and away from the face. Set it in large rollers in the same direction for extra lift. Or, you can go for a curly look as seen on Betty here. This 'do is created by using a large curling iron (instead of rollers) to create curled sections throughout the top. Spray the curls into place to get this cool curly finish.
Round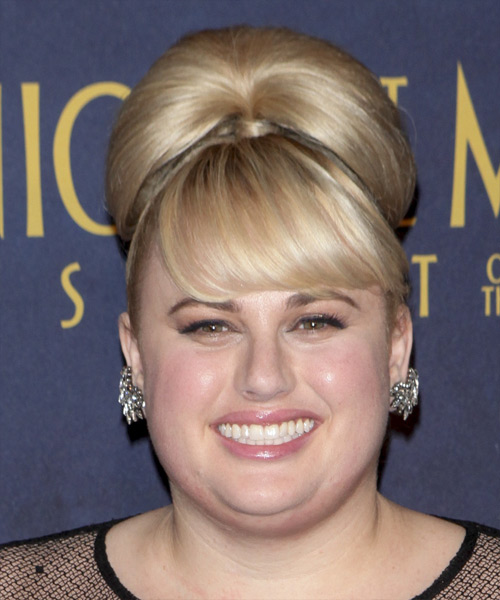 Rebel Wilson is another full-faced beauty who really knows how to work her round face shape well. Her light blonde locks are usually worn down and long, but here she has gone for a fun up do. She has used a high volume hairstyle to balance out her full face nicely. To create this 'do, simply make a high ponytail at the crown, then create a bubble and secure the ends underneath, allowing the ponytail to fan out. Rebel's straight blunt fringe also works well here with her fuller face shape.
Heart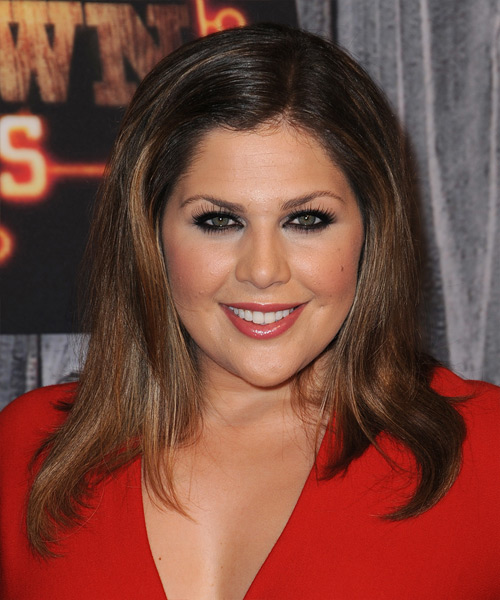 Hillary Scott has a heart-shaped face that is on the fuller side. Her gorgeous cheeks and dainty chin (two main benefits of the heart shaped face) look fabulous in this medium length straight hairstyle. Keeping your hair straight and sleek can be a great way to minimize any extra fullness, plus it will bring out your hair's natural sheen.
Square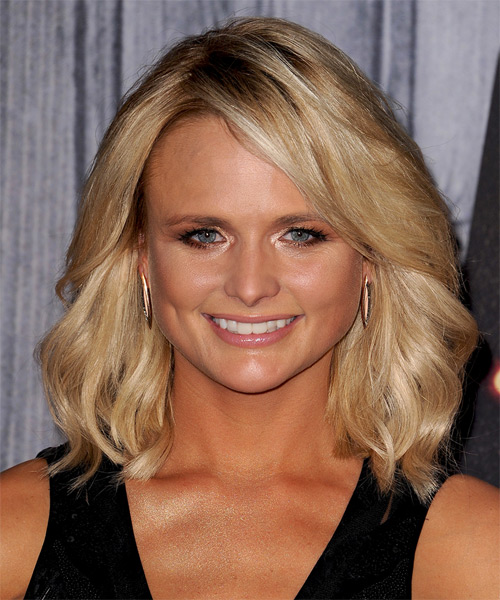 Here we have Miranda Lambert working her fuller square shape face here in a simple blonde bob. This hairstyle has soft waves and a long side swept fringe to balance out the extra fullness of her face shape nicely and it softens up the her square jawline too. If you have a similar face shape, consider this type of fringe for yourself. Another good tip is to always curl or wave your hair away from the face, just as Miranda has done here.
Various Face Shapes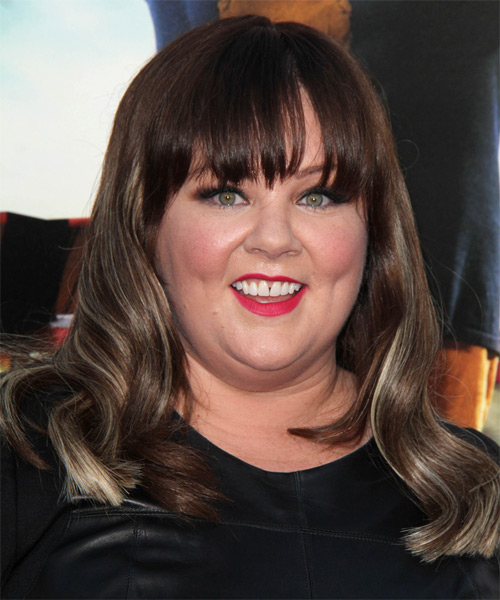 Melissa McCarthy looks gorgeous here in an eye-skimming fringe and a blunt medium 'do. Ladies with a fuller face like Melissa do well when they bring the attention to the eyes, and what better way to do this than with long bangs? Instead of going for a blunt, straight across fringe (which would not flatter a full face), Melissa has opted for an arched fringe with jagged ends. This is the perfect fringe for heavier faces. The rest of her hair looks glossy and healthy, thanks to her rich brown hair color with sun-kissed highlights and the blunt finish at the bottom (which is a great technique to use to make your hair look thicker).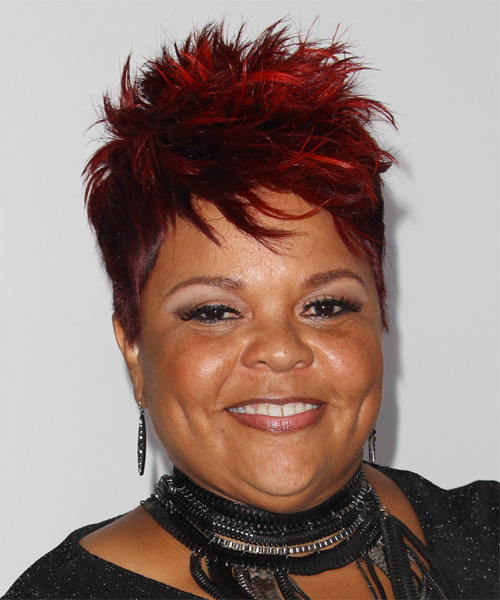 Tamela J. Mann has most of her fullness in the cheek area, which is nicely balanced out by this wild fiery 'do! By creating a ton of volume on the top, Tamela avoids adding more width to her face, plus, it's just a super cool hairstyle to wear. Work your best features with this tapered cut that has longer jagged layers on top for maximum style versatility. Although this haircut would look good in any color, Tamela's deep red base with fiery tips wins the prize for best color!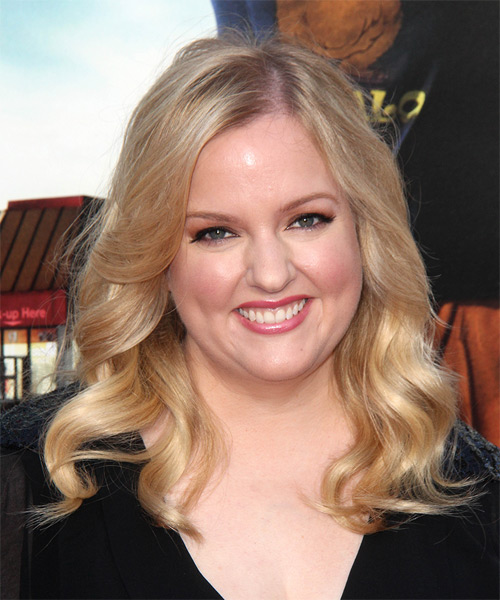 For ladies who want a longer, romantic look, check out Sarah Baker's elegant medium hairstyle here. Sarah's fullness is in her cheek and jaw area so she uses soft waves and a cascading side part to camouflage that area. This is a soft and feminine look that suits the fuller face nicely - plus it has the added versatility of updos as well. Wearing the hair up or off the face is very slimming and will suit the fuller face nicely. If you have layers around your face, leave those down to create a nice frame and provide a bit more coverage if you prefer.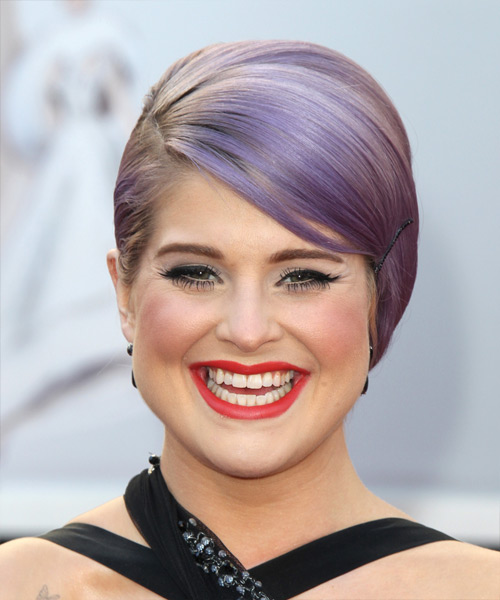 And finally, for a do' that's sleek and sophisticated, check out Kelly Osbourne's smooth side-parted hairstyle here. Kelly has fullness in her chin and cheek areas, so keeping the volume on the top and the ends tucked away is a great way to balance out the face. This is a simple yet elegant hairstyle that takes only minutes to style, so you may want to try this one out if you are in the mood for a trendy new look.
As you can see, a full face does not mean a fat face. It simply means that there is extra fullness in certain areas, which you can certainly make the most of like these celebs have done!
There are a variety of fuller face shapes out there, and each one has many hairstyles that flatter it. This was just a small selection hairstyles for fuller face shapes, but be sure to visit thehairstyler.com for new hairstyles that are added weekly!