Having a head full of natural curls can be challenging. At times, they seem to have a mind of their own. Here, we will look at three different hairstyle lengths for those of you blessed with naturally curly hair.
The golden rule to remember is: embrace your curls! If you work with the curls, not against them, they will naturally do what they are meant to do and your styling experience will be stress-free. A great hairstyle along with some good styling products will have you taming those curls in no time.
To start, let's review the must-have, essential products for the naturally curly haired gal:
• non-sulfate shampoo
• leave-in conditioner
• deep conditioner (you should deep condition at least once a week)
• a styling product containing silicone
• a good quality brush- this will help to effectively distribute the natural oils through your hair
• A headband- perfect for those days when your hair is extra unruly or you're short on time
Now, let's check out some sexy hairstyle ideas for naturally curly hair!
Short Hair
Consider a short crop for your curly hair. It's a low maintenance cut that doesn't sacrifice style and allows your curls to take centre stage. Try a uniform cut or go for something layered for a different look.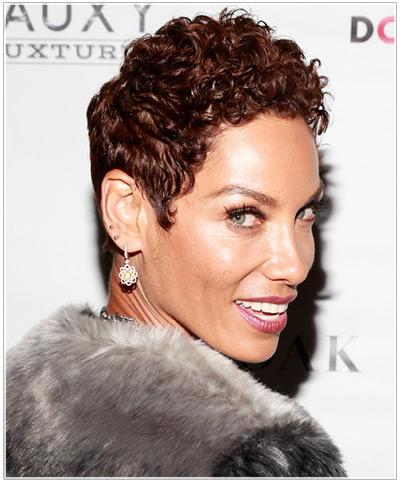 Nicole Mitchell's naturally curly hair is cropped close to her head around the sides and back but left longer on the top for some height and texture. This style is perfect for those with round, heart, oval and triangular shaped faces because it has a balancing effect. When opting for a short 'do for your curly hair, it's recommended that you keep two to three inches all over. This will provide the most flattering look for your face.
Medium Hair
Medium hair lengths work well with curls, especially when shaping layers are added throughout. For this reason, it is essential to work with a stylist who knows how to cut curly hair properly for best results.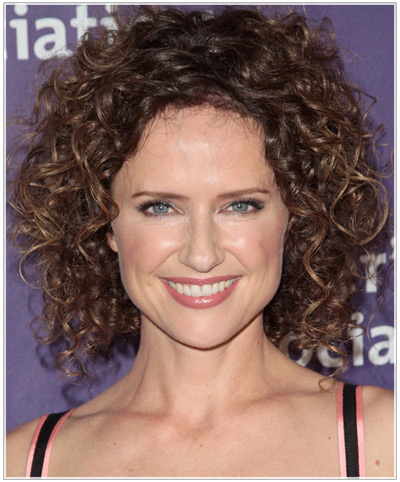 Here we see a lovely layered curly hairstyle. The layers are cut around the sides and back to thin out the volume of the curls. This cut would be suited to those with oval, oblong, square or diamond shaped faces, and is also a great way to tone down ultra-thick hair.
Long
If you love your long hair and can't commit to a shorter cut, there are still many styles that will keep those curls looking polished and under control. You can wear your hair long past the shoulder with lovely layers or keep it one even length. You could even try adding some bangs for a whole new look.
Here, we see beautiful long layers that are cut in throughout the sides and back- not only to lighten the volume of curls but to lighten the length as well. This layering allows the curls to maintain a flattering shape while still retaining lots of bounce. Try this one if you have an oval, oblong, square or diamond shaped face and want the benefits of long hair with minimized styling time.
Important Note:
While some of these curly styles look wash and go, it's not quite that simple. Naturally curly hair is drier than straight hair so it will require product application to keep the moisture locked in and tame the frizz.