Get a Good Haircut
The right haircut for your hair type and texture will go a long way towards helping you to keep frizz at bay. To find the right style for you, give our Find Your Perfect Hairstyle Consultation a try. If you've already got the right haircut then make sure to visit your hairdresser every 6 to 8 weeks for regular trims and to keep on top of split ends, which when combined with frizzy hair can really cause some hair headaches.
Use the Right Hair Products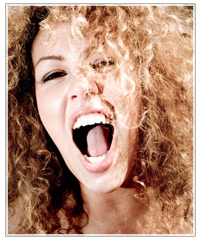 Use shampoos and conditioners specifically designed for frizz prone hair and hair styling products that are designed to make your hair smooth and inject some much needed moisture. Using a deep conditioning treatment regularly is also a good idea and should be combed through your hair to make sure the smoothing properties reach every strand.
Get Healthy Hair
Healthy hair that's frizz free can by yours by eating the right foods and putting a daily hair care routine in place. For more tips on getting healthy hair, see our hairstyles blog, Healthy Hair Makeover and hair care articles, Hair Care Tips for Taming Toxic Hair and Daily Hair Care Routine in Six Easy Steps.
Weather Proof Your Hair
Wind, rain and the sun can all cause your hair strands to frizz out. Protect your hair by using hair products that contain UV filters and wrap your locks in a scarf or hat whenever you're out in the elements.
Treat Your Hair with Care
When it comes to keeping your hair clean, don't over wash or wash your hair too often as you'll strip your hair of your natural oils which fight frizz by weighing your hair down. After washing, don't ever rub your hair. Instead, blot gently with a towel and remember to use a wide tooth comb or your fingers to gently detangle.
To further keep your hair frizz free, only ever touch your hair when necessary and cut down on heat styling which will only aggravate frizz. If you can't live without your blow-dryer or hair straightener then always use a heat protection product first, style on the lowest heat setting possible, only use one styling tool at a time and limit heat styling to a few times a week.
By using these 5 tips, you should be well on your way to getting frizz free hair. Just remember to keep your hair maintained and don't fall into the trap of getting your hair cut once or just adding a hair treatment every now and then. To really fight frizz you need to put in the effort and keep it up!