When it comes to being able to wear your hair in a variety of hairstyles, long hair is the best length to have! Long hair is the perfect length to create a variety of looks using different hair styling techniques and hair color options.
Not only does long hair allow you to create great looks such as half up half down hairstyles and elegant updos, it's also the perfect way to showcase luscious waves and cascading curls!
If you have long hair and are looking for new ways to style your hair, then these long hairstyle ideas are sure to give you a great range of looks. To give your long length a boost, you could even mix and match the hair color, parts, bangs and styling in your own way for the ultimate long hair makeover!
Long Hairstyle: Straight Strands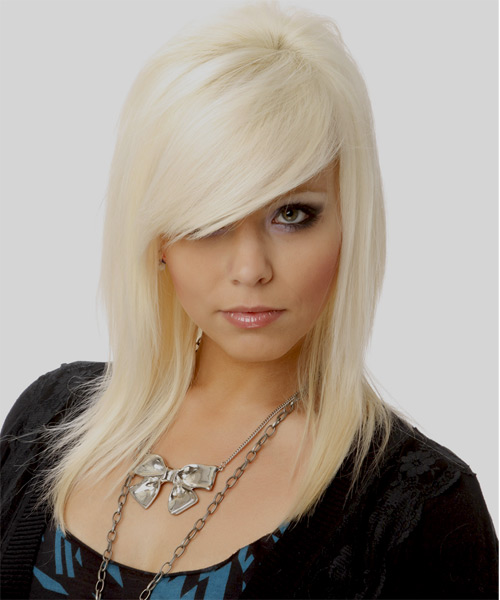 The perfect way to show off long hair is with super straight strands! A blow-dryer or hair straightener will allow you to achieve this look if your hair isn't naturally straight (see our article, Hair Straightener Tips for Salon Straight Hair at Home for help). If you don't have these great side-swept bangs you can still achieve the same look by adding a deep side hair part and side-sweeping your length.
Long Hairstyle: Volume Filled Curls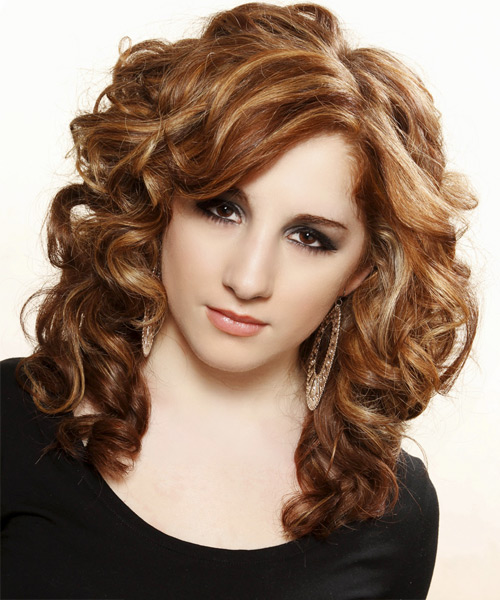 Big curls look fabulous and will really get the chance to shine in hair that is long. A curling iron has been used to form these great looking curls and the roots have been teased to create height and inject the fabulous high volume. This hairstyle would be perfect for a party or a night out.
Long Hairstyle: Beachy Waves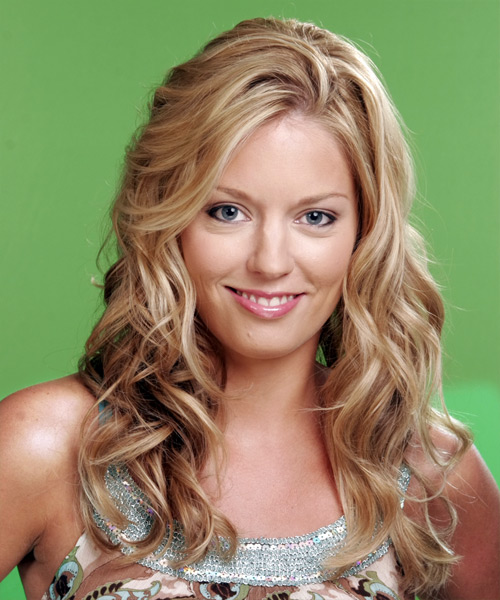 For a relaxed way to show off your long hair, try adding beach inspired waves. If your hair is naturally wavy you can try scrunching your hair, if not, a large barrelled curling iron through the ends and the mid-lengths of your long hair will re-create this look. Try it out on your next holiday or when you're hanging with friends.
Long Hairstyle: Bangs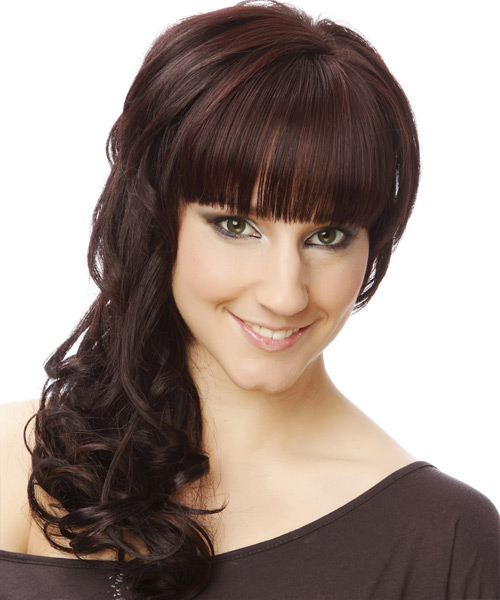 If you're looking for a way to change your look without sacrificing your long hair, bangs might be the answer for you! Full bangs (as seen here) or side-swept bangs can really add interest to a long length hairdo and can be styled to suit any occasion.
Long Hairstyle: Hair Accessories
If you already have a favorite hairstyle for your long hair, then learn to jazz it up with hair accessories. Headbands can provide a funky look, while sparkly hair clips can create a look suitable for parties or give you an elegant wedding hairstyle. Decorated hair elastics are also a fun way to dress up your long hair when pulling it back into a half up half down hairstyle or a classic ponytail.
Long Hairstyle: Retro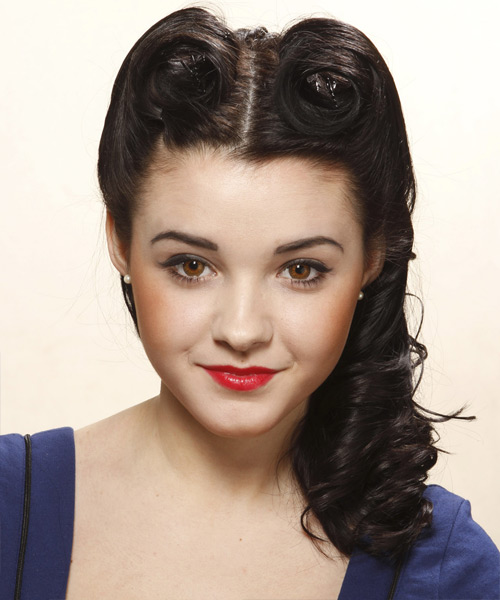 To give your long hair a glamorous, old Hollywood feel, why not try something like this curly retro hairstyle? The look is perfect for creating a hairdo suitable for a wedding or formal, and can easily be achieved with hot hair rollers. All you need is healthy long locks and lots of shine spray for a finish this fabulous!
Long Hairstyle: Casual Updo
We all have days when extensive hair styling is just something we don't have time to do. For those days, a style such as this casual updo is perfect! The key to this look is not worrying about getting your strands perfect. Pinning your hair up and allowing loose strands to frame your face is all you have to do to re-create this look, which will have you heading out the door in no time!
Long Hairstyle: Quick Styling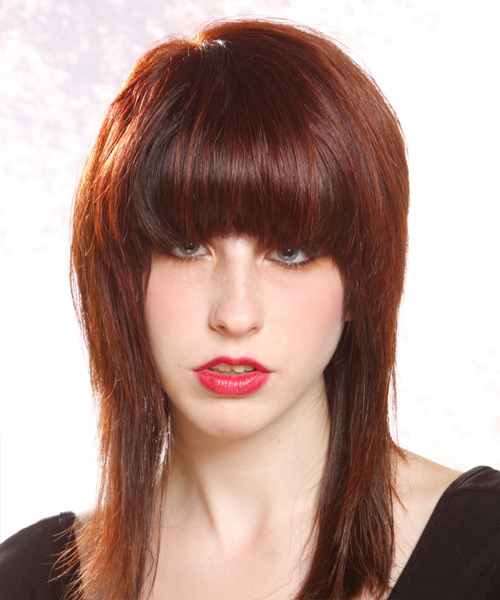 Although long hair does mean you have to spend more time styling than if you had short hair or medium length hair, it is still possible to style your hair quickly. This straight look only takes 10 minutes to style with a blow-dryer, a medium sized radial brush and some hair styling products to keep your locks in place.
Long Hairstyle: Formal Updo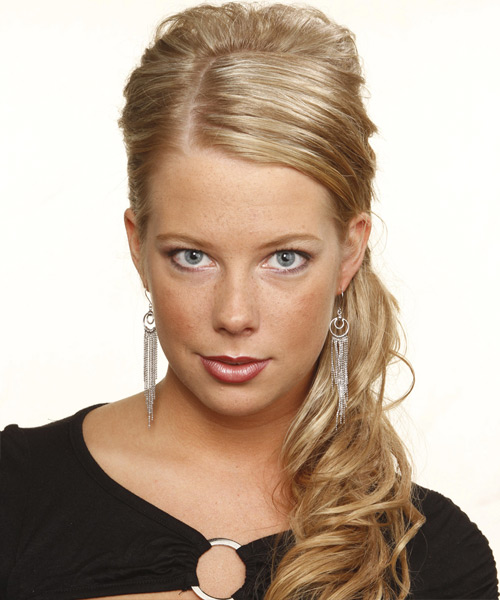 Our final long hairstyle idea is this modern formal updo. The slicked down front section and teased up back section adds glamorous height, while the curls pinned beautifully to the side finishes the look off perfectly! This type of hairdo would look amazing when teamed with a wedding dress, worn to a formal, a party or even to the office if you want to feel extra fancy!
A Middle Part and Soft Wavy Hair


Styling your hair into a middle part instantly opens up your face shape, and when you've got long, luscious hair to frame the sides of your face, the look is even more fantastic. Team your middle part with soft waves and you've got a hairstyle that is perfect for everyday wear and can be dressed up or down with some well placed hair accessories.
A Side Hair Part and Salon Straight Locks


Salon straight locks really get the chance to shine in long hair thanks to all that great length. Combine your long locks with a sassy side hair part for a flattering look and don't forget to keep your hair frizz free and full of hair shine to give this look the impact it deserves.
A Curl Filled Ponytail Updo


Rather than just pull your long hair back into a traditional ponytail, why not put all that length to great use and create a ponytail updo with a touch of retro curls for something different? The large barrel curls through the front ensure an attention grabbing style, and the simple playful curls in the ponytail keep it classy. Don't forget to wrap a strand of hair length around the hair elastic holding your ponytail in place for a flawless finish.
Full Bangs and Two-Tone Hair Color


One way to really transform your long hair if you're getting a bit bored with your look is to add bangs or to color your hair. For our final long hair makeover idea, we have a hairdo that uses both of these styling options. Wispy bangs are a great way to draw attention to your eyes and can highlight a great eye shadow or mascara look, and two-tone hair color gets a lift and goes mainstream by combining dark tones through the top of the hair and then natural light tones in the mid-lengths and ends.
To try any of these great long hairstyles on your photo or our model, click on the images to load the virtual hairstyle. From there you can change the hair color, add highlights and view the styling steps. You can even print and email your favorite hairstyles or post them to the Virtual makeovers Gallery or Facebook!
If you have any long hairstyle ideas then let us know about them by leaving a comment below!