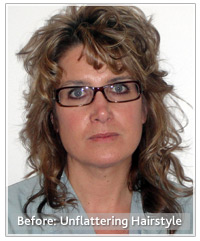 In a busy world, it's very easy to end up with a drab looking hairstyle which can be the result of growing out a certain cut, still wearing the hairstyle you got 10 years ago (even though it no longer suits you), or because you just don't know what to do with your hair. Whatever the reason, if your hairstyle just isn't working for you anymore then do yourself and your hair a favor and makeover your look today! The difference it could make to your look could be tremendous, as this before and after hairstyle makeover shows...
A Bob Haircut
When our model takes her long, lackluster hair and cuts half of it off, the transformation of her look and hair health becomes fabulous! The cut she has chosen is a universally flattering bob haircut, which can be tailored to suit any face shape and hair texture. The great thing about a bob is that it also offers some styling versatility.
Bangs and a Straight Hairstyle...

By straightening her bob haircut, our model can create a hairstyle that will suit a day in the office or a smart weekend look. To add some interest, her top hair layers and bangs have been worn forward (which is a styling technique that can flatter a larger forehead) and wispy, face framing ends have been added, which is just perfect for those with a round face who are looking to slim down their shape. If you're hair isn't naturally straight, then like our model, a straightening iron will help to get your locks salon straight in no time!
Bangs and a Curly Hairstyle...

For a look worthy of a party or other special occasion, a curling iron or hot hair rollers can spice up your hairstyle with some fantastic looking curls. Our model's hair has a nice natural curl to it and this has been enhanced well with the shorter length of her new cut. The great look for her curls has then been taken further with a curling iron for definition and some nice side-swept styling on her bangs thanks to some fancy work with a round hair brush and blow-dryer.
As you can see, by taking the plunge and getting a versatile haircut, our model has gotten rid of her tired looking drab locks and replaced them with a great new cut and versatile hairstyles that leave her looking refreshed and fabulous!
To see how you'd look with the salon hairstyles pictured in this blog, click on the above images to try the virtual hairstyles with your own photo.