If you're lucky enough to have long, luscious hair then chances are you aren't changing your versatile length anytime soon. And why should you? After all, your hair looks great, you can pull off practically any hairstyle you want and you're always being complimented on it. The only downside is that sometimes perfect long hair can be perfectly boring!
It's so easy to get into the habit of wearing and styling it the same way day in and day out. The good news, however, is that you don't have to restrict your long hair to the same look! Just a few easy hairstyle ideas are all you need to makeover your long locks, and give them a new lease on life!
The Side Styled Messy Updo
Often with long hair the easiest thing to do when you're in a rush or not in the mood for an all-out hairstyling effort is to tie your hair back into a ponytail. It's quick and it's easy, but it can sometimes lack a bit of oomph. We say go with side styled messy updo instead. It's just as easy to achieve, and the messier and less-tamed your hair is, the better the result so you really don't have to spend a lot of time styling. Just pull your length to the side and tie!
Hair Volume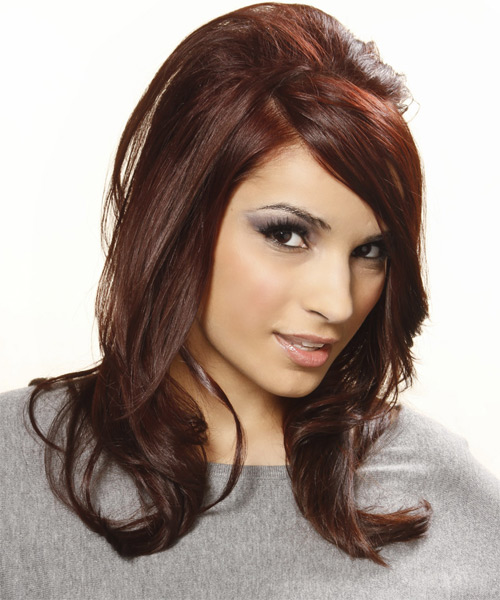 Nothing says look at me like some voluminous hair volume! Long hair really benefits from this sex-kitten look because there's plenty of length to play with. Learn to backcomb your hair and team it with a deep side hair part and some side-swept bangs (or sweep your hair length across your forehead if you don't have bangs) as pictured to give your long hair an added plus whenever you're wearing it out and down.
Hair Color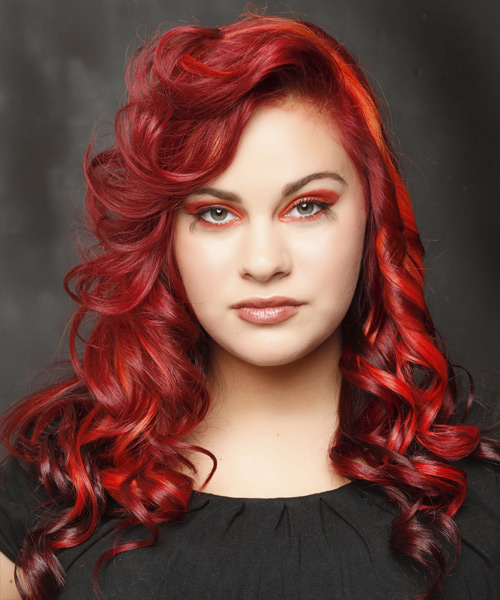 If your long hair's style isn't making your hair boring then maybe your hair color is? Give it a boost with a real eye opening color, such as this fantastic red hair color, or just enhance your existing shade with highlights, lowlights or a temporary hair color that will inject gloss and warmth into your long locks.
Curls Galore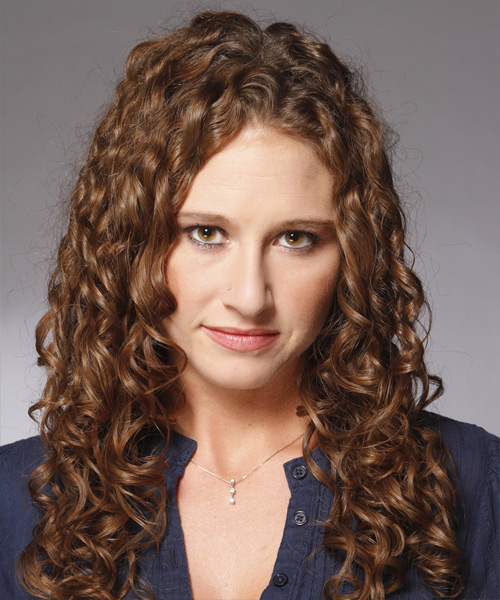 If you are not afraid to put in a little effort to give your long hair a new look then a full head of glorious curls is an idea worth trying. If you have natural curls then give them a chance to shine by scrunching your hair with some curl enhancer and using your diffuser and blow-dryer to speed up styling time. If you're not blessed with natural curls, then you'll need to pull out your curling iron or hot hair rollers to recreate this fabulous look.
Hair Accessories
Our final idea is one for those who want a hairstyle that isn't going to take a lot of time or require lots of fiddly styling. Enter, hair accessories! Adding a hair clip or a headband in just the right place can really add a whole new dimension to your long hair and is a cinch to pull off when you need to be out the door in record time without a lot of fuss.
With these hairstyle makeover ideas you should be able to give your long locks a much needed new look. If you have short hair, then check out Short Hairstyle Makeovers, or Mid-length Hairstyle Makeovers for Medium Hairstyles.
Let us know which idea is your favorite or add an idea of your own by leaving a comment below!