Hair Coloring Fun for Short Hair
The fun that you can have with hair color isn't limited to just one overall color. Vibrant shades, natural tones and hair color effects achieved with highlights and other chemical processes will allow you to create some really fantastic looks - just like the ones below!
Peek-a-boo Hair Color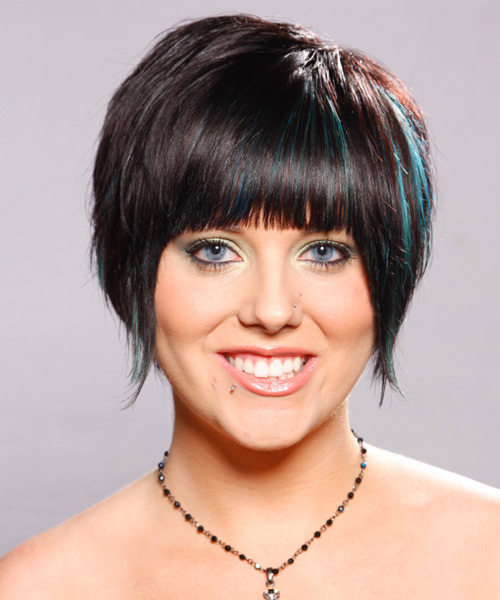 If you want to use an attention grabbing hair color, such as this great blue shade, but don't want a look that's too outrageous then try adding splashes of the color in random sections of your hair.
The final look is really cool and the perfect way to add some subtle interest to a short haircut.
Eye Catching Bangs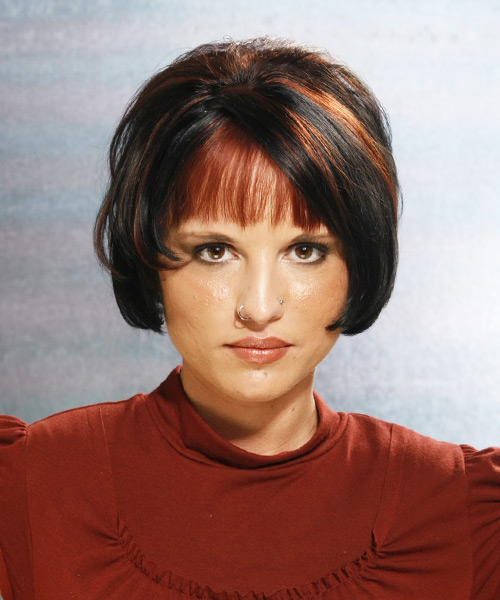 If you've got fantastic hair features, such as bangs, try putting them front and center with a contrasting hair color!
By adding some copper through the bangs of this mainly black hair color, this short bob has achieved a really eye catching finish.
Natural Hair Highlights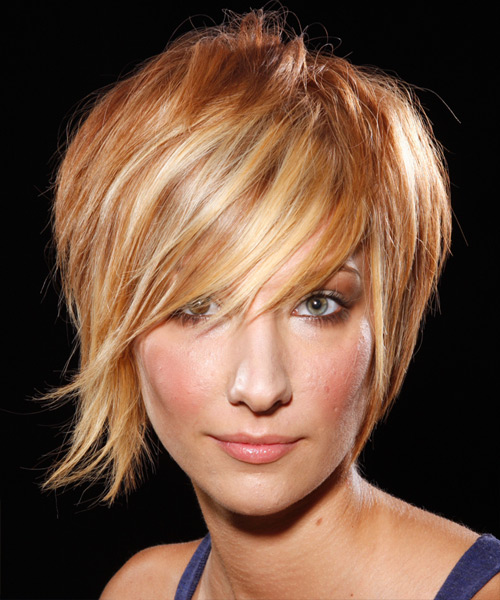 For those wanting a more natural look, you just can't past the appeal of subtle highlights.
By combining this caramel shade with lighter blonde tones, the result is a sun-kissed look that allows the asymmetrical style of this short haircut to really shine through.
Solid Hair Color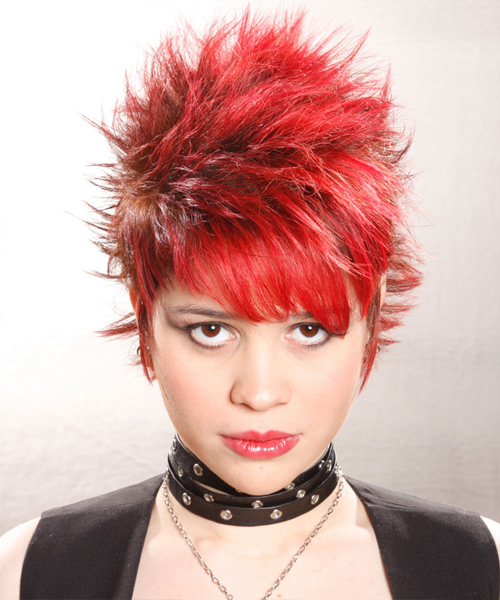 Solid color doesn't have to be boring color.
This fantastic red shade is perfect for adding some spice and is guaranteed to get you noticed. Team it with some funky spikes as pictured and you'll have all you need to make your short hair stand out.
Hair Coloring Fun for Medium Length Hair
Hair Color Contrast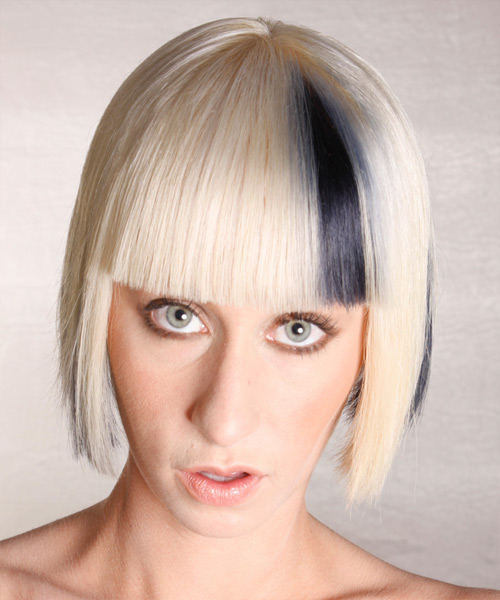 If your hair is a nice solid cut and you're looking to inject some interest, why not try mixing a basic solid hair color with a flash of contrast?
Adding strips of black hair color throughout this platinum blonde shade really adds spice to this medium length 'do and creates a very striking finish.
Color Enhanced Curls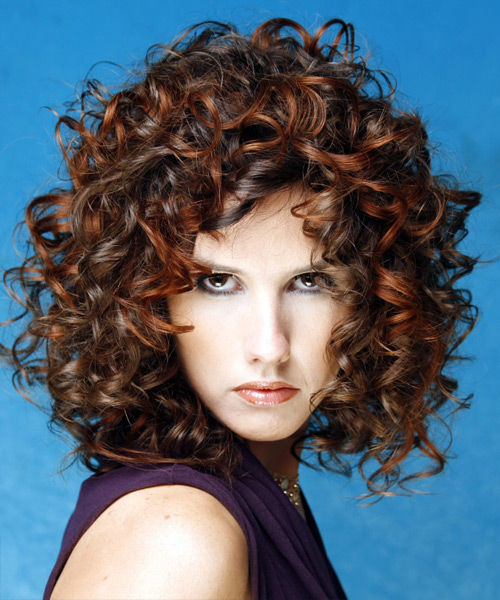 The secret for curly hair that pops is making sure the curls are well defined.
By adding dark copper highlights throughout this shiny brown hair color, the curls get even more definition and the result is a fantastic look!
Funky Hair Highlights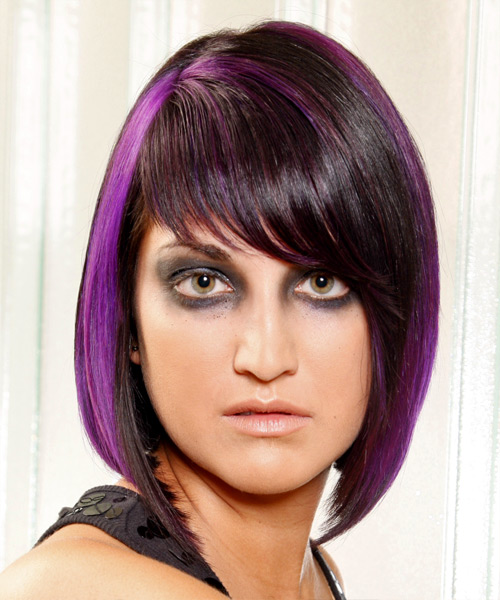 These days, highlights can be added to your hair in every hair color and thickness imaginable.
Adding thick purple highlights to various sections of this dark hair has created a colorful look that isn't too out there and perfect for you to try next time you want to add some oomph to your mid-length hair.
Two-Tone Hair Color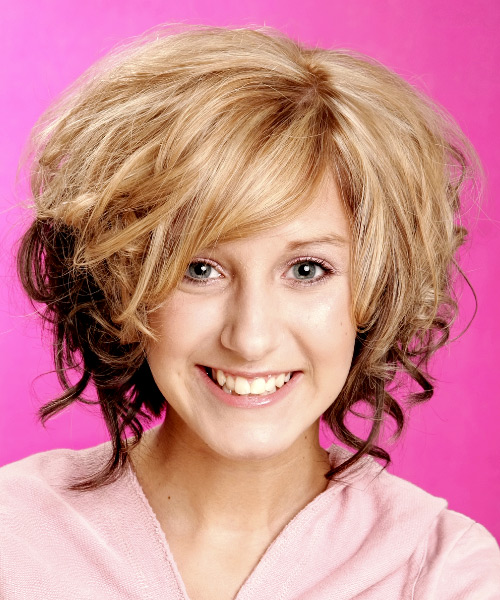 One way to get the best of both words is to try two-tone color!
By pairing a blonde hair color with a brown hair color, or any two colors of your choice, you can create a fun look that's full of variety.
Hair Coloring Fun for Long Hair
Curls With a Hint of Hair Color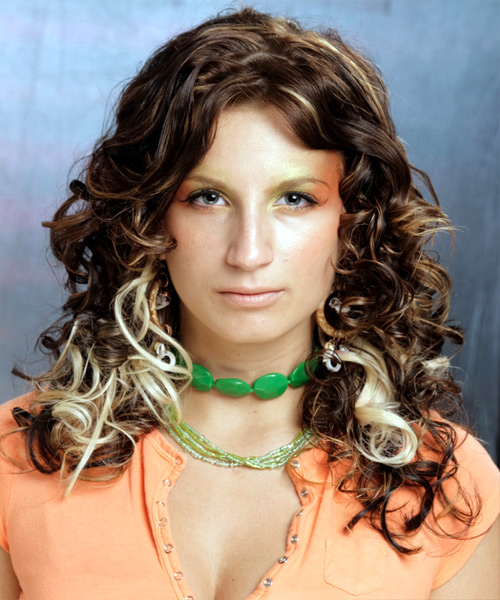 The color combination of dark brown hair and platinum blonde highlights scattered throughout this long curly hairstyle is the perfect example of how much fun you can have with hair color!
By highlighting the underneath sections, this look has an eye catching focus that commands attention.
Color Enhanced Upstyle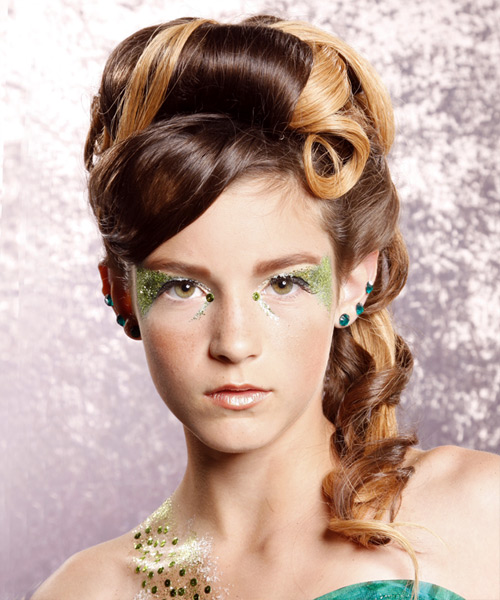 Hair extensions have been used to add some blonde hair color contrast to this chocolate brown shade but you can also achieve the same look with some thick highlights.
The multi-toned hair colors have added even more interest to this high, full upstyle and achieved a look that is sure to turn heads.
Rich, Solid Hair Color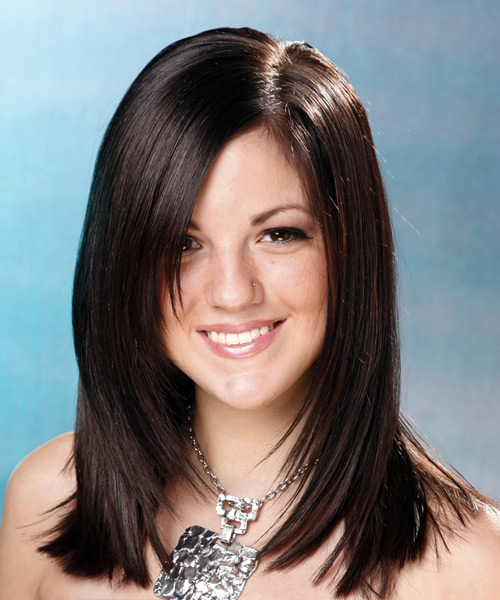 If a solid hair color is your thing then long hair is the perfect opportunity to show it off.
A rich tone, such as this dark brown hair color, really gets the chance to shine in a long length, especially if the hair has been styled straight with a hair straightener or through blow-drying.
Two-Tone Hair Color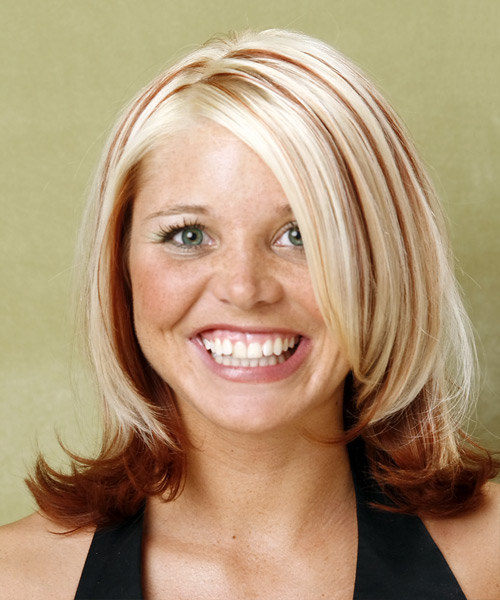 While blonde hair coloring is always fun, blonde hair mixed with another hair color is double the fun!
The red hair color used in the entire underneath section of this long layered style, and as thin highlights thorough the top section, really sets this hairdo apart!
For even more hair color inspirations, check out short, medium and long length haircuts by taking a look at our range of hairstyles.
And if you're not happy with the hair color, or if you want to try something more drastic or subtle, visit our Virtual Hairstyler to change the hair color to one of the 50 great shades that we offer!