Years ago, when Victoria Beckham made the drastic change from long, stringy extensions to a sharp, graduated bob, the "Pob" was born. If you aren't familiar with this term, it means Posh Bob. The posh part probably came from her days as a Spice Girl, but this haircut is ultra chic on its own, regardless of who is wearing it. The Pob is simply an angled bob and can suit all face shapes as long as it is "customized". For example, a square face should go for a Pob that is cut with a deep side part, rather than a center part, and ladies with a high forehead may want to add a fringe to balance their proportions out. If you have been craving a shorter hairstyle that always looks trendy, then this style may be for you. An added bonus is that it only takes a few minutes to style—simply use a round brush and blow dryer to get a sleek, smooth effect that suits this haircut so well.
Now, it's time to check out the graduated Pob in action.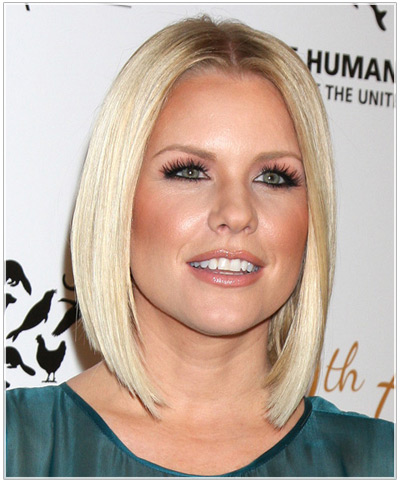 Carrie Keagan is working the Pob here with ease. She looks fabulous in a wheat blonde sculpted 'do that has a bit of layering throughout the ends to give it a nice rounded shape. Carrie has an oval face shape which suits a sharp centre part, but this haircut would also look great with a deep side part and side swept bang for those who want a bit more coverage around the forehead. The length is perfect, with the back sitting at the nape of the neck and the front skimming her shoulders. When it comes to color, the Pob looks amazing in a chic monochromatic color like Carrie's Nordic icy blonde.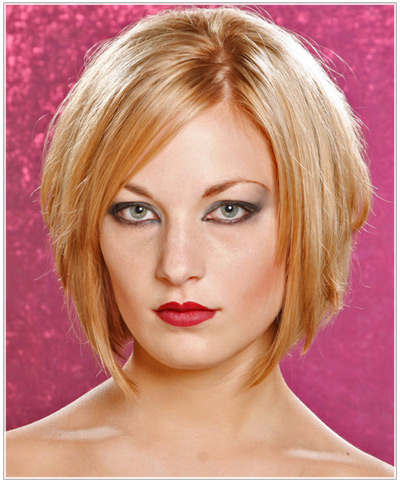 Here, our model sports another version of the Pob, this time suited for a square or angular face shape. This Pob has more volume than the classic Pob seen above, with jagged layers throughout the lengths and ends and a choppy side swept bang for extra definition. To style this bob, simply blow-dry and add texture with a round brush. Or, for more pronounced curls, use a curling iron or wand to create loose, randomly placed waves throughout. Then, finish it off with some styling wax and hairspray and you are ready to roll.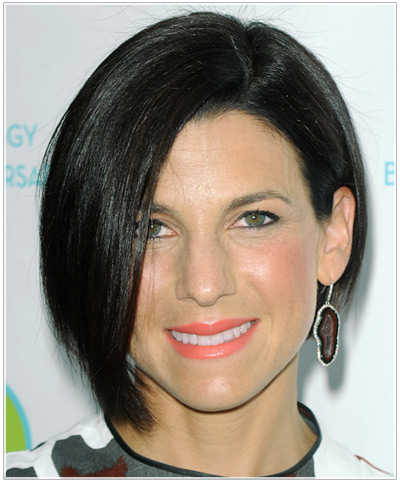 Finally, here we see an asymmetrical take on the Pob, as modelled by Jessica Seinfeld. This is a chic hairstyle that looks very trendy with a deep side part and cascading long layers on one side, with a shorter length on the other side. This hairstyle is perfect for women with oval, oblong, square, heart, and diamond shaped faces. A side swept fringe will work well for women with high foreheads here, but a full-on fringe should be avoided with this edgy 'do.
As you can see, the Pob can really be worn by anyone, and in a variety of ways. Start with the basic elements of a chic, graduated bob and then tailor the 'do to suit you by adjusting the height, layers, fringe and parting to suit your face. We'll leave what you call this new hairdo up to you!