Spring is almost here and many ladies out there are ready to go for a brand new short 'do as the warmer weather approaches. Short hair can flatter any face shape and reflect any style—from punky to prim, there really is an option for everyone. Shorter hair used to be associated with mature women but now, more and more teens and young adults are going for shorter, funkier hairdos that (bonus!) take only a few minutes of styling time in the morning.
This article is specifically for all of the ladies out there with short, straight hair that need some style ideas. Straight hair can be challenging to wear short at times because it is prone to falling flat and can be tough to style if it is curl resistant. These latest hairstyles are great options however—check them out!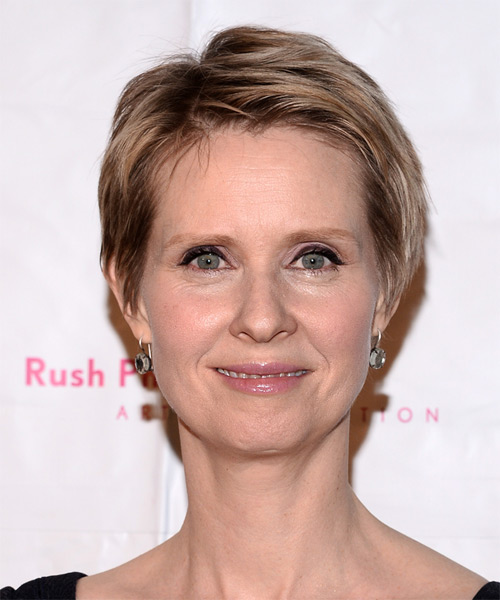 Cynthia Nixon looks lovely in this short hairstyle that will work very well for straight hair. This is a simple layered hairstyle that looks great when worn parted and off the face like Cynthia is demonstrating here. This hairstyle is great for women who want a simple and sophisticated look, and will work well for professional women. It will need regular trims to maintain its shape but other than that, this haircut is pretty low maintenance. Copy Cynthia's makeup tips and keep it light and neutral.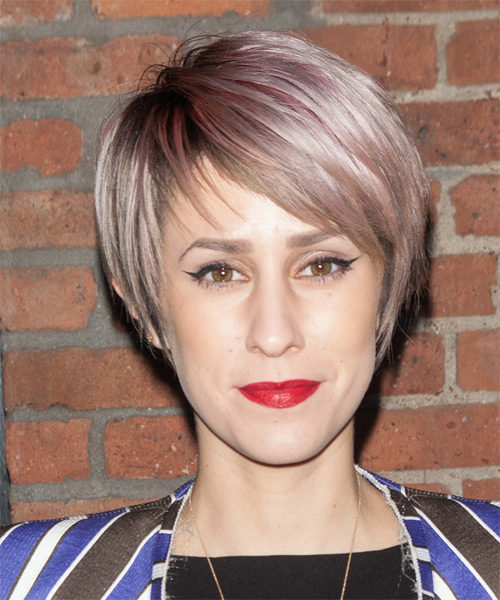 For a trendier short hairstyle, check out Dev's latest look. Her tapered hairstyle looks fabulous with her oblong face shape and makes the most of her fine, straight hair texture. It only takes a quick blow-dry with a round brush to create this sleek and smooth texture which is a bonus for women on the go. Make this hairstyle even more stylish by adding soft violet or pink highlights like Dev. This haircut looks great with funky makeup such as bold red lipstick and cat's eye eyeliner.
Valorie Curry's gorgeous pixie cut is another great option for women with straight hair. This hairstyle is heavily layered to create a sculpted 'do that frames the eyes and cheekbones, and it only requires minimal styling effort too! Simply wash, dry using a hairdryer and your fingers to shape, then add a light styling wax to finish. This is a classic and feminine way to wear your short, straight hair and it suits most face shapes except for square and oblong. Women who choose this haircut will convey a trendy and fashion-forward appearance—flaunt it with sexy smoky eye makeup like Valorie, or go for the au naturel look.
Finally, if you like to go for slightly longer hairstyles that are still short and easy to style, check out this 'do. Our model is flaunting a jagged asymmetrical cut that provides full bang coverage and contours the rest of the face nicely too. This is a great hairstyle for straight hair as it works with the natural texture and only takes a few minutes to style with a hair dryer. This hairstyle looks fabulous on oval, oblong and diamond face shapes. Match your makeup by wearing soft smoky eye shadow and a shimmery nude lippie like our model is wearing here.