If you're like most women today, your days are probably jam packed with work, family commitments, hobbies and other things that life throws your way. We are more pressed for time than ever, so it's no wonder that many women specifically want a hairstyle that looks good but is easy to style in minutes. We all have those days when the thought of getting out the blow-dryer, curling iron or even just the hair brush is one of the last things we want to do. You can still pull off a great looking hairstyle that is easy to style when you're having a lazy day. Whether you are looking for a wash and go style or something that doesn't need more than five minutes of styling time, these 'dos are for you!
Easy Short Hairstyles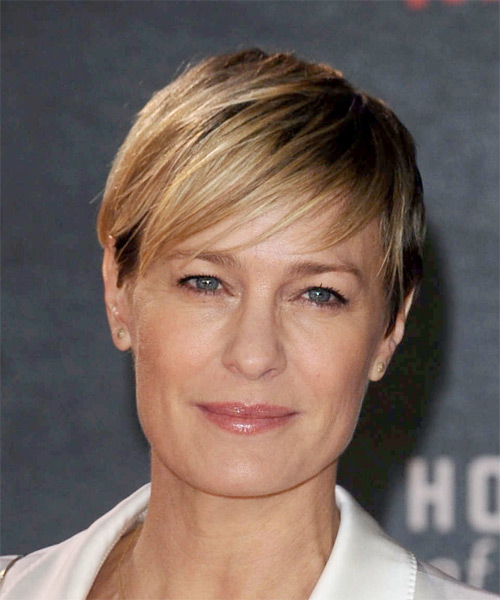 Robin Wright has a simple pixie cut that is stylish and low maintenance, which is perfect for a busy professional woman on the go. If you like short hairstyles and have straight hair, this 'do is ideal for you. The sides and back are cut short while the top layers are longer and can easily be swept to the side or back off the face for versatility. To style, all that is needed in the morning is a quick blow dry using your fingers to style, or simply add some styling gel to your towel dried hair and let it air dry.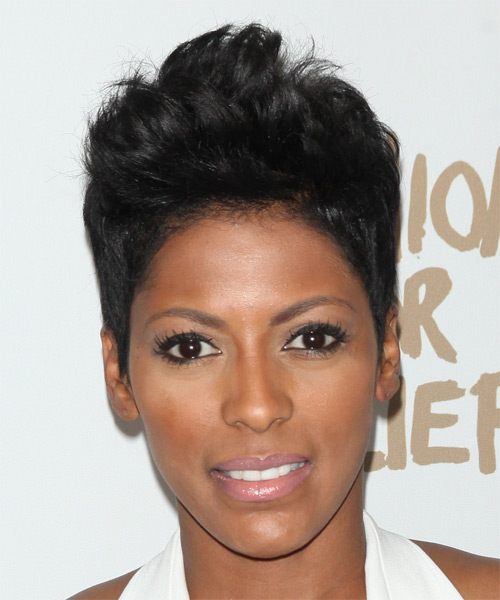 Tamron Hall got it right with this hairdo that is both chic and hassle-free. Her natural wavy hair texture is enhanced with this jagged cut that gives her volume and body at the crown with minimal styling time. Tamron can style it with her fingers and a blow dryer or simply do a wash and go with a bit of styling product mixed in. This is an ideal haircut for ladies with some wave to their hair that want an easy to style yet edgy, chic 'do.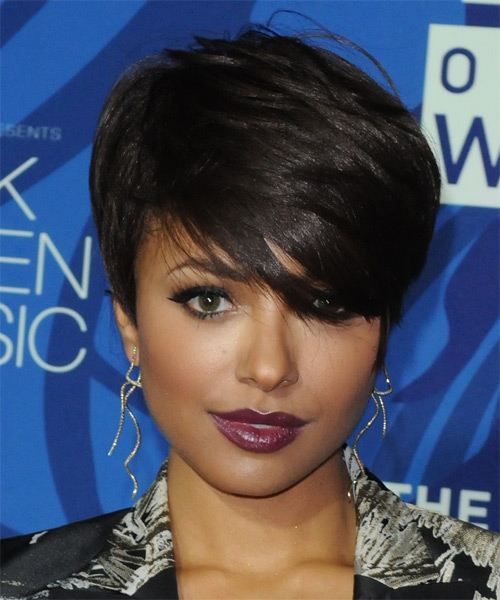 Kat Graham's peek-a-boo hairstyle is a sexy easy to style option that is ideal for ladies with straight hair. Kat's sides and back have been tapered close to the head while the top has been left longer. By creating a deep side part and sweeping the hair across the forehead, Kat's hairstyle gives her a sexy peek-a-boo effect and flatters her oval face shape. To style this 'do, all that is needed is a few minutes with the hair dyer and a round brush. Or, this can also be a wash and go hairstyle if you don't have any time to devote to styling in the morning!
As you can see, easy to style 'dos that are short should work with your natural hair texture. Don't forget that many long hairstyles are easy to style as well, as long as you have a good cut that works with your face shape and hair texture.
Easy Long Hairstyles
It's a bit of a misconception that long hair styles are all high maintenance and require massively long preparation and styling time. Long hair styles are a lovely feminine look and if you choose the right hairstyle you can enjoy your long hair with a minimum of fuss. Take a look at the examples below of easy long hair styles and try a few on yourself to see how they look.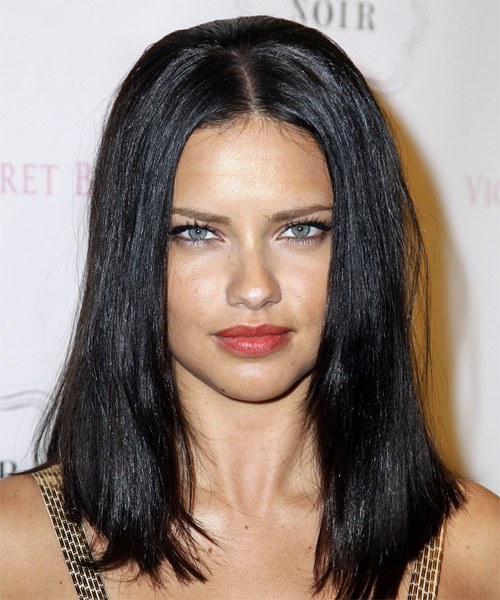 Adriana's hairstyle achieves a maximum of sultriness with a minimum of effort. It's a sophisticated long hair style created mainly with long layers cut through the edges and around the front of her face. Styling is as easy as creating a side part and, with a medium radial brush, blow-drying the hair straight from roots to ends. Work in small sections from the back to sides and remember to use a heat protection conditioner first. Finish off by simply applying a little smoothing shine from the mid-lengths to the ends of your hair.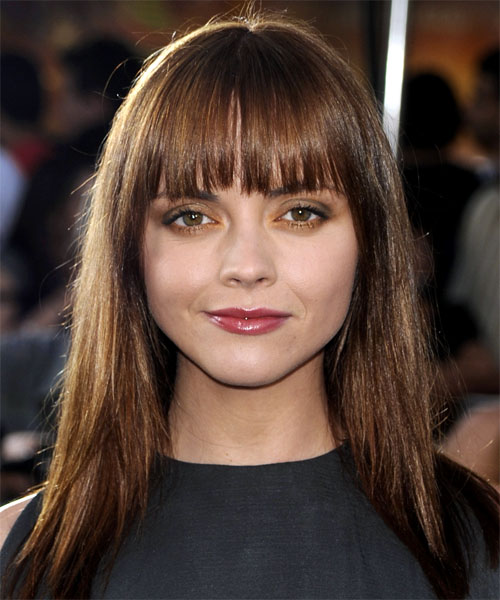 Christina looks slick and smooth without all the effort. Her hairstyle was quite simple to create: a small amount of layering was added to the sides for shape, and blunt bangs add some definition and edginess. Styling is simply a matter of using a large radial brush to blow-dry the bangs forward from roots to ends (keep going until the hair is dry as this will prevent frizz), and to blow-dry the back and sides straight. To finish all you need to do is apply some smoothing shine from your mid-lengths to ends and a little hairspray from arm's length.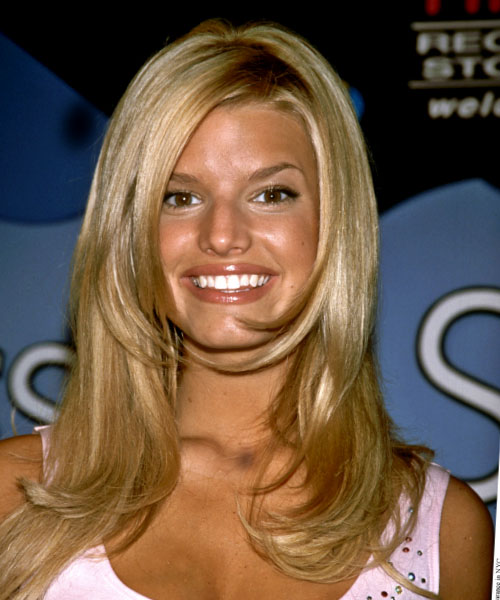 Layers add plenty of volume to Jessica's hairstyle and her bangs frame her face nicely. If you have medium to thick long hair that's naturally straight, then this easy long hair style is for you. Apply some gel spray to the roots, part the hair at the side and, with a large radial brush, blow-dry the back under. Blow-dry the sides forward and the top in an upwards direction, and then for a sculptured look apply some wax to the sides and back with your fingertips. Run a little smoothing shine from mid-lengths to ends and finish off with a mist of hairspray.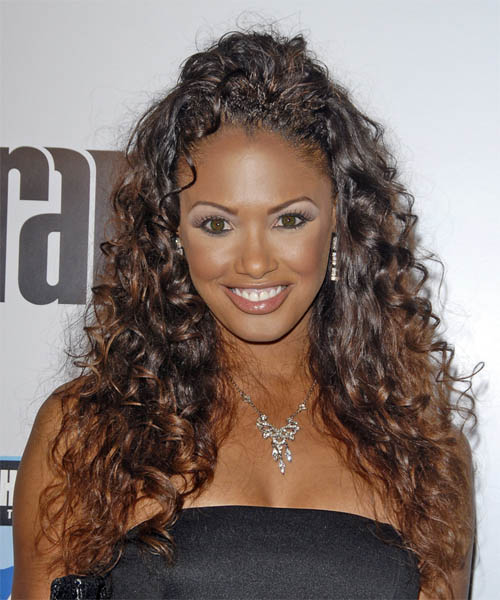 K.D.'s long curly hairstyle is easy to achieve on naturally curly hair. Layers create body and volume and the top was teased and pinned back to create balance. Styling this hairstyle doesn't take long at all. Apply mousse to slightly damp hair and, with your head upside down, use a diffuser and blow-dry your hair in circular movements (here's a styling tip: to prevent frizz and help define the curls try not to dry the hair completely). Next use a curling iron on the back and sides for a few minutes, pin the top, scrunch some gel wax through your curls and mist with hairspray.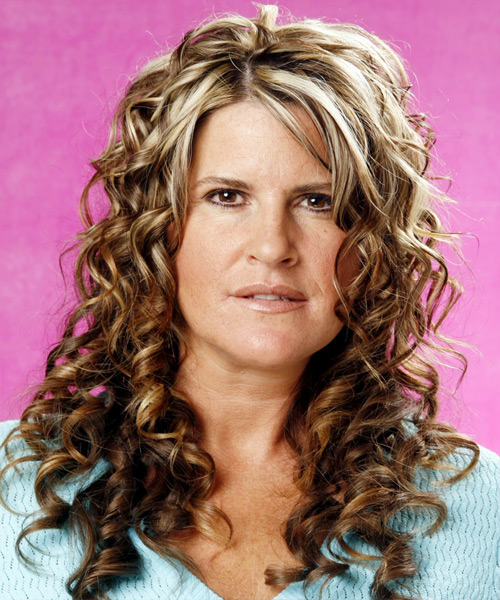 The curls of this hairstyle are easy to maintain with regular trims, and it's a cinch to style too. Apply mousse to damp hair and blow-dry the sides and back to kick-out. Curl the back, mid-lengths and ends with a curling iron, piece the ends with molding cream and tease the crown and sides a little. Finish off your long curly hairstyle by applying some smoothing cream (with the palms of your hands) from the mid-lengths to the ends. End with a spray of lacquer.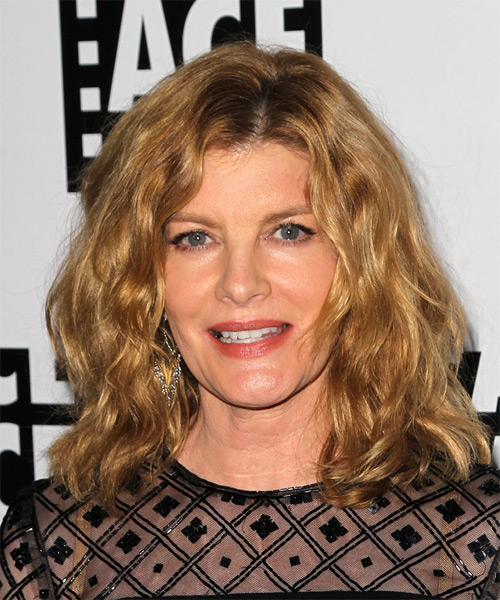 One of the most easy to style hairdos is the classic bob. As you can see here, Rene Russo is wearing a simple shoulder length bob that is centre parted and lets her natural waves do their thing. Stick to a shoulder length bob for the most versatility as this length can be pulled back into a bun, ponytail or chignon. This hairstyle can be smoothed out with a blow dryer or air dried for a more natural look.
These long hairstyles are great because they're relatively easy to maintain and style. You don't need to spend hours with rollers and blow-dryers; instead most of them can be styled with a good radial brush, a few puffs of a blow-dryer and a little hair product here and there. No hairstyle, save for super short haircuts, is going to be a complete no-brainer to style, but as far as long hair styles go these are certainly pretty easy.
* If you don't have long hair but you've always thought of giving it a go, you might like to have a read of "Long Hair Style Life Lessons."
Easy Straight Hairstyles With A Centre Hair Part
If your hair is naturally straight then half the work of styling is done for you! Get a quick 'do that looks great by ensuring your hair is clean (if it's not, spray in some dry shampoo to eliminate any oily hair strands) and then add a centre hair part. It will open up your face and allow your hair strands to create a nice frame around your face shape.
If you have waves or curls, this isn't a quick and easy hairstyle for you to do. But, you may want to consider getting a sleek blowout once a week so you can rock this quick and easy 'do when you are pressed for time, or simply can't be bothered to flatten out your waves or curls.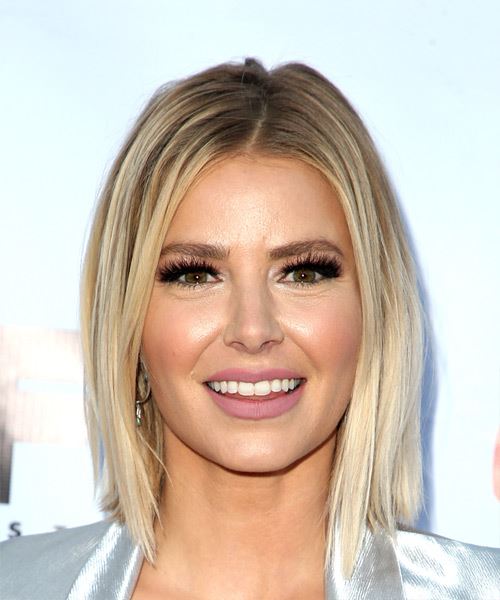 Ariana Madix looks great in this wash-and-go (or wake-and-go!) hairstyle that features a simple bob with a messy center part and straight strands framing the face.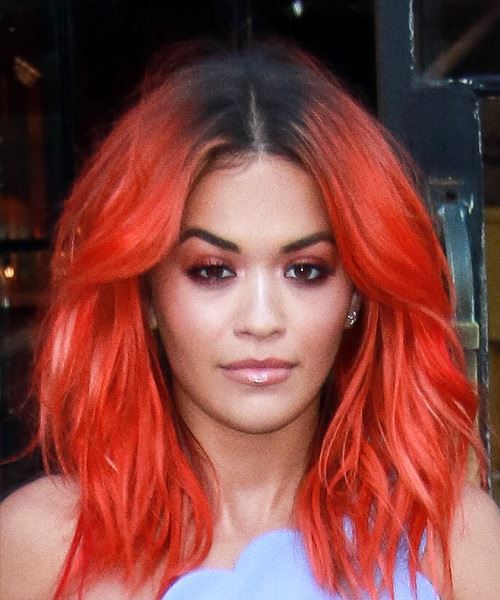 Rita Ora's strands have oodles of volume and a messy bedhead finish to them, making this the perfect 'do for an edgy, "I've just been partying all night" look. Ladies with wavy/curly locks who blowout their hair can rock this look once their natural texture starts to appear after a few days.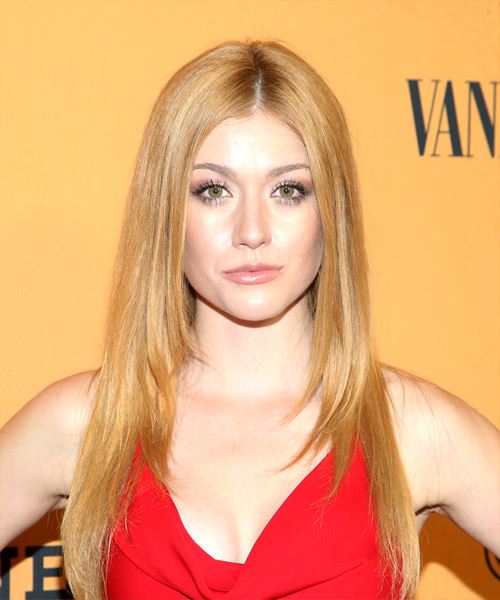 Katherine McNamara looks stunning here in her straight strands and center part. This lazy day 'do looks great on ultra long locks like hers and can be touched up with a flat iron in just a few minutes for a more polished look.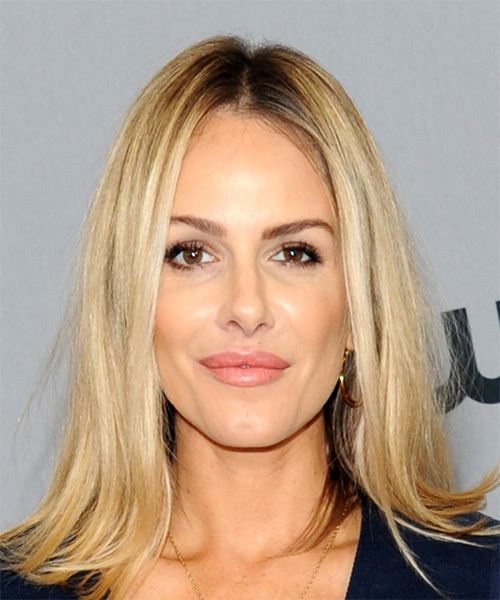 Monet Mazur looks chic here in a simple straight bob that kicks out at the shoulders. Create this 'do by adding a bit of dry shampoo to pump up the volume at the roots and you are ready to roll!
Easy Scrunched, Wavy Hairstyles
Those with a natural curl or wave can create a flattering look in just a few minutes by scrunching their hair. Add some texturizing lotion to your locks to encourage your wave (or plait or braid your hair overnight) and then let your locks fall loose and free for a fun, flirty look that is low on the styling factor, but still delivers a stunning result.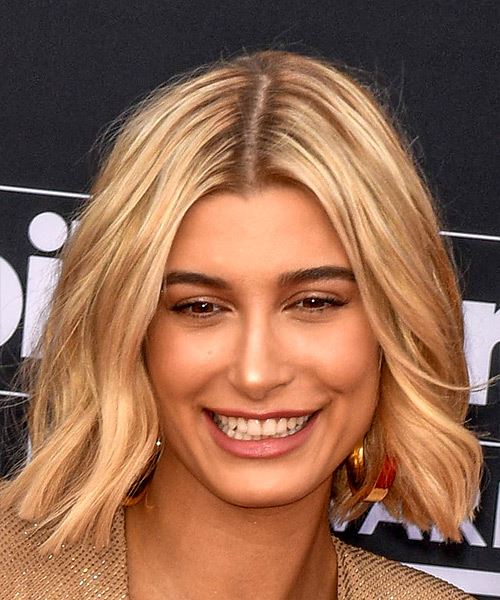 Hailey Baldwin demonstrates how good this easy 'do can look on short hair. Her bob looks chic and full of volume thanks to her scrunched waves.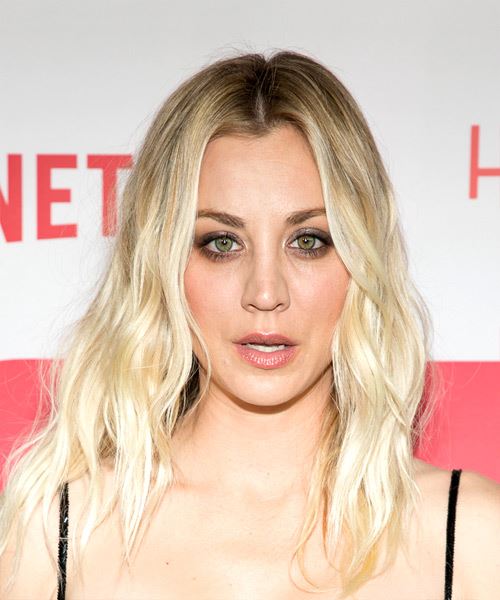 Longer wavy hair looks great in this hairstyle too, as seen on Kaley Cuoco here. This beach babe look not only is sexy but can be achieved in minutes simply by scrunching your wavy locks for a windblown finish.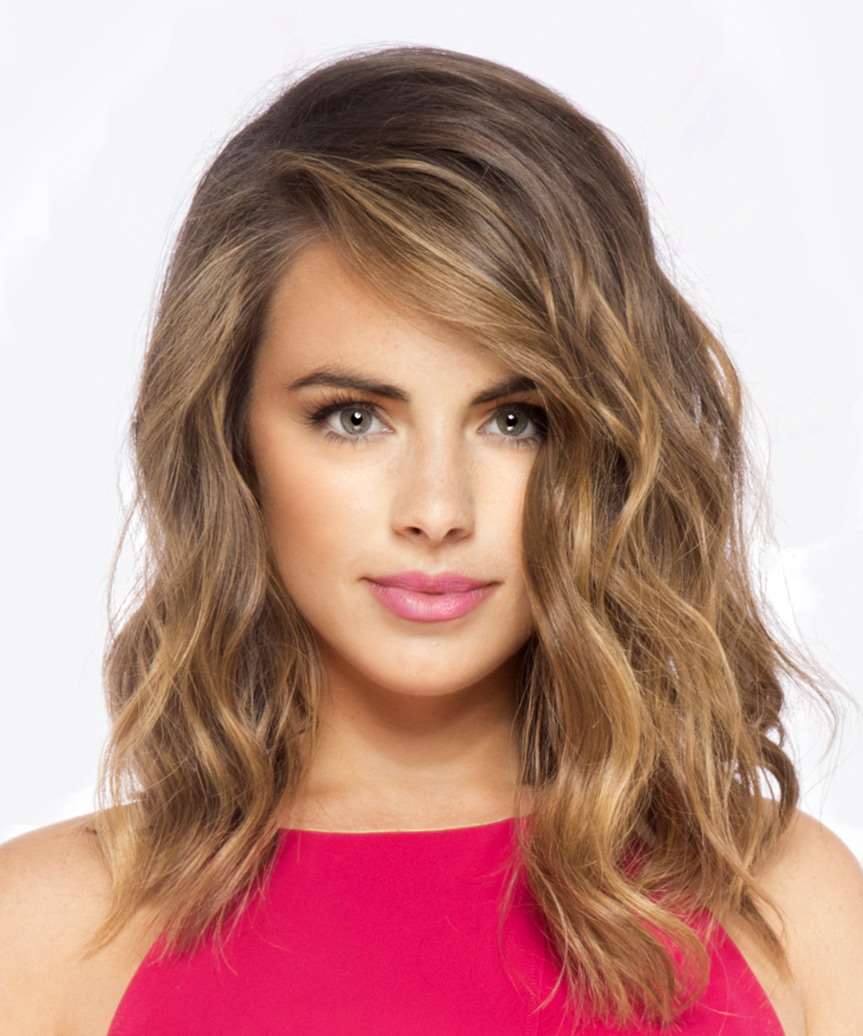 Pair your scrunched waves with an ultra deep side part for a gorgeous easy hairstyle. Our model looks beautiful here with her voluminous wavy locks on show, highlighted by a deep side part that lets the hair sweep across the forehead in the front.
Easy Ponytails
Quite often the go-to style when it comes to a lazy day look is the classic ponytail, and for good reason! Throwing your hair into a ponytail takes mere seconds, and the great thing about it is that you don't have to worry about getting every strand in place. A loose, disheveled pony is right on trend, and having strands fall around your face is the ultimate way to create a soft and flattering look. For a more professional, edgy or high fashion look, try a tightly slicked back ponytail for head-turning results. (This is also a good hairstyle for days when you look tired, it can provide an instant mini-facelift!)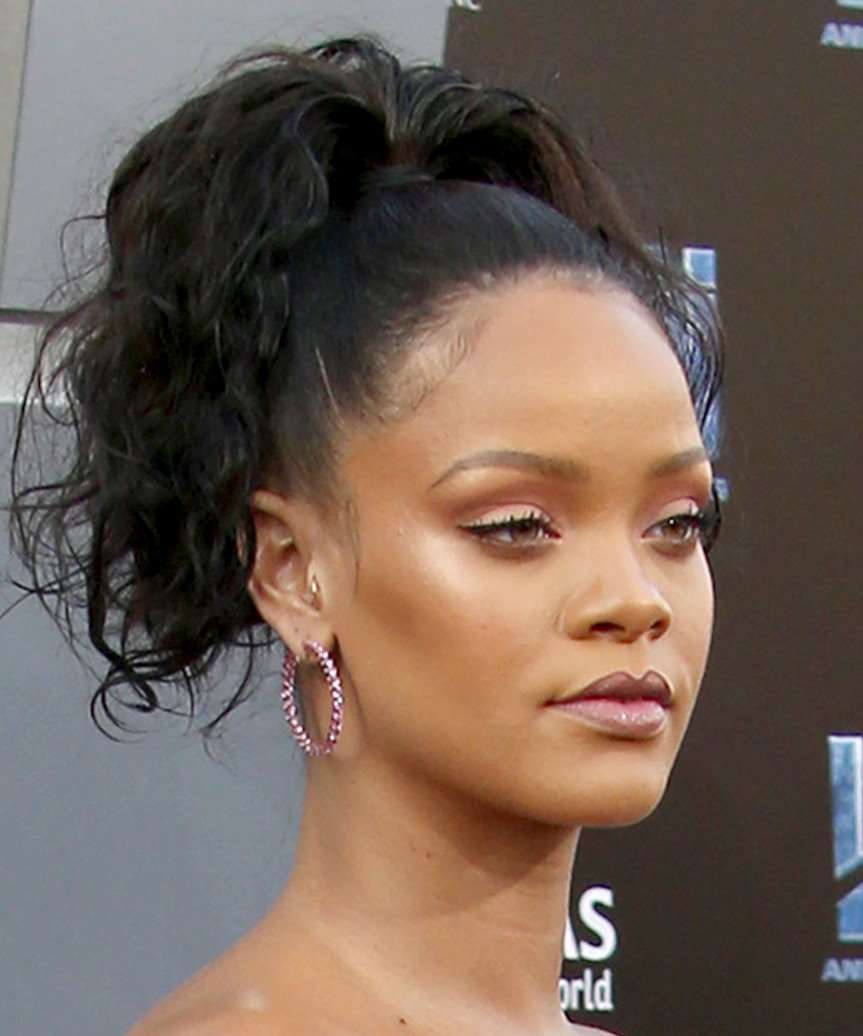 Rihanna looks ready to rock in this high ponytail that lets her natural waves and curls do their thing. She has slicked back her hair into a tight ponytail for a super sleek look.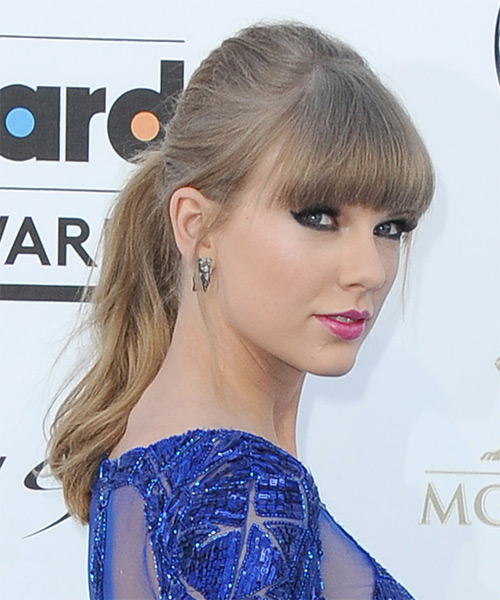 Another idea is to go for a ponytail with mini bouffant at the crown like Taylor Swift has done here. This 'do looks great with bangs and a few tendrils framing the face.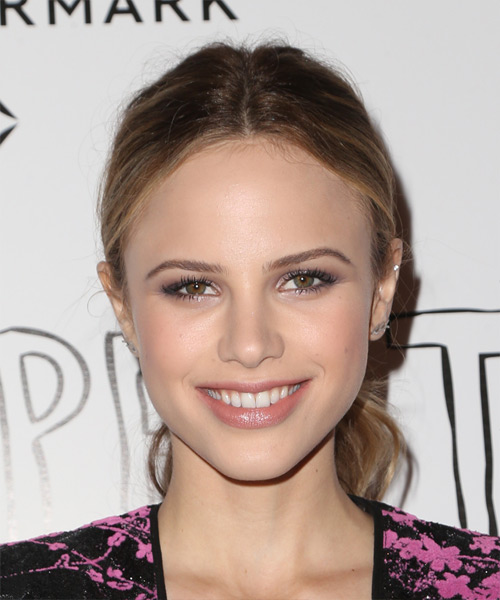 For a lazy day low-key hairstyle, go for a low ponytail and center part combo to create this "model chic" look. Halston Sage nails this look by sweeping her tresses back in a relaxed ponytail at the nape of the neck, keeping the focus on her face and outfit.
Easy Half Up Half Down Hairstyles
Perhaps the only other hairstyle that can be achieved as easily as a ponytail is a half up half down hairstyle. To achieve this look, all you need to do is take the top half of your hair and pin it into place at the back of your head with some hair pins. Your locks can be in any hair texture and any condition, and the look should take no more than a few minutes to create.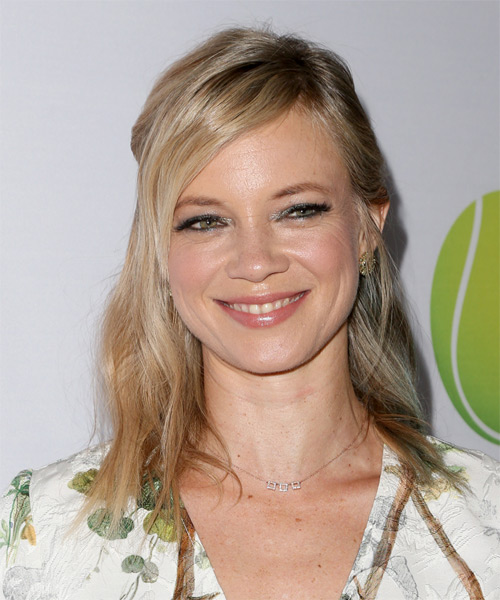 Amy Smart looks lovely here with a half updo and a side swept fringe framing her face. This is a quick and easy do for any hair length and will work with any style of fringe, or a completely grown out fringe.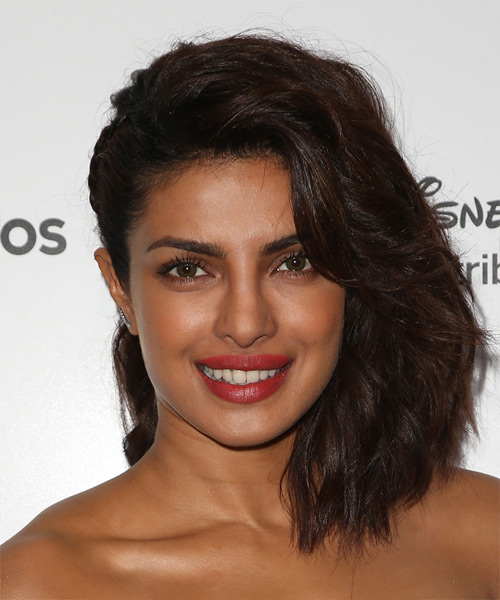 For a different take on the half updo, try sweeping one side of the hair back and leaving the other down. All it takes is a few bobby pins and voila! Priyanka Chopra added a braid for extra style here, which is a cool idea to try on those not-so-lazy days!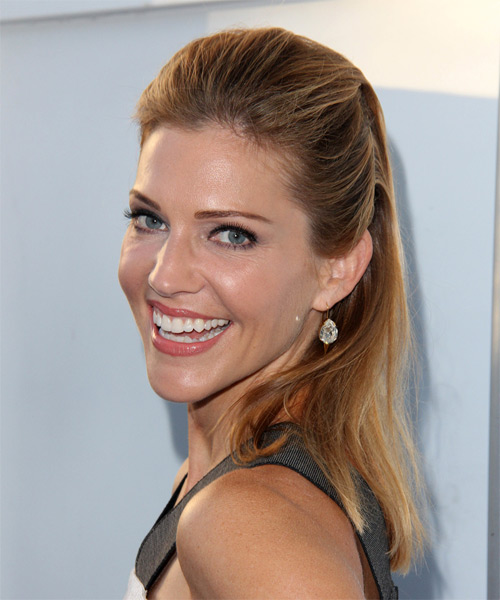 Need a fancy looking 'do but just can't be bothered to spend a lot of time? Check out Tricia Helfer's hairstyle here for some inspiration. You can create this stunning 'do by backcombing the roots at the crown, adding hairspray and then sweeping the hair away from the face. Secure it loosely with bobby pins and you have created a sophisticated look with minimum effort!
These hairstyles are perfect for a lazy day when time and styling just get the best of you. To find some more easy hairdos, take a look at our range of hairstyles today. And if you've got a favorite lazy day hairstyle that you'd like to share, let us know all about it by leaving a comment below!