The first date is probably the most important date for many women, so it's absolutely essential that your hair is perfect. You want to make an impression, but you don't want to look like you're trying too hard; you want to look sexy, but not tarty; you want a cute hairstyle, but one that's not too bubbly; you want to look casual and down to earth, but not lazy and disinterested.
To make things easier for women out there, I've gone through our hairstyle database with one of our experts and we've chosen 2 perfect first date hairstyles each for short hairstyles, medium hairstyles and long hairstyles. If you've completed our hairstyle consultation and learnt about how hairstyles suit your face shape, try on some of these first date hairstyles and see what you think.
First Date Hairstyles for Short Hair
Revamped Classic Bob Haircut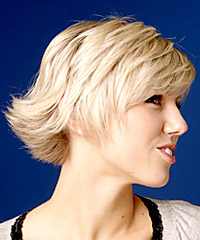 This is a great hairstyle for women with oval, oblong, square or diamond face shapes and medium to thick straight or wavy hair. It's a perfect first date hairstyle because it sits nicely without too much effort. The side-swept bangs draw attention to the eyes (they'll draw your man in), and the layers through the top create a nice sexy texture that, combined with the flicked-out ends, is fun, casual and cute.
Subtle Contrast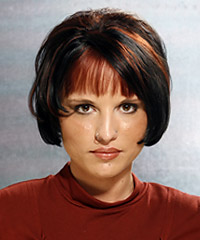 Most women like to feel like they've got their finger on the pulse- that they may not be leading fashion trends, but they're in fashion nevertheless. That's exactly the impression you want to give on your first date: that you're in fashion. If you agree, and you have thin to medium and medium density hair, then this hairstyle's for you. The layers create volume and shape, but it's the subtle contrast in hair color that's the real winner. The splashes of color are noticeable, but not over the top. This hairstyle says modestly to your first date: "I'm trendy and fashionable and a little daring, but it's no big deal."
First Date Hairstyles for Medium Hair
Waves that Work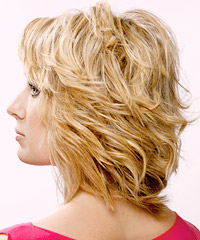 Our model's waves would work for any occasion: the office, staying at home and relaxing, or an important first date. Her hair's got graduated layers cut from the top to the ends to give this style a fuller wave all over, and jagged-cut bangs swept to one side to soften the face. This hairstyle has the sexiness and volume of a wavy hairstyle, but its length and styling and the fact that a curling iron has been used to make it look natural, make it another perfect example of a striking, yet understated, first date hairstyle for all women.
Shoulder Length and Pinned Back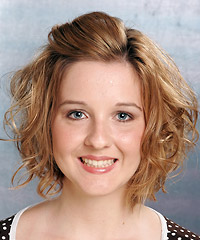 This hairstyle definitely looks like it's been styled and maintained. The layers through the back and sides have been set in rollers and the hair's been teased and pieced with molding cream. Each of these elements shows our model as someone who makes an effort and knows what suits her- especially since the volume through the sides complements her longer face shape. Yet pinning the bangs back prevents the hairstyle from looking too styled and our model from appearing too self conscious. This hairstyle paints a perfect picture of the kind of woman we all want to be on a first date: sassy, fun, stylish and sophisticated- yet down to earth.
First Date Hairstyles for Long Hair
Smooth and Wispy Hair
This model's smooth and shiny hair style is sleek and sophisticated without looking over-the-top neat, tidy and professional. You don't want your first date to think you're a career obsessed office dominatrix, and this hairstyle will certainly give all women some professional credibility without pushing them over the edge. The secret's the wispy ends; the style is full, smooth and shiny from the roots to the mid-lengths, but the ends are wispy and fun suggesting that the wearer has a light-hearted and flirty side to her personality. (Check out our gallery of other office hairstyles for women).
Effortless Updo Hair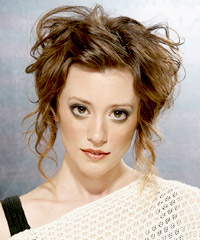 There's nothing quite as attractive as the effortless sophistication suggested by a loose updo like this one. Updos are the ideal first date hairstyles for women because they combine "sexy" and "casual" in a perfect blend- ask any guy. Our model's example also contains an appealing cute element, making it an even better choice for a first date. Although an updo like this one looks casual, allow plenty of styling time for things such as roller setting and pinning.
These hairstyles for short, medium and long hair are all examples of what we think would make perfect first date hairstyles because they all contain an ideal combination of things like sexiness, sophistication, sassiness and casualness. Remember too, although these are hairstyles for women we think would work, it's most important that you're comfortable with yourself on any first date. So to all the women out there: try a few of these on, experiment, and see how you feel. Good luck!