Whether it's to spruce up a natural curl or to take your naturally straight hair in a whole new direction, adding curls to your hair is a makeover trick that can yield some fabulous results. Adding curls using a curling iron, however, can take some getting used to. To help you master this fun heated styling tool, give these tips a try.
Hair Prep and Styling Products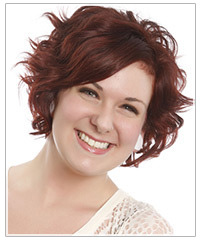 The first step to great curls is of course having your hair prepped!
Freshly washed hair is a no-no for adding curls as your hair will be too soft. This could lead to an unflattering shape or your curls dropping from your hair rather quickly. Try to wash your hair the day before you curl and then add some dry shampoo the day of so that your locks are free from hair oil and look clean, but still have some texture.
Next, add a heat protecting product that will protect your strands from hair damage. The next styling product applied should suit your actual hair type. If you have limp hair, for example, add a product that will add volume. A good all purpose hold product, such as mousse should then be added before your curl. Finish then with some hairspray for shine and hold.
Hair Tip: don't go overboard with the products and stick to the amount recommended on the label.
Curling Iron Size and Heat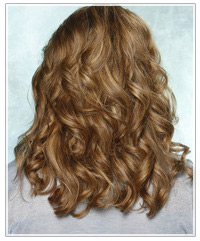 When it comes to your choice of curling iron, the size of your barrel will determine the finish of your curls. The larger the barrel, the larger your curl. If you want a small, tight curl then choose a thin/small barrel.
As for heat, try to opt for a curling iron that allows you to set the heat so that you don't fry your locks. For color-treated, damaged or fine hair, use the lowest heat setting possible. For coarse or thick hair, or hair that has a degree of natural curl then you can use the higher settings, but keep an eye on your hair and heat level.
When Styling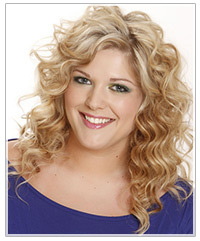 Always divide your hair into sections when curling. It'll make it easier to curl your hair, and will ensure that every section gets the right amount of attention.
Work an extra hold product like mousse through the individual section just before curling your locks, and then spritz with hairspray as soon as you uncoil your hair from the curling iron barrel.
Hair tip: worried about getting that crunchy look and feel? Avoid it by using a light-weight hairspray and remembering not to go overboard when spritzing.
To get a longer lasting hold for your curls, wind your newly formed curl into shape and pin it against your head while you continue curing the rest of your hair. This will allow your hair to cool and hold onto the shape of the curl in a position where it's least likely to lose the shape you've just created.
Generally, it shouldn't take more than 20 seconds for each section of hair to be curled (depending on the thickness of your hair and the section being curled). If you find yourself holding the curl for longer, all you're doing is damaging your hair.
Once all of your hair has been curled, it's time to release your locks and style. For curls with plenty of defined shape, try not to touch your locks too much. For soft, beach waves, use your fingers to gently separate your curls. For glamorous, retro inspired waves, run a natural bristle hair brush through your locks to flatten out the shape of your structured curls.
Curling Tips to Keep in Mind...
Don't curl wet hair. Ensure it's dry.

Blow-drying your hair straight before curling it will make it easier to curl and give you a nicer finish, especially in your root area.

Keep your curling iron clean. The products in your hair will transfer to the iron and can reduce its effectiveness to heat and style your locks properly. Give it a wipe down before and after (when it's cool) every styling session. You can either invest in a specially made curling iron cleaner, or use a clean, damp towel.