If you're looking for a Prom hairstyle, then read our tips and view these hairstyles to get ideas on your big day! Choose a hairstyle and outfit that makes you feel comfortable on your prom night - that's the best prom hairstyle advice.
Prom Hairstyles: The Bob Haircut
A
bob haircut
worn straight will suit a prom dress that's quite detailed or "noisy", where you would need a simple hairstyle so as not to take away from the dress. A dress that is on the plain side will look better with a bob that has some curl or volume added to it. (For more information about your prom dress's "mood" see our article:
Prom Hairstyles: Hair and Dress Tips
.) Here are some gorgeous ways to style a bob for your big night out.
*If you're unsure of your hair type and texture, see our free consultation: "
Know Your Hair Texture and Elasticity
."
Windblown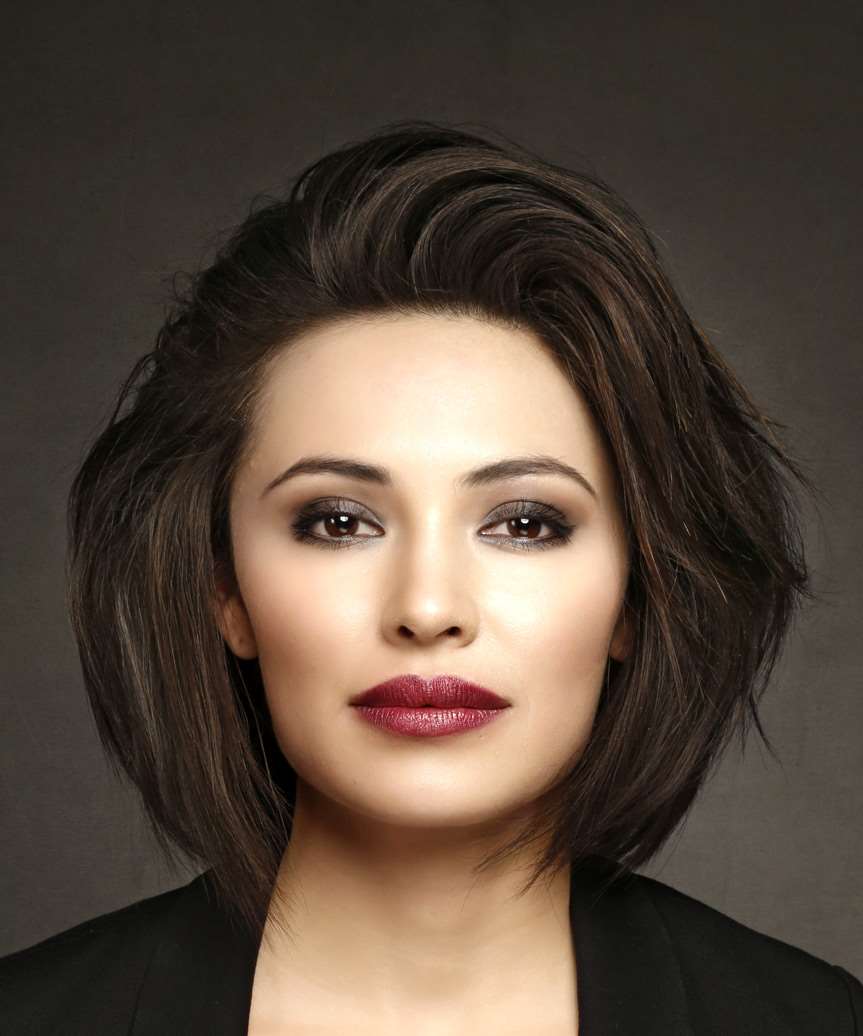 With a little backcombing and hairspray, you can transform your bob into a sexy style that would suit a fashion-forward or edgy prom outfit.
Upswept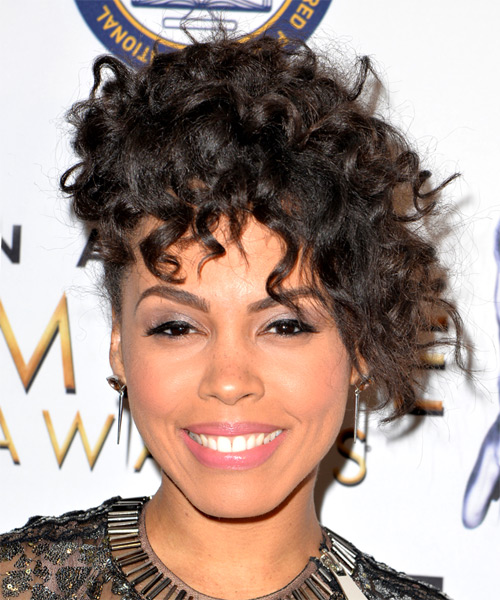 Ladies with curly bobs will look stunning in Amirah Vann's upswept hairstyle as seen here. Show your curly hair off and create a glamorous up-do by pinning the hair near the crown, allowing the hair the cascade forward.
Beach Waves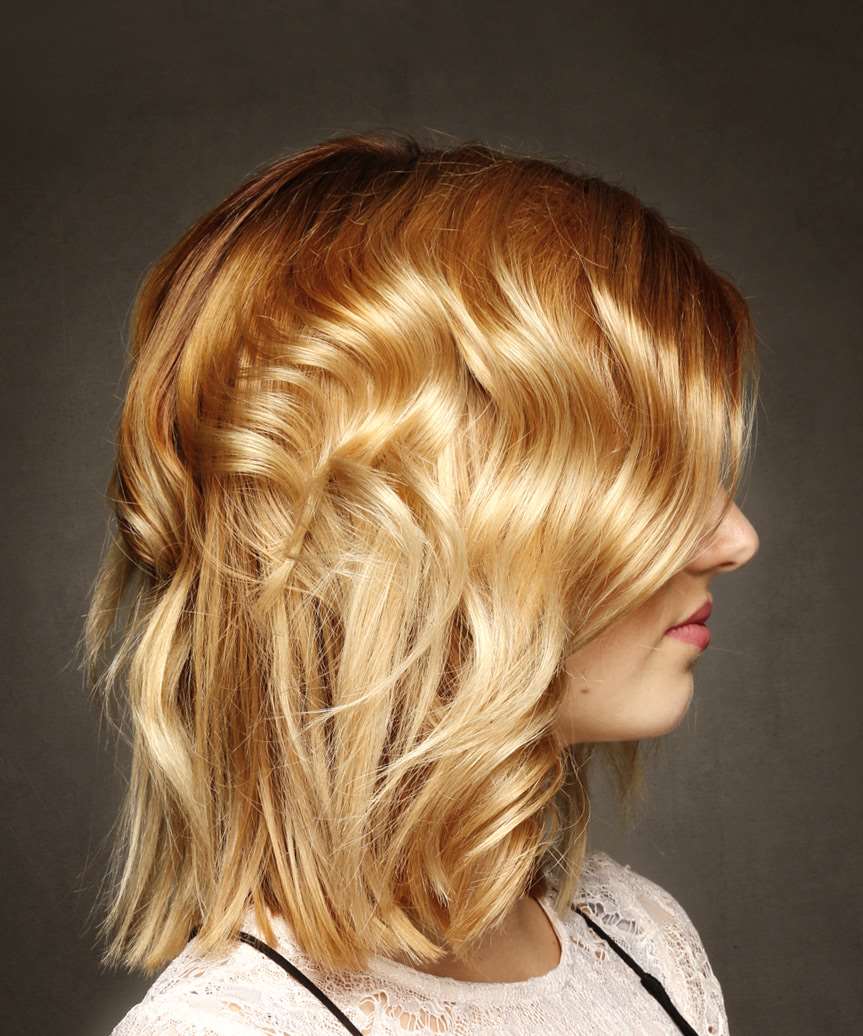 To jazz up a shoulder length bob, use a large curling iron to create these polished beach waves in your 'do. This look is young, fun and not too uptight, thanks to the random sections that are curled on top while the bottom layers remain straight.
Mermaid Waves and a Bold Color


For the edgy girl, adding mermaid waves a bright and bold color like this lavender and pink combo can really transform a bob from boring to bodacious. Your stylist will advise if this is possible on your hair type and color.
Graduated Bob with a Hint of Color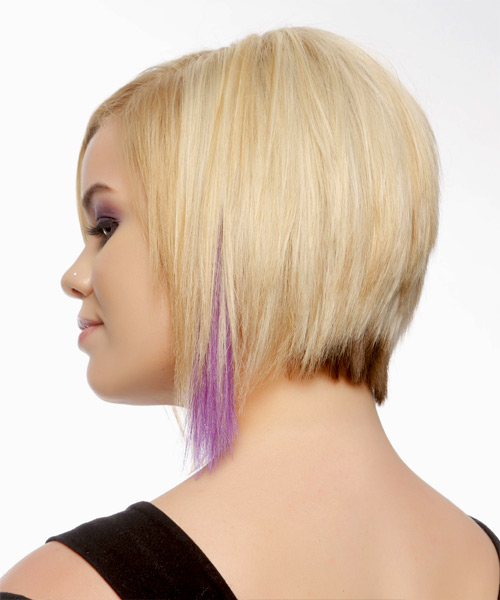 A bob that lifts up in the back (also known as a graduated bob) looks elegant in formal situations and shows off the neck and back beautifully. For a fun addition, add a bold streak of color in the front to match your dress.
Prom Hairstyles: Plaits
Feel like something a little bit different, maybe a slightly boho or hippie hairstyle? Try this particular style. Plaits aren't just trendy and fashionable, they can act as a headband that keeps your hair out of your face. This prom hairstyle will dress up an otherwise simple look and make placing a flower or tiara in the hair easier.
Crown Braid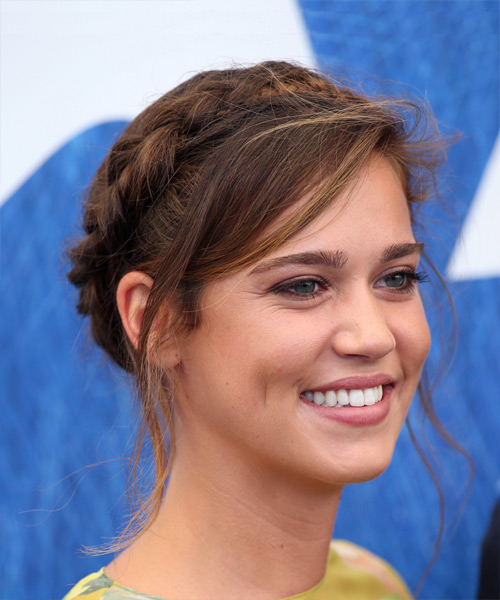 You'll look and feel like royalty with a crown braid with side swept bangs like Matilda Lutz on your prom night. This 'do is ideal for ladies with long or thick hair that fancy a medieval look. Add flowers or jewels for extra effect.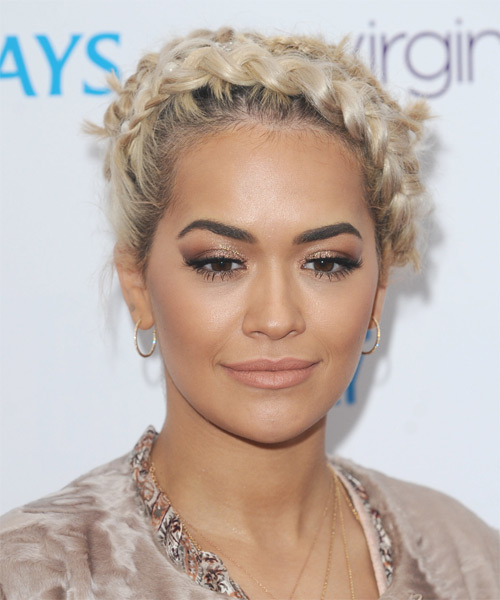 Rita Ora's platinum blonde crown braid looks gorgeous with all of her hair pulled back (no fringe) and pearls inserted throughout.
Box Braids for African Hair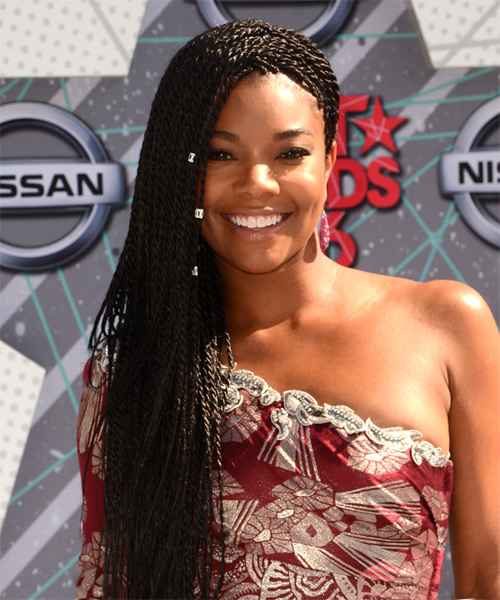 If you have African hair and enjoy wearing box braids, prom is the ideal occasion to glam them up with beads, bright and bold colors, flowers or jewels, depending on what suits your prom dress. Gabrielle Union adorns her box braids with silver accessories for a beautiful finish.
Boho Braids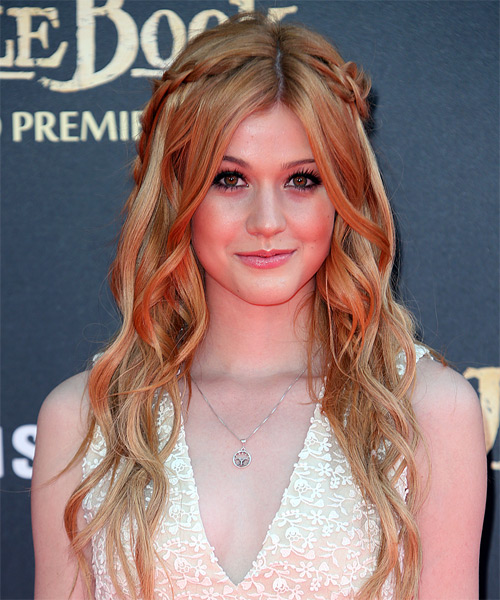 Medium to long hair looks lovely in two boho braids, as seen here on Katherine McNamara. This is a stunning way to wear your hair long and loose, with a stylish semi up-do effect thanks to a loose braid on either side.

French Braids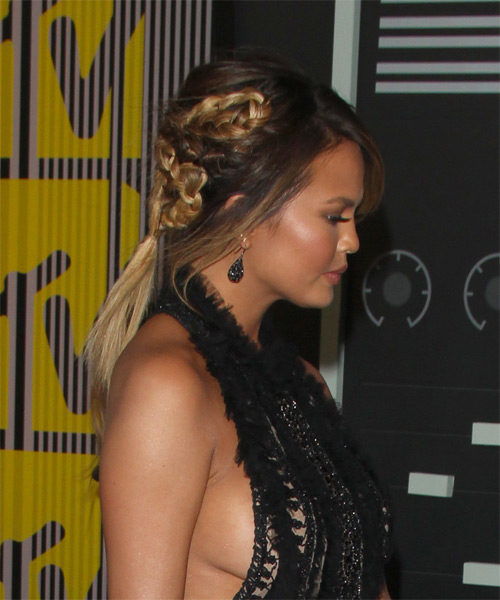 For a sassy way to wear french braids, copy Chrissy Teigen's twisted braided up-do. Her side-swept fringe is left out in the front while the rest of her hair is french braided, twisted and pinned at the back.
Prom Hairstyles: Vintage
Going for a classic, old Hollywood vibe? Choose a vintage-inspired hairstyle to match your gown for an ultra glamorous look. These hairstyles will suit sophisticated gowns and retro dresses nicely.
Finger Waves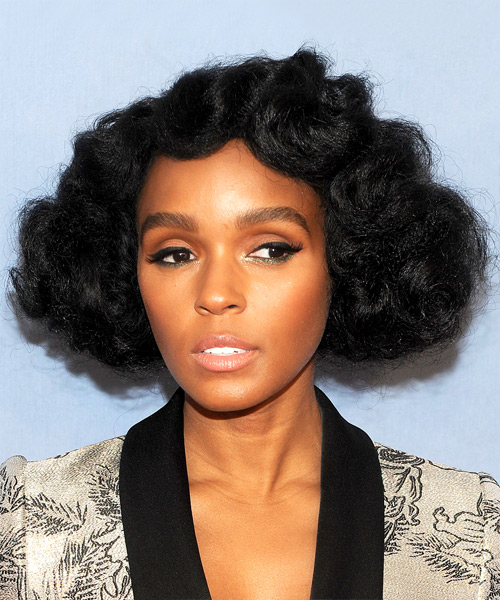 Finger waves will transform short, medium or long hair into a dazzling 'do. Janelle Monae's finger wave bob is an excellent option for ladies going for a 1920s style prom look.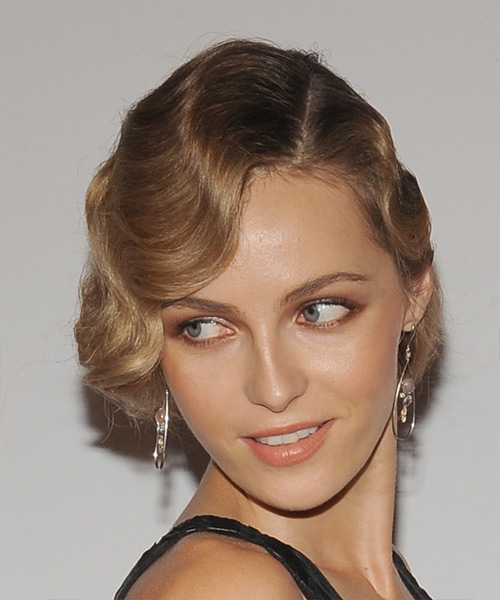 Valentina Zelyaeva's short hairstyle looks amazing styled up in finger waves.
Beehive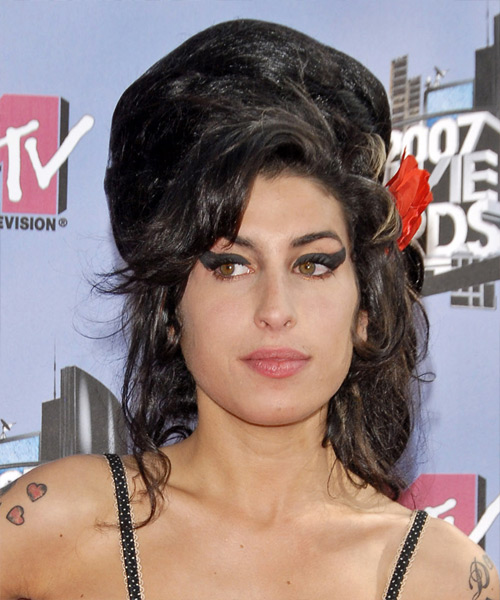 Go for the pin-up girl look with Amy Winehouse's iconic beehive hairstyle. Add a flower on the side like Amy for a beautiful finish.
Rag Curls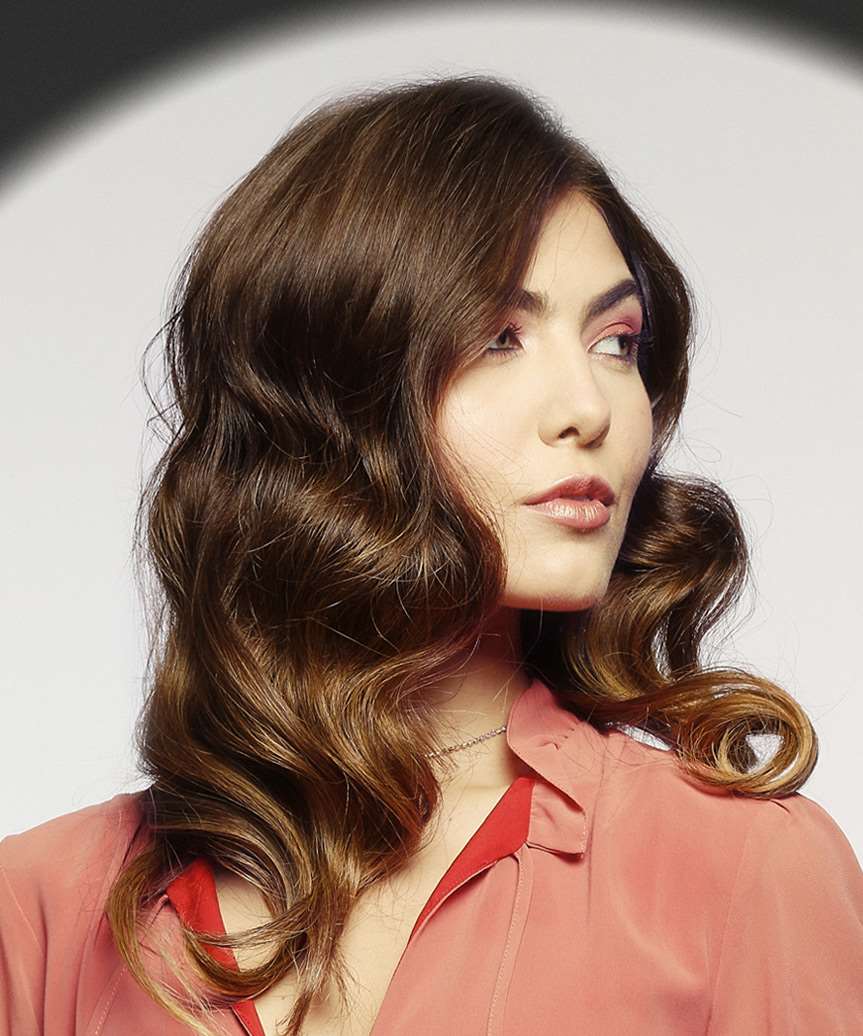 You can create these soft vintage waves by using the heat-free method of wrapping sections of hair around strips of cloth, tying them up and letting them dry. Brush them out once dry for a soft, silky feel like our model here.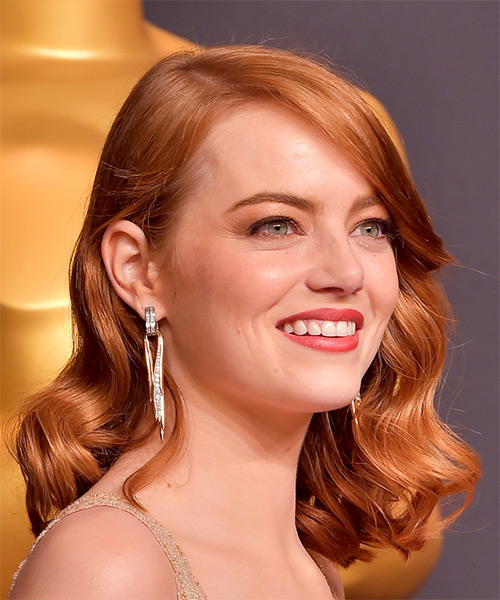 For a more polished look, use hot rollers to create your vintage rag curls like Emma Stone.
Prom Hairstyles: Buns
Top Knot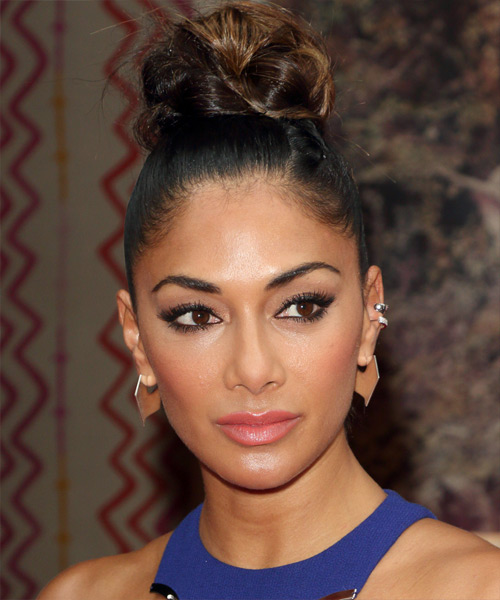 A sleek topknot is the perfect hairstyle to compliment a bold or daring dress and show off your face. Nicole Scherzinger's topknot is twisted and pinned with some pokey ends sticking out for a fashion-forward finish.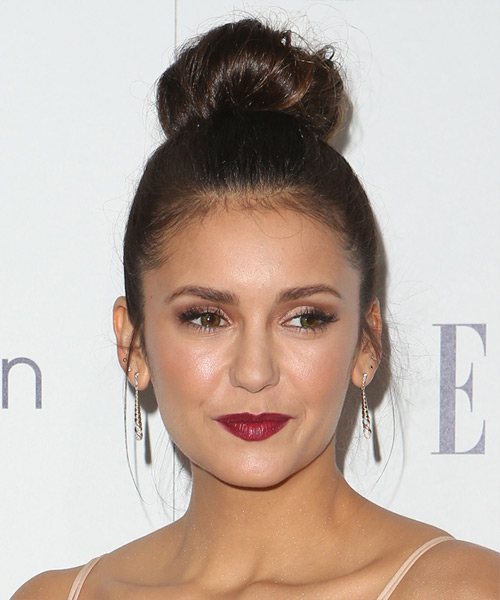 Nina Dobrev goes for a more polished topknot with her hair slicked back into a smooth bun at the crown. This is a good hairstyle to show off a fabulous pair of earrings or a sexy neckline on a dress.
Low Bun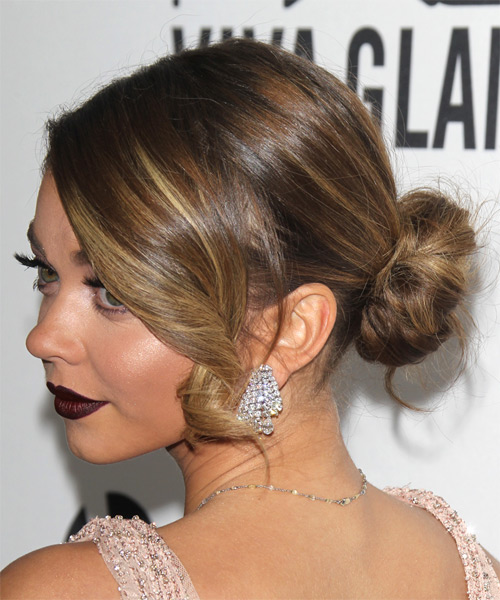 Classy and elegant is the main idea for this look. Sarah Hyland's bun is at the nape of her neck while her side-swept bangs are curled to make a lovely tendril that frames her face.
Messy Side Bun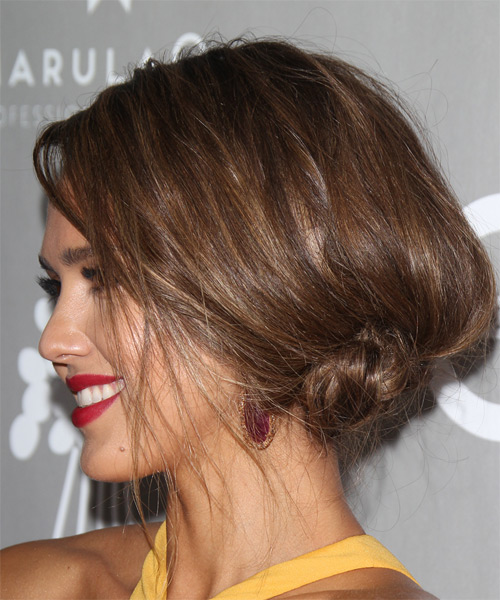 Go for an classy look with a bit of edge with a messy low side bun like Jessica Alba. This would suit a strapless dress nicely or one with an intricate neckline.
Bun with Bangs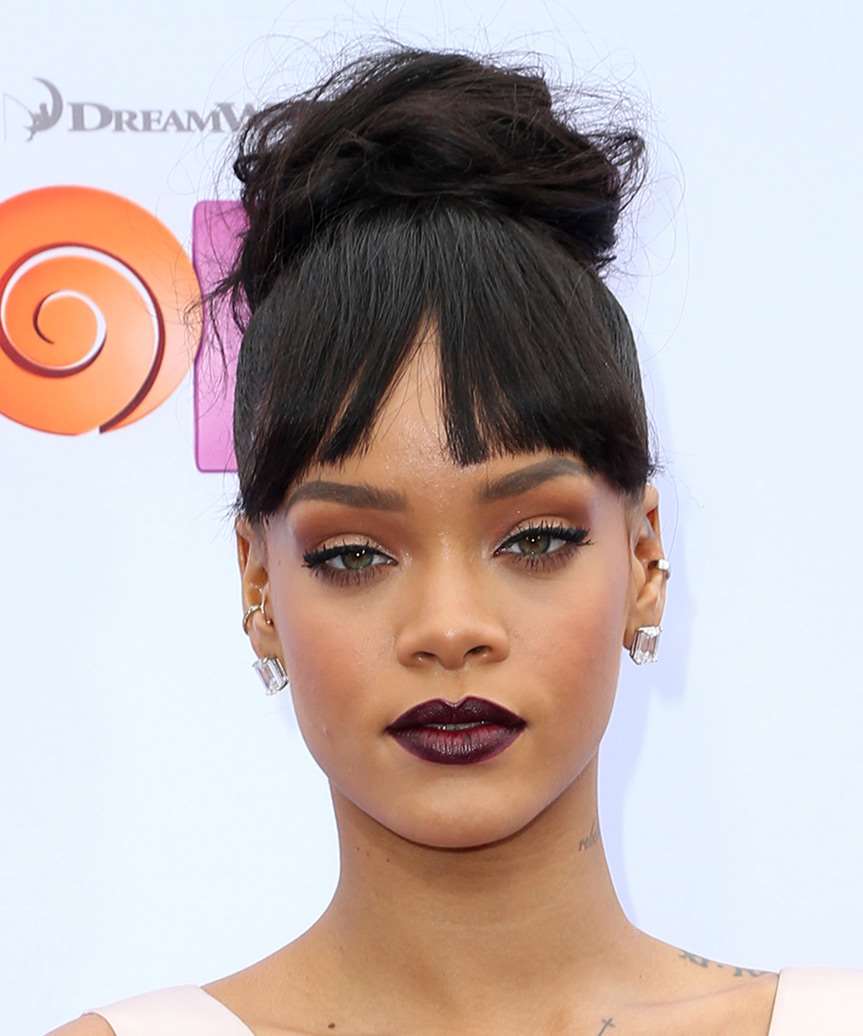 Do a Rihanna and pair a high bun with a blunt fringe for a head-turning look. This hairstyle is ideal when paired with an elegant gown and dramatic makeup to match.

Prom Hairstyles for Medium Length Hair
Medium Straight Hair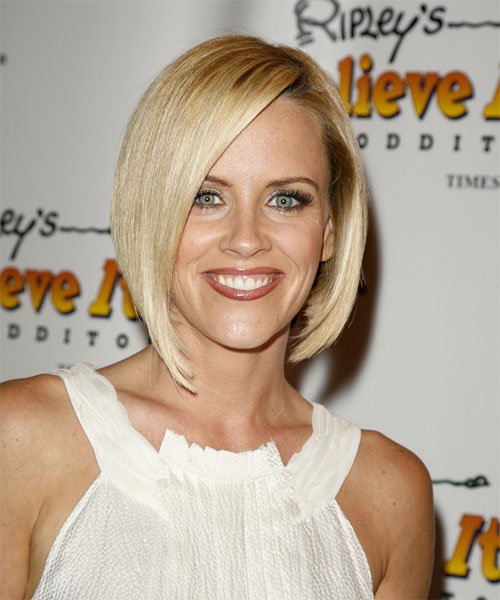 Medium length straight hair is about shoulder length without any kinks or bends. If you've got this type of hair then check out these two stunning prom hairstyles:
1. Classic Elegant Bob
This is a precision cut and the great thing about it is that it'll fall into place gracefully all night long. This bob haircut will suit a prom dress that's quite detailed and "noisy" (For more information about your prom dress's "mood" see our article: "Prom Hairstyles: Hair and Dress Tips.")
2. Plaits on Top for a Twisted Difference
Feel like something a little bit different, maybe a slightly boho or hippie hairstyle? Try this particular style. Plaits aren't just trendy and fashionable, but they're useful because they'll stop your hair from falling on your face. More advantages of this prom hairstyle are that it'll dress up an otherwise simple one length look and plaits make placing a flower or tiara easier.
Medium Wavy Hair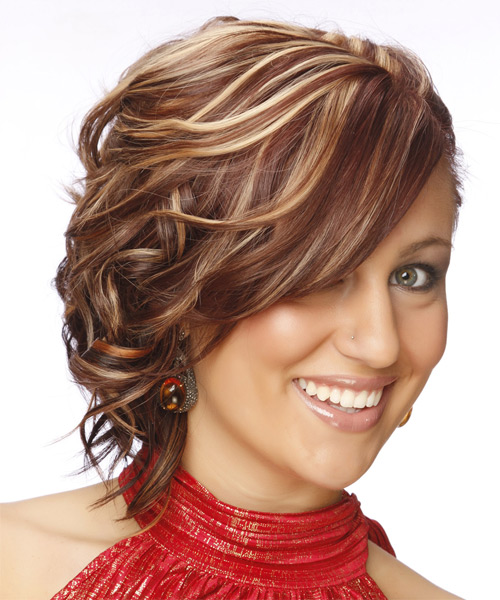 Medium length wavy hair is about shoulder length with a slight bend or "S" shape. If you've this type of hair then here's a couple of head turning prom hairstyle options:
1. Glamorous Waves
If you like the glamorous look and you're a fan of the kinds of hair styles Katy Perry's often wearing, then try something like this with lots of body and bounce. The soft waves are created with hot rollers, and this particular prom hairstyle- because of its added width- will suit longer face shapes.
2. Pinned Waves
Show off your lovely face and cheek bone structure with these fabulous pinned waves. One side has been pinned back off the face, allowing soft waves to fall delicately onto one side of the neck. It's quite a structured hairstyle that's nice and formal looking too.
Medium Curly Hair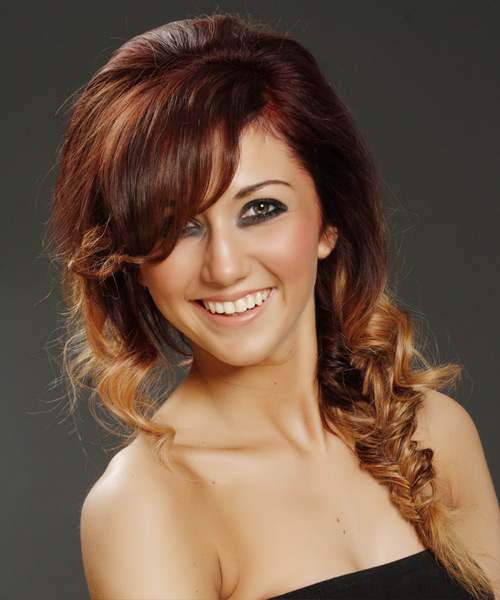 Medium length curly hair is about shoulder length with a definite "S" pattern that forms loops and will spring away from your head. If you've got this type of hair then take a look at two more of our examples of fabulous prom hairstyle options:
1. Eye-Catching Curls
Show off your eyes with this more casual looking prom hairstyle. The bangs have been pinned to the sides and some teasing adds height in the crown. These luscious smooth curls are created using hot irons- which are great for avoiding fuzz too.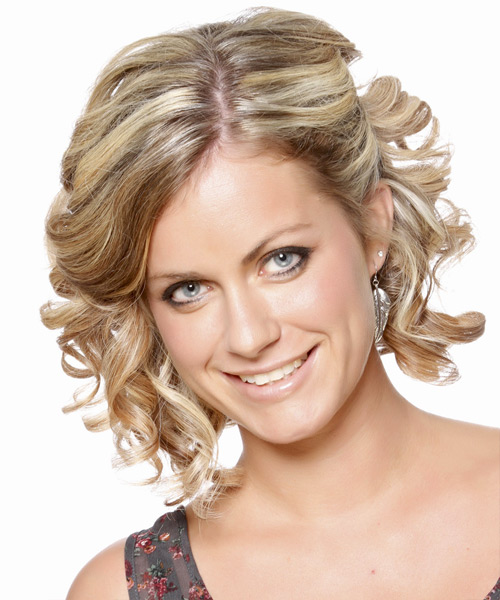 2. Natural Curls
This is a fantastic longer lasting hairdo with lovely natural looking curls. It's pinned up through the back and sides and, since the shoulders and neck remain exposed, it'll work well with low-cut gowns.
Prom Hairstyles: Emo and Scene Kids
There's no use trying to look like someone you're not, or trying to pretend you're someone you're not. So if the stereotypical "prom queen" look isn't for you (think Ashley Tisdale in High School Musical), then choose a prom hair style that suits you better.
There's no right or wrong prom hairstyle; I mean if you're a bit more emo hair and scene hair styles work for more formal occasions- just take a look at the pictures of Kristen Stewart and Robert Pattinson below. (You might also want to check out our article "Prom Hairstyles: Hair and Dress Tips.")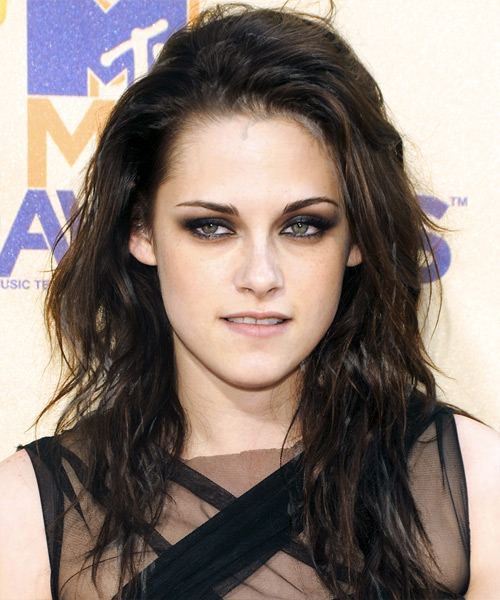 Both these stars from Twilight are pictured at red-carpet events, and both are doing a great job combining their more formal outfits.
Kristen Stewart's hair is a combination of red and black color sections and it's got a cool messy and textured look about it. Its dark brooding quality makes it a bit emo, and I guess the piecey two-tone colorand volume make it look like scene hair too. Either way it definitely looks styled, and the result is a glamorously dishevelled effect. This style is great if you've got medium to thick hair, and since it's all about height and volume at the crown, it would suit round face shapes best. If you want a prom hair style like this then section off your hair, tease it at the roots for lift, twist using wax or molding cream and finally, hold it in place with a strong lacquer.
Robert Pattinson's hair is all about texture too, and he's got that classic emo fringe, but with the way it's styled to the side for this occasion it looks more like scene hair. His 'do is quite "out there" but combined with that sharp suit and skinny tie, it's definitely a sophisticated look that'd work at a prom. The back layers were graduated up to medium layers that were jagged-cut through the top for a textured finish. Wispy strands falling on his face soften this look, and it's best suited to those with fine to medium hair. To style, use mousse and molding cream to lift the roots and separate the strands.
If you're emo, scene or grungy, then try a prom hair style like one of these. It's most important that you're comfortable at your prom and feel good about yourself, and Kristen Stewart and Robert Pattinson prove that you can make the kind of alternative hairstyles you might really like work well at formal occasions. For more prom hair suggestions see our Bridal Hairstyles page and check out more pictures of emo hair styles.
Your prom's an important day, and to get ahead of the game (and avoid too much stress) make sure you check out all our prom hairstyle tips! Also if you have any questions feel free to Twitter one of our consultants or send us a message on Facebook.
Those are just a few ideas for gorgeous prom hairstyles. You can try on thousands more at thehairstyler.com!
Doing your own hair for prom? These tutorials can help: