Going to the prom is a huge event and preparing for the prom is all part of the fun. As well as deciding on the perfect dress, shoes, jewellery and make up, you also have to decide on the perfect prom hairstyle- and make sure it lasts the night!
So what's the best way to make sure you've chosen a prom hairstyle that'll go the distance? It's all in your prom hair preparation. We explain how to make sure your prom hair complements your dress' mood, and you don't go overboard with the message you send with your prom dress and hair. To make sure that you find a prom hairstyle that is absolutely perfect and will add the finishing touch to your prom night, THS has put together everything you'll need to know for getting a perfect prom hairstyle in easy steps.
1: Find Your Prom Style
You may have to do some running around for your prom dress and shoes, but luckily, finding your prom hairstyle is going to be really easy. All you have to do is log into your account (or register if you haven't already) and try on a prom hairstyle or two with your photo so that you can see first hand what kind of style is going to suit your face shape and hair texture and elasticity. You can then print out your chosen hairstyles and take them to your hairstylist!
2. Hairstyle Consultation (Three Weeks Before Your Prom)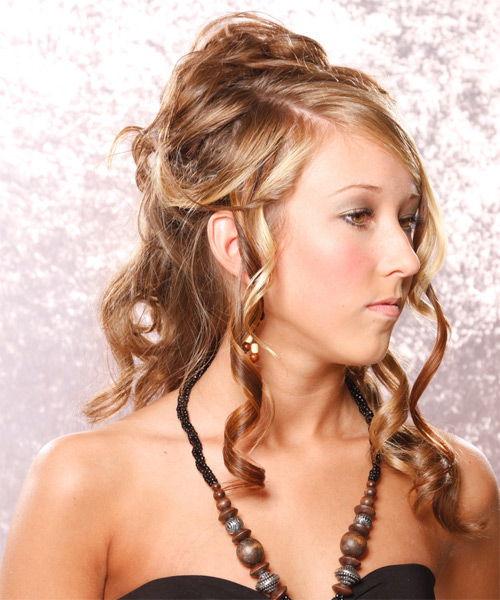 Once you've got your picture, make an appointment to have a consultation with your stylist to talk about the prom hairstyle that you want, whether it will work with your dress and accessories and how long it will take to style. You can then schedule other appointments, such as makeup and nails, so that they won't run into each other. Don't forget to ask your stylist if you will need to have super-clean hair or hair that was last washed the day before- that way you can ensure that your hair will be easier to style.
Organize the consultation at least 3 weeks before your prom and take along any pictures that you have of prom hairstyles. That way your hairstylist will have a good idea of what you're after and whether you can pull it off; and if not, they can suggest any other prom hairstyles that'll be more suitable.
If you already have your dress picked out then take it- or some photos- along, as well as any earrings or necklaces that you'll be wearing.
Your prom hairstyle consultation should also include a discussion of how long it'll take to achieve your prom hair and the cost of getting your hair done.
3. Trial (At Least Two Weeks Before Your Prom)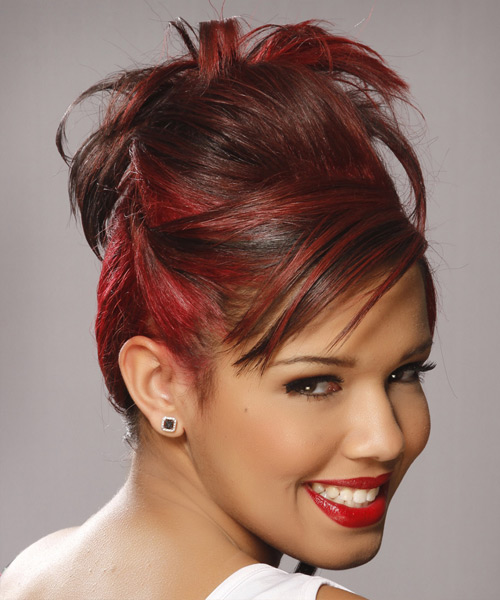 You might have 100s of prom hairstyles in mind, or just one, but once you've decided on the right one for you then a prom hairstyle trial is a great next step.
You can get this done the same day as your prom hairstyle consultation, or at a later date, but do try to have your prom hairstyle trial at least 2 weeks before the event. That way, if the style just doesn't turn out how you thought it would, or if there are "creative differences" between you and your hairstylist, you still have enough time to find another style and/or salon.
If you've decided to get your hair colored as well as styled then it's a good idea to combine your prom hairstyle trial with your appointment to get your hair colored. That way, if you decide the color isn't for you, or that the curly ends you're going to have for your prom hairstyle will stand out better with a contrasting hair color, you can make those changes in time and not be left with a prom hairstyle that doesn't look good, or a hair color that just doesn't work for you.
The same goes for any other chemical work, such as getting your hair permed or chemically processed. Getting these hair services done well ahead of your prom will give you the chance to fix any mistakes, change your mind, and get used to your new hair color/hair texture.
4: Look After Your Hair
If you want super-shiny and healthy looking hair for your prom, start a strict hair care routine as soon as possible (see for example "Hair Care Resolutions Too Easy and Simple to Ignore"). Try an intense reconstructing salon treatment once or twice a week to help your hair get into top condition. This will also make your strands easier to manage and will give your hair a great natural shine. It's also a good idea to use a leave-in moisturizer after every shampoo and condition. This will protect your hair from things like the sun and salt water and also make it stronger so your strands will be better prepared to handle day-to-day styling.
5. Hair Care (The Day Before Your Prom)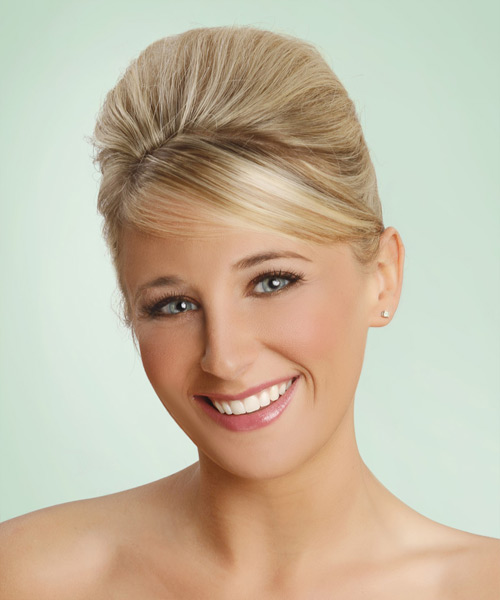 Once you've decided on a prom hairstyle, had a consultation, trial and your hair colored, permed or straightened, and also booked your appointment, the only thing left to do is make sure your hair is prepared. That means one thing: making sure your hair isn't freshly washed!
The best thing you can do to make sure your prom hairstyle looks as good at the end of your prom night as it did when you left the salon, is to make sure your hair is clean but not too clean. To do this, you'll need to wash your hair the day before your prom hairstyle appointment.
Why? Washing your hair the day of the prom will make your hair too soft and could stop it from holding your hairstyle, forcing your hairstylist to overload your hair with more styling products (which will make your hair look stiff and feel hard). It may also make styling your hair harder for your hairdresser and they'll need extra time to make sure your hair is 100% dry. After all the work you've put into planning your https://www.thehairstyler.com/prom-hairstyles-tips-hair-dress-mood.aspprom hair style you certainly don't want it all coming undone because of your shampoo!
Preparation for your prom is as important as choosing the right dress. And this means having a consultation to make sure your hairstyle suits you and your dress, doing a test-run of your prom hairstyle and color, and getting your hair in tip-top shape for styling the day of your prom.
Prom Hairstyles: Hair and Dress Tips
The mood of your prom dress is the attitude or feeling its style, cut and color create; for example, is it cute, emo, boho or glamorous? When you've figured that out, you need to match your prom hairstyle with your dress.
We've put together a list of moods of prom dresses and some suggestions for prom hairstyles that would suit them:
Cute Prom Hairstyles
If you like the cute and flirty look, maybe go for a short prom dress with an empire waist, or a cute little strapless bubble dress in pink or white. Match your prom hair and dress with a cute hairstyle that's styled into natural loose waves- like Sarah Jane Morris' hair at the Critics' Choice Awards.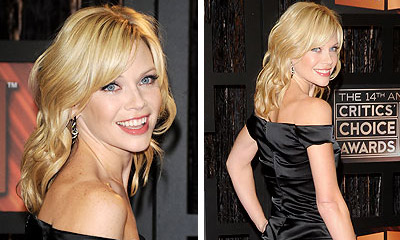 Sarah Jane Morris: Critics Choice Awards
Vixen Prom Hairstyles
If your dress is daring- maybe with an eye-catching slit, figure-hugging lines, off the shoulder or strapless- go for a sexy hairstyle. Try something half up half down with waves tickling your shoulders; or side-swept waves like Alicia Keys' Oscars hair.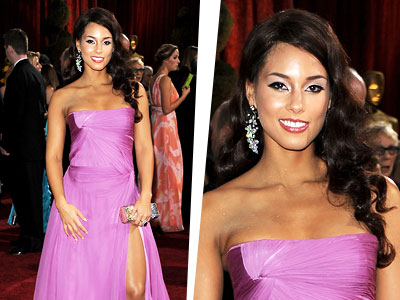 Alicia Keys: Oscars Hair
Rocker/Boho Prom Hairstyles
The rocker/boho look is casual, hippy and a little flower-power. Your dress might be long and flowing and your bodice embroidered. Try a prom hairstyle like Amanda Bynes': her braids through the front are quite boho, and the sides have been left to flow below her shoulders. You might also want to check out some of the Olsen twins' boho hairstyles.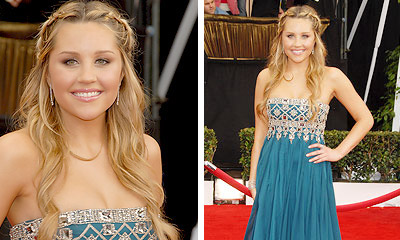 Amanda Bynes: Wavy Long Hair
Emo Prom Hairstyles
An emo prom dress will probably be black. It might have a layered skirt and hook and tie bodice, or maybe it'll be uber short in vinyl, or maybe longer and military style.
You can definitely make the emo hair look work for your prom, and you can definitely get prom hair to match. Try something like Twilight's Kristen Stewart's red-carpet hair. It's a combination of red and black color sections and it's got a cool messy and textured look about it. Its dark brooding quality makes it a bit emo, and I guess the piecey two-tone color and volume make it look like scene hair too.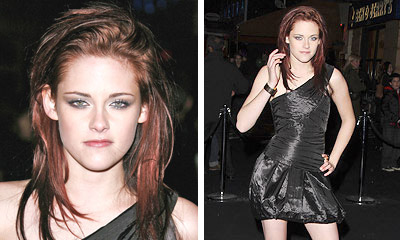 Kristin Stewart: Emo Prom Hair
Burlesque Prom Hairstyles
For burlesque style, check out any photos of Dita Von Teese or Lady GaGa (and Christina Aguilera at the American Music Awards 2008), and watch the film Moulin Rouge. It's a style that's pretty much a combination of vintage and sexy in a retro and theatrical way. Try a hairstyle like Dita's soft layered bob, or Katy Perry's hairstyle at the Critics' Choice Awards 2009.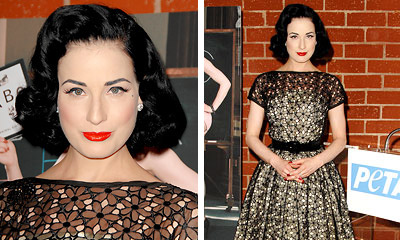 Dita Von Teese: Wavy Medium Hairstyle
Glamorous Prom Hairstyles
The glamorous look is sophisticated, classic and uncluttered. It's not about being daring or extravagant, but subtle and graceful. Angelina Jolie was definitely the queen of glamor with her Oscars hair 2009 (and Natalie Portman was a close second), in a form-fitting strapless black dress. If you like the glamorous look, try prom hair like Angelina's: it's elegantly pulled back to show off her face, neck and accessories.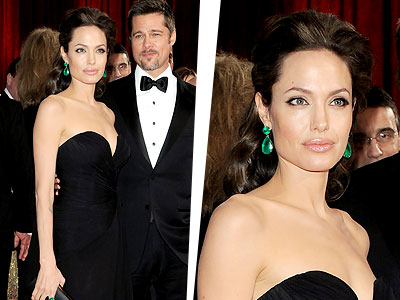 Angelina Jolie: Oscars Hair
Match Your Prom Hairstyle and Dress
It's a good idea to match your prom hair and dress- in fact, no prom hair style should be performed without your stylist seeing your dress first. Something you really need to bear in mind is your dress's "loudness." Ask yourself, "How loud is my dress stating its mood?" and balance your hair accordingly. Related is the cut of your prom dress's neckline. Adjust your hair to suit the amount of flesh you're showing.
In terms of your prom dress's "loudness," here are some examples. If it's a cute dress, is it subtly cute, or does it scream "THIS DRESS IS SO CUTE!!" with lots of over the top frills and bows etc? Or, if your dress is more of a vixen style, is it subtly sexy- like with a modest slit and form-fitting fabric- or is it really out there, with a huge slit... maybe in crimson red?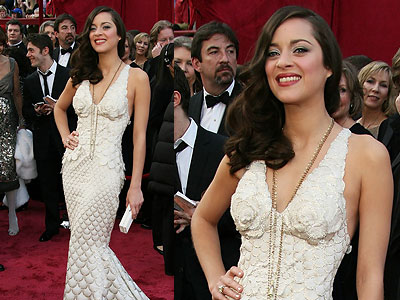 Marion Cotillard: Oscars Hair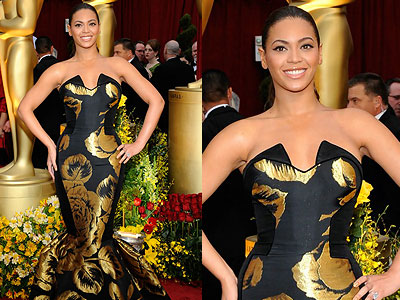 Beyonce Knowles: Oscars Hair
You need to balance your prom hair with the loudness of your dress. I mean, if your dress is stating its mood really loudly (another example: if you're going for the emo look and you've chosen something in daring black vinyl and fishnet) then keep your prom hair subtle or you'll look like you're trying too hard. And it's a similar rule of thumb the other way round: if the mood of your dress is quite subtle then turn up the volume on your hair or you're in danger of looking boring.
The "loudness" of your prom dress can also be a product of the weight of its lines. If it's a more classical dress with solid and heavy lines, avoid over doing your look and choose a contrasting hairstyle with soft waves and creative curls; if your outfit's cute, soft and bouncy with lighter lines, a smoother and more structured hairstyle is going to work best.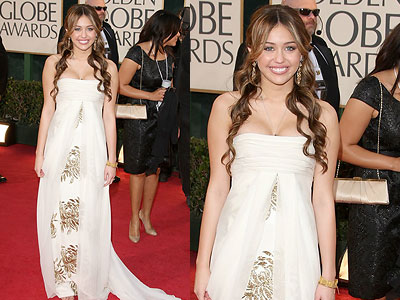 Miley Cyrus: Golden Globe Awards Hair
The cut of your prom dress's neckline affects the "loudness" of your look and the kind of hairstyle you should get too. For example, if your dress has a high collar and you wear your prom hair out, it'll run the risk of diluting the "loudness" of your dress (because it will partially cover your dress). Or, if your prom dress has a low-cut front or back it's a good idea to balance your look by allowing your hair to fall gently on your bare skin.
To help you out, have a look at the pictures of celebrities we've included in this article. Miley Cyrus has balanced a very exposed neckline with soft curls falling on her shoulders. Beyonce has balanced her loud patterned dress and plunging cleavage with a simple half up half down hairdo. Marion Cotillard, on the other hand, wore a relatively simple glamorous white dress and chose big sassy curls to amplify the overall sexiness of her look.
Remember to choose a prom hair style that suits the mood of your dress. Choose any dress you like- they're all great- but make sure the style you decide on makes you feel comfortable. You don't have to be a star to look this good at your prom. Just follow these simple guidelines about matching your prom dress and hair (without going over the top), and you'll be well on your way to looking fab at your prom.