There's no use trying to look like someone you're not, or trying to pretend you're someone you're not. So if the stereotypical "prom queen" look isn't for you (think Ashley Tisdale in High School Musical), then choose a prom hair style that suits you better.
There's no right or wrong prom hairstyle; I mean if you're a bit more emo hair and scene hair styles work for more formal occasions- just take a look at the pictures of Kristen Stewart and Robert Pattinson below. (You might also want to check out our article "Prom Hairstyles: Hair and Dress Tips.")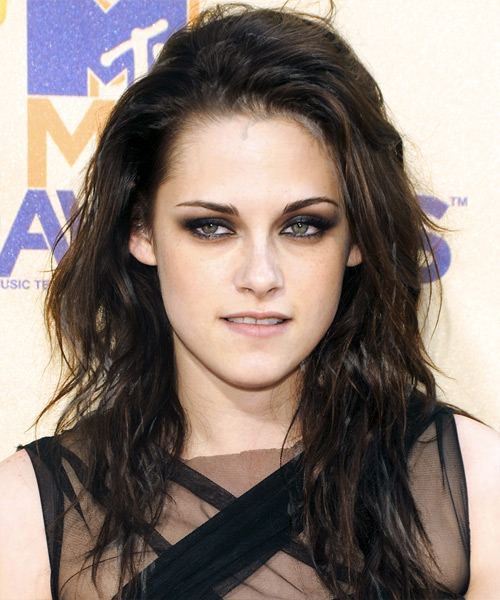 Both these stars from Twilight are pictured at red-carpet events, and both are doing a great job combining their more formal outfits.
Kristen Stewart's hair is a combination of red and black color sections and it's got a cool messy and textured look about it. Its dark brooding quality makes it a bit emo, and I guess the piecey two-tone color and volume make it look like scene hair too. Either way it definitely looks styled, and the result is a glamorously dishevelled effect. This style is great if you've got medium to thick hair, and since it's all about height and volume at the crown, it would suit round face shapes best. If you want a prom hair style like this then section off your hair, tease it at the roots for lift, twist using wax or molding cream and finally, hold it in place with a strong lacquer.
Robert Pattinson's hair is all about texture too, and he's got that classic emo fringe, but with the way it's styled to the side for this occasion it looks more like scene hair. His 'do is quite "out there," but combined with that sharp suit and skinny tie, it's definitely a sophisticated look that'd work at a prom. The back layers were graduated up to medium layers that were jagged-cut through the top for a textured finish. Wispy strands falling on his face soften this look, and it's best suited to those with fine to medium hair. To style, use mousse and molding cream to lift the roots and separate the strands.
If you're emo, scene or grungy, then try a prom hair style like one of these. It's most important that you're comfortable at your prom and feel good about yourself, and Kristen Stewart and Robert Pattinson prove that you can make the kind of alternative hairstyles you might really like work well at formal occasions. For more prom hair suggestions see our Bridal Hairstyles page and take a look at "Prom Hairstyle Ideas." Also, check out more pictures of emo hair styles.