We all have those days when the thought of getting out the blow-dryer, curling iron or even just the hair brush is one of the last things we want to do. You can still pull off a great looking hairstyle when you're having a lazy day, however. Just master one of these quick and easy hairdos!

Straight Strands and a Centre Hair Part
If your hair is naturally straight then half the work of styling is done for you! Get a quick 'do that looks great by ensuring your hair is clean (if it's not, spray in some dry shampoo to eliminate any oily hair strands) and then add a centre hair part. It will open up your face and allow your hair strands to create a nice frame around your face shape.
If you have waves or curls, this isn't a quick and easy hairstyle for you to do. But, you may want to consider getting a sleek blowout once a week so you can rock this quick and easy 'do when you are pressed for time, or simply can't be bothered to flatten out your waves or curls.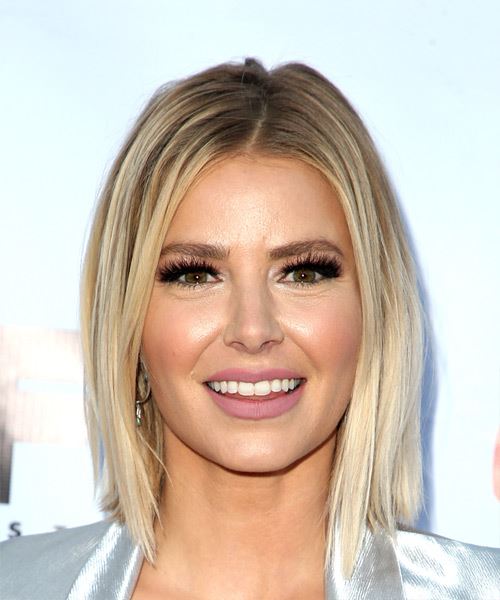 Ariana Madix looks great in this wash-and-go (or wake-and-go!) hairstyle that features a simple bob with a messy center part and straight strands framing the face.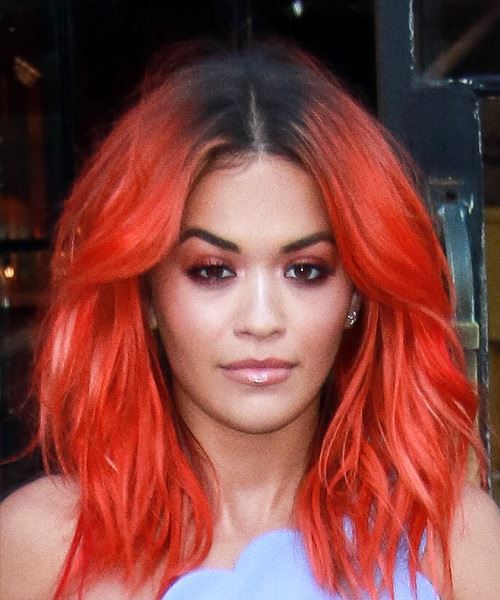 Rita Ora's strands have oodles of volume and a messy bedhead finish to them, making this the perfect 'do for an edgy, "I've just been partying all night" look. Ladies with wavy/curly locks who blowout their hair can rock this look once their natural texture starts to appear after a few days.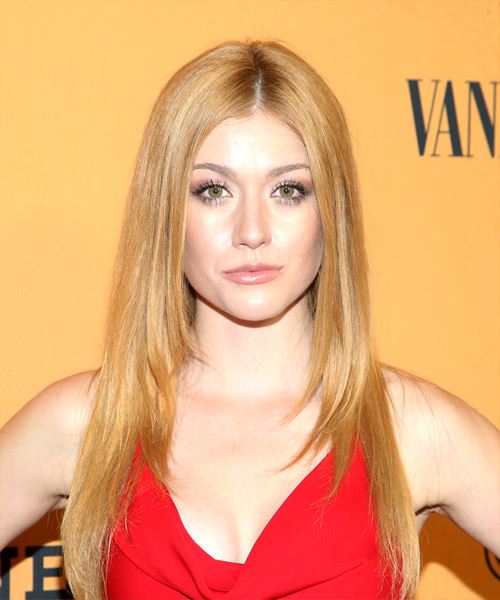 Katherine McNamara looks stunning here in her straight strands and center part. This lazy day 'do looks great on ultra long locks like hers and can be touched up with a flat iron in just a few minutes for a more polished look.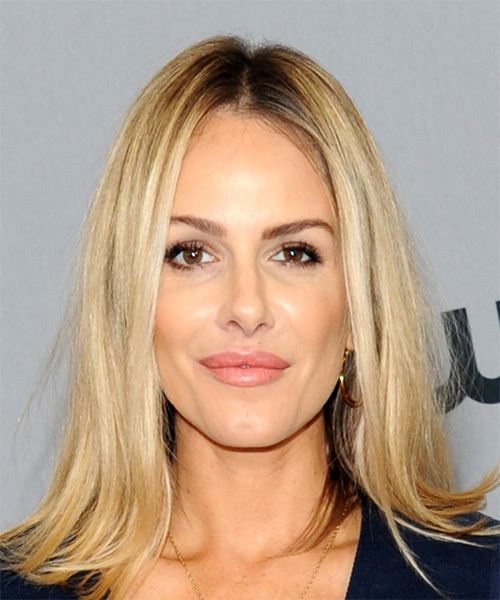 Monet Mazur looks chic here in a simple straight bob that kicks out at the shoulders. Create this 'do by adding a bit of dry shampoo to pump up the volume at the roots and you are ready to roll!
Scrunched, Wavy Hair
Those with a natural curl or wave can create a flattering look in just a few minutes by scrunching their hair. Add some texturizing lotion to your locks to encourage your wave (or plait or braid your hair overnight) and then let your locks fall loose and free for a fun, flirty look that is low on the styling factor, but still delivers a stunning result.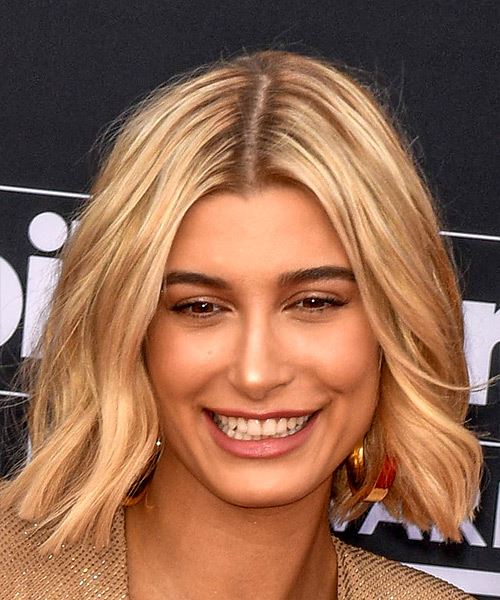 Hailey Baldwin demonstrates how good this lazy day 'do can look on short hair. Her bob looks chic and full of volume thanks to her scrunched waves.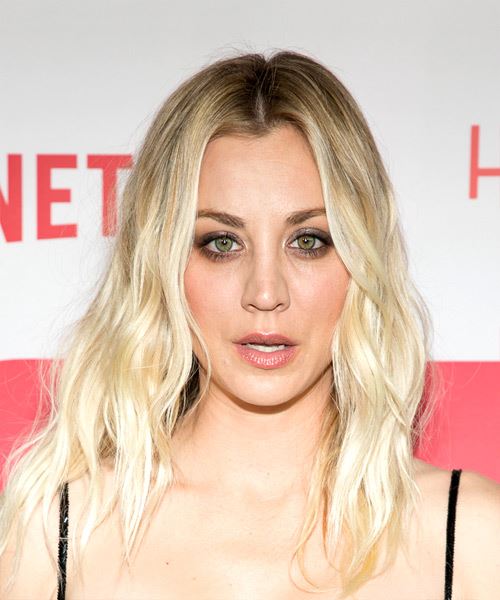 Longer wavy hair looks great in this hairstyle too, as seen on Kaley Cuoco here. This beach babe look not only is sexy but can be achieved in minutes simply by scrunching your wavy locks for a windblown finish.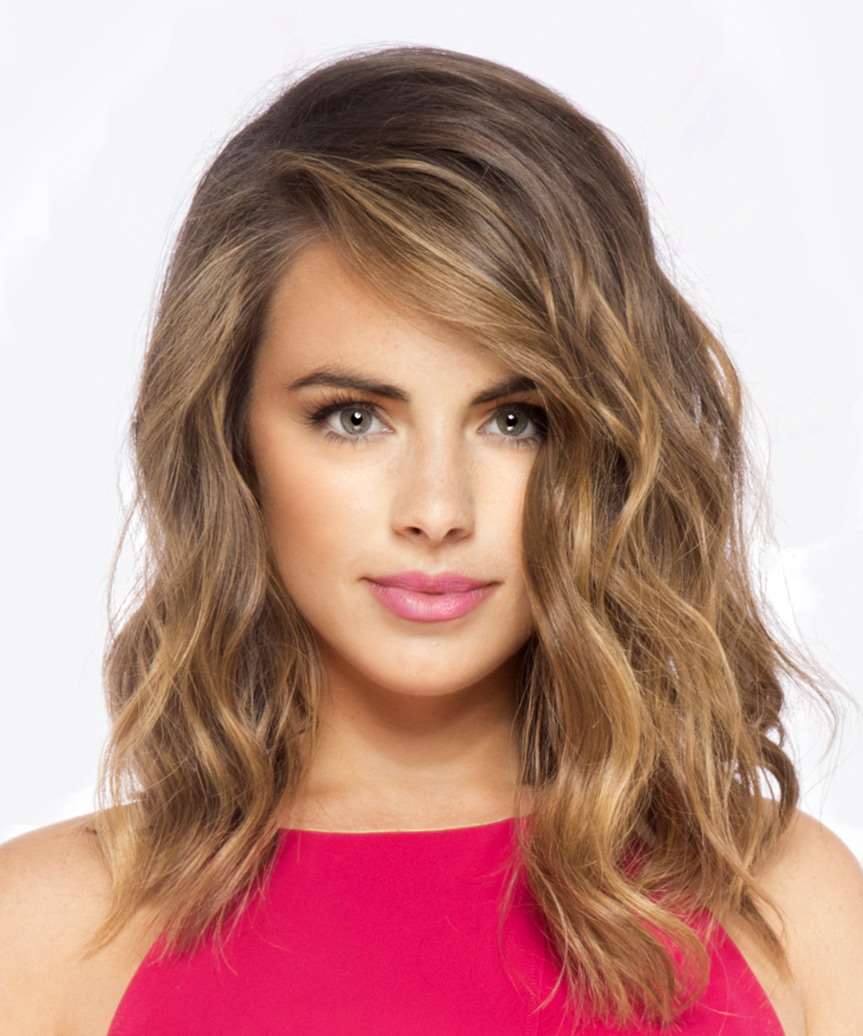 Pair your scrunched waves with an ultra deep side part for a gorgeous lazy day hairstyle. Our model looks beautiful here with her voluminous wavy locks on show, highlighted by a deep side part that lets the hair sweep across the forehead in the front.
A Ponytail
Quite often the go-to style when it comes to a lazy day look is the classic ponytail, and for good reason! Throwing your hair into a ponytail takes mere seconds, and the great thing about it is that you don't have to worry about getting every strand in place. A loose, disheveled pony is right on trend, and having strands fall around your face is the ultimate way to create a soft and flattering look. For a more professional, edgy or high fashion look, try a tightly slicked back ponytail for head-turning results. (This is also a good hairstyle for days when you look tired, it can provide an instant mini-facelift!)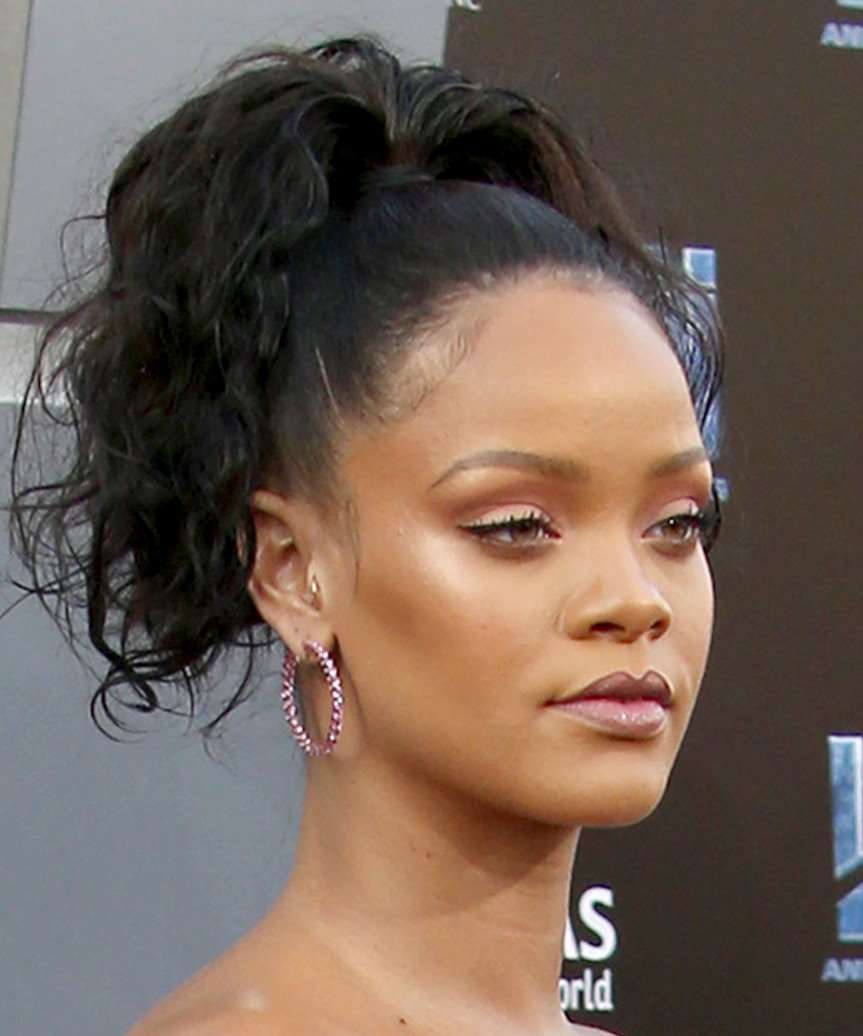 Rihanna looks ready to rock in this high ponytail that lets her natural waves and curls do their thing. She has slicked back her hair into a tight ponytail for a super sleek look.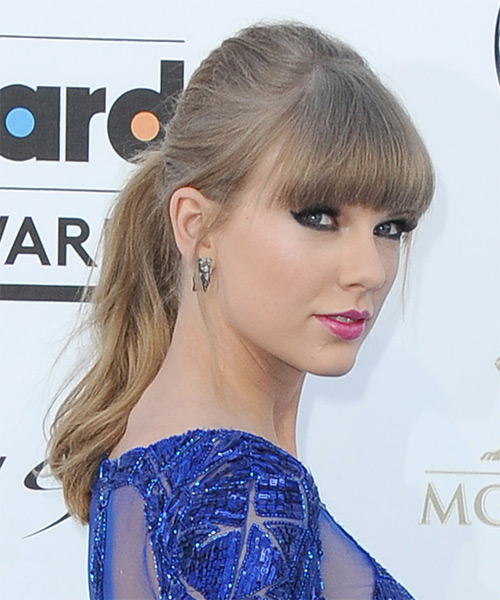 Another idea is to go for a ponytail with mini bouffant at the crown like Taylor Swift has done here. This 'do looks great with bangs and a few tendrils framing the face.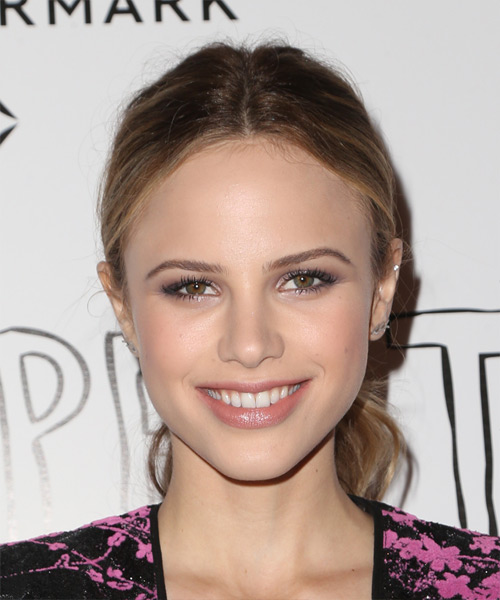 For a lazy day low-key hairstyle, go for a low ponytail and center part combo to create this "model chic" look. Halston Sage nails this look by sweeping her tresses back in a relaxed ponytail at the nape of the neck, keeping the focus on her face and outfit.
A Pinned Half Up Half Down Hairstyle
Perhaps the only other hairstyle that can be achieved as easily as a ponytail is a half up half down hairstyle. To achieve this look, all you need to do is take the top half of your hair and pin it into place at the back of your head with some hair pins. Your locks can be in any hair texture and any condition, and the look should take no more than a few minutes to create.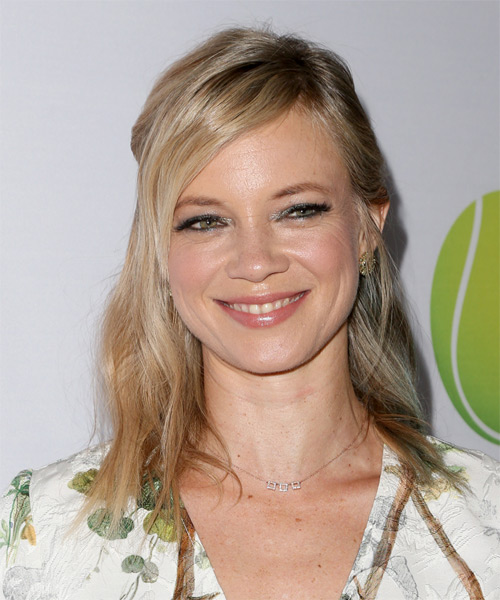 Amy Smart looks lovely here with a half updo and a side swept fringe framing her face. This is a quick and easy do for any hair length and will work with any style of fringe, or a completely grown out fringe.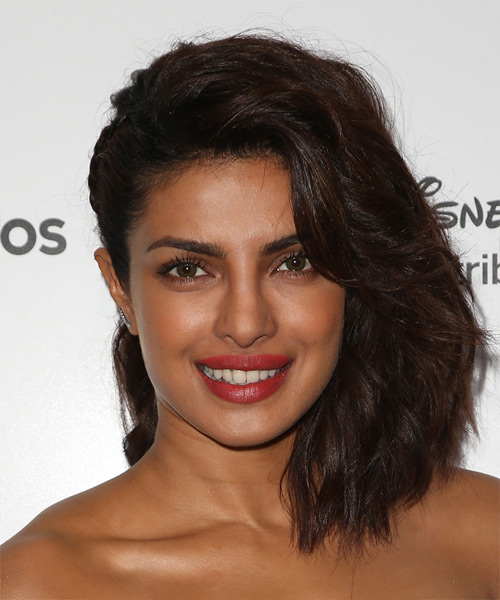 For a different take on the half updo, try sweeping one side of the hair back and leaving the other down. All it takes is a few bobby pins and voila! Priyanka Chopra added a braid for extra style here, which is a cool idea to try on those not-so-lazy days!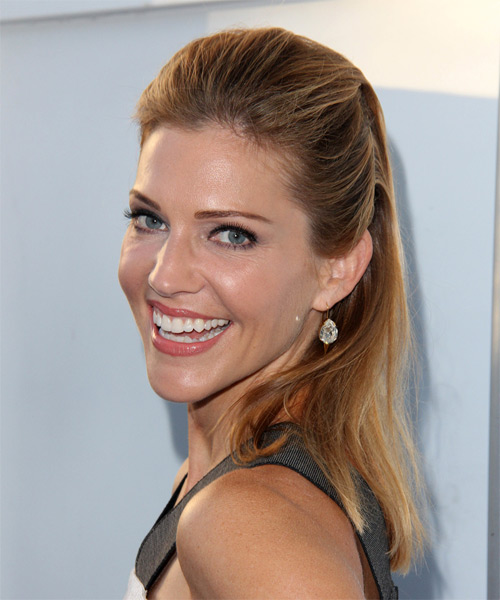 Need a fancy looking 'do but just can't be bothered to spend a lot of time? Check out Tricia Helfer's hairstyle here for some inspiration. You can create this stunning 'do by backcombing the roots at the crown, adding hairspray and then sweeping the hair away from the face. Secure it loosely with bobby pins and you have created a sophisticated look with minimum effort!

These hairstyles are perfect for a lazy day when time and styling just get the best of you. To find some more easy hairdos, take a look at our range of hairstyles today. And if you've got a favorite lazy day hairstyle that you'd like to share, let us know all about it by leaving a comment below!