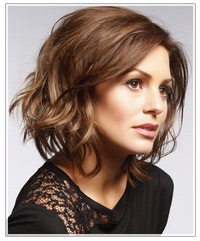 This easy short hairstyle, looks chic and modern, plus it's a true "wash and go" style which is perfect for women who like to get ready in a flash.
Our model shows how effortlessly stylish this haircut can look down, but it also has enough length to be worn back for a change.
This funky 'do works best on faces that are more long than wide, so if you're an oblong, oval or diamond face shape, this could be the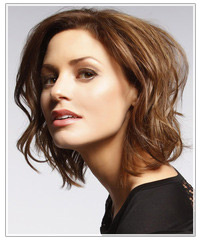 look for you. As far as hair texture goes, having a bit of natural wave is a must. If you want more volume, you can always use rollers or a curling iron to create more waves. Women with very curly hair or very thick hair should not attempt this style however, as it will look too bulky. This cut is a green light for those with fine or medium hair texture.
Ask your hairstylist for a graduated bob hairstyle with lots of layers and texture throughout to make the most of the volume in your hair. Our model works this cut with a side hair part which looks fantastic. If you have a shorter fringe, get it cut on an angle to the side to maintain the edgy look.