If you're the kind of girl that likes sexy, versatile bangs, then Bardot Bangs may be perfect for you. These were, of course, named after the iconic Brigitte Bardot, who was famous for her long tousled hair and fringe. Bardot bangs are parted in the middle or just slightly off-centre and layered around the eyes and cheekbones. They are usually worn slightly curled with loads of volume infused throughout.
Who Suits Bardot Bangs?
These bangs suit women with square, oval, heart and diamond face shapes the best. Medium to thick hair is ideal, with a straight or wavy texture. If you have high cheekbones then these bangs will look extra fabulous on you.
Celebrities with Bardot Bangs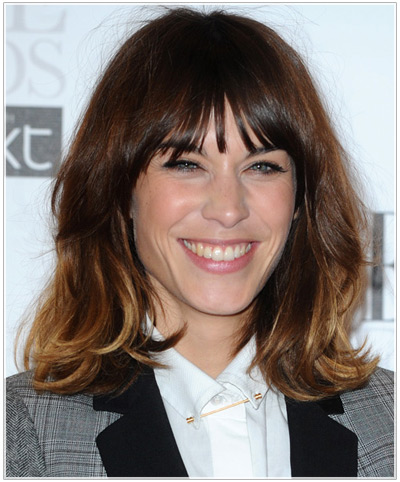 Alexa Chung is often seen with a long Bardot Bang that is parted in the centre. In this photo, she is wearing a short version that skims the eyebrow rather than sit to the side. Her bangs are layered past her temples and around her cheekbones and they eventually blend into her bob. Alexa has natural wave in her hair so she can let her hair and fringe dry naturally and still have a sexy, tousled look.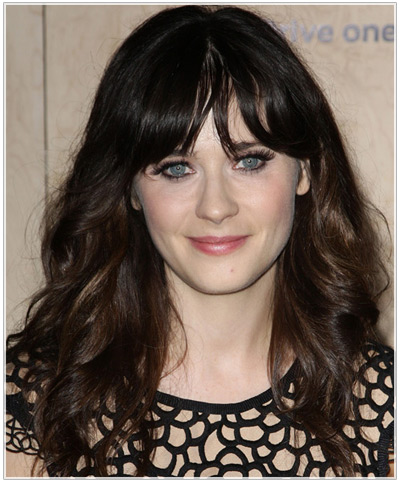 Zooey Deschanel's signature hairstyle involves Bardot Bangs, which look fabulous with her oval face. Her fringe falls to eye-level but is just right when parted and swept to the side. Her bangs extend past her temples and begin to blend in with the rest of her hair at the cheekbone. These bangs look sexy and mysterious, especially with Zooey's glossy dark brown hair color.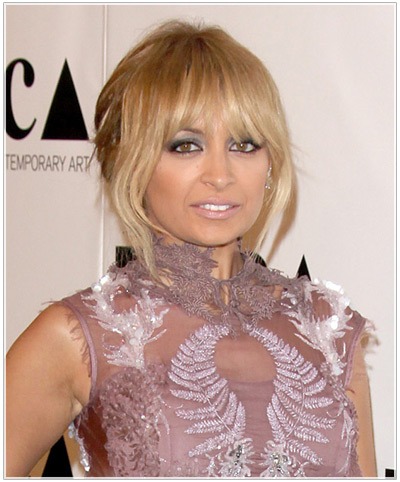 Nicole Richie has a square face shape, so her Bardot Bangs suit her particularly nicely. Nicole's blonde fringe has been layered throughout the ends for a look that is less blunt, but the side layers are left quite heavy. This is a great way to sculpt and balance out a square jawline, especially with soft waves added in like Nicole is wearing here.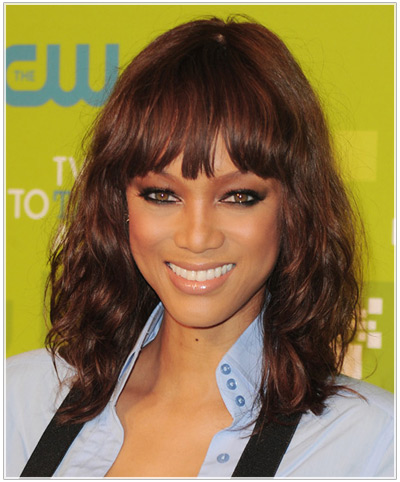 Tyra Banks has rocked the Bardot Bang in the past with fabulous results. This is the perfect bang style for her as she has a high forehead and oval shaped face, so it really balances out her features and brings the focus to her eyes. Tyra is wearing a shorter, blunter version of the Bardot Bang. If you are after a sharper, angular Bardot Bang, this is the style to go for.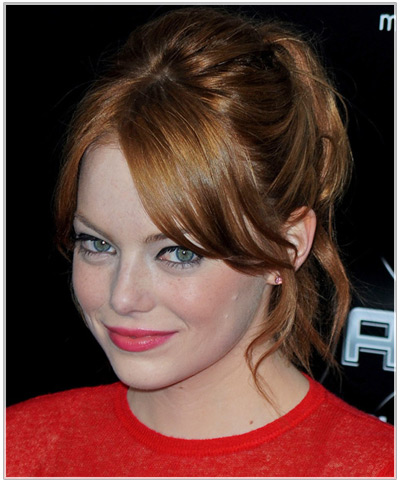 Emma Stone works the Bardot Bang to perfection here, as seen on her shiny dark copper locks. Emma's hair is on the thin side, so if this applies to you then this may be the kind of Bardot Bang you want to go for. Emma's bangs are cut to eye level and have minimal layering throughout to give a fuller look. They graduate down to ear length and look fabulous worn straight with a slight curl at the ends. Emma has worn her fringe parted to the side, which is another option for women if they don't suit a centre part.
Not all of us can look like the stunning Brigitte Bardot, but we can copy her signature bangs and channel her glamour and sophistication!