Everyone loves to try a new look around the holidays, something to show off to family and friends when celebrating Christmas, or a great new look to kick off the New Year in style.
But rather than going all out on a new haircut, or trying to get the hang of a new hairstyle during a time when you've got little time to spend hours styling, a new hair color is a great way to make a quick and easy change.
Choosing a new hair color is a very exciting step for you to take! You can try to be blonde, you can try dark hair or you can even try adding funky colors to your hair to show off your holiday spirit.
Whatever color you choose, make sure that the color will suit your skin tone as well as your face shape. You might want to find a color that brings out a side of you that you never thought was there! Once you color your hair, you will love it and want to continue to coloring your hair from that day forward!
On Trend Hair Colors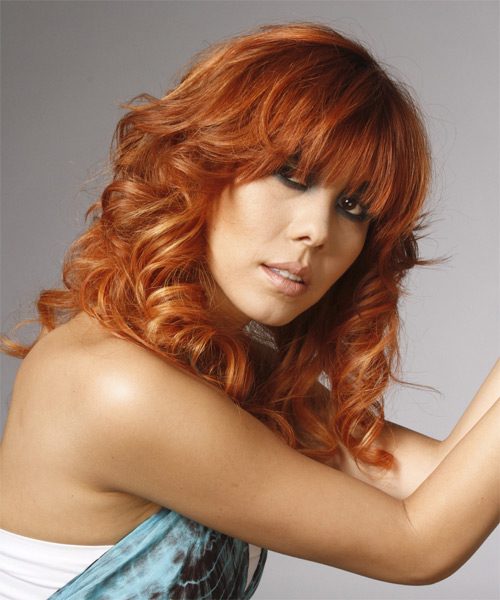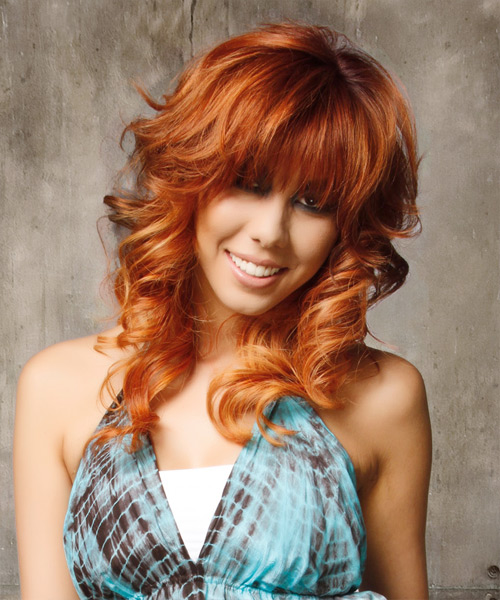 A hair color trend which is in at the moment is a hair color that is darker at the roots and lighter on the ends, which creates a finish that is both natural looking and interesting. A red hair color is also right on trend at the moment, thanks in part to big name celebrities, such as Rihanna, adopting a red hair tone.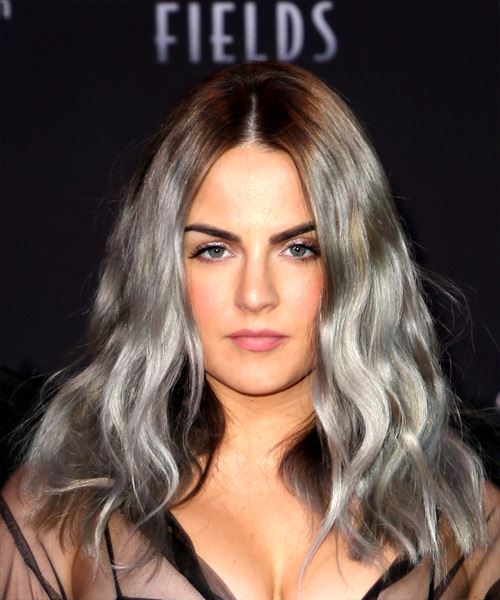 Another great trend at the moment is grey! Now, becoming grey can be a process. You need to be patient if this is the trend that you want to follow. You are going to need to bleach your hair before you add the color. Once the color is on, it can take a few treatments before you get the grey tone that you want. You will love the end results with this trend! So be patient because it is worth it.
There are a few things that you can do to speed up the process a little bit. You can use a purple hair shampoo as well as a black shampoo and conditioner. These products are designed to boost the ashy color in your hair. Use these products in between your color treatments and you will get your grey tone colored hair sooner rather than later.
Natural Looking Hair Colors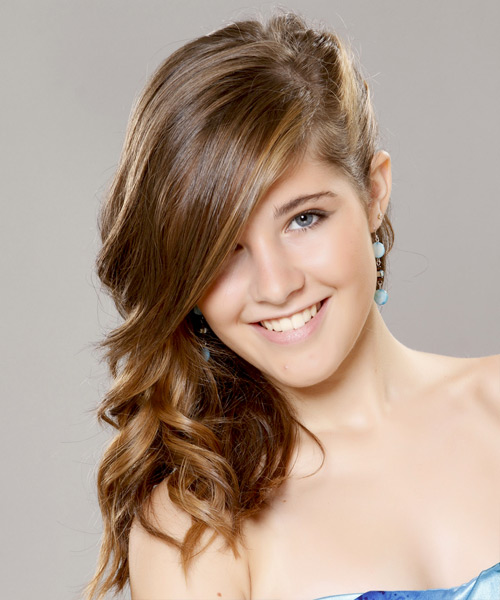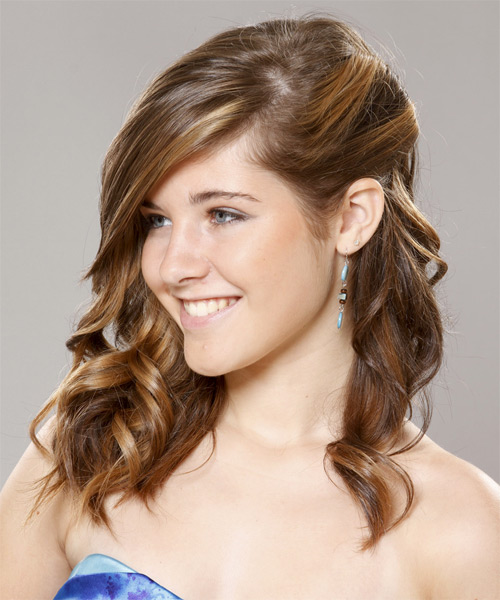 If a more classic, conservative hair color is your preferred choice then enhancing your hair with a color that looks natural, or is as close to your natural hair color as possible, will always create a beautiful look. Create a great look with hair highlights and lowlights in colors that match and compliment your base hair color around your face and through your mid-lengths to achieve a stunning finish.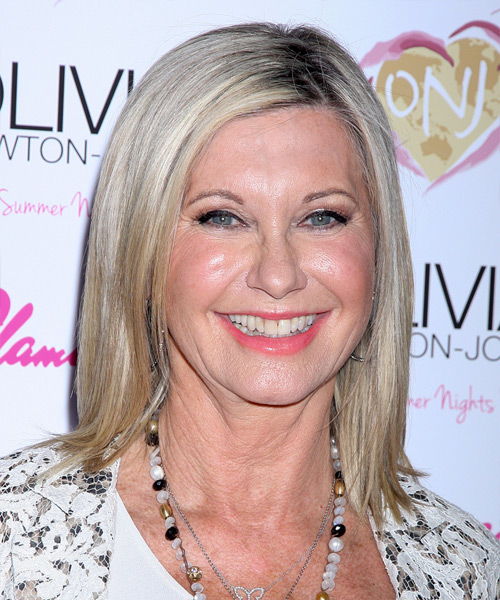 If you have a lighter hair color, you can also enhance your gorgeous hair color. Some people worry that because they have light hair, that coloring their hair is a waste of time and money. This is not true! Your lighter hair can look gorgeous with a bit of color in it. You can add lighter highlights which can almost look white. This will brighten up your face and give your hair some added color which is always nice.
Make sure that you use color save products on your hair to keep your lighter colors vibrant and not look as dull between color treatments. If you want to add a bit of a pastel look to your hair, you can use a purple rinse shampoo to give your hair some purple tinge but it won't last as long as dying your hair pastel purple.
Hair Colors With Added Warmth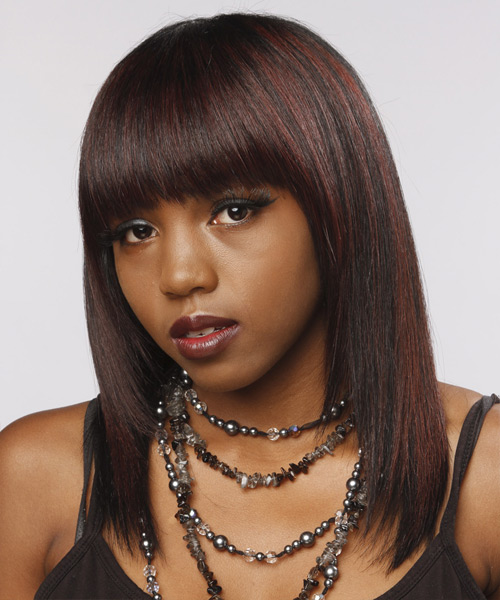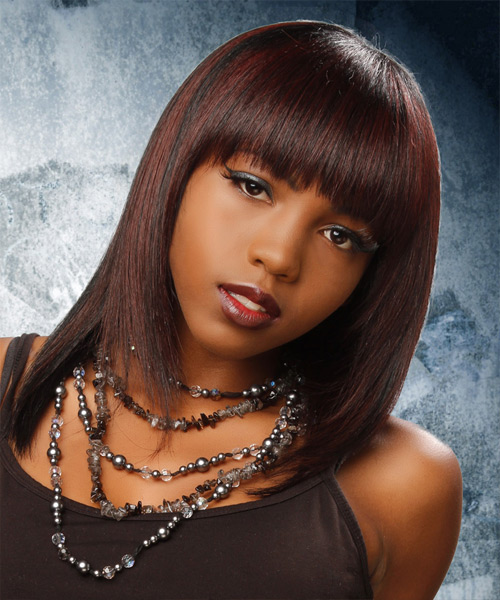 A hair color that adds some warmth to your usual tone is a great way to enhance your existing hair color without a drastic change. This great example takes a black hair color and uses fine, red highlights scattered throughout the top layers to create a warmer color shade. The look isn't over the top or dramatic, but still does a good job of adding a nice, subtle change.
This is a great color choice for you to go for if you celebrate the holidays in winter. The warmer tones are great for the winter months. They are easy to maintain so you do not have to worry about that. The darker color also helps to shape your face which is an added bonus in my eyes. It is a more subtle approach so it is ideal for someone who wants to color their hair but does not want it to look unnatural.
Hair Length Enhancing Hair Colors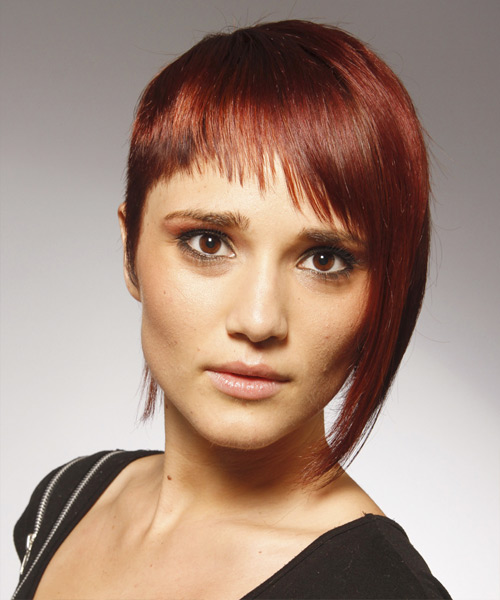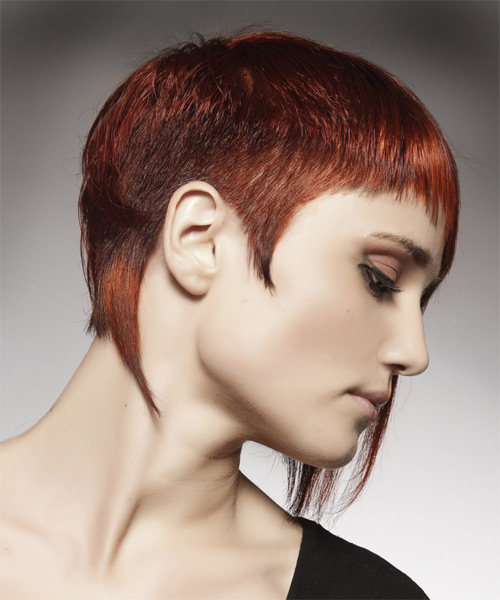 If you've got a great short hair length, a luscious long length, or a mid-length 'do that you're happy with then use hair color to highlight the great features of your hair length. This short style uses fabulous red tones to draw attention to this great asymmetrical haircut.
Long hair looks great with some color added to it. You can add full length highlights or you can do something like a dip dye design which is always a great look to go with.
If you have bangs, you can add color to your bangs and not the rest of your hair. A trend at the moment is dying your bangs grey or a dark ash color. It is a more subtle way to dye your hair and at the same time, you can stay in trend for the holidays!
Speak to your hair colorist and ask them what colors they feel will look best for your hair length and cut. The options are endless and once you start coloring your hair, you will not want to stop!
Fun Hair Colors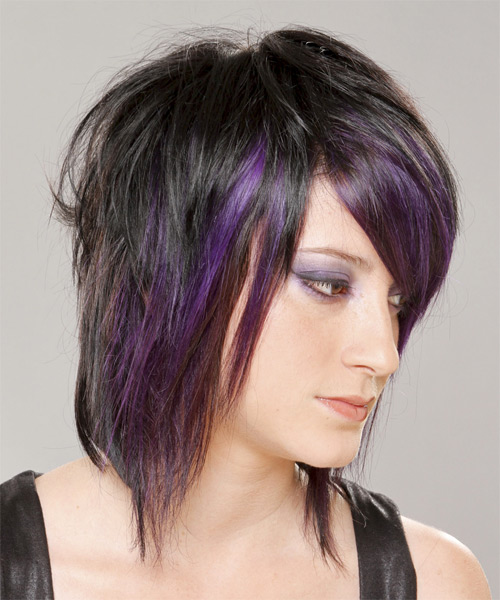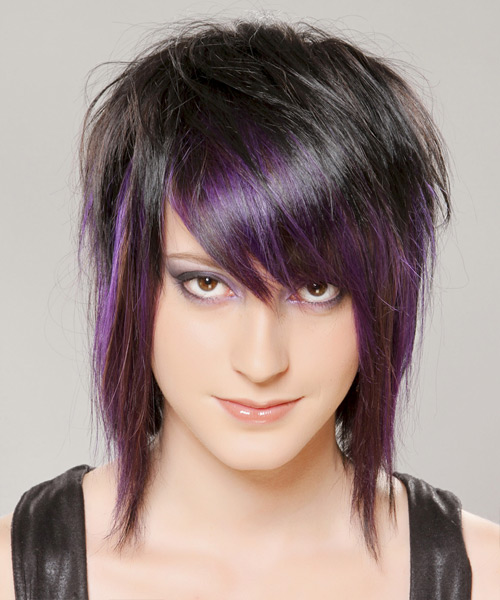 If you want hair color that will draw some attention then a great bright shade is the way to go. Steer clear of using a bright color throughout your whole hair and just highlight sections, such as any hair around your face, bangs or just in the mid-lengths for a colorful surprise when you move or style your hair in different ways. We love this purple shade, but you can also try blue, pink and even red or green to get you in the holiday mood!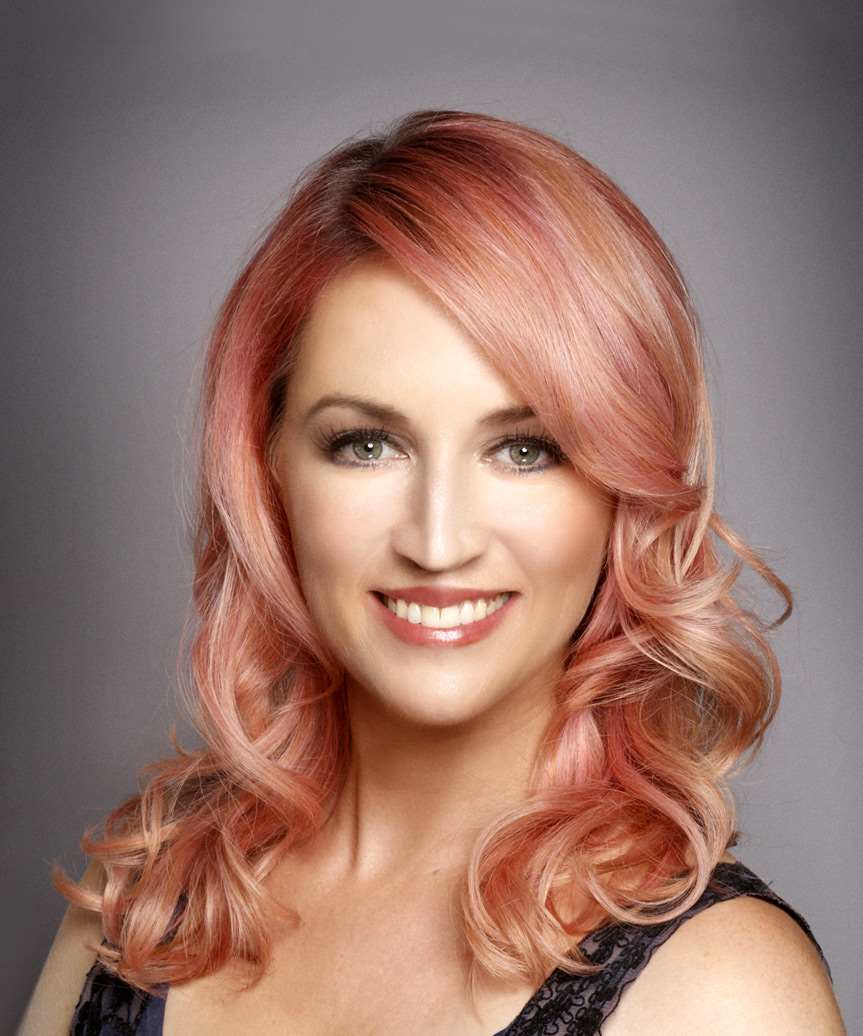 I have always been the type of person that allows my hair to express how I feel. My hair is always bright and vibrant! I love using bright colors because on the days when you are feeling down, all you need to do is look at your awesome hair and you cannot help yourself but smile. It is a great way to cheer yourself up.
Hairstyle Enhancing Hair Colors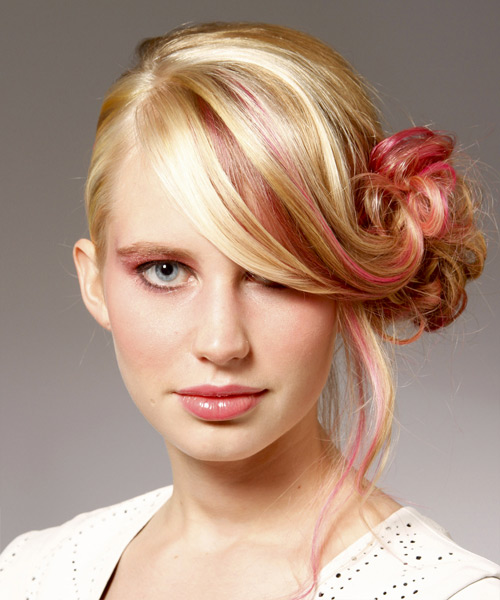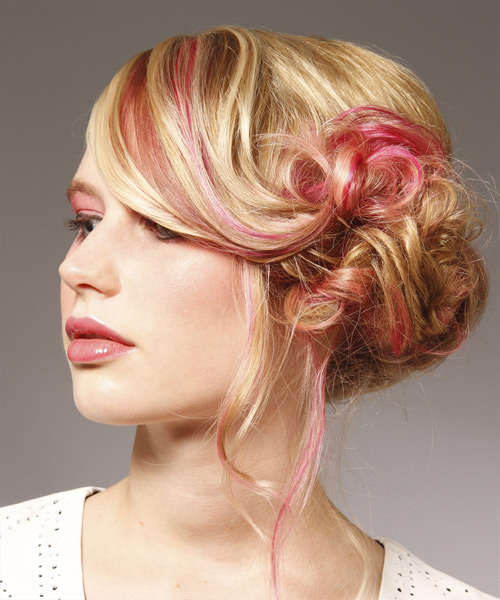 Our final holiday hair color suggestion is the option of adding hair color which will enhance your hairstyle. How great does this side updo look with lashes of hot pink hair color! To achieve a similar look, use colored clip in hair extensions or spray-in temporary hair colors to add some glitz and hair color fun to your look.
The nice thing about using this suggestion is that it is not a permanent step that you are taking. You are going to choose a hairstyle and liven it up a bit with a splash of color that you can add as and when you feel like doing something a bit more daring with your hair.
It is also a nice thing for you to do if you are not sure about what color you want to add to your hair. It is a way for you to play around and see what suits you and what does not. You want something that is going to suit your face shape, your skin tone as well as your personality.
Color Saving Tricks And Techniques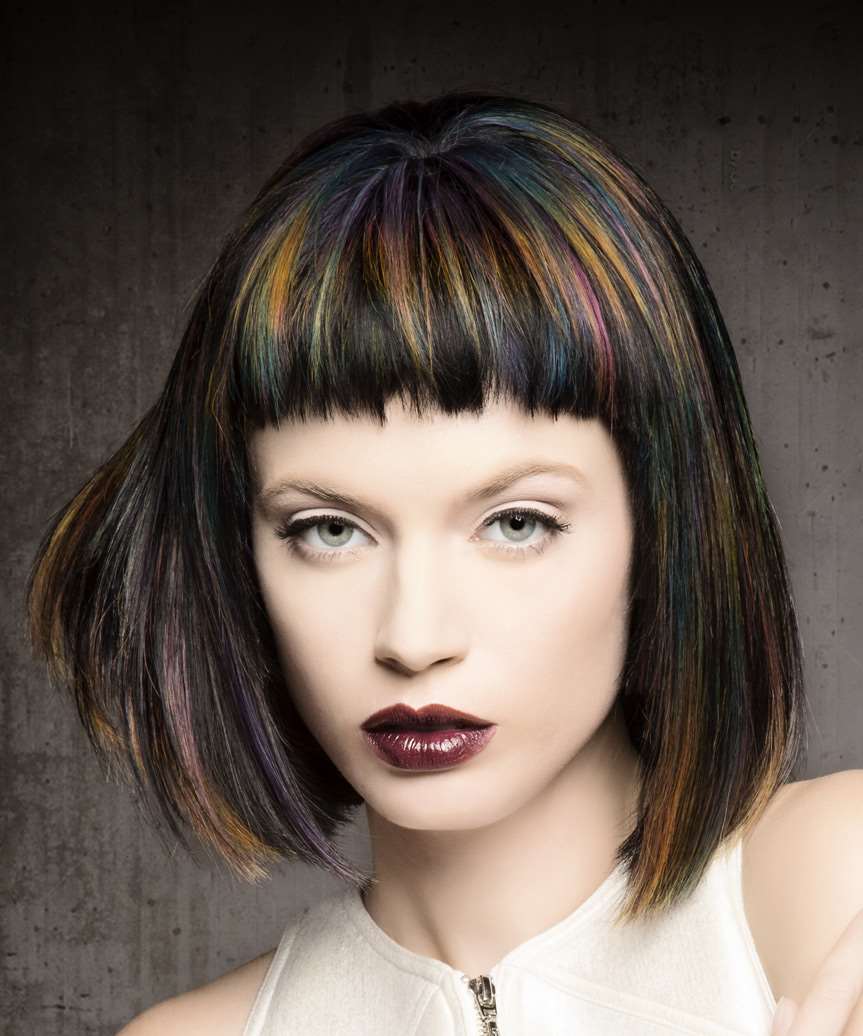 I always find that it works best if you do not color your hair right to the roots. This is going to give you a bit of a leeway when it comes to your roots growing out. It gives you some time between your color treatments if you cannot get to them every 6 weeks.
You are going to need to touch up your color once every 6 weeks or so to ensure that it stays vibrant and bright.
Use professional grade color save shampoo and conditioner. This is going to help keep your color looking bright for longer.
Cut your hair once every 4 weeks or so. Your color sticks better to ends that are healthy so keeping up with your trims are very important to ensuring that your end color matches the color towards your roots.
If you have colored your hair lighter, it is advised that you stay away from chlorine. Chlorine might make your pool nice and blue but it can turn your gorgeous blonde hair green if your hair is exposed to too much of it for long periods of time. So use a swimming cap or keep your hair out of the water.
To help ensure that your hair stays healthy, a hair masque is ideal to help keep your hair smooth and shiny. You can do a hair masque once a month and your hair is going to look salon ready every day!
Use a shampoo and conditioner that is designed for colored hair.
You also want to use sulphate free shampoo and conditioner. This is going to help preserve your color.
Use a toner to keep your highlights bright. A toner is a product that you use on your hair once your hair has already been washed.
Start a hair washing regime that will keep your locks healthy but won't strip out the color.
You are going to want to wash your hair less frequent. Wash your hair twice a week. This is going to help you preserve your hair color. The more you wash your hair, the quicker your color will strip and start to look pastel instead of bright and vibrant.
Be Cautious When Dying Your Hair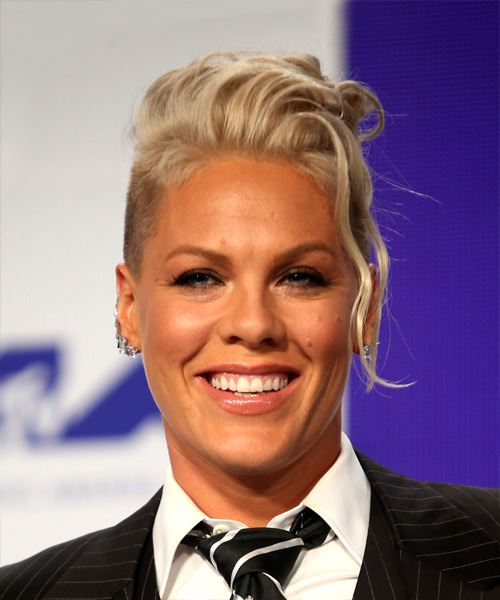 We have all seen those videos online whereby people try and do their own color at home. Sometimes it works out great and other times, not so much... You need to be careful if you try to color your hair at home. Follow the instructions carefully and make sure that you take the product off your hair as soon as it is ready.
Make sure that you do not bleach your hair too often. Bleach can damage your hair if you have done it incorrectly or if you have used it too often on your hair. The bleach will dry out your hair and cause damage that will take you a while to repair.
We always suggest that it is best that you color your hair with a professional. They know best and you can rest assured that you will get the best possible results!
As you can see, coloring your hair can be a great addition to your new look. A hair color is a great way for you to get into the holiday season. You can go bold and dye your hair with holiday colors or you can go more subtle and do something that is more subtle but is still noticeable.
To see how you'd look with any of these hairstyles, click on the images for a link to try the virtual hairstyle on your own photo or our model. This is a great way for you to see what you are going to look like with the following hair colors in your hair. if you do not like any of the images we have sown you, do not stress! There are thousands more for you to choose from. All you need to do is upload your photo to our site and our virtual hairstyler will give you a better idea of what you will look like with the image you have chosen. And don't forget to let us know what you think about these hair color suggestions by leaving a comment below.
Happy holidays!