Long fringes are a stylish way to keep your hairstyle interesting and there are plenty of great options to try. A long fringe can be modified to suit any face shape and is ideal for covering wide or high foreheads. Plus, long fringes add a soft and feminine finish to any 'do.
Textured Long Fringe
If you'd love to draw attention to your fringe, adding some texture through razor cutting or with layers is a great way to do it. Texture adds movement into your fringe and will keep your strands from looking flat and boring. Razor or wispy fringes are also ideal for those with the kind of hair texture that won't work with a heavier bang.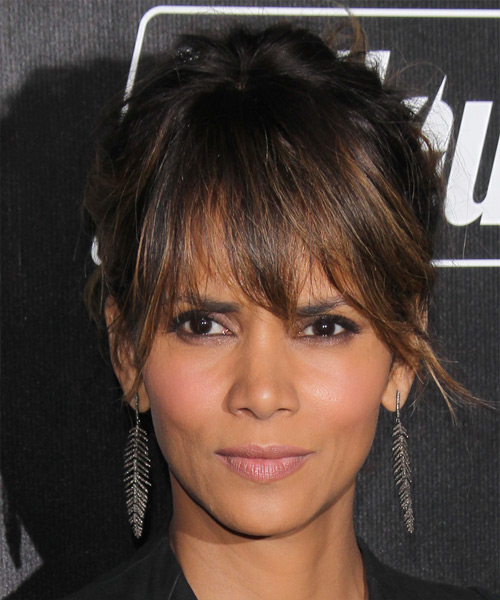 Halle Berry looks gorgeous here, flaunting a textured long fringe that completes her ultra-soft and feminine up-do. This fringe is full of body and volume and is ideal for women with natural waves and curls in their hair who crave some forehead coverage.


Our model adds some flair to her short, layered bob here with a long, textured fringe that creates a gorgeous peek-a-boo effect. The razored ends provide a light and airy finish that allows her fringe to sweep out to the side and blend flawlessly with the rest of her cut.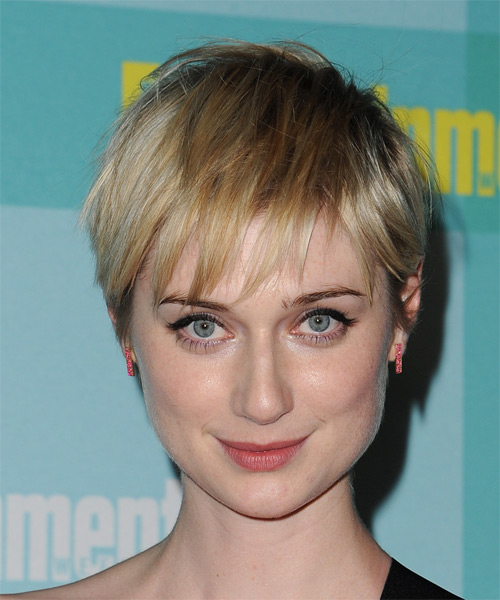 Elizabeth Debicki flaunts a textured long fringe here to compliment her stylish pixie cut and bring the focus to her eyes. This razor cut fringe is kept light and airy and gives her just enough texture and coverage in the front, without stealing the show.
Piecey Long Fringe
Another bold texture move is to style your long fringe with wax or moulding creme so that it's piecey. A piecey fringe has benefits for face shapes that require some coverage over the forehead, but don't necessarily require the entire forehead to be covered so that the length of your face is cut in half. The piecey-ness will allow some of your forehead to still show through.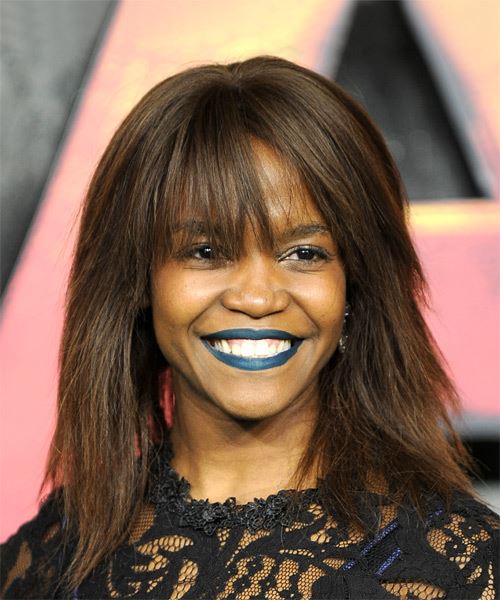 Oti Mabuse adds flair to her layered locks with this stunning piecey fringe. Having a strong jaw line and high forehead, Oti suits this fringe style well as it covers her forehead but avoids a boxed-in look that can occur with thick and/or blunt bangs.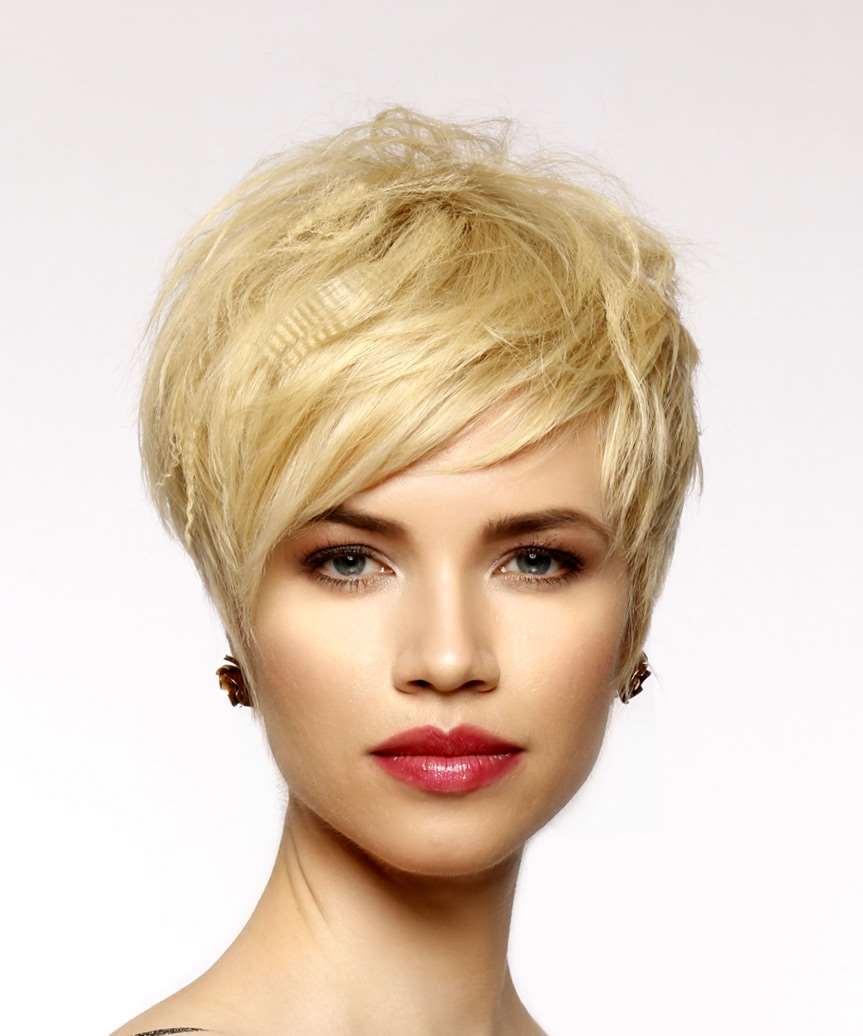 Short haircuts look fabulous with this long fringe type as well. Our model's texturized 'do blends flawlessly with her long and piecey fringe that sits to the side of her face. Her bangs have been cut on an angle to create a gorgeous line that showcases her eyes and cheekbones.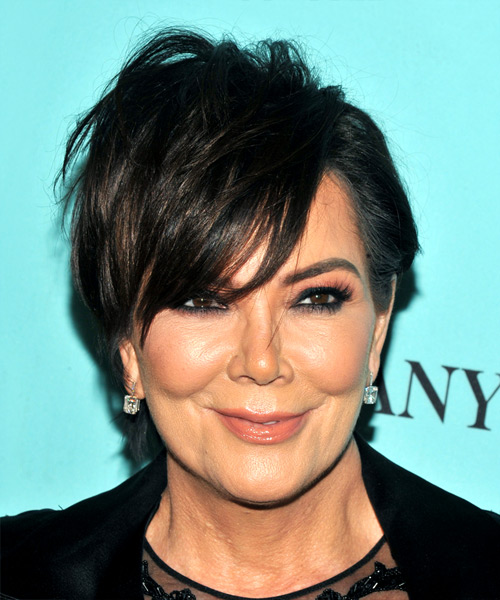 Kris Jenner adds style and volume to her 'do with a side-swept piecey long fringe. These bangs give her some forehead coverage while framing her eyes and creating a chic textured look and feel in the front.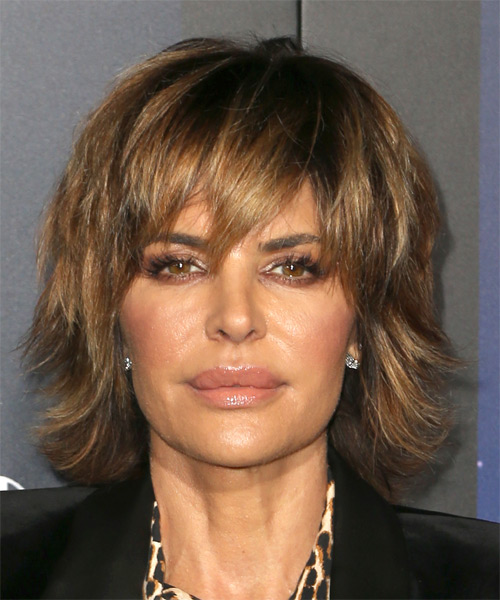 Lisa Rinna flaunts a thick, piecey fringe here that looks great with her signature shag hairdo. This jagged cut fringe gives Lisa some coverage in the front but also flatters her square face shape by not being too heavy or creating any horizontal lines.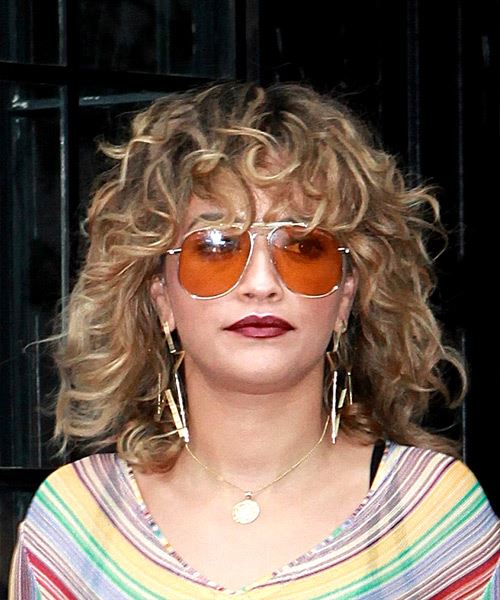 Here, Rita Ora shows us how to rock a piecey long fringe with curly locks. This Seventies-inspired shag 'do looks fabulous with a long fringe that has been styled with wax for extra texture and style.
Blunt Long Fringe
Blunt bangs can look really spectacular when done right, as the fringe here shows. While a blunt fringe that is shorter might be more ideal for some, having blunt bangs styled long and skimming just above your eyes creates a very flattering finish and will draw attention to your eyes and cheekbones.
Lady Gaga goes for a Seventies rock retro look here with an eye-skimming fringe that sits just above her eyes and blends in with the rest of her long layers. This is an ideal style of fringe for showing off the eyes and focusing all of the attention on the face.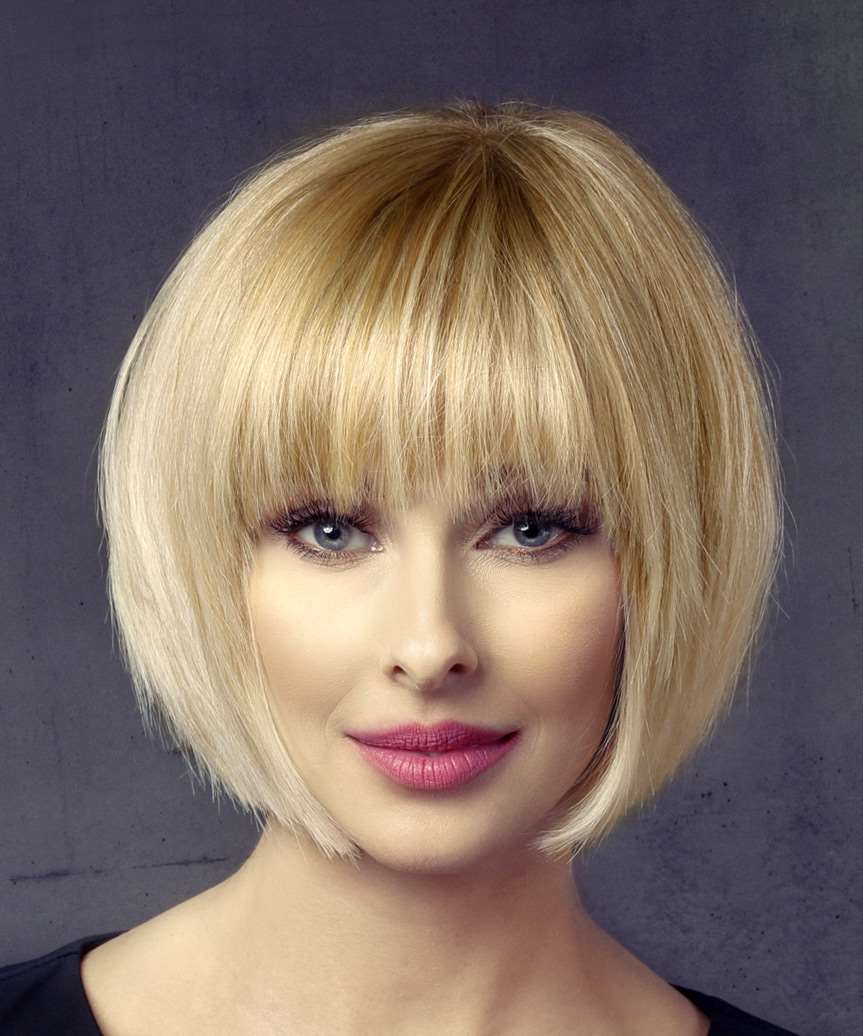 Adding a long fringe to a pageboy bob can add a chic sense of style, as seen here. Our model looks fabulous in an eye-skimming fringe that highlights her eyes and covers her high forehead. Ladies with medium to thick locks will get the best results from this haircut.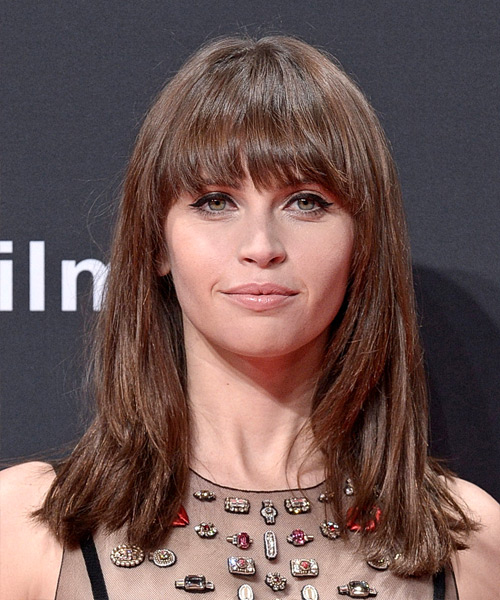 Felicity Jones adds a chic finish to her shoulder length locks with this eye-skimming fringe that angles down towards her cheekbones. This face-framing fringe takes her hairstyle from plain to pretty by bringing all of the focus to her facial features.
Side-Swept Long Fringe
For the most flattering long fringe, a side-swept style is a must. It will suit most face shapes and hair textures, and looks great when styled with a little flair. Give this option with a slight flick through the ends a try. It's also a great way to keep your hair looking stylish and out of the way if your fringe is long because you're actually growing out your bangs.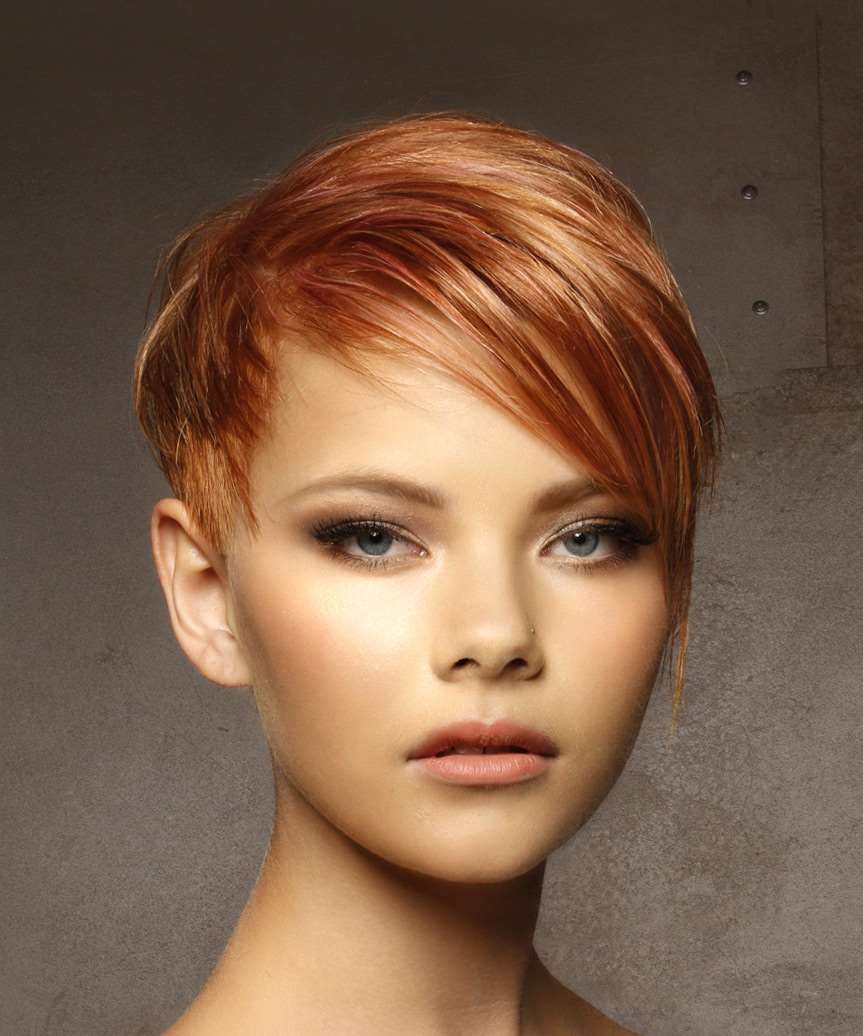 Fine, short hairstyles can really benefit from a side-swept long fringe, as seen here. Our model's pixie cut looks fun and edgy, thanks to the long fringe that sweeps across her forehead and sits at the cheekbone. This gives her some forehead coverage while enhancing the look of her fine locks.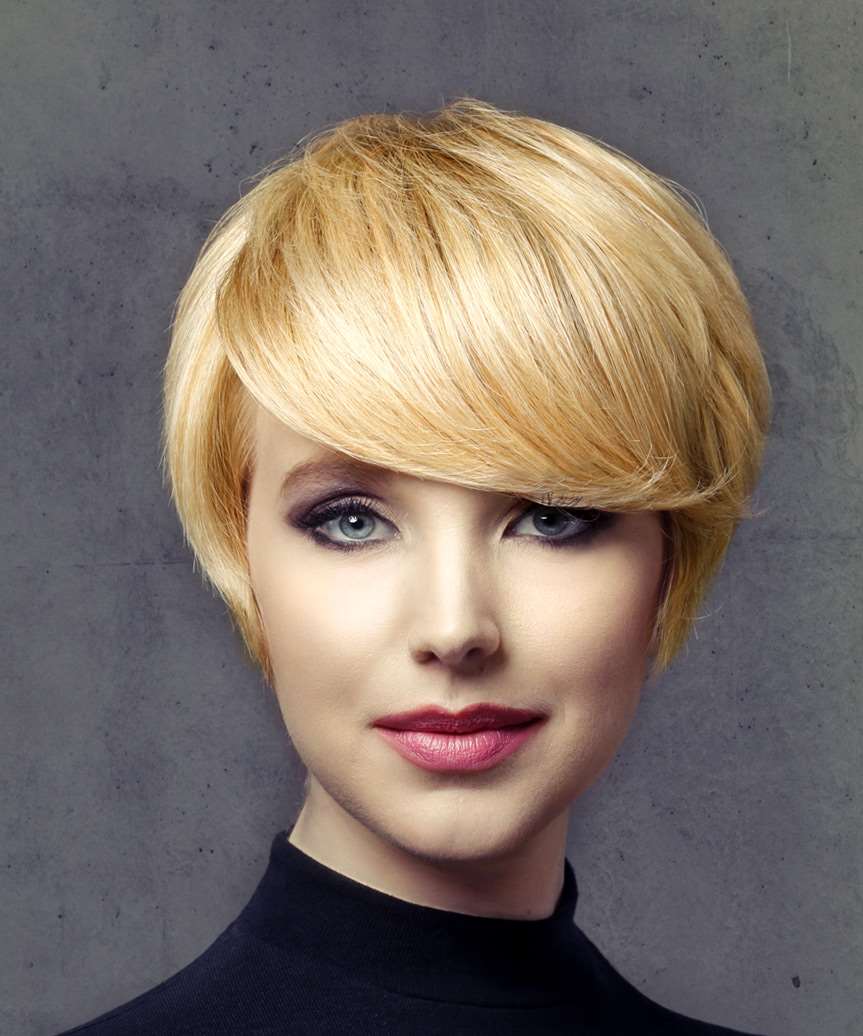 A side-swept long fringe can easily have a Sixties mod feel by keeping them thick and blunt, as seen here on our model. Her short, layered hairstyle goes from drab to fab by adding this thick, side-swept fringe that has minimal layering, plus it creates a sexy peek-a-boo effect.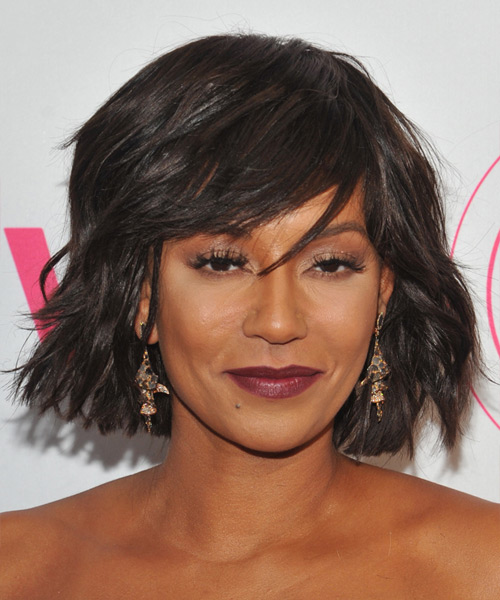 Mel B jazzes up her wavy bob with a side-swept long fringe here that gives her a stylish and glam look. The ends have been styled outwards for a textured finish that blends in with the rest of her wavy locks and compliments her face shape.
Bonus Style Tip
If you want the long side-swept fringe look but don't want to commit to cutting bangs, use this style hack as seen on Rebel Wilson. Simply sweep your hair across the front and pin into place, leaving the tension loose in the front to mimic a side-swept fringe.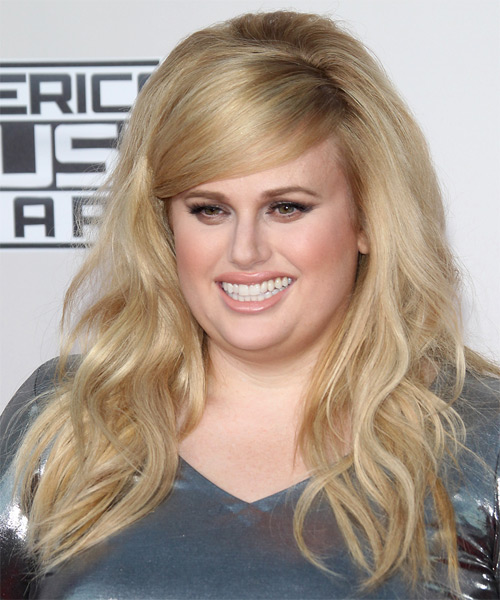 For more long fringe style inspiration, you can also check out these videos: