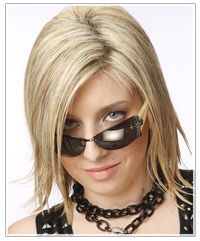 Whether you wear glasses all of the time or just some of the time, having a hairdo that will enhance and flatter your frames is a great option, so check out these hair tips for choosing the best hair color, hairstyle and glasses for you.
When it comes to any frames that you already have, work your hairstyle around your glasses with these tips:
If your frames are large then ensure they don't take all the focus by wearing a hairstyle that has plenty of hair volume and long hair layers which will keep your beautiful features in focus, not your frames.
If you've got a small set of frames then let your hair take centre stage with a hairstyle that will open up your face and stop your look from becoming safe, demure and boring. A short crop that will show off your face or any hairstyle that pins your hair back off your face such as a ponytail or a half up half down hairstyle will suit.
As for knowing which frames to choose to compliment your hair, remember these tips when you're picking out your glasses:
Hair Color

If you've got blonde hair than try black frames for a classic contrast.

Those with dark hair will benefit from dark colors or gold frames.

Red hair goes great with tortoiseshell and green colored frames.
Skin Tone

If your skin tone is dark or olive then boost it with brightly colored frames.

A cool skin tone will look great with silver or black frames.

As for warm skin tones, give soft brown colored frames a try.
Face Shape

Because heart face shapes are wide through the forehead then any frames that are wide should be avoided.

An oval face shape should suit any type of style so go with something funky and have a little fun.

For a round face shape you don't want anything that will make your shape any rounder so try angular and rectangular frames.

For a square face shape try oval or round frames to break up any strong facial lines.
We hope these tips will help you to create a great match between your glasses and hairdo. If you need further help then all of our hairstyles list whether or not the look will suit glasses. Just click on the hairstyle info icon.
To find a look for you, browse our hairstyles today and don't forget to upload a photo where you're wearing your glasses to see how the hairdo will look on you and your frames!