If you have curly hair, you may find yourself getting stuck in a style rut at times with good reason. Curly hair can be difficult to wear in certain styles, especially when you have your face shape to take into consideration. Another reason that ladies with curly hair like to maintain the status quo is because it's hard to find a stylist that understands the art of cutting curly hair.
If this has been your experience, use word of mouth referrals and Internet reviews to try and find the best stylist for you. Once you have that sorted, it's time to decide on a new cut! Check out the styles below for some hairstyle ideas.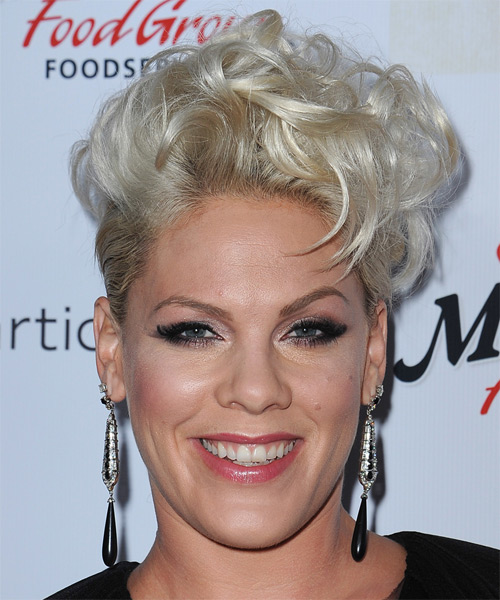 For something short and funky, go for Pink's curly 'do. Her platinum blonde locks have been cut short on the sides and back while the top layers have been left long and curly. To style, all you need to do is let your curls do their thing while you add volume by backcombing the roots at the crown of the head. The bigger the better is the motto of this look so choose this 'do if you like bold, head-turning hairstyles!
Katie Cooper looks hot here in her curly medium-length hairstyle. This layered 'do really does make the most of her natural curls and creates a beautiful frame for her face. Katie's hair has been layered all over to create a rounded shape which reduces a lot of the heavy bulk often found in curly hair. She also has some forehead coverage going on here with an angled side fringe that creates more structure and balance in her cut. To top off this look, her colour adds a gorgeous finish. Katie's dark golden blonde hair fades into a sun-kissed shade at the ends, which gives her a cool ombre effect. This is a wash and go hairstyle that is perfect for curly-haired ladies who like low maintenance 'dos.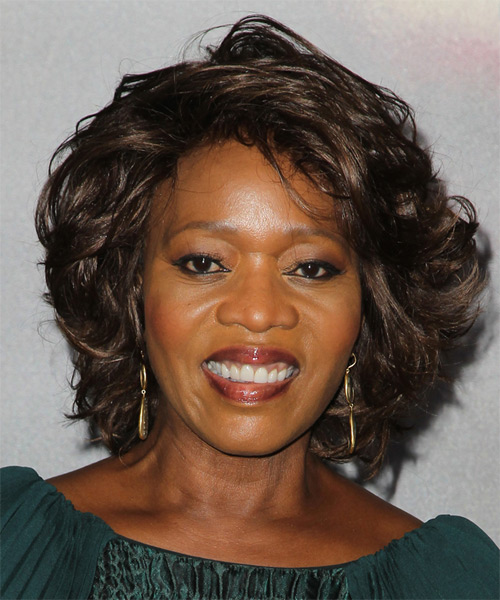 Alfre Woodard shows us another version of the medium layered curly 'do here. Alfre's hair has been cut in a halo effect around the face with the layers getting shorter near the back of the head. This is a good look for women who have loose and voluminous curls. It will only take a few minutes to style too which is great for busy women on the go. Alfre's sideswept bangs look great worn off the face and give her hairstyle an overall sophisticated finish.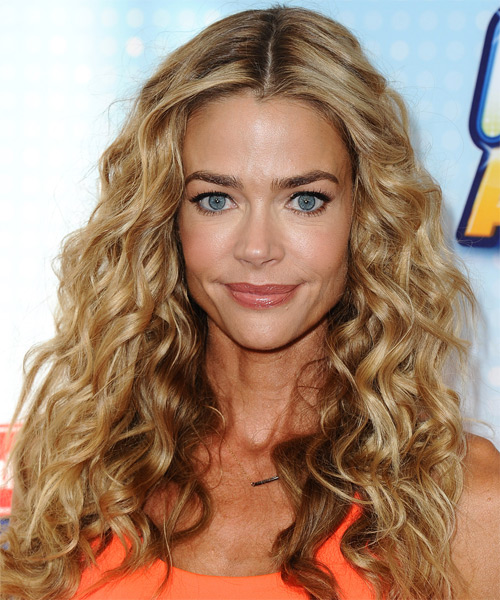 Denise Richards is wearing a fabulous long and curly hairstyle that is perfect for women who like to keep their tresses long. Denise kept her curls on top form here by using a curl enhancing cream in her locks before perfecting them with a curling iron. This method reduces excess frizz and gives the final curls a glossy, polished look. For women who like big and bold hair, take a cue from Denise and use minimal layers throughout your hair to make the most of your natural volume. Denise's colour also looks great here, with a dark blonde base and sun-kissed blonde top layers.
These are just a few hairstyles ideas to get you out of your curly hairstyle rut. Of course, there are thousands more hairstyles to choose from on our website!