Who would have guessed that Katie Holmes would cause such a stir with a few layers and a new fringe? Although she made a minor change to her 'do, it gained her a lot of press. As the former Mrs. Tom Cruise, Katie is always a favorite in the media now, whether it's her clothes, hair or adventures with Suri that is making headlines. The poor girl really has enough to deal with without being scrutinized for her hairstyles, but hey, that's the downside to fame. In any case, let's check out Katie's new hairstyle and see what all of the fuss is about!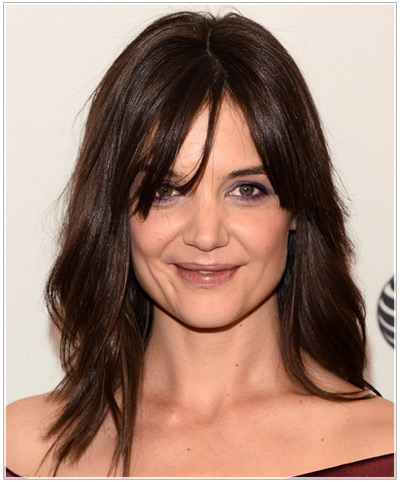 Katie unveiled her new hairstyle at this recent red carpet event, paired up with a gorgeous wine gown. Note to all the brunettes out there—this is a great shade for you to wear! Katie's hair sits just past the collarbone and has been heavily layered throughout. Paired up with a long choppy fringe that is parted in the middle, this hairstyle has a Seventies vibe going on.
Katie's hair has been straightened for a sleek effect, with some loose kinks added in for volume. This can be achieved by using a large barrelled curling wand and adding loose waves to random sections of hair. Overall, this is a fun hairstyle that really brings out Katie's cheekbones and has a cute peek-a-boo effect around her eyes.
Katie did get some flack for this new hairstyle, with some calling it dowdy, messy and boring. Had she styled it completely straight, and maybe made some better makeup choices to debut this new cut, Katie would have done better. The violet eye shadow does nothing for her face—a rich chocolate smoky eye, some bronzer on the cheeks and nude lip would make a huge impact with her new 'do.
Now, let's check out some of Katie's past hairstyles to compare.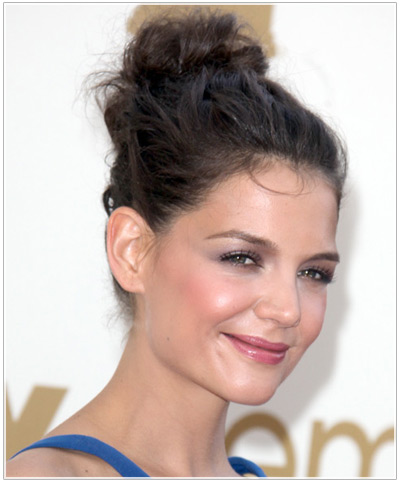 Katie is the queen of cute in this messy topknot that looks gorgeous paired with her cobalt blue dress. Her makeup is dewy and glowing here which makes such an impact on her overall look. This is one of Katie's best red carpet looks.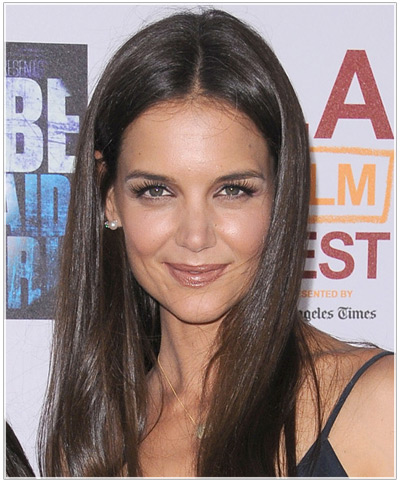 Here, Katie is at her best in simple, straight locks. Her brunette color looks rich and glossy, while the center part gives her face balance. Katie looks chic and sophisticated in this sleek 'do.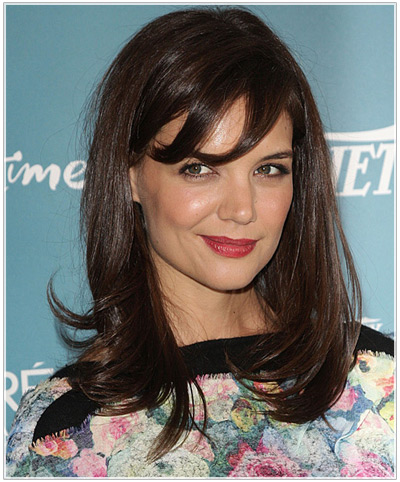 Katie loves a good fringe, and here she is sporting a cute and playful side swept fringe and flipped out hairstyle. This prim and proper look suits Katie's polished look nicely and gives her a sophisticated edge.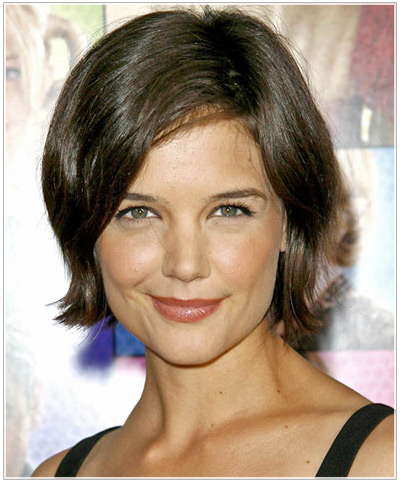 Katie can do short and sassy too! Here, she looks cute in a side parted bob with a slight flip at the ends. This chic hairstyle is simple and elegant, but it does age her greatly.
Now that you've seen some of Katie's best hairstyles, what is your verdict on her new 'do? It's obvious that she can pull off a variety of hairstyles both with and without bangs. Is her latest 'do a hair disaster, or do you like her new funkier style? Let us know in the comments below!