There has been one hairstyle on the red carpet that has been worn by so many celebrities we just had to do an article on it. The hairstyle is not particularly hard to do or complicated, but it is one of the most flattering ways a girl can wear her hair. Plus, it works on almost all lengths and hair textures, and it only takes minutes to do. So what is this "ultimate red carpet hairstyle" we are talking about? It's none other than the simple, elegant and understated side-swept hairdo.
Side styling your hair is as easy as taking your hair, sweeping it around behind your neck so it all sits on one side, and then pinning it into place. What really makes this simple style work after that is the effort that you put into your hair with the help of hair shaping tools such as hair straighteners, curling irons and hot rollers.
The sophisticated wavy side swept 'do can be worn by every woman. Not only does this hairstyle show off your shoulders and neck in an utterly gorgeous fashion, it only takes minutes to style. Plus, it will bring attention to that great pair of earrings you are wearing!
Check out how these ladies flaunted this 'do on the red carpet recently and decide which one is your favorite.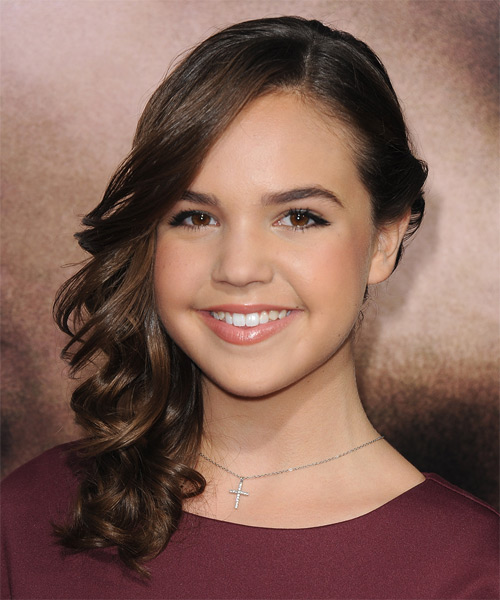 Bailee Madison revved up the cute factor when she wore this particular 'do. This curly style would suit all hair lengths from the chin down, since the curls create a lot of volume. To create this look, wash and blow-dry your hair and part your hair on the side. Then, using rollers or a heat styling tool such as a curling wand or iron, curl small sections of hair starting from the front and moving around the head. Do not brush the curls out or separate them in any way. Then, sweep the side with the less hair around the back, twisting it slightly as you go and pin it into place at the nape of the neck.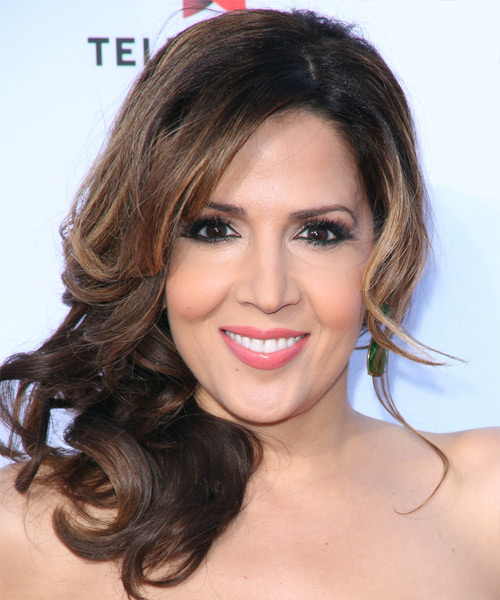 Maria Canalis opted for full-on face framing layers when she wore the side-swept hairstyle at this recent red carpet event. This is a great option for women who prefer to have their face framed by layers and/or a long fringe to provide some coverage and contouring. Maria has also amped up the volume in the crown here for an ultra glamorous look. To get this particular take on the side swept hairstyle, wash your hair and add root-boosting mousse to your hair before blow-drying. Concentrate on building volume in the roots while curling the lengths and ends with a round brush to create sleek ringlets. You can also use rollers if you prefer. Add more volume to the roots by backcombing them, add your part and then sweep the side with less hair around to the back and pin in place. Make sure to leave your layers and fringe out for a feminine finish to this hairstyle.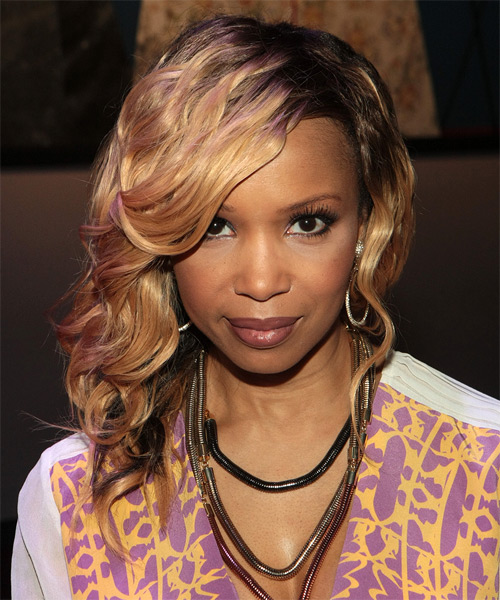 For the ladies who love to add a bit of edginess to their evening 'dos, check out Elise Neal's take on this elegant hairstyle. Adding violet tones to her blonde tresses not only matches her top but gives this hairstyle and extra dose of cool. This is a great option for ladies with naturally curly or wavy hair—just let your natural texture shine through and sweep the side with less hair around the back and pin into place. Feel free to leave a tendril out à la Elise, to frame your face and also give this hairstyle a cool, unkempt look.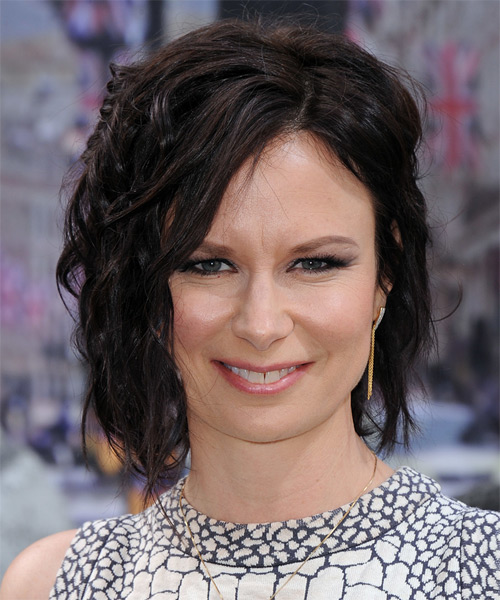 Mary Lynn Rajskub looks hot in this short version of the side swept wavy hairstyle. This is a sexy option for women with short hair that is naturally straight, wavy or curly. If you have straight hair, use a small curling wand to get these kinky waves. Leave the ends out for that edgy pokey finish. Mary Lynn has pinned her hair behind the ear, but ladies with short hair can also twist, braid or roll the hair towards the other side to get a tighter, more obviously side swept look.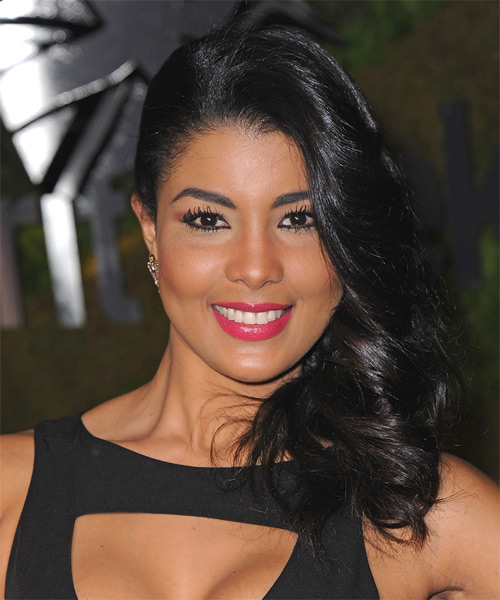 Sarodj Bertin flaunts a sophisticated version of this hairstyle that is perfect for women with medium length hair. This voluminous look is achieved by using large rollers to first set the hair, then sweeping one side to the back and pinning it into place. Sarodj's part is just off centre here, but this hairstyle would also look fabulous with a deep side part. Bonus style points go to her glossy raven black locks and bright pink lipstick!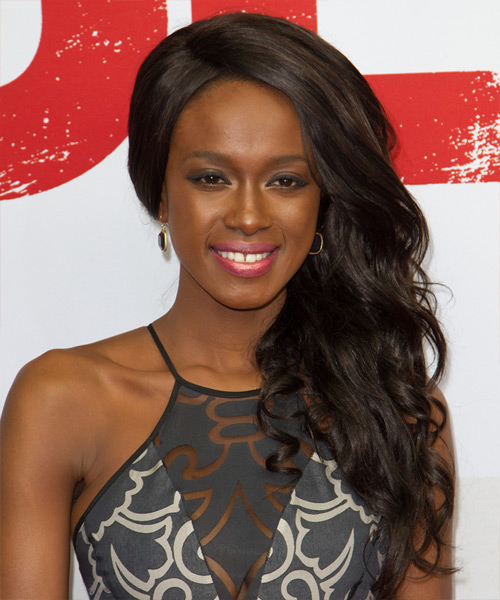 Joelle Kayembe shows us how to work a high volume side swept wavy hairstyle for long hair. This is an ultra glamorous look that is created by first setting the hair in rollers and then adding extreme volume throughout the crown by backcombing. Notice how her diagonal part adds a chic finish to this hairstyle. Not to mention, her soft pink lipstick looks amazing with her charcoal grey dress. Kayembe gets an A+ for her overall look here!
Melissa George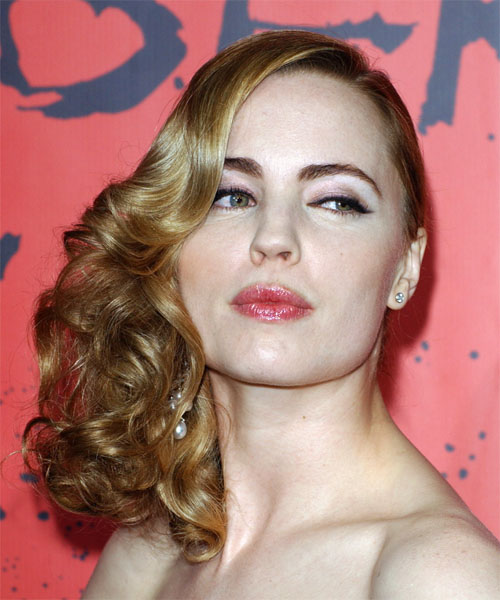 For her side styled look, actress Melissa George has added lots of volume to her long hair by adding curls with hot rollers. The result is a glamorous hair style that creates movie star appeal without an overdone finish.
Teresa Palmer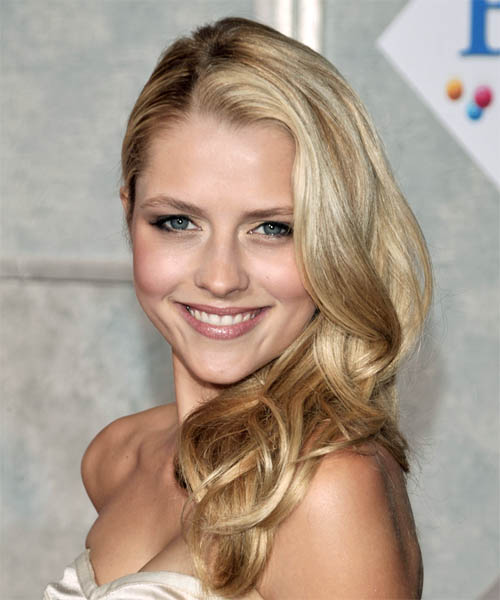 If you're after a more casual hairstyle then the side styled hairdo of Teresa Palmer is a great option. She has used hot rollers as well, but only to create a slight curl for a more relaxed finish through her long hair.
Mariah Carey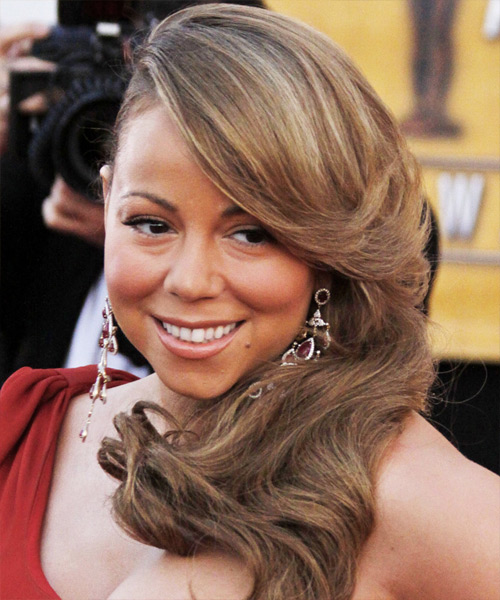 For a more varied look you could follow in the styling steps of Mariah Carey and try a deep hair part that will allow you to style your hair across your face to blend in with your side styled hair and either enhance existing side-swept bangs or create the illusion of bangs.
Anastacia Griffith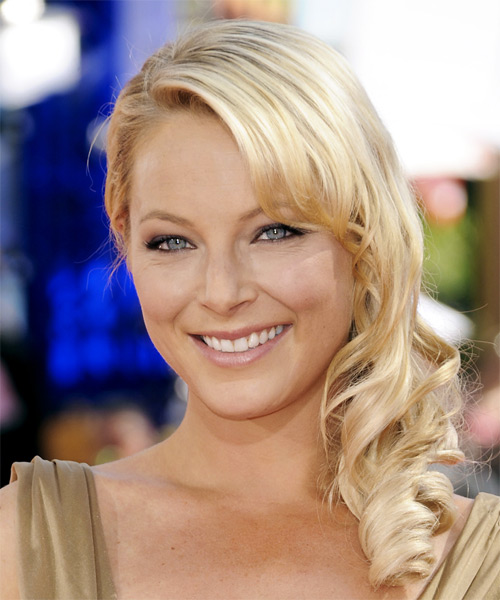 Another way to achieve a different look is to add tight curls to your hair and then twist them together into one uniform curl like Anastacia Griffith has done. This spiraled effect creates a beautiful focus for your hair.
Sandra Bullock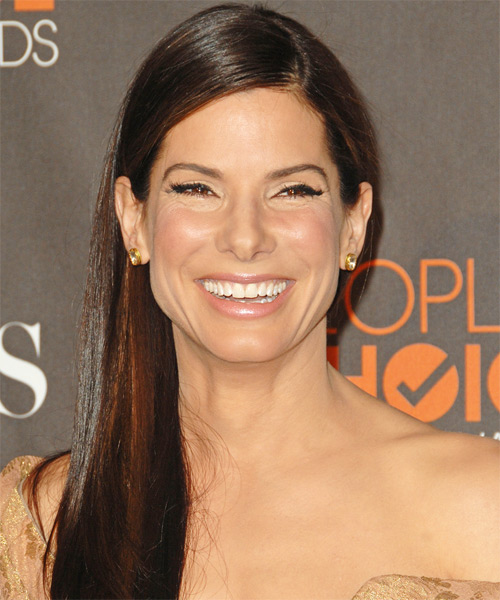 Side styling your hair when it is naturally straight or has been straightened with a blow-dryer or hair straightener can look just as stunning as curled hair. Just stick to the same rule as Sandra Bullock and make sure your hair is smooth and flat for a shine-inducing finish.
Jessica Simpson
The final side styled celebrity hair style option is to go the route of Jessica Simpson and add some beautiful waves to your hair. Her center part is also a great idea and will keep your hair nicely framed around your face so that you can show it off.
Here is how you can achieve a side swept 'do in just a few simple steps.
Wash and towel dry your hair, adding some root booster or curl enhancing spray if you wish.
If your hair is straight, begin to section your hair off and start adding waves with a curling iron, wand or hot rollers. Hot rollers will give you corkscrew curls, a wand will give you looser beachy waves, and a curling iron will give you more uniform curls. If you have wavy or curly hair, add some curl enhancing mousse or spray to minimize frizz and maximize bounce.
Part your hair as you normally do (or change it up for a different look) and sweep one side around the back of the neck and pin it at the nape.
Use hairspray to keep it all in place. Feel free to add a clip, pin or other adornment to really make your 'do stand out.
As you can see, this hairstyle can be modified in many different ways to make it unique and to suit your personal image and sense of style. Try changing up your waves (loose and beachy versus uniform waves), adjusting your part (side, centre or diagonal) and/or adding in some hair accessories.

With all the different looks you can achieve by side styling your hair, you're bound to find a look perfect for any occasion. So the next time you're looking for a hair style that will give you more oomph than wearing your hair out and is quicker to style than an updo, give side styling a try!