Kate Upton may or may not be high fashion model material, but regardless, she has brought something different to the modelling scene and definitely knows how to get people talking. Some think she is overrated and only famous for her (ahem) assets. Others think she is a much needed figure on the fashion scene—Kate certainly doesn't have the typical model body and women of different proportions can most certainly relate to her better than the usual super thin models that we tend to see.
In any case, it is easy to see that Kate is working her all-American looks and curvy figure to channel Marilyn Monroe wherever she goes. In the daytime, she can be seen wearing natural makeup and low-key hairstyles like loose ponytails and simple chignons. At night however, she amps up the glam factor and goes all out Marliyn. Let's check out some of her latest Monroe-inspired hairdos.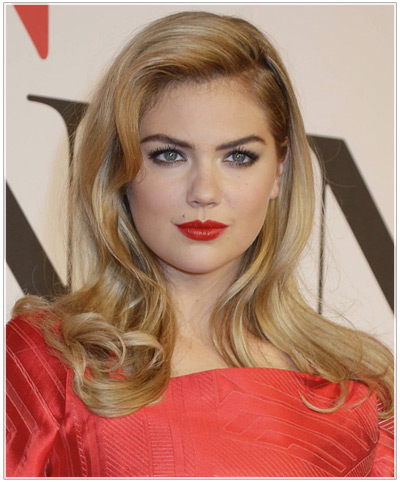 Here, Kate goes for soft waves that are reminiscent of Marilyn's classic 'do. Kate has modernized this look by loosening up her waves and creating a softer look by separating the curls. Her honey blonde color is more natural than Marilyn's bleach blonde shade (which is often copied by celebrities with dismal results- hello Beyonce!), which creates a more toned-down look overall. Kate has done a good job here of channelling Marilyn but not going over the top. Her simple makeup and coral dress complete this look nicely.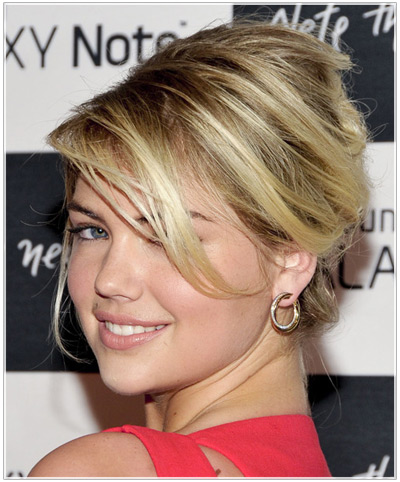 This hairstyle is based on Marilyn's famous dishevelled French twist look. Here, Kate amps up the volume and creates a loose French twist with a bouffant at the crown. Her fringe is left loose and sweeps to the side, creating a sexy peek-a-boo effect. This is a sophisticated 'do that looks great with her sun kissed blonde hair. Her darker roots give it an extra kick of modern edginess as well.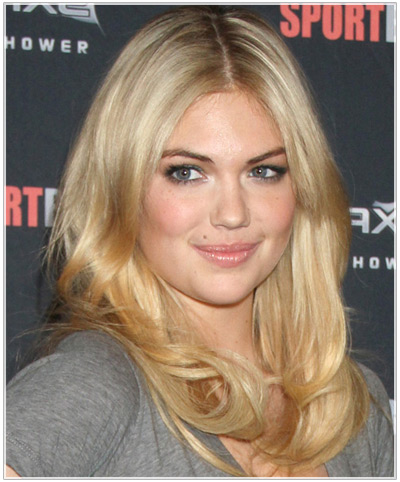 In this casual hairstyle, we see the Marilyn effect in Kate's light blonde hair color. While it's not a white blonde like Monroe's, Kate's does have that old Hollywood look to it because it is a uniform color, without her usual dark blonde lowlights. This color does brighten her face up but looks less natural than her previous shades. By styling it down with just a few soft curls, she manages to balance this look out and avoids that tacky 'try hard' look that many celebrities flaunt.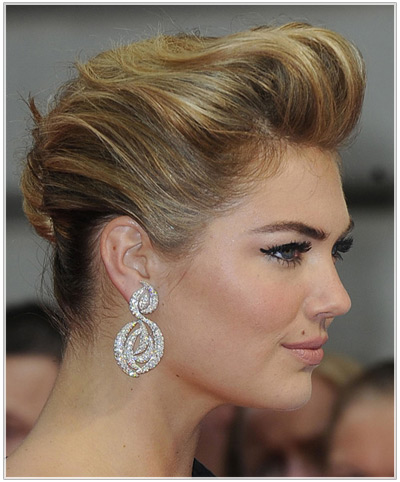 Finally, here is a gorgeous updo that is definitely Marilyn-inspired, but modernized with a touch of Kate. The front of this 'do has loads of volume and is swept back for a classic, sophisticated look. The rest of the hair is twisted into a small twist and pinned at the back. While this look is vintage-inspired, Kate's medium blonde hair color and windblown finish gives it a modern edge. Paired up with some diamond earrings and simple makeup, this is a fabulous evening look for Kate.
Like her or not, you can't deny that Kate Upton is great at modernizing Marilyn Monroe hairstyles. Give one of these hairstyles a try on your next night out, and see if you have the Marilyn effect!