There's a reason why celebrities make use of highlighting techniques. Using highlighter is the best way to bring out the gorgeous features of your face and will give you an all over glow. But if the thought of using a highlighting makeup product seems overwhelming to you, we're here to let you know that it's not. To use a highlighter, you just need to know two basic rules: which color to pick and where to add it.
Highlight Basics: Pick the Right Color
Highlighting products come in a range of colors, and like all makeup, matching to the color tones in your skin will give you the best results. Remember these rules when buying.
Pale skin tone – sheer, eggshell colors, soft gold colors and creamy tones.
Medium skin tone – soft gold or rose gold colors.
Dark skin tone – deep gold and bronze colors.
Black skin tone – Burgundy and chocolate toned colors.
Tip: You may also come across a white or silver colored highlighter; this color should only be reserved for adding sparkle to the inner corner of your eyes. It's not for the other areas of your face.
Highlight Basics: Add in the Right Areas
The main objective of using a highlighter is to draw attention to your best features. That is why you shouldn't highlight areas that you don't want the attention draw to, such as if you have droopy eyes or a prominent nose. As a general rule, these are the basic areas that should be highlighted.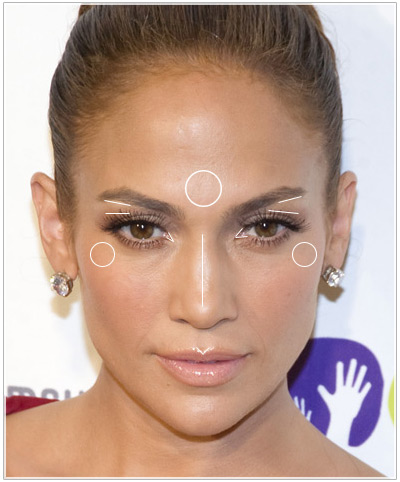 Highlight the middle of your forehead above your nose, your upper cheekbone, nose bridge, cupid's bow (the heart shaped area just above your upper lip), inner eye corner, middle eyelid, brow bone.
Tip: When highlighting your cheeks and brow bone, look side on. If you can see the shimmer from the side, but not when looking front on, you've done it right. If you see the highlighter when looking front on then you've added too much.
And that's all there is to highlighting. We told you it wasn't so scary! Use these basics and these quick tips below, and you'll be adding a dewy, youthful glow to your look like a pro in no time!
Highlighting Quick Tips!

Highlighter should be added once all your other makeup is in place.

Only a small amount is needed and you can blend it with your fingers, or a makeup brush if you prefer.

A cream formulation is the easiest to use if you're just starting out.