If you love to wear the vintage Old Hollywood look, there's no doubt that you've attempted to put finger waves in your hair at some point. Ladies with fine, easy to mould hair probably had more success than women with thick, coarse or textured hair because the traditional method involves a lot of gel and a lot of moulding to coax the hair into place. Now, there are some easy ways to cheat and get this look without the hassle of numerous hair styling products.
Waving Iron: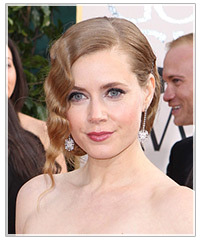 A waving iron looks like a crimping iron but instead has a wavy plate on the inside. This tool is inexpensive to purchase and will give you finger waves without gel or copious amounts of time. To get Amy Adams's look (right), simply style your hair in an updo and leave the front panel of your hair out. Then, starting 2-3 inches down from the root, use the waving iron to create your finger waves. Clip them into place using finger wave clips (they will create the kink).
Curling Iron:
Using the same process as above, instead of using a waving iron, start by curling a section of hair over the barrel of a curling iron (wrap it around once). Then move the barrel down and wrap the next wave under the barrel (again, once around) to create an S- shape. Set them with finger wave clips and you are ready to go!
Follow it up with a strong hold hairspray and shine spray to complete the look.