If platinum blonde hair (think Marilyn Monroe or Gwen Stefani), highlights, two-tone hair colors, or a color that is shades away from your natural hair color is part of your look, then chances are your hair has bleach in it.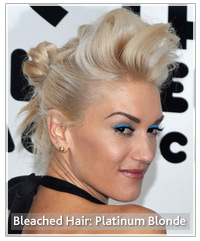 While bleached hair can look great, it can also be very drying and damaging to your locks, so we've put together some hair care tips that will give your strands a helping hand!

If your hair is bleached then you'll need to protect it with a swimming cap or wash with an anti-chlorine shampoo (available at specialist shops) when taking a dip in chlorinated water. Chlorinated water can wreak havoc with your locks and could even turn them green!

When it comes to washing your hair, extra care should be taken to counteract the drying and damaging effects of bleach on your hair strands. Go for a mild shampoo and conditioner and only wash when absolutely necessary.

Bleach can make your hair more vulnerable to hair damage, so if possible, try to limit the use of heat styling tools such as blow-dryers, hair straighteners and curling irons so that you don't put any extra stress on your strands.

Nourish bleached locks with a regular hair care routine and by using hair masks every week or month, depending on how much time you have and how dry your hair is.

Care for your bleached hair according to the level of damage. If your hair only has slight damage then it will feel dry or rough when touched and can be improved with regular use of hair masks and deep conditioning products. If your hair has been severely damaged by bleach then it looks rough and it may become frizzy because your hair has begun to retain moisture after washing. In the worst cases, breakage in the root area will be evident and regular. If this sounds like your hair then a visit to your hairstylist is a must to get an assessment on the damage and a plan to help get your hair back in tip-top shape.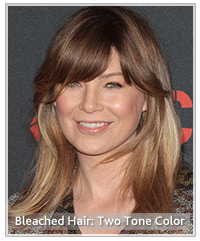 You can avoid damage from bleach as much as possible by seeing a professional colorist whenever dying your hair. This will ensure quality bleaching products are used and you can get professional advice for after care tips for your hair. If you have to bleach at home then buy a quality, well known brand which lists a color hotline that you can call for advice should you need it.

If even mild shampoos are too much for your bleached locks, try diluting your shampoo with 1 part shampoo to 3 parts water so you still clean your locks, but the shampoo doesn't dry out or damage your bleached strands further. Also, remember to always rinse your hair in lukewarm water.

When your hair contains bleach, it's a must that you keep your locks protected when out in the sun with products that contains UV filters and a hat. Sunlight can make bleached hair even more brittle so ensure you cover up, especially if you'll be spending long periods of time out in the sun.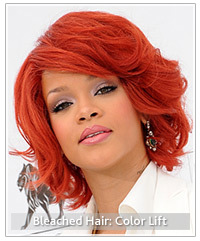 Our final bleach hair tip is to get a salon treatment whenever you can afford it to keep your locks professionally nourished.
We hope these tips will help to care for your bleached locks and help you to avoid any future damage so that you can rock a blonde, highlighted or great colored 'do with fantastic, healthy looking hair!

To see how you'd look with any of the great celebrity hairstyles pictured in this article, click on the above images to try the virtual hairstyles with your own photo!