Love is in the air this spring, so it's more than likely that you have a wedding or two to attend this season. Hair and makeup is always of utmost importance at these events, especially if you're the bride, but you still want to impress even if you are a guest. After all, there are tons of photos taken at weddings, so even if you are just a face in the background you may as well rock it, right? Here, we have selected the best wedding hairstyle ideas, whether you are showing up as a bride, a member of the bridal party, or as a valued guest.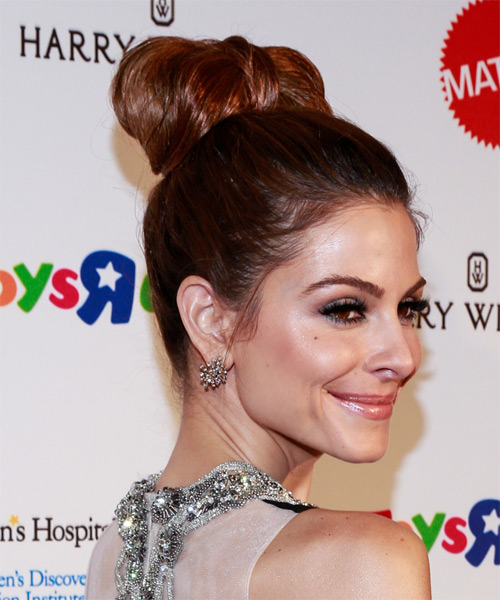 Maria Menounos' cute topknot will work nicely on any wedding participant. This voluminous bun would look super cute on a guest paired up with an LBD (Little Black Dress) or cocktail dress and some statement jewellery. This is also a good hairstyle idea for a trendy bride who is wearing a retro style wedding dress, or for her wedding party. While this does deviate from the classic romantic-looking wedding hair, it is a wonderful option for women who have a more trendy and light-hearted approach to wedding day hairdos.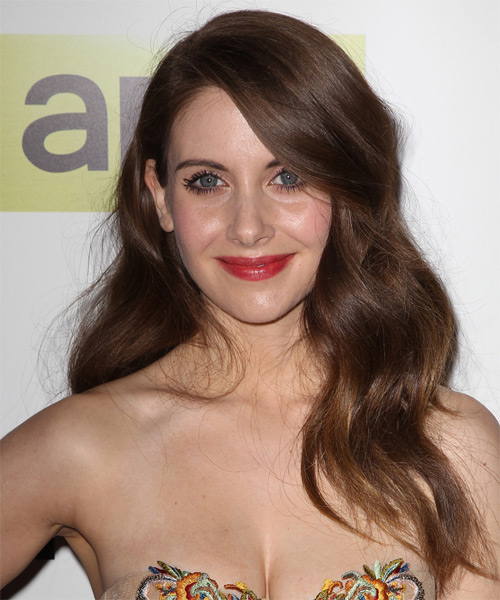 Here, Alison Brie is rocking an excellent option for all of the spring wedding guests out there with long hair. If you're just not into updos, then this hairstyle will do the trick. Using a curling wand, add large mermaid waves and then brush through the hair to give it that soft finish. This is a good way to wear your hair down in a fancy style without looking OTT or taking the attention away from the bride!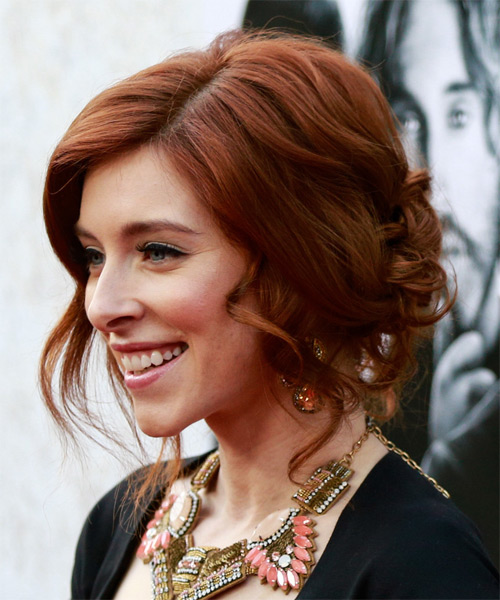 Kate Gorney's soft updo is another gorgeous hairstyle that will suit the bride, her maids, or her guest. This hairstyle will work on medium to long hair lengths the best. Simply create a deep side part, curl the hair using a wand and then roll and pin the hair in place at the nape of the neck. Leave a few layers out around the face for a romantic finish. To accessorize this look, flowers would look fabulous on a bride or bridesmaid, while an embellished clip would add an extra touch of glamour for a wedding guest.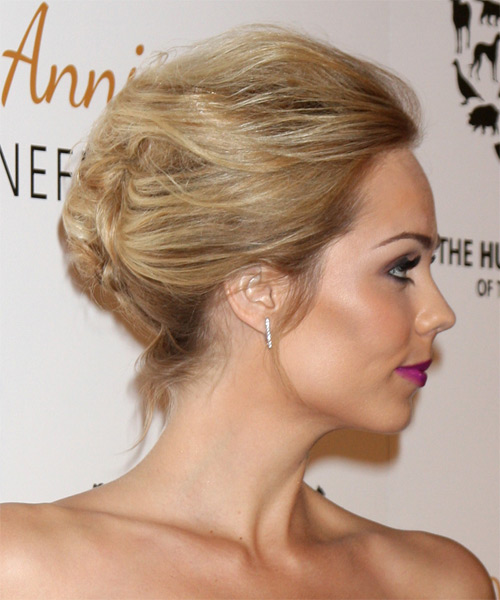 If you've been invited to a very high-end wedding, this classic French twist is just the thing to complete your look. Instead of going for a tight roll, here, Laura Vandervoort tries a looser look with lots of volume on the top and softly swept back sides. This hairstyle will work on medium to medium-long hair the best. This hairstyle has a lot of softness and backcombing to it which looks great on a guest, but may not be so practical for a bride or bridesmaid to wear, as this style may be hard to keep "picture perfect" all day and night.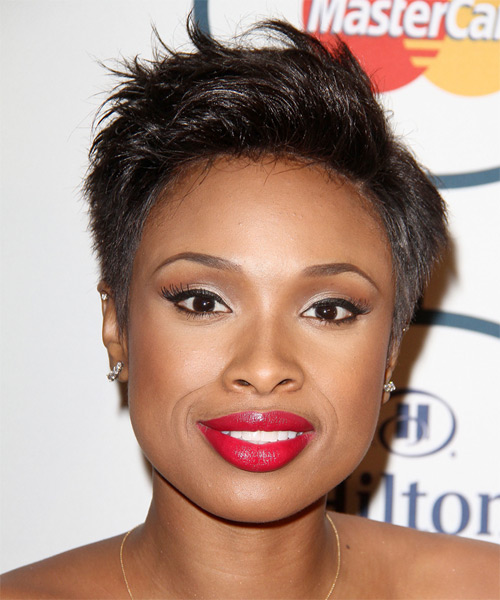 And of course, we can't forget about the ladies with short hair! If you're a short haired bride, then chances are you are having your hair cut specifically for that day in your favorite style. But, what if you are a short haired bridesmaid or guest? The easiest thing to do is trim up your usual style and try to add some extra glamour by using pins, hair accessories or even just a really nice shine serum to finish it off. Here, you can see Jennifer Hudson has glammed up her short and funky 'do with a mega shine finishing product and glam-tastic red lipstick. Makeup can instantly take a short hairdo from casual to formal, so try out a sexy new makeup look for your wedding ensemble. This is easier said than done if you are a guest however, as most bridesmaids have to follow a certain makeup palette to match the rest of the group.
These are just a few of the best wedding hairstyles, check back often for more ideas!