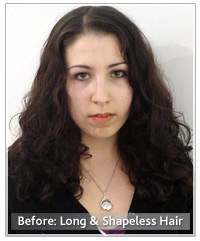 Taking your hair from long to short is one of the most dramatic ways to change your look, but it's also one of the greatest!
The difference the change in length can make to your overall look, your face shape and your styling routine is enough to make you look like a totally new person, save you precious hair styling time and provide a great confidence boost! And when you team your length change with added extras, such as a great new hair color and some bangs, you instantly add variety and spice - as these hairstyle makeovers show....
A Short Asymmetrical Hairstyle
With Curls...

By going from long, shapeless brown hair to a short, red asymmetrical hairstyle, our model has opened up her face shape and given her hair a much needed makeover. By losing more than half of her length, her hair instantly looks much healthier, and the dark red hair color added to her locks creates great hair shine and depth. Her hair has a natural curl and the shorter, asymmetrical nature of her hairstyle really plays well with her curls, which have been given definition with the help of a curling iron.
A Short Asymmetrical Hairstyle
Straight Hair...

Another styling option for this great new hairstyle is to style the hair straight with a hair straightener or blow-dryer. This really gives the asymmetry of the style a chance to shine as the straighter lengths really enhances the cut. The side-swept bangs that were also added for this hairstyle makeover are put front and centre when the hair is straight and really frame the face well.
As you can see, a hairstyle makeover can really make a huge difference to your look and is definitely worth trying if you're in need of a hair change.