It's a bummer that winter is here but look on the bright side - it's now time to change up your hair, makeup and clothes for winter! The weather may be colder but don't let that stop you from rocking a hot hairstyle. There are many must-have hairstyles to choose from this season, but this post will focus on one that is simple, elegant and timeless: the ballerina bun.
According to Harper's Bazaar, the bun is one of the most prominent hairstyles now. Typically, a ballerina bun is tightly pulled back and twisted to perfection, however, if you like looser, edgier looks then fear not, because messy top knots are also in vogue. To give you an idea of what kind of bun you prefer this fall, check out the hairstyles below.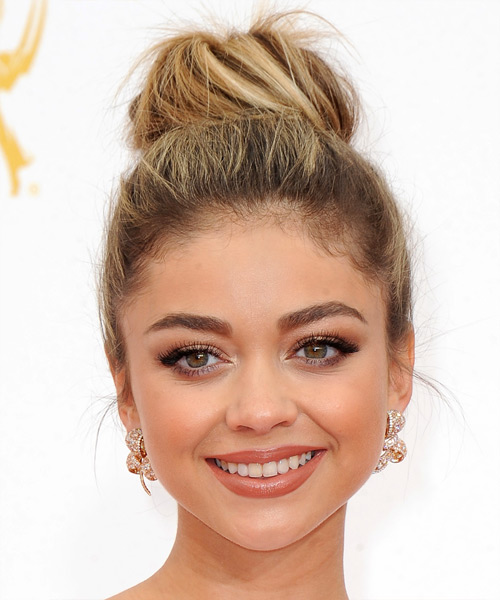 Here, Sarah Hyland is working the ballerina bun to perfection. Her hair has been swept up into a high bun that looks polished and prim. This isn't a slicked back severe ballerina bun, but it does give her a clean, fresh look that really shows off her gorgeous face. Sarah has thick hair but most likely she has also used a sock or bun donut to get extra volume in her top knot. This is a great trick for women who have thin or fine hair.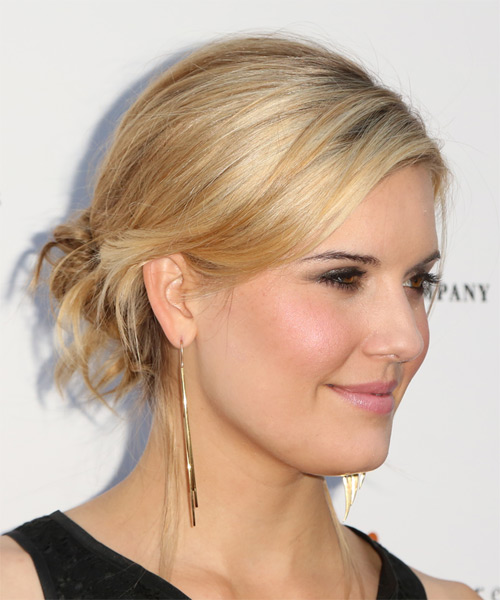 Maggie Grace is flaunting another version of the ballerina bun - the low and loose ballerina bun. This variation is perfect for women with shorter hair and/or lots of layers. Maggie's blonde locks have been side parted and then gathered at the nape of the neck in a ponytail. Her cute and messy bun is created by loosely twisting and pinning the ponytail, and letting those layers poke out naturally. This style works best if the hair has some wave or texture in it, especially at the ends, to avoid a straight and 'pokey' look.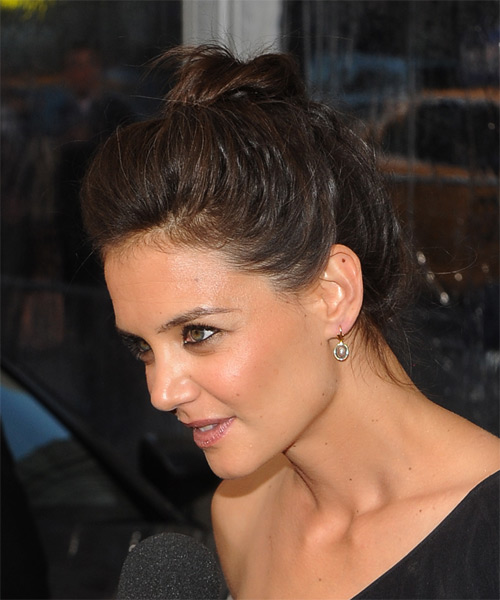 Here, Katie Holmes goes for a chic and elegant wet-look bun. This hairstyle was created by using a glossy gel throughout the hair and then sweeping it up into a soft bun at the crown of the head. Rather than going for a big, voluminous bun, Katie has achieved a subtle twisted look by not using a hair tie at the base of the ponytail before twisting it around. This is a great technique to use if you want a soft, loose look but be warned that you will need to use a lot of hair pins to keep this look in place all day and night!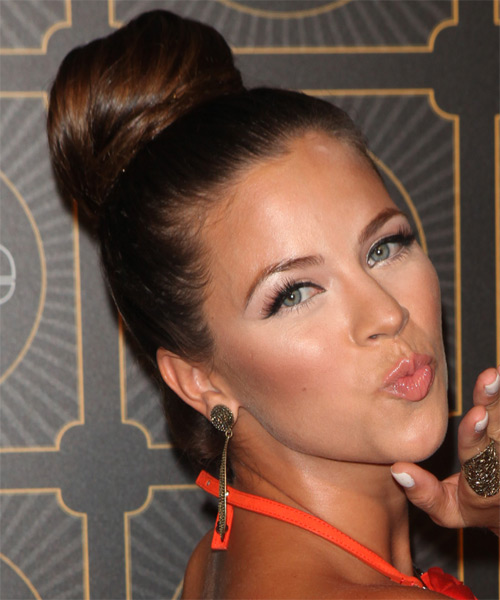 Finally, we have Ximena Duque rocking the quintessential ballerina bun, making her bang on trend this season. Ximena's hair has been slicked back into a tight topknot where a bun donut and/or hairpieces have been used to fill it out, creating a striking topknot. Ximena has kept the sides and the bun itself super sleek and shiny for a look that is styled to perfection. Use this hairstyle when you need a full-on glamorous look for an elegant evening event.
Those were just a few ideas for this season's ballerina bun look. What style will you flaunt this winter?