Liv Tyler has one of the most recognizable faces in Hollywood - the huge blue eyes, the porcelain skin and of course those lips! Liv is also known for her gorgeous espresso brown hair that she occasionally highlights, but usually keeps dark and dramatic. She has barely aged over the years (what's her secret?!) and she knows how to pull of the natural look when it comes to her makeup. Her hairstyles always look fantastic and provide great style inspiration for other women who have narrow face shapes. But how do you know if your face is narrow? Like Liv, your face width will remain more or less uniform from forehead to jawline, and will then taper down into a rounded chin. If this applies to you, keep reading to find out which hairstyle will suit you, thanks to lovely Liv!
In her most recent photo, Liv is going for a classic long layered style that falls just past her shoulders. Liv told Marie Claire magazine that she swears by her hairstylist Eugene Souleiman's low maintenance cuts, that are typically long with only a few layers cut in. To style her hair on a daily basis, Liv loves to let it air dry so her natural waves can come through. This style is slightly more polished for the evening however, and looks like it has been given added bounce and curl by blow-drying it using a round brush to style. If you love the high intensity shine of Liv's hair, try her swear-by hair trick and blast your hair with cold water after you have finished washing it.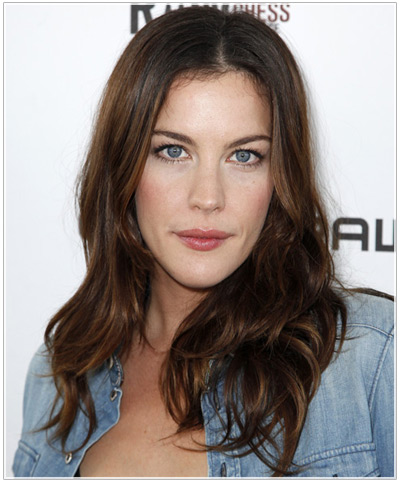 Here is Liv's casual beach boho look that is the perfect 'do for narrow faces. The centre hair part adds width to the face while the layers create volume around the cheek and chin area. This counteracts the narrowness of her face shape and balances her silhouette better. If you have natural waves, then this is one low-maintenance cut that you will love. It will only take a few minutes to wash and air dry, a la Liv. If your hair is straight, try twisting your towel dried hair into a loose bun and let dry. Then, unroll it and work your fingers through to get these messy waves. To keep this style all day, add some styling wax through the ends to give to some structure.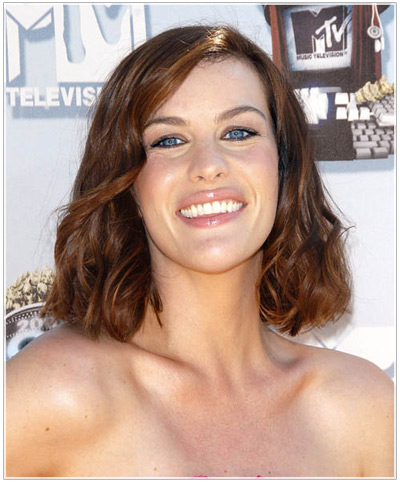 Here, Liv is sporting an even shorter bob that looks amazing with her narrow face shape. By adding waves throughout her hair, Liv creates volume and width to avoid looking too narrow or slim throughout the face, while the length reduces the appearance of a long face. This is a great cut for women who wish to reduce the appearance of a long face shape or look fuller in the cheek area. To get this look, you can simply wash and go if you have wavy hair. If your hair is straight, you can use a curling wand to add waves throughout. Try working in a random pattern to get a beachy look, or use precise sections to get more polished waves.
Liv's haircuts provide great style inspiration for women with narrow face shapes, but her best beauty tip is to work with what you've got and let your natural beauty shine through.