When we try to find the perfect hairstyle, we use a certain set of criteria. Usually, that criteria involves face shape, eye color, age and hair texture (straight vs. curly/wavy). But what we don't usually take into account is body type and weight. But does your hair really affect what your body looks like and vice versa? The answer may surprise you, but yes, it does!
Visually, our hair plays a very important role in the overall appearance that we project. There are certain hairstyles that look terrible on gaunt faces and there are certain hairstyles that look terrible on chubby faces. But, there are many that look great on them too. For now, let's talk about chubby faces and what hairstyles will suit them the best.
Note: Chubby faces come in all shapes and sizes. This is not to be confused with round faces, as many round faces are not chubby and vice versa! Without further ado, here are some of the best styles for chubby faces.
First, let's talk about length. Super short styles should generally be avoided. Shoulder length or longer is a safe bet for chubby faces as it adds a slimming effect, especially if you have lots of layers cut in throughout. Another good style tip is to use loose waves or curls to maintain softness around the face. A side part is also a must!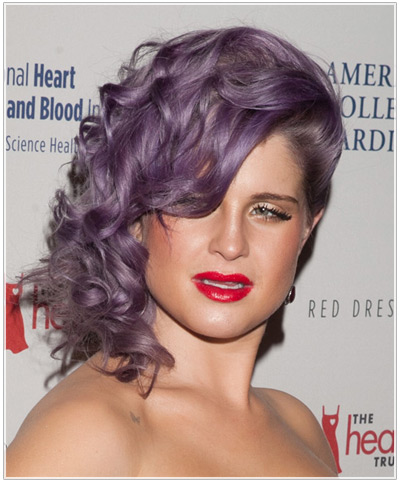 Kelly Osbourne knows how to flatter her chubby face and creates a side-swept hairstyle that flips over to one side. To get this look, simply curl your hair using rollers or a curling iron and then pin it to one side. Flip the front portion over to create a wave and a peek-a-boo effect in the bangs. Long side-swept or angled fringes look great on chubby faces because they create a diagonal line and visually slim the face, so keep this in mind for your day-to-day hairstyles.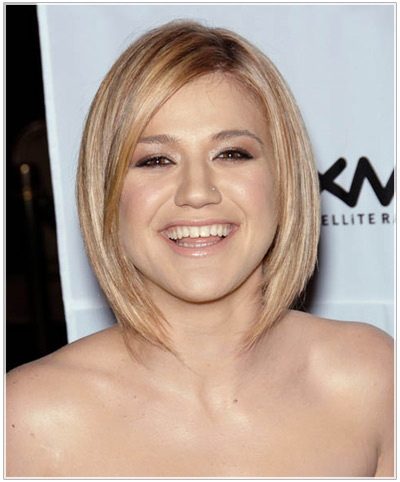 If you are in the market for something shorter and sleeker, try a graduated bob like the one seen here on Kelly Clarkson. The deep side part and sleekness of the cut instantly downplays chubby faces and creates a more oval shape to the face. Make sure your stylist angles your bob downwards in the front so that it skims your collarbone for best results.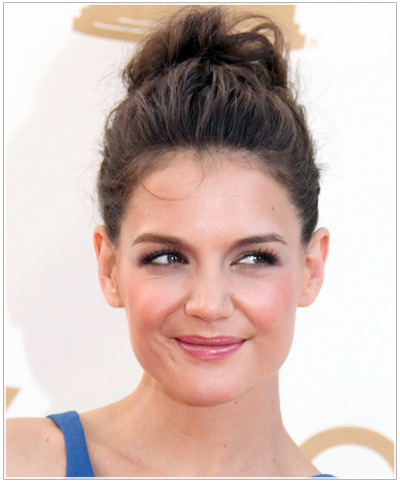 Katie Holmes may not be larger set in her body, but she does have a slightly chubby face that looks better in slimming hairstyles. Here, she shows us the best way to wear our hair up if we have chubby cheeks or an otherwise full face. This high bun has plenty of volume in the crown, which lifts the face up, rather than out. Feel free to experiment and use a ponytail or braid here as well, just make sure to have lots of volume at the top—avoid the slicked back look at all costs!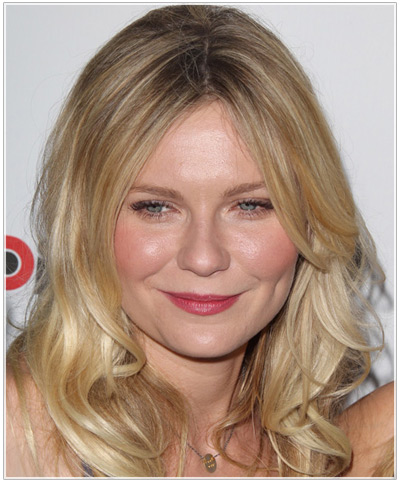 Our final tip for women with chubby faces is to always create a bit of a beehive in your hair, whether it's up (like Katie Holmes, above) or down like Kirsten Dunst here. You don't need to go to epic Amy Winehouse proportions; just a small bit of lift in the crown does wonders for the chubby face.
Whatever style you choose, make sure to flaunt your chubby face with pride. Rather than being a bad thing, chubby faces and cheeks look youthful, feminine and downright cute!