These two are adorable together and always look so happy. But it's not just about looks—they are one of the most interesting and fun couples around. When they are not hitting up red carpet events, they can be found at their Californian ranch house cooking vegan meals, working with one of the many animal charities they support or dabbling in home design. And, they do all this looking like a million bucks!
How do they do it? Well, they do have access to the best hair and beauty professionals in Hollywood, so of course that helps! But, they also keep their individuals looks low-key and classy with just the right hairstyles and makeup products. Let's take a closer look:
Portia De Rossi and Ellen DeGeneres have very different styles. When it comes to fashion, Ellen favors casual trousers and tailored shirts while Portia shows off her svelte figure in more feminine clothing. Their hair and makeup however, are very similar!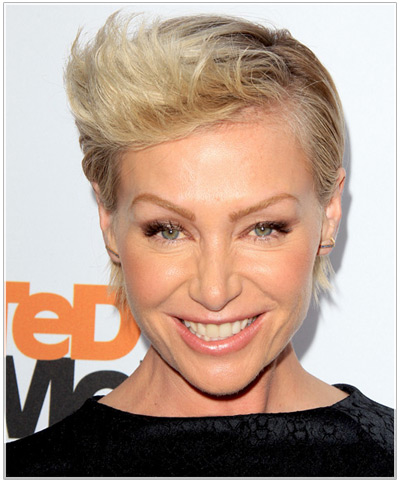 Portia used to rock longer hair but is now experimenting with shorter styles. In this photo, she is wearing a tapered, layered 'do that is tucked behind the ears and flicked out slightly. This is a great cut for her oval face shape, plus, it's versatile. The longer layers on top can be worn sleek and flat, or on the contrary, in a high volume quiff as seen here. Just like Ellen, when it comes to hair color, Portia favors a light champagne blonde that brings out her blue eyes and glowing complexion. She keeps her makeup simple, using soft gold and bronze eye shadow to make her eyes pop, paired up with dark brown eyeliner and mascara for a bit of drama. Some bronzer on the cheeks and a soft pink lippie complete her elegant look.
Just like her partner, Ellen also loves to wear her hair short and layered in an ultra-light blonde shade, albeit in a more casual style. Ellen's cut has a lot more layering throughout and is much shorter in length, which creates a frame for her face. Similar to Portia, Ellen alternates between flat, messy styles and a more voluminous quiff 'do, both which suit her face nicely.
When it comes to cosmetics, Ellen goes for a natural look but highlights her icy blue eyes with just a hint of bronze eye shadow and brown eyeliner. The rest of her look is áu naturel—she is rarely seen wearing lippie or blush. However, as one of the 'faces' of Cover Girl, she can't totally forego makeup. She lists her preferred beauty products as the Covergirl + Olay Tone Rehab 2-in-1 Foundation, Pressed Powder and Concealer Stick. If you love Ellen's natural look, focus on perfecting your base with a fabulous concealer and foundation first, then let your natural beauty do the talking!
Both Ellen and Portia have their own unique styles yet they manage to compliment each other perfectly. Which half of this power couple's style do you prefer—Ellen's casual chic, or Portia's girlie glam?
To see how you'd look with any of the great hairstyles pictured in this hair blog, click on the above images to try the virtual hairstyles with your own photo!