Kim Kardashian and Fergie are getting papped on a daily basis, and as their bumps grow, so does their media coverage. What clothes are they wearing? How is their hair? Do they look tired and bloated or fresh-faced and glowing? It's almost become an obsession! Kim K of course, has received way more criticism for her crazy prenatal style (can anyone say snakeskin-print peplum pants?!), while Fergie seems to hit the nail on the head in every photo. So what is the secret to Fergie's fabulous pregnancy style? Let's take a look!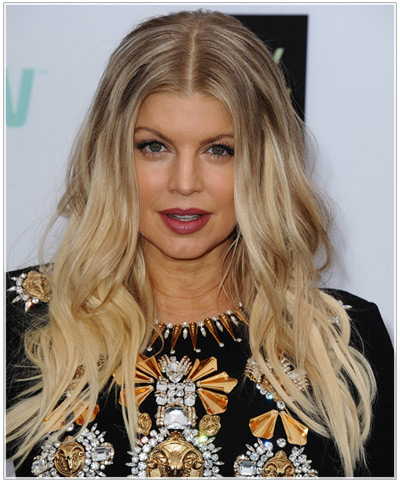 The Clothes
One problem with Kim K's maternity wear is that her body has changed immensely, but she is still trying to wear the same styles that suited her pre-baby body. Fergie, on the other hand, is still keeping her look funky by wearing flowy, bohemian dresses and lots of layers to flatter her changing body, but still look like a trendy mama. Even when she goes for more form-fitting outfits, she knows that simple, structured garments are best…but always throws in a little rock star edge (just like the giant jewels on her dress in the photo).
The Hair
Fergie's hair isn't changing much as her pregnancy evolves. Her signature long, wavy blonde tresses are still working with her look, although she has lightened her ends up a bit more than usual. Pregnant women are advised not to highlight their hair at the root, so this may be Fergie's way of freshening up her hair without harming her baby. As she gets closer to her due date, her face will probably fill out more (as it does for most women) and she may start wearing her hair up more. Hopefully she will switch to a side hair part as well, as it would suit her face shape much better.
The Makeup
Fergie has been '37' for a few years now, but no one really knows what her true age is. In any case, she has done a good job of fighting the signs of ageing on her face by getting diamond peel treatments (similar to microdermabrasion), LED Lite Therapy sessions and of course, by using excellent skin care products. Add this to her pregnancy glow and she is looking fabulous in the skin department!
Makeup-wise, Fergie has lightened her look up a lot in the past few years, and is maintaining a softer look throughout her pregnancy. She always keeps it light around her eyes and favors shimmery shades of peach and beige when it comes to eye shadow. For eyeliner, Fergie revealed to Celebrity Beauty Buzz that she loves brown Le Metier de Beaute eye pencil- so check this one out if you want to add some Hollywood favorites to your beauty bag! In this photo, Fergie is rocking a deep berry lipstick, but she's most at home in a glossy nude, peach or beige lippie to match her boho-beach-babe image.
Fergie is rocking her pregnancy style so far, and we bet her new mom style will be just as fabulous!
To see how you'd look with the great hairstyle pictured in this hair blog, click on the above image to try the virtual hairstyle with your own photo!