Adding waves to your locks is one of the most popular and easy ways to style your hair so we've put together 4 of our favorite wavy celebrity hairstyles to show you different ways that your waves can be worn, and to inspire you to create a great look no matter the occasion. Check them out below...
Demi Lovato - Wavy Half Up Half Down Hairstyle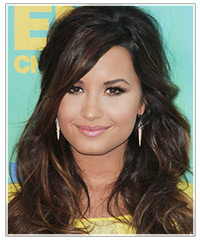 One way to bring out the soft, feminine feel of a wavy look is to style your hair into a loose half up half down hairstyle, à la this beautiful 'do from Demi Lovato. Adding some backcombed volume through the top section will enhance this look for fine hair types, or you can wear it flat and slicked back for a more professional finish.
Kaley Cuoco - Centre Hair Part, Soft Waves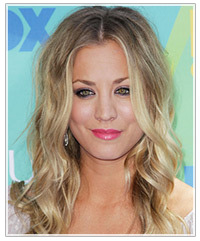 The ultimate causal, chic wavy hairstyle is this look from Kaley Cuoco. Just a simple centre hair part and some lovely soft waves styled around your face are what you need to re-create this simple yet stunning look. Use a large curling iron to make big waves in your lengths, or scrunch your hair if you have natural waves for a beachy look.
Lucy Hale - Side Styled Waves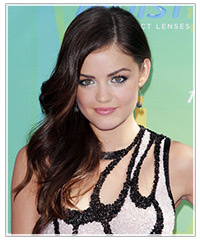 If you're after a wavy hairstyle that looks nice and fancy, then consider this beautiful style from Lucy Hale. Her soft waves have been swept to one side, which creates a very flattering and stunning look. Hair pins are a great choice to use to keep your hair in place when wearing a side styled 'do like this, so make sure you've got plenty on hand, as well as a good dose of hairspray.
Tyra Banks - Bangs and Waves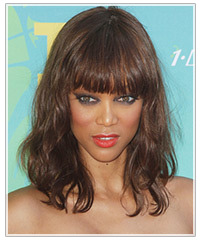 A great way to accessorize a wavy hairstyle is to mix up your wavy texture with straight bangs. Tyra Banks shows how it's done with her medium length wavy hairdo complete with blunt cut bangs. Side-swept bangs are also a good option to team with wavy locks if full bangs are not for you. Just remember to keep your bangs trimmed so they do your hairstyle justice.