There are two things that Carly Rae Jepsen is known for—her one-hit wonder "Call Me Maybe" and her awesome hair! It's true; Carly Rae has always had great hair and continues to do so, even though her fifteen minutes of music fame may be up soon (or not, you never know!)
Carly always looks trendy and chic with a bit of rock and roll edge to her. And, she has a very distinct heart-shaped face, which makes her a perfect hairstyle icon for all the heart-faced ladies out there. Up until now, Reese Witherspoon was the go-to girl for hairstyles for heart-shaped faces, but for those who like edgier 'dos, CRJ is the better option.
Let's check out her hair history now for some style ideas: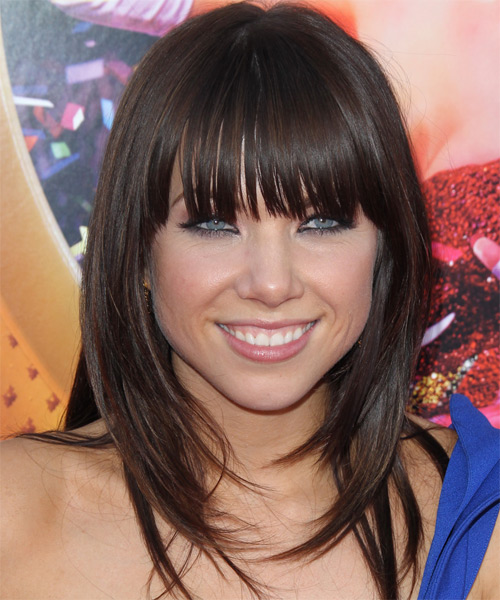 Here, Carly looks super cute in a sleek, straight 'do with an eye-skimming fringe. This bang style is great for heart shaped faces as it balances out the proportions and brings the attention up to the eye area. Carly's layered ends frame her face nicely and contour the chin area—a must for heart faces. This hairstyle is feminine and simple. It's a good choice for women who need a professional–looking hairstyle for work, but like some versatility for other occasions.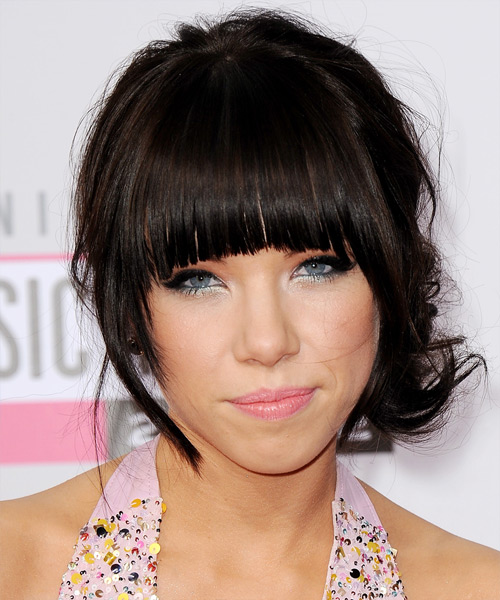 If you need an updo idea, try out Carly Rae's low curly bun that sits to one side. This hairstyle looks amazing on heart shaped faces as it brings balance, plus it's just plain cute! Carly has left some layers out around the face for some extra contouring. This is a good hairstyle option for an evening out or special event. It could also work as a cute 'do for work, unless you work in a very conservative atmosphere.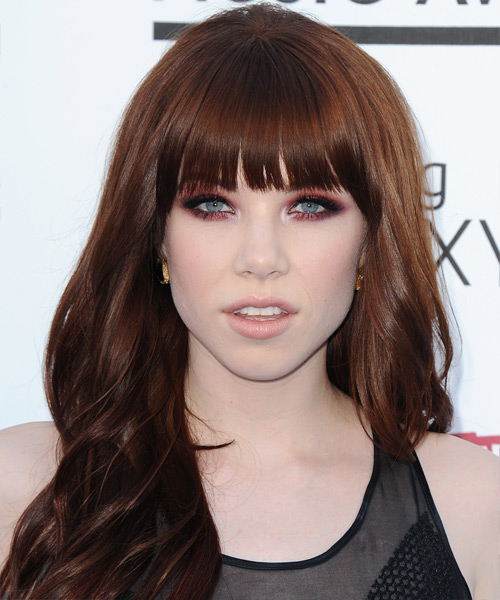 Here, Carly is working a gothic look with long auburn locks that are maxed out in the volume and glam departments! This extra long length looks great on heart shaped faces, especially with large, soft waves added in, as seen here. Overall, this is a sophisticated hairstyle and color for Carly that really brings out her eyes, not to mention her flawless complexion. It's a great option for women who like classic, feminine styles that have lots of versatility.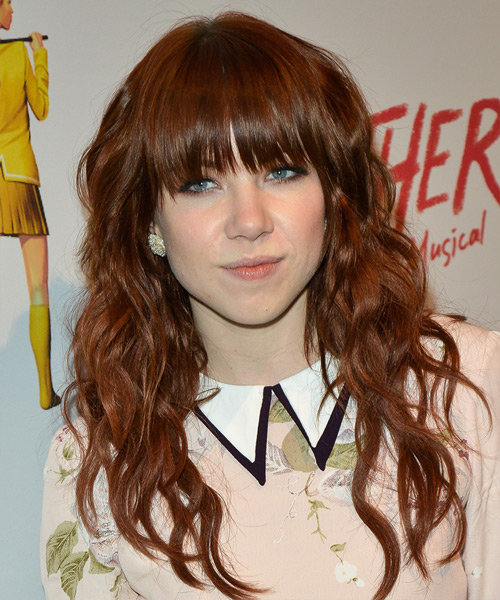 Finally, for all of the indie chicks out there, here is a hairstyle just for you. Carly is working her waves here in a Stevie Nicks-inspired hairstyle that looks great on her heart-shaped face. If you have naturally wavy hair, this is a great wash and go style that will take just a bit of styling time on the bangs. If you have straight hair, then you can achieve this look by using a curling wand to add beachy waves. Overall, this is one of Carly's more casual 'dos that is young and trendy—go for this if you want to take a few years off but avoid it if you are looking for a more professional look.
As you can see, Carly Rae Jepsen is quite the hairstyle chameleon and manages to look amazing no matter what look she is going for. Which one of her hairstyles gets your vote?