Diamond shaped faces can pull off a variety of hairstyles, but there are some that are definitely more flattering than others. The typical diamond face shape is narrower at the forehead and chin and wider at the cheekbones. The forehead is also typically short, so only certain types of bangs will work.
Typically, hairstyles that add bulk and bounce around the jaw and chin areas are preferred, and hairstyles with longer or a grown out fringe work best. Waves and curls look especially good on diamond shaped faces, as do angled or graduated cuts.

Now, let's check out some of the latest and greatest hairstyles for diamond shaped faces in action!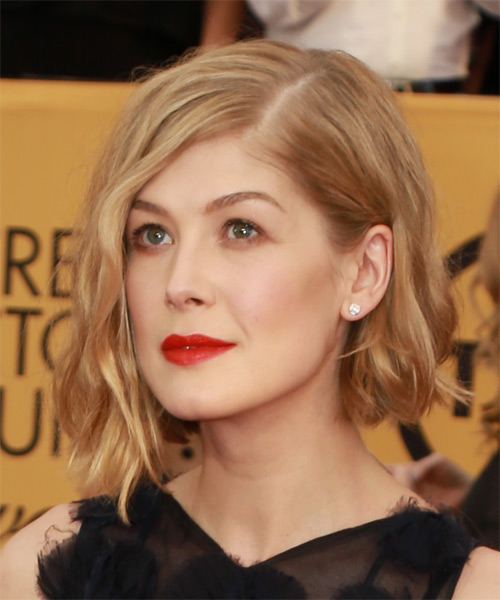 Rosamund Pike has an ideal short haircut for a diamond face shape here. The deep side part and grown out fringe works well with her short forehead (a common trait of diamond shaped faces), and the angled cut flatters it as well. If you have a diamond shaped face and short hair, go for a graduated style like Rosamund to make the most of your features. Soft waves are also a great feature to add to your 'do, because they help to balance out the face structure. If you don't have natural texture in your hair, use a curling iron or wand on low heat to get soft, effortlessly cool waves.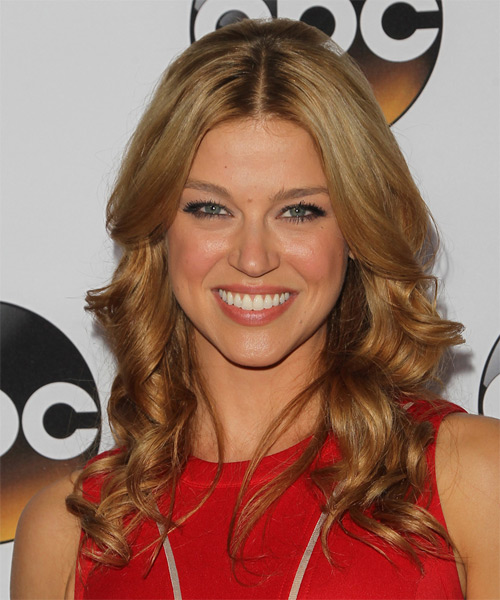 Adrianne Palicki has the classic diamond shaped face, which you can see here with her cheek and jaw area being the widest points of her face, and her chin and forehead the most narrow. Adrianne's hair is long with layers cut in starting just past the cheekbones, which is the ideal place for women with a diamond shaped face and long hair. This creates bulk and body at the narrowest point of the face where it is needed most. Adrianne has also added in curls, which look great on diamond shaped faces too.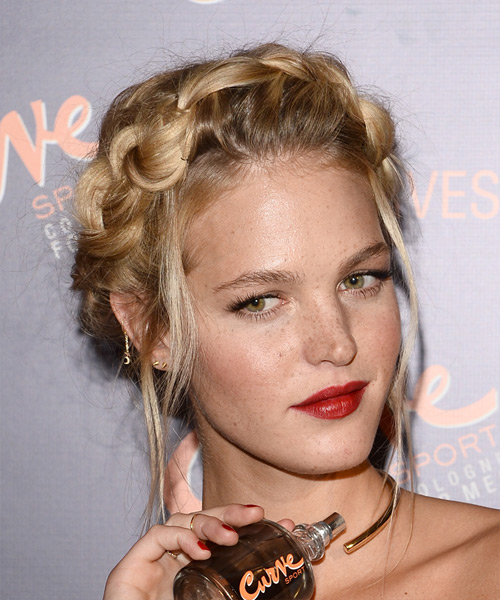 Erin Heatherton demonstrates just how good an up-do can look on a diamond shaped face in this photo. Because diamonds have such a great cheekbone area, up-dos are very flattering to their face shapes and should be worn often! This hairstyle can be created by braiding the hair on each side and then wrapping it around the head. Erin has left a few strands of hair out around the face to give this up-do a more casual look, but you can omit this feature if you want to go for a sleeker, formal look.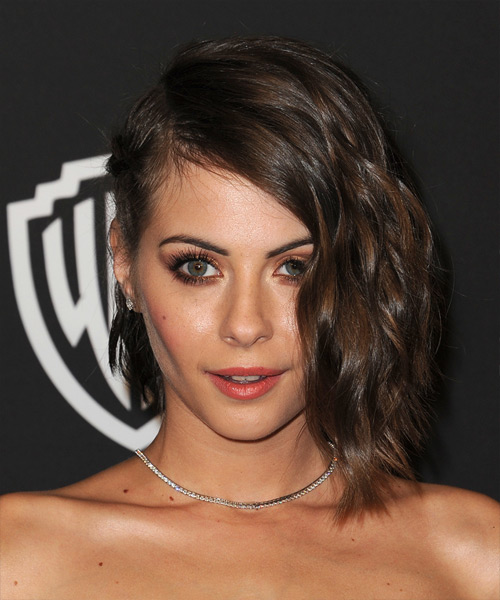 Finally, we have Willa Holland in a gorgeous side swept 'do that creates a cool peek-a-boo effect. Just look at that cheekbone peeking out! This is a must-try hairstyle for any diamond face who has medium to long hair. Simply create a deep side part and sweep the side with less hair around to the back. This 'do would look great with sleek and straight hair, but waves and curls work well too!
Do you want to check out even more hairstyle ideas for your face shape? Visit the Hairstyles for Diamond Shaped Faces page on our website!