If you have a heart shaped face, you'll know that it can be a pain to find the right hairstyle to flatter your fabulous cheekbones and dainty chin! While these are great features to have, they do have special requirements when it comes to your hair. First of all, heart shaped faces have wide forehead areas and narrow chin areas, so that in itself takes some balancing. Bangs are a heart's best friend for this purpose alone! Hearts also need some volume and body around the narrow chin area too, so that's something to keep in mind when you are looking for a new 'do.
On the flipside, hearts can pull off almost as many hairstyles as an oval, so there is no shortage of styles to choose from. Take a look at these latest hairstyles for heart shaped faces to get some styling ideas going!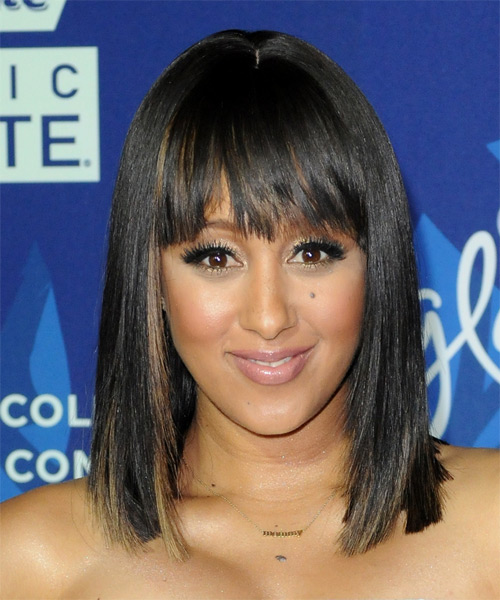 Tamera Mowry has the right hairstyle for her face shape here - a sleek and straight bob cut with a jagged cut fringe. This is a simple and sleek look that gives Tamera major style points while flattering her heart shaped face. The eye skimming jagged cut fringe camouflages her high forehead, while the blunt ends work well with her dainty chin area. Heart shaped faces look especially great in sleek, straight hair so get out those flat irons to style your 'do!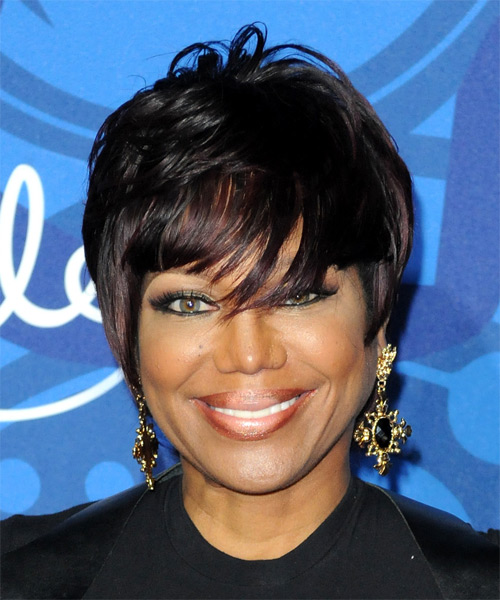 Another sure-win for heart shaped faces are short and sassy 'dos, like the one we see on Michelle Toussant here. Thanks to a heart shaped face's strong cheekbones and chin, short hairstyles look spectacular and bring all of the focus to that great bone structure. Michelle's 'do has a tapered back, while the sides and top have longer layers that create tons of volume and texture. The wispy eye-skimming fringe is the cherry on top of this hairstyle!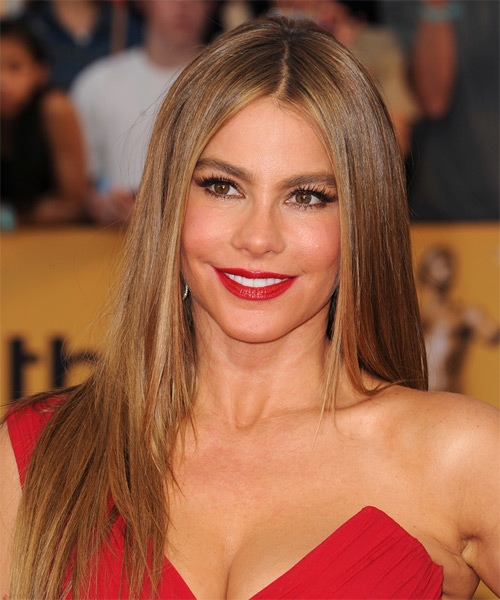 Sofia Vergara looks stunning here in a long straight hairstyle that is ideal for a heart shaped face. Sofia's 'do is simple but it makes a statement. Her long caramel brown layers flatter her face shape and complexion nicely, and the centre part works great with her face shape. Not many face shapes can pull off the centre parts like hearts, so give this one a try!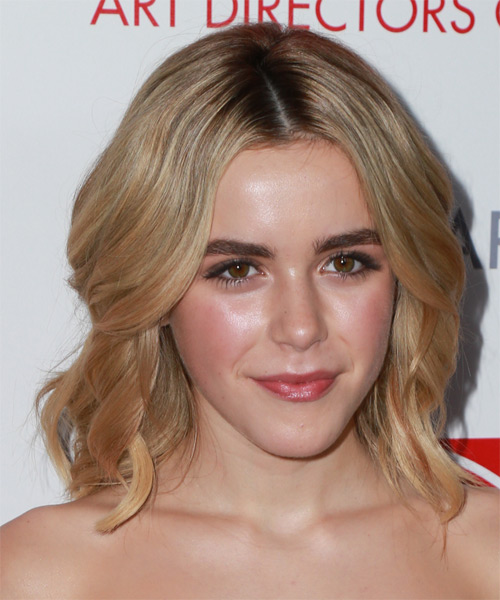 Kiernan Shipka lets her heart shaped face shine with this simple wavy bob. Shoulder length 'dos are great for this face shape and the soft waves add body and bounce where it's needed most. Kiernan is also working the centre part here with fabulous results. This is an easy to manage hairstyle that is ideal for heart shaped faces, and can be worn straight or wavy for some nice versatility!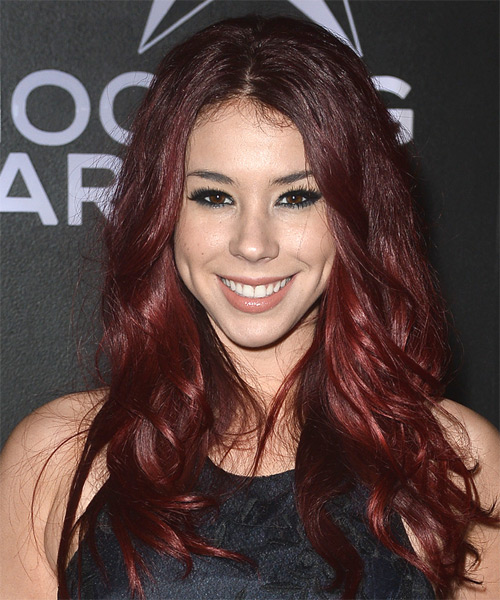 If you are a fan of long hair and have some natural texture in it, let it all hang loose like Jillian Rose Reed. This long layered style is simple and chic, but thanks to those waves, Jillian has a rock chick edge to her look. She has a slightly off-centre messy part which adds to this carefree look. If you have a heart shaped face and like to go for edgy, cool looks, try this one out!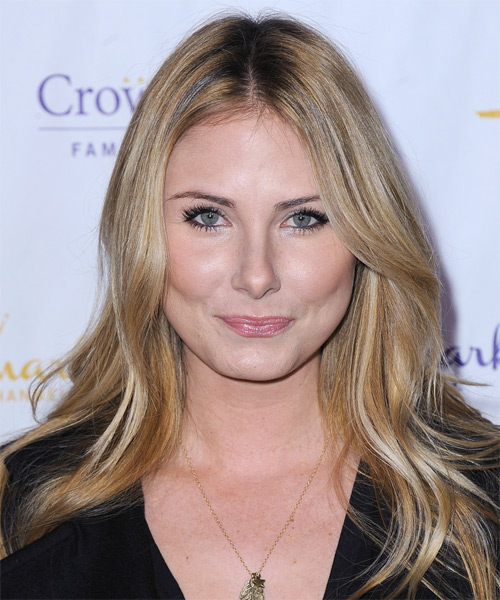 Actress Vanessa Lee Evigan has been on the big screen since she was 8 years old, and since then we have seen her go from brown to blonde to auburn and back again. Currently, Vanessa is flaunting a gorgeous honey blonde shade with sun-kissed highlights and a softly layered cut to match. Even though she is naturally brunette, the blonde color is the perfect match for her complexion, and the cut is the perfect match for her face shape - a heart.
If you have a heart-shaped face, you join the likes of Jennifer Aniston, Naomi Campbell and Jennifer Love Hewitt. Like Vanessa, these heart-shapes know what haircut suits their face and they stick with it. Here are the key features of Vanessa's haircut that will suit fellow heart-shaped faces.
Vanessa's hair is long, with lots of soft layers cut in around the face and throughout the lengths and ends.
A centre hair part works well with this cut, but for those who have high foreheads, a long fringe would work better.
Vanessa has added loose body-building waves which can really soften up a prominent chin (a common feature in heart shapes)
Pair it with some flawless highlights and this is a must-have look for a heart-shaped face!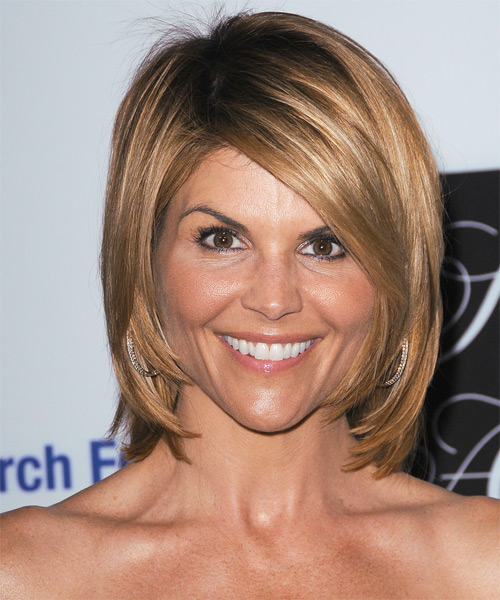 Lori Loughlin still looks as good today as she did decades ago on "Full House" - how does she do it?! For one, it's obvious she takes great care of her skin. Two, she always has a modern, funky hairstyle to keep her looking youthful and trendy. Here, she models a gorgeous hairstyle that will suit heart and diamond-shaped faces perfectly. Here's how to get it:
Ask your hairstylist for a shoulder-skimming bob with layered ends. This will give you lots of movement and bounce.
If your bangs are grown out, have your stylist cut your hair on a deep side hair part, and layer it around the face.
To style this hairdo, use a volumizing hair mousse after your have towel dried your hair, then use a large round brush when you are drying your hair to pump up the volume, especially in the crown area.
To highlight the gorgeous layers in this cut, use a light wax or pomade throughout the ends to keep them separated.
This is a fabulous cut for heart and diamond shaped faces because it balances out the prominent chin area and highlights your fantastic cheekbones. Plus, it's stylish and easy to do!
Those were just a few of the best hairstyles for heart shaped faces on thehairstyler.com.