Bangs are the perfect way to change up your look, hide a high forehead or just add some more style to your overall appearance. The great thing about fringes is that there is something for every face shape, and they can dramatically alter your look for the better. If you are craving a fringe or are simply wondering if the one you have now is the best one for your face shape, check out these latest hairstyles with bangs, straight from the red carpet.
Why do bangs make such a difference?
First and foremost, it is always nice to add an element to your hairstyle. It is nice to change things up and bangs will allow you to change your style often.
Bangs make a different because they are a great way for you to frame and shape your face. They allow you to hide certain parts of your face and allow you to highlight certain facial features that can sometimes get lost in your hairstyle.
Bangs can also help to open up your face more and show off your astonishing eyes, nose and cheek area. This can all be done if you style your bangs correctly and get the right cut. Who knew all this was possible by just adding bangs?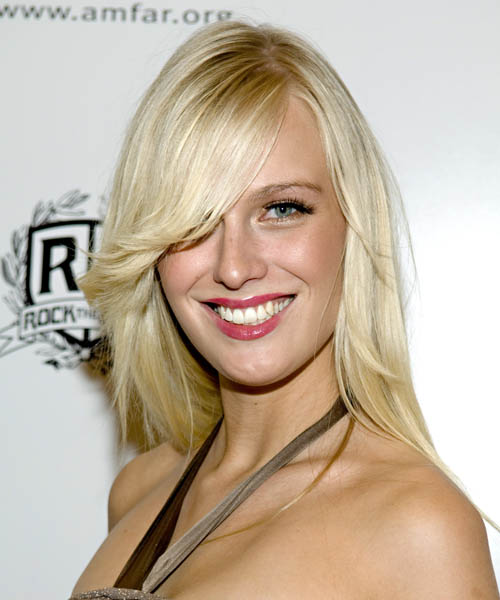 What face shapes suit bangs?
Bangs can suit all face shapes. The trick comes into play when choosing the right bangs for the right face shape.
For example, if you have a square or long face shape, then you want to style your bangs so that they hide some of your forehead. This is going to hide those rough edges on the side of your face as well as make your face not seem as long.
Heart and diamond shaped faces want to have their bangs frame their face and draw more attention to the centre of your face and not so much the bottom and top of it.
It is all in the styling when it comes to bangs. You can talk to your hair stylist and figure out the best bang styles that are going to not only suit your face shape, but your personality as well.
Glasses are something you have to take into consideration as well when styling bangs. If you wear glasses, you want to make sure that the style suits your glasses and that your hair does not get in the way of your daily activities. There is nothing worse than having to move your hair around so that you can see out of your glasses.
Below are a few ideas that we want to share with you. They are the most popular styled bangs at the moment. They are chic and trendy. Choosing to get bangs will be one of the best hair decisions you will make!
The Long and Wispy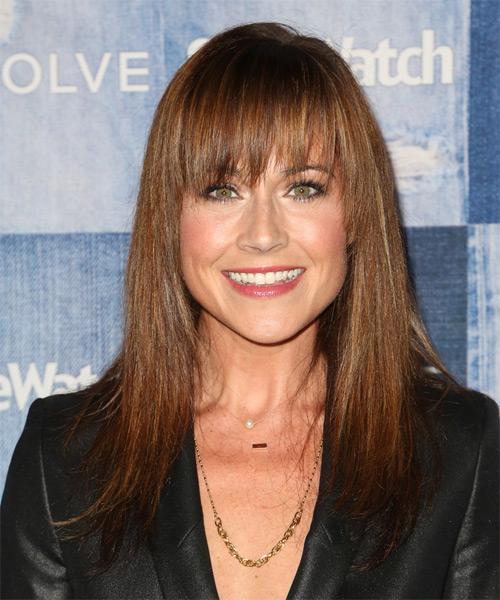 Nikki Deloach is flaunting the perfect fringe for square, heart and otherwise angular face shapes. This eye-skimming fringe hovers just above the eyes and tapers down towards the cheekbones in an arc, creating a soft frame around the face. The ends have been thinned out too, which is a great way to create softness on a face with a strong jawline.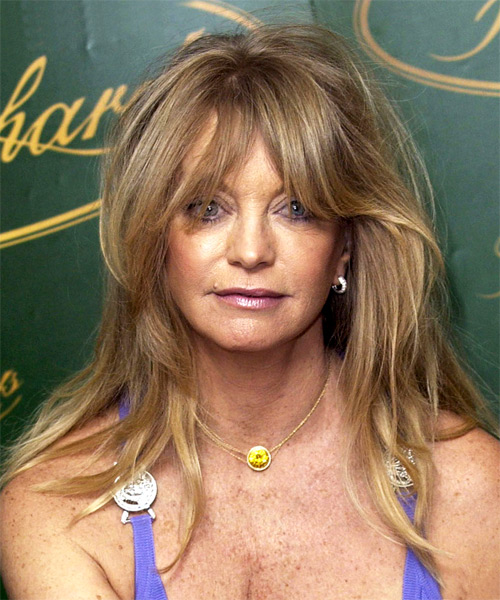 Goldie Hawn is showing off a freer looking hairstyle. She has long bangs that cover her forehead so that it softens the curves of her square face shape. This hairstyle has a lot of volume and the nice thing about it is that you do not have to worry if a hair is out of place. It almost looks like her hair has a mind of its own and yet, it is styled to look that way. This hairstyle is ideal for someone who wants their hairstyle to have a lot of volume and movement. It is a great length for someone who is not ready to commit to cutting full bangs just yet.
The Short and Jagged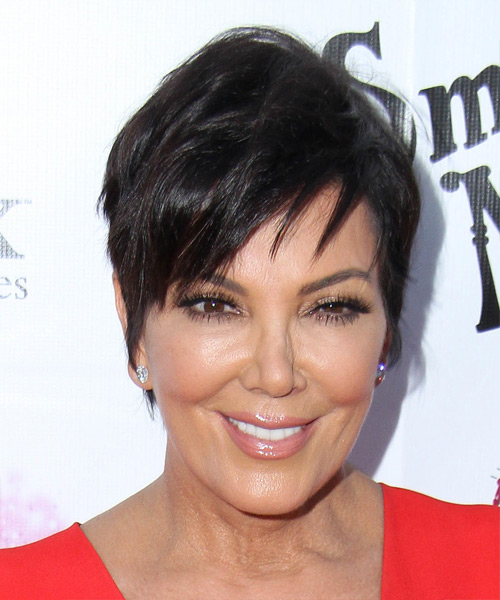 Stylish mama Kris Jenner is working a trendy fringe this month with fabulous results. This angled fringe has been jagged cut to create a wispy frame around the eyes and forehead area. This is a great fringe option for women who do not like a full-on fringe and prefer something lighter. Ladies with round, oval, heart and triangular face shapes would do well with this fringe. Plus, it works on any hair length from short too long.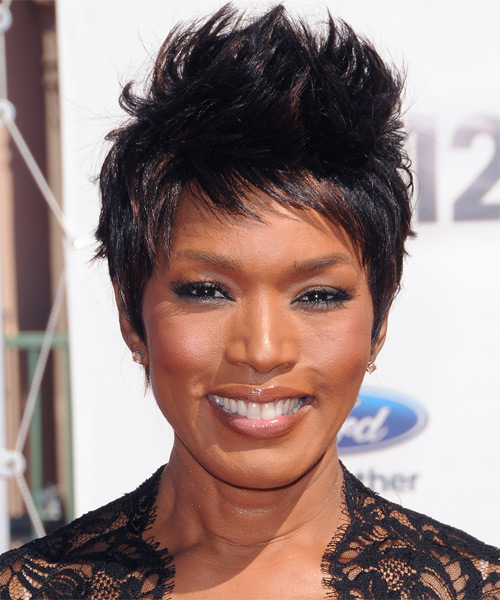 Angela Bassett is all about the business on the top of this hairstyle! As you can see, the top of this hairstyle makes her face look longer and thinner which is fabulous! The bangs are cut to create a more open looking face. It shows off her gorgeous eyes and then the sides of her bangs are styled down to frame her face and contour her cheek bones. This then gives the illusion of the perfect oval face shape! It might take you a few tries to get this style right but once you do, you are going to love it! Keep in mind that styling is going to take a few more minutes than other styles we have shown but this style will stay in place throughout the day with some hair wax or some hairspray.
The Faux Fringe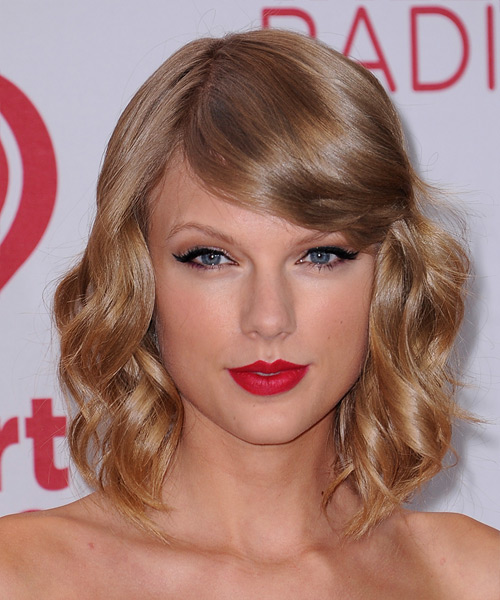 If you want a fringe for a day, check out this hairstyle idea, courtesy of Taylor Swift. The faux fringe will work on longer side-swept fringes or those that are completely grown out. Simply sweep the hair to one side and secure it at the temple area with a pin. This will work best on wavy or curly hair textures where the pin can be camouflaged better, but can also work on straight hair too with a little more manoeuvring. You can also cover the pin with a fancy looking head piece. This will make your hairstyle look more elegant and hide the pin if you have straight hair. Make sure that your pin is tight otherwise it might come undone during the day. You can always use more than one pin.
The Pixie Bang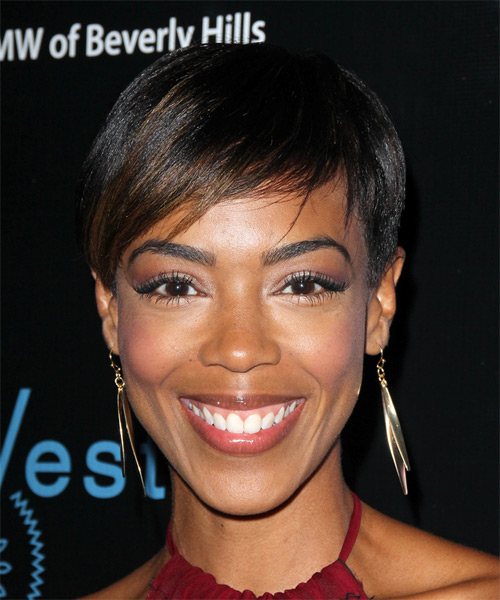 Jazmyn Simon is wearing another variation of the short and jagged bang, only hers is a soft and sleek version that is well-suited to a pixie cut or other short hairstyle. Jazmyn Simon's fringe sits flat on the forehead and is swept to one side for a sculpted look that creates a nice frame around the eyes. Her piecey bangs are quite thin and will suit women with fine hair and oval, oblong, square, and diamond-shaped faces the best.
The Side-Swept Fringe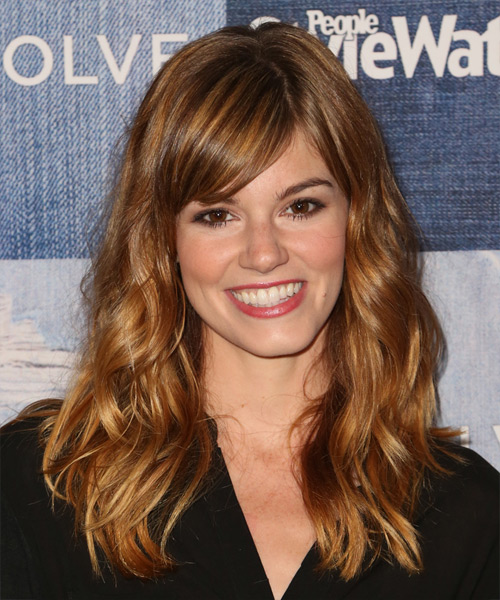 Rachel Melvin looks gorgeous here in a classic side-swept fringe that ends just at the eyebrow. Typically, side-swept fringes are worn a bit longer to about cheekbone length, but this shorter version adds more forehead coverage, and creates a nice frame for the eyes. This fringe is best for women with oval, oblong, square, and diamond shaped faces, and particularly those with a small forehead. Ladies with a higher forehead would do better in a longer version of the side-swept fringe.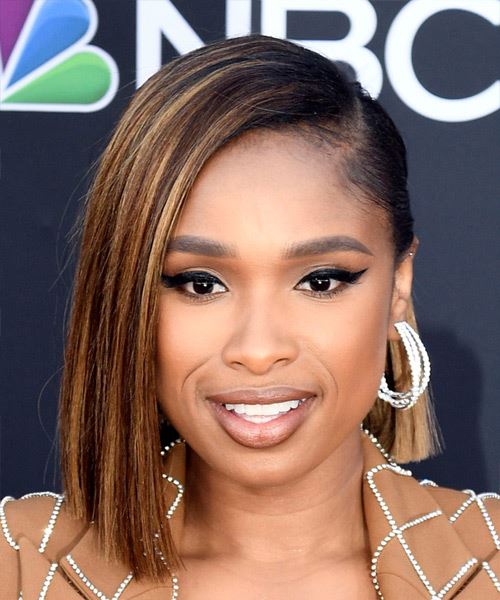 Jennifer Hudson is an icon both on stage and on TV. She is showing off a more elegant looking bang hairstyle. These side-swept bangs are ideal for date night or if you have a formal occasion that you need to attend. These bangs are best suited for women who have oval, diamond or heart shaped faces as the way that the bangs fall to the side, frame the face nicely. The nice thing about this look is that the blunt cut gives you sense of power as well as certainty which I love! The only down side to this hairstyle is that glasses will not suit this look. So it is time to try contact lenses if you want to try out this gorgeous hairstyle.
The No-Bangs Bangs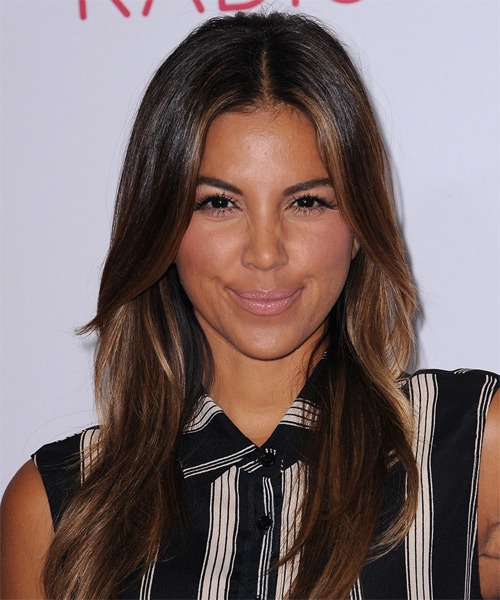 Finally, for those of you who like some layering around the face but do not want to commit to a full-on fringe, why not try the no-bang look? Here, Liz Hernandez is demonstrating how a long, cheek-length fringe can be centre parted to give that bohemian, no bang look, but still provide some style and sculpting around the face. This is a good option for women with round, oval, heart, and triangular shaped faces that are either growing their bangs out, or like to keep them long.
How to grow out your bangs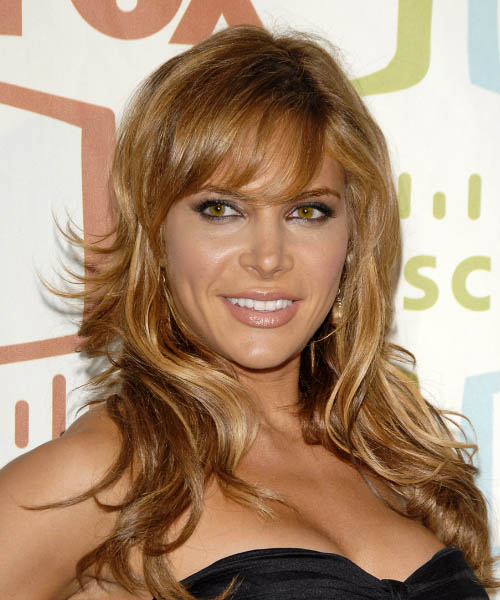 After a while of having bangs, you might find that you are bored of them or you want a different style. You are going to need to be patient depending on how long your bangs are.
You still need to go for your usual cuts to ensure that your bangs do not start to get tattered and unshaped. You should trim them to ensure they look healthy and let your hair stylist know that you want to grow them out.
Try your best not to get impatient with this process. It might take a few weeks for them to grow out but once they do, you can style your hair in a new shape and frame.
You might even find that once you have had bangs that are longer, you might want want to cut them a bit shorter for a while and try out one of the other bang hairstyles. One thing is for sure, there will be a time in your life whereby you would want to go back to having bangs because of how good they make you feel and look.
Things to remember when having bangs:
The more you play with your bangs, the oiler and greasier they will look. I know that in the beginning it might seem hard to not play but try your best because you do not want them to start to look oily and gross.
You need to cut your bangs once every 4 weeks or so to ensure that they stay in shape and do not start to bug you and get in your eyes. When your bangs are too long, it can become annoying.
Remember to use professional hair care products. This is going to help you achieve the best possible results when styling your hair and your bangs.
Depending on the length of your bangs, you might need to wash them daily or every second day. Your bangs sit on an area of your face that produces a lot of oil. This can result in your bangs getting oiler quicker than the rest of your hair.
Do not allow your bangs to air dry! Once you get out the shower, you want to blow-dry your bangs so that they can dry in the style that you desire. If they air dry, then they can get frizzy and dry in a way that you might not enjoy.
A trick for you to remember is to keep some dry shampoo on hand for those days that you do not want to wash your bangs. Keep in mind that some of the dry shampoos can take some of your hair color out. So if you have color in your hair, make sure you use a dry shampoo that won't remove color.
Bangs have always been in fashion and truth of the matter is, every year a new bang trend hits the streets and we all fall in love with bangs once again! Getting bangs is a great decision and we have only given you a few options for you to choose from.
If you do not like any of the bangs that we have shown you in this article, do not worry! There are hundreds more for you to choose from on our site.
One of the best features that we have on our website, is our virtual hairstyler! This means that all you have to do is upload a picture of yourself to the site. Then you can choose one of the many hairstyles to choose from and we will show you what you will look like with that particular hairstyle. How cool is that!?