If you have a heart, square or rectangular shaped face, you probably have a strong jawline too. Strong jawlines can include a prominent chin along with a wide or angular jaw. While this gives the face a striking look, it also limits the hairstyles that you can pull off. Some examples of this are:

- Blunt bobs that end near the jawline
- A fringe that is cut straight across
- Long, heavy styles without layering
- Layers are always a great go to if you have medium or short hair
- Middle partings help to frame your face equally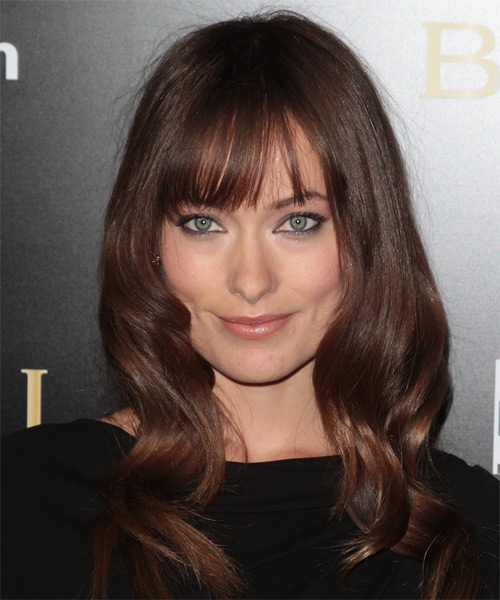 How to determine what type of face shape you have
Before you can find your most flattering hairstyle, you need to identify what your face shape is. To do so, try taking a photo of yourself facing the camera with your hair tied back. Then, trace around the outside of your face and see which shape it most closely resembles. Alternatively, you can try measuring your face, focusing on the widths of your brow, cheekbones and jawline, and the length of your face from forehead to chin, to find its proportions. By doing so, you should be able to see which shape your best match is. For example, if your face is the same length and width, it is likely either square or round. Or, if your face becomes wider from the forehead to the jawline, it's probably a triangle shape.

If you are not 100% sure once you have done this test what your face shape it, you can ask your hairstylist to help you figure out what your face shape is so that you can choose the best hairstyle to suit your face shape.

Now that we have a better idea as to what type of hairstyles would look great with a strong jawline, let's check out some of these hairstyles on Celebs. See the best new hairstyles for a strong jawline below!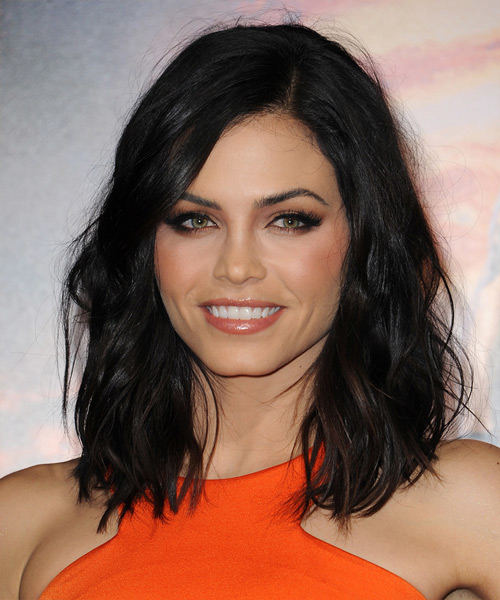 Jenna Dewan is an instantly recognizable face in Hollywood thanks to her dark hair, bright blue eyes and her strong jawline. Jenna has mastered how to flatter her face shape, which is a hybrid of a heart and square, with her hairstyle, with fabulous results. Jenna keeps it simple and softens up her shoulder skimming bob with some loose waves and a windblown texture. This gives her hair volume and body where she needs it most while softening up her jawline area. She also abides by the golden rule for a strong jawline and opts for a side part instead of a center one.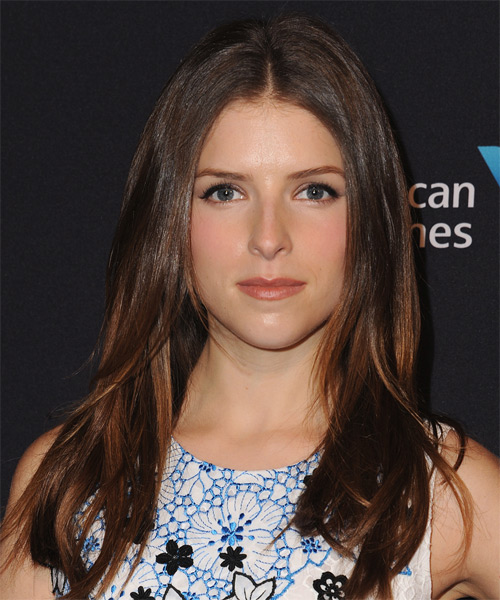 Anna Kendrick, on the other hand, does not have a broad jawline, but does have a prominent chin to work with. Her face shape has a mix of an oval and heart shape to it, with the main focus being her chin area. She has gone for a long layered style, which is always a good bet for this face shape, and the loose waves help to add movement and soften up her overall look. Anna can pull off a center part as we can see here, but a deep side part would have better results.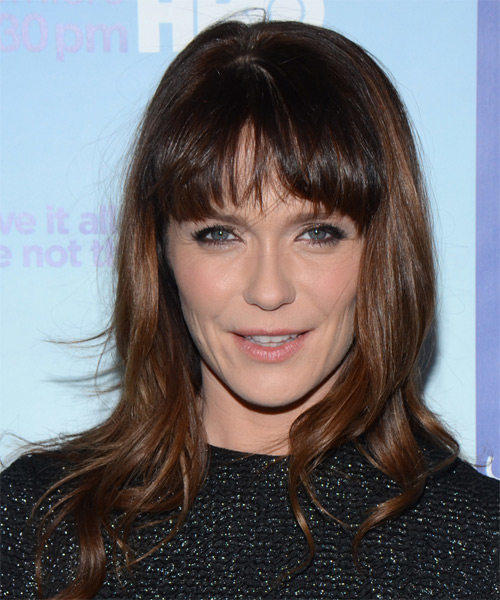 Katie Aselton has an oblong-rectangular face shape and has found the ideal hairstyle to flatter it. First, she has camouflaged the high forehead often found in oblong face shapes with a thick fringe that has been angled down towards the temples. They have also been layered to reduce any bulk or harsh lines. The rest of her hair has been cut into a softly layered do that falls past her shoulder. The long length, soft curls and layers work wonders to frame her face while softening up a strong jawline.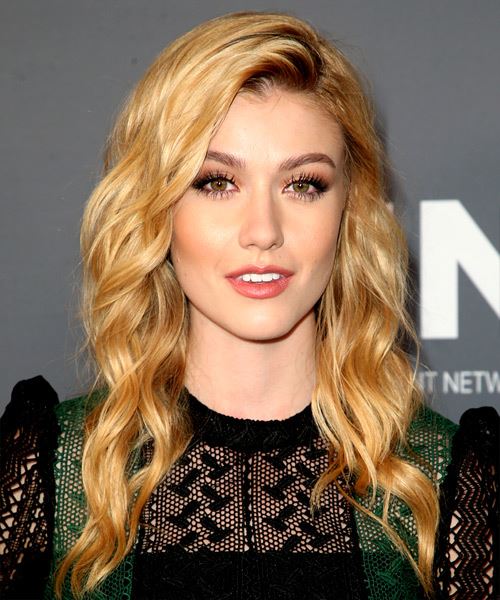 Wavy Texture is a great look for you to go for and Katherine McNamara is showing us exactly how awesome wavy hair can look with a strong jawline. This look adds softness to her strong jawline. If you have any natural waves or curls, consider leaving them natural because it will soften your angular features.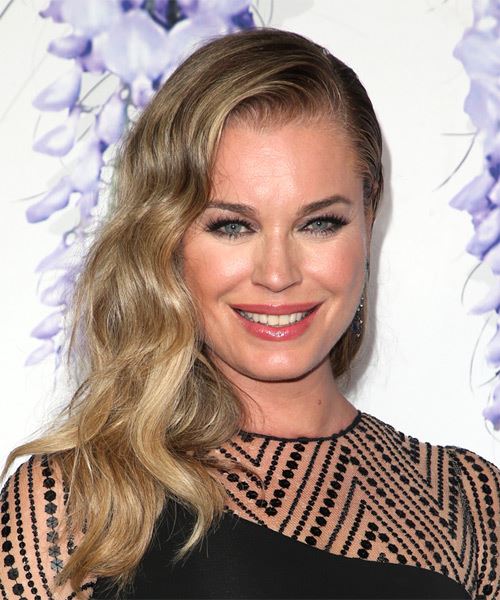 Rebecca Romijn is showing off a deep side part with lots of shine and all the length swept to one side which is gorgeous. Unlike women with long faces who can't get away as easily with long hair, women with square faces look gorgeous with this length. Volume is important when it comes to a square face. You can add extra waves to this look or you can have this style with straight hair. Both hair textures will suit your face shape.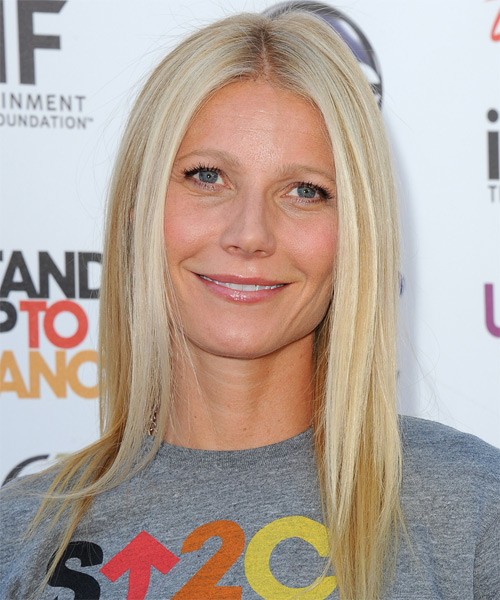 Gwyneth Paltrow looks her best with flat-ironed and long locks like the ones she's wearing here. The curtain effect of her hair—which she gets because she parts it in the middle, then flat-irons it—hides the sharp edges of her jaw, while playing up her amazing cheekbones. Note how she parts her hair straight down the middle, making what could be a boring look very chic. If you go with this look, make sure to cut in just a few long layers for movement. The parting down the middle also helps to ensure that both sides of her face are contoured and shaped equally. The results are breathtaking and it is so easy for you to do this style yourself at home.

Do not forget before you iron your hair, you need to make sure that you apply a straightening balm to your hair to help protect your hair from heat damage caused by the iron.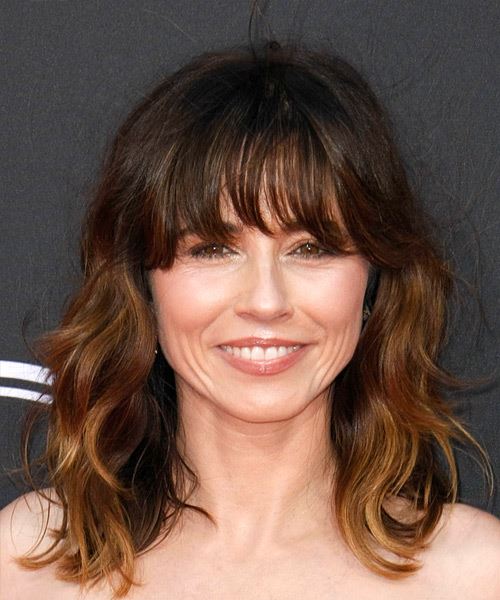 Linda Carellini has a strong jawline and a strong hairstyle to match. This long haired bob looks amazing! It is easy to maintain and style at home which is a bonus. She has a two tone bob which adds color and a great vibe to her hair which is nice. You are going to need to cut your hair once every 4 weeks or so to ensure that your bob stays in shape and that your ends stay healthy.

The blunt cut bangs are also a nice to add to the look because it helps to soften your edges as well as helps to make your forehead not look as big.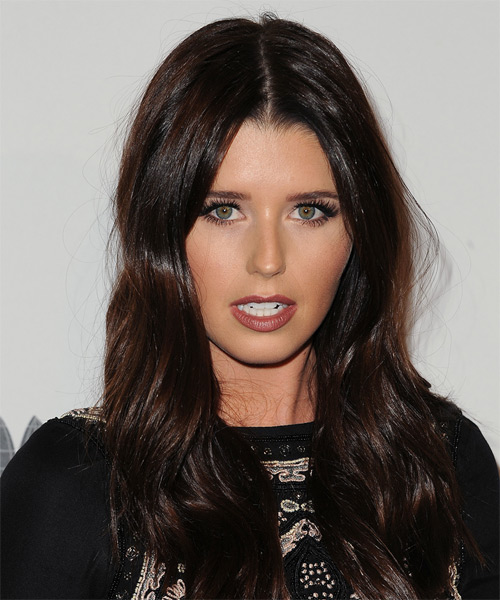 Textured Layers are another great hairstyle for you to choose. Keep in mind that Shoulder-length hair is flattering on all face shapes, but as you can see here on Katherine Schwarzenegger, this particular cut is great on a square face. The light waves are here help soften her sharp, angular jawline, and the middle part (common on many square-faced actresses and models) works very nicely with this look. Just keep in mind that before you curl your hair, you need to apply a protecting serum so that you do not damage your hair from the heart of the iron.

It is also important that you keep in mind that curls drop through out the day so make sure that you style them tight in the morning so that by the end of the day, you still have waves in your hair. Finish it off with hairspray to lock in the lock and you are good to go!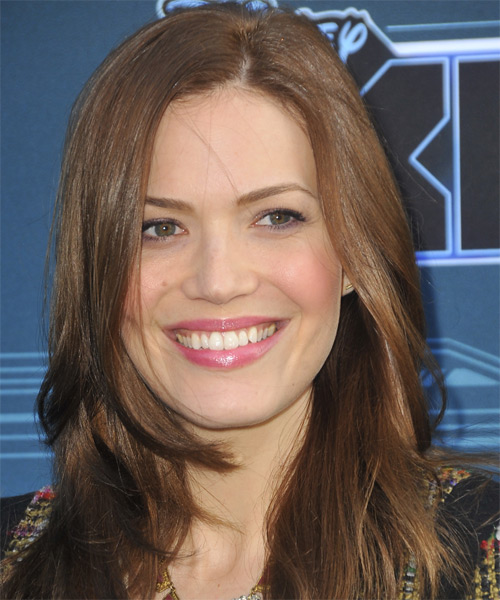 Feathered Shoulder-Length hairstyles are also a great style for you to go for. Here, Mandy Moore shows off a particularly flattering hairstyle, with long layers starting just below her chin, the hair ending at her shoulders. Long hair takes attention completely away from the jaw line and puts it on the length of the hair which will help give off the illusion that you have a longer and softer neck and jaw line.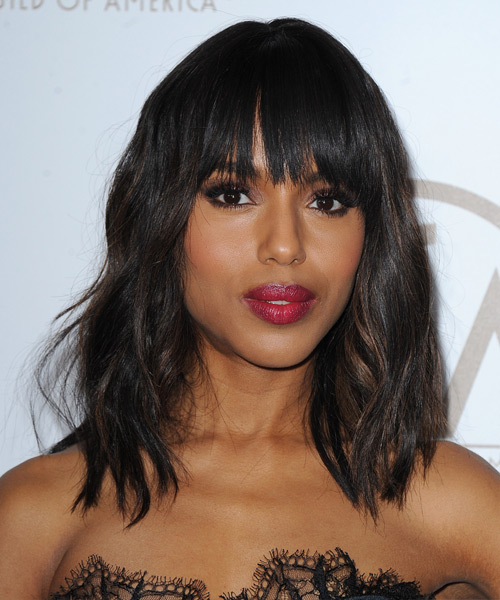 Kerry Washington is showing us a classic hairstyle. This is a classic, through and through. It's a soft style that has timeless appeal. This hairstyle is nice because of the leg nth of the haircut. The bangs also play a role in softening the edges of her face shape. You are going to need to cut your hair once every 4 weeks or so to ensure that your bob stays in shape and that your ends stay healthy. You are also going to need to cut your bangs often to keep them out of your face and eyes.

When it comes to your makeup application, you can keep it natural and simple with this hairstyle. You can use your golds and browns on your eyes and finish off the look with a bold lip just like Kerry has done. Do not forget to highlight and contour your face and neck area to help create the illusion of a perfect oval face shape.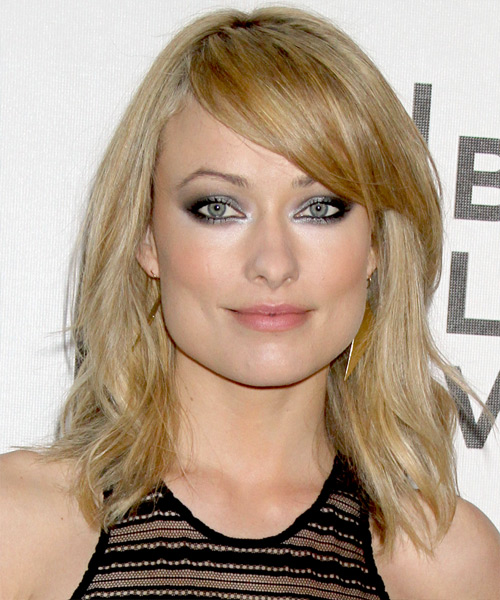 Wavy hair with side swept bangs look amazing with strong jawlines! These side-swept bangs soften Olivia Wilde's square jawline, and her medium locks help pull off a totally gorgeous look. She looks perfectly balanced, and it's flawless. For this look, be sure to use a quality shine spray, as the texture is key. You also want to keep in mind that curls drop through out the day so make sure that you style them tight in the morning so that by the end of the day, you still have waves in your hair. Finish it off with hairspray to lock in the lock and you are good to go!

When it comes to styling your bangs, you want to straighten them and then style them in the position that you want them in. Remember that you are going to need to wash your bangs more often than your hair because your bangs are on a part of your face that gets oily quickly. If you do not want to wash your bangs daily, you can simply use dry shampoo to make your bangs look fresh on bad hair days.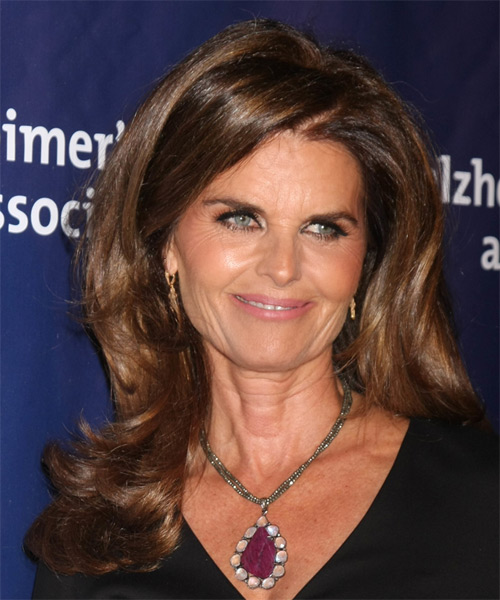 Long layers will always complement a square face. They're especially great paired with side-swept bangs. This look on Maria Shriver (another classic square) is perfect: Her layers begin at the jawline and continue downward. The nice thing about this look is that you can style textured layers many ways from straight to curly or beach waves. If you want to go for beach waves on dry hair, start with a heat protectant and hold spray. Working from the front hairline to the back, wrap hair vertically around a curling wand away from the face. Finish by using a wide-tooth comb to break up the waves and use a texturizing spray for long-lasting style.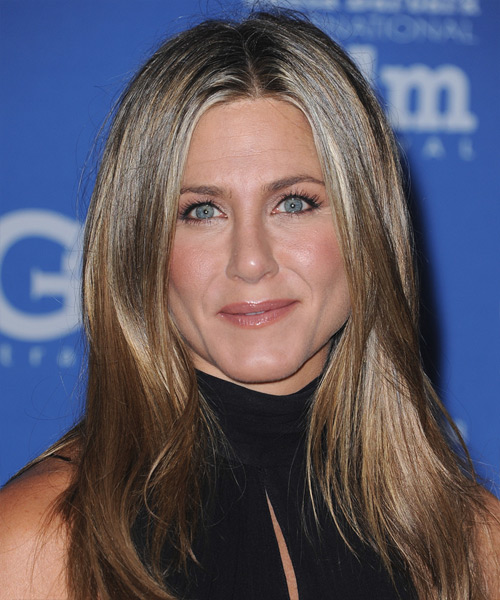 And finally, we have Jennifer Aniston, who has mastered hairstyles for a strong jawline and prominent chin. Jen has kept her hairstyle pretty much same, because there are not many styles that would look as good on her face shape. Jen's square chin and wide jawline are minimized with his long, layered do that is high on volume and style. Jen goes for a slightly off center part here, but would suit a side part just as well. Another good tip to take from Jennifer's hairstyle expertise is to go for maximum volume and lift at the root area this pulls the focus from the chin up towards the eyes.
Conclusion
If you are not sure how you are going to look with one of the styles we have shown in this article, do not worry as we have you covered. All you need to do is upload a picture of yourself onto our website. We have a virtual hairstyler that can show you what you are going to look like with one of the hairstyles in this article. How cool is that? You can ask your hairs stylist to show you how to style your hair correctly if you are not sure of a step.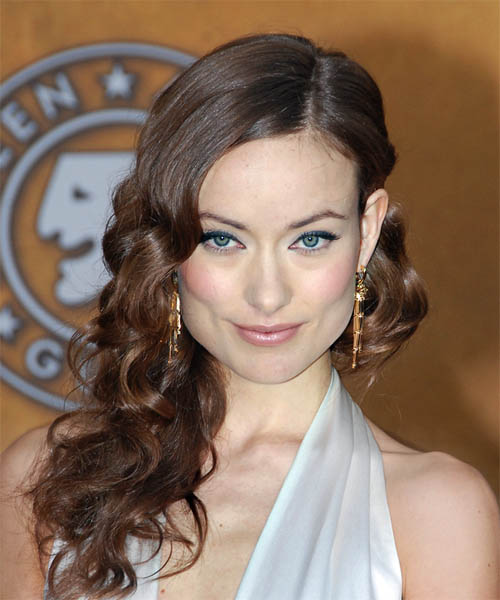 If you do not like one of the styles in this article, we have hundreds more for you to choose from on our website. Check out more hairstyles for square and heart shaped faces on TheHairStyler.com. You now have all the tools that you need to match your face shape to a hairstyle that is not only going to show off your face shape but also help to soften it in all the right places.